How to Buy cryptocurrencies in Uptrend on a Pullback (LINK example)
altcoins appear back in vogue, catching up with Bitcoin's recent rally.
It's darn near impossible to catch a new trend right at the start.  Many traders wait for a trend to establish itself and then pounce on it during a pullback.
We've put together a video demonstrating how to use altFINS platform to do just that, using LINK as an example.
We bought 1/2 position around $14.30 and placed an order for 1/2 position at $13.00, where it could dip to because it is where the prior swing high was.
Finally, for our stop loss, we created an alert at $12.00, which was prior swing's low point, and where we would give up on the trade if price breaks that level.  There's a solid Support Zone around $12.50-$13.00, but we would give it some additional cushion for this trade to play out (hence $12.00 price alert).

This isn't to say this is how you should trade, it's simply an example of how you can use altFINS to identify opportunities.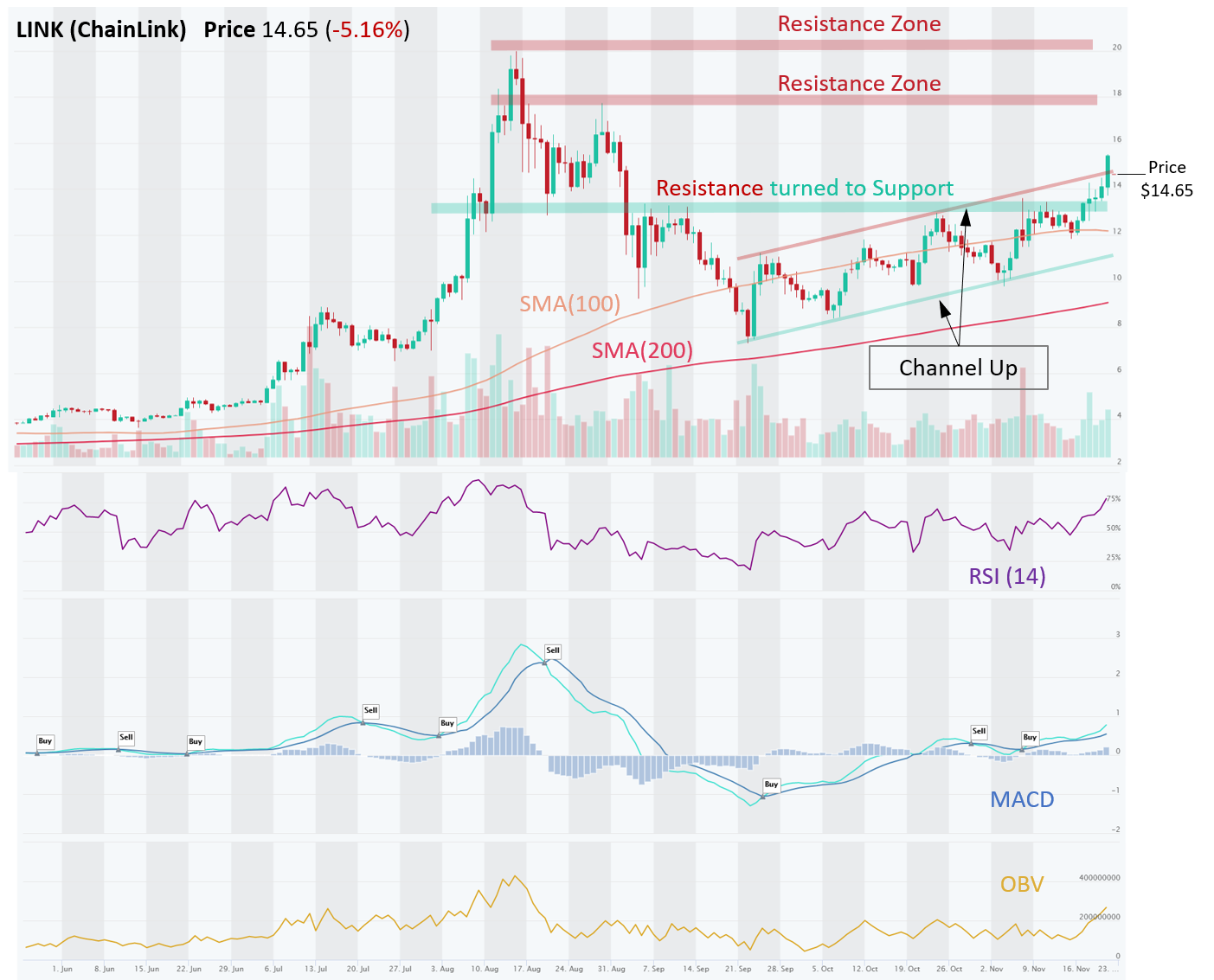 Risk management – Stop Loss and trade size. In all of these setups, traders should use Stop Loss orders to manage their downside risk, in case the trade goes against us, as it often will. Trading is about probabilities and even though these setups have a high win rate, one must be prepared to minimize losses on the trades that go bust. If Stop Loss order types are not supported by they exchange, at least set up a price alert (see video). Also, trade size should be such that you never risk losing more than 2% of your total equity. Keeping the trade size small allows the trader to setup a wider Stop Loss, which gives the trade more room and time to complete with success. Setting Stop Loss levels too tight can often result in getting knocked out of a trade prematurely.
Disclaimer: This content is for informational purposes only, you should not construe any such information or other material as investment, financial, or other advice. There are risks associated with investing in cryptocurrencies. Loss of principal is possible.