Search Knowledge Base by Keyword
What Is Crypto Copy Trading?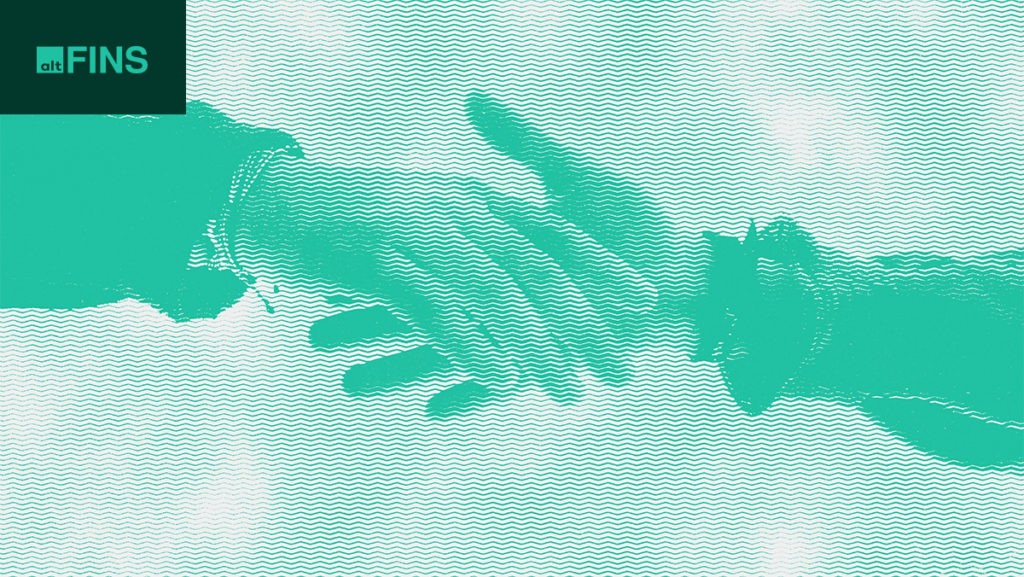 Investing and trading cryptocurrency is getting easier every day. However, to become a professional crypto investor, or an active trader, requires a certain skill set that must be developed and gained over time and with the right tools. We know what it takes to understand the markets and all risks associated with volatile price moves. And we know how important is to stay ahead of the market. Fortunately, investing and trading is no longer for the top Wall Street professionals, but also for anybody who wants to be part of it. More and more we are seeing that copy trading has become the new phenomenon of the retail trader who wishes to learn from the best.
What Is Crypto Copy Trading? 
Copy trading is a method of trading where an unexperienced, or retail investor can follow trade execution and investment strategy of a more experienced trader. Even copy the exact trading strategies to increase their own trade profits. All the retail trader has to do is to find the trader that fits into his or her trading style. Typically, investors subscribe to other traders or share profits with professional traders once there is a profit to share.
According to the Insight Parners, the size of the copy, or social trading platform industry stood at $2.2 billion in 2021. It is expected to grow by 7.8% CAGR, reaching a market size of $3.77 billion by 2028. The concept came from times when there was no internet. Traders used to share their views on the capital market and allowed others, less experienced retails investors, to see their opinions and execute the same trades in the old-school paper days.
Advantages Of Crypto Copy Trading
Learn how the market works by copying others.

Learn how to effectively diversify your crypto capital and spread the risks by learning from a more experienced traders, or investors.
Save tons of time by outsourcing extensive research, either a technical or a fundamental analysis of an investment, to a more professional investor.

Try investing and trading crypto by observing others before you embark on the trading profession yourself.

Control your losses by simply changing a trader, or the platform that you use to connect with your trader.
Disadvantages Of Crypto Copy Trading 
Seasonality of the markets plays a big role, as market liquidity decreases and professional traders are not that active, therefore copy trading from retail investors stalls.

Crypto Copying other professional traders involves fees, especially fees from profit sharing which can be substantial.

Some experienced traders face a huge risk of bad luck if the market turns against their position. They may instantly lose attention and reputation.

Copy trading involves risks, especially squeezing market liquidity towards the same direction, which can cause a gap in prices and slippage for investors.
Crypto Copy Trading Vs Mirror Crypto Trading
Crypto copy trading can be compared to several other trading styles. Copy trading cryptocurrency is a commitment to follow trades of a professional trader, however, mirror trading is essentially the original trading strategy that is behind the trading, meaning that it allows retail investor to mimic and execute the entire trading strategy, rather than only a single trade of a specific trader, like it's the case with copy trading cryptocurrency.
Crypto Copy Trading Vs Social Trading
Social trading definition comes from the social network audience. It is more related to trading forums, social networking sites and it's more related to a group of traders who share their views with each other and in front of a large audience. It gives the room participants an opportunity to learn, interact and follow traders' actions, if they wish to.
Top 5 Crypto Copy & Social Trading providers And Their Comparison
Overall, there are many copy trading platforms on the market, offering retail investors to become part of the market moves. They differ from each other by offering unique products, minimum investment sizes and fees. Their overall performance remains impressive, according to the research done by the Finance Magnates.
We look at the TOP 5 Copy Trading platforms that dominate the market and differ in minimum deposits, fees, and ease of use.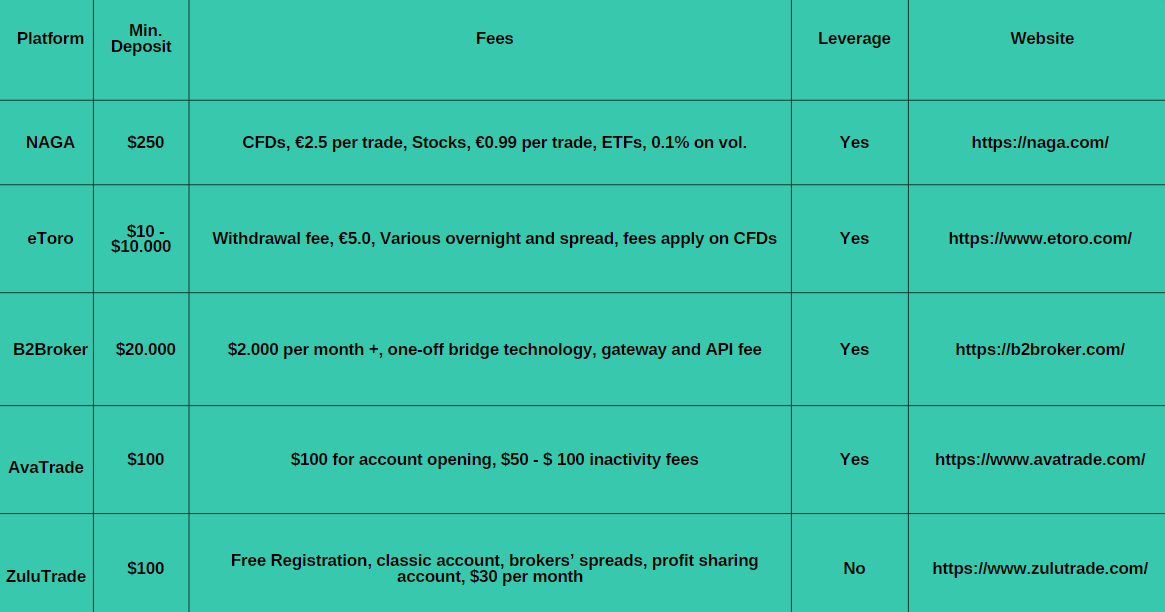 NAGA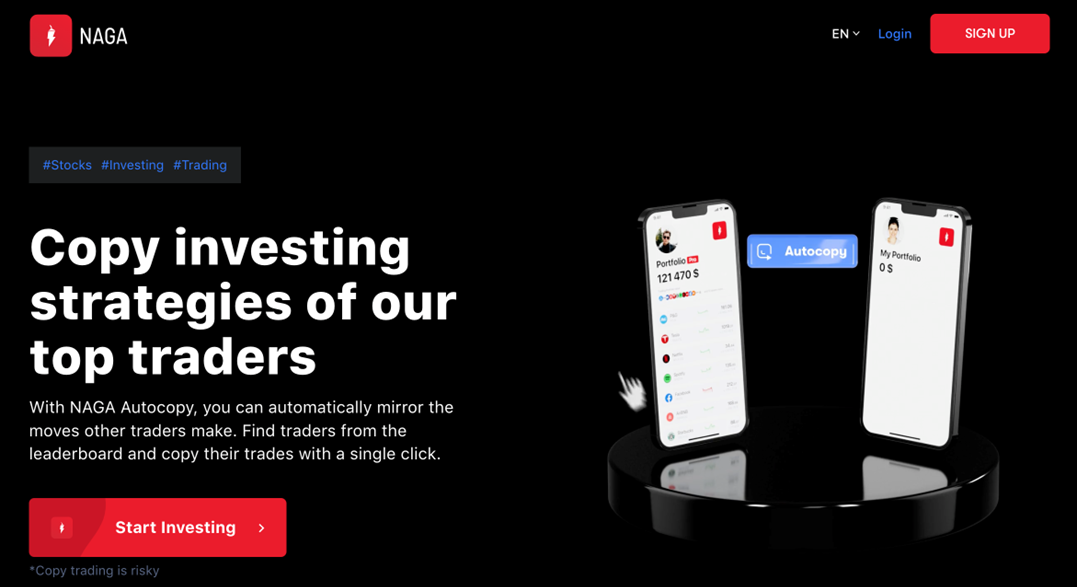 More than 1 million users have joined with NAGA, and they constitute a global community that shares investments, copies techniques, and powers millions of platform transactions.
It was established in 2015 with the goal of creating the most potent financial app in the world. NAGA is a fully certified and regulated broker. It provides a multi-asset, enabling everyone to trade on the stock and cryptocurrency markets worldwide. Users can send money using their personal card and payment account and invest in digital currencies with ease.
With over 1,000 trading instruments available to its users, its copy trading feature sets it apart from its rivals. NAGA also provides traders with the opportunity to study, share, and discuss ideas and investment techniques. It provides real-time trading execution on
Some of the disadvantages of NAGA: It has high spreads on standard accounts compared to the competition.
NAGA Top Features:
Users trade over 1,000 instruments on NAGA platform.

Users can learn using Education and research tools before trading.

Withdraw methods include bank transfers, bank cards, Sofort, GiroPay, PayPal, Neteller, Skrill, and cryptocurrencies.

Strategy providers can earn income.

As you copy the trade, you can adjust the investment amount and other details.

You can also follow industry news, find information published by broker's public channels, and message or chat with other traders, hence, it works much like a social network too.
eToro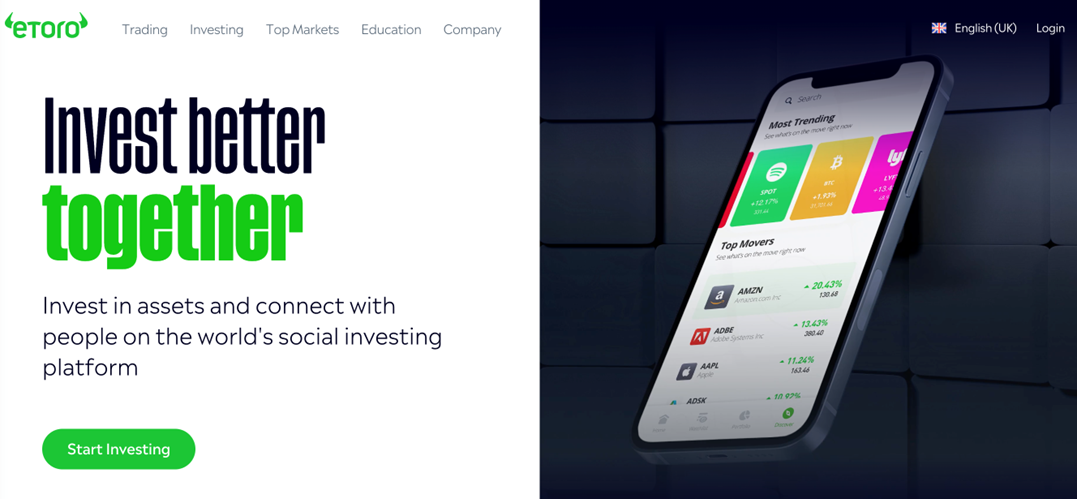 With thousands of stocks and ETFs together with more than 60 different crypto assets, eToro is a well-known multi-asset platform. With the intention of revolutionizing the way people invest, it is one of the global investment platforms.
Its platform is based on investor education and social collaboration. Using a single point of contact, the eToro community can effortlessly interact, share, and learn. Additionally, investors might copy the actions of skilled traders' investment approaches. eToro offers a wider range of financial products than some other American cryptocurrency brokerages.
Some of the disadvantages of eToro: It has high non-trading fees and only one account in base currency.
eToro Top Features:
Multi-asset Platform with 60+ cryptoassets, Stocks and ETFs at your fingerprints

More than 2,200 expert investors whose portfolio can be copied

Stocks with 0% commission

Users can access the app via Mobile iOS and Android as well as web and PC platforms

Social Trading – Community of 20M users

100k virtual portfolio when you sign up
B2Broker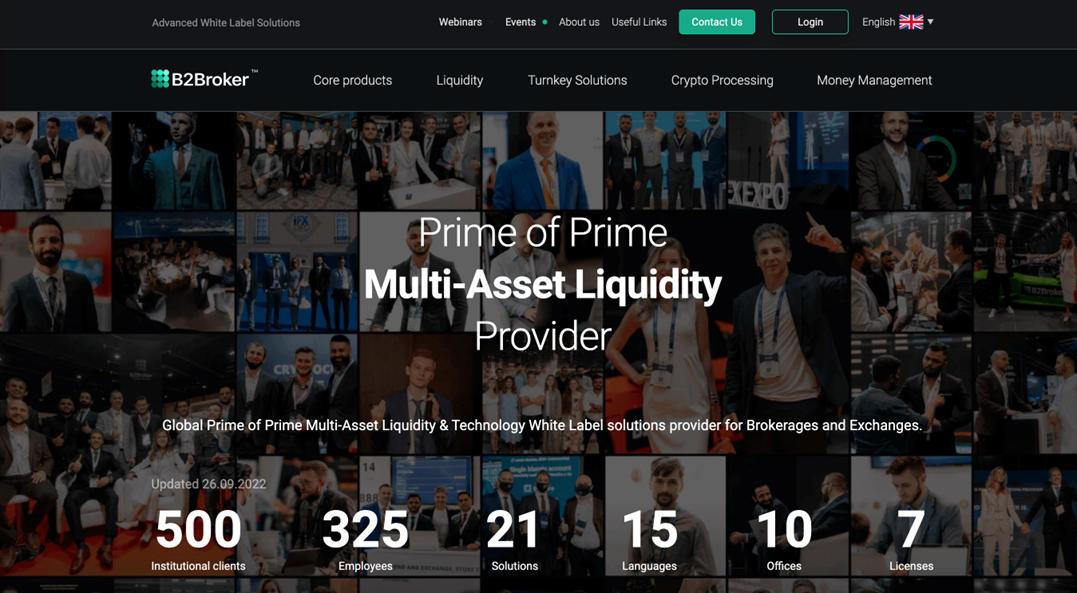 By offering cutting edge technological solutions, B2Broker declares its commitment to serving as the business partner of choice for its B2B clients.
Online brokers, banks, and trading venues can use the technology solutions provided by B2Broker, a global provider of FX, CFD, and cryptocurrency liquidity. Its objective is to assist brokerage and exchange enterprises in empowering their operations by creating a productive, open, and moral workplace.
It has established a user base that links markets with one another. It offers its subscribers cutting-edge and innovative technologies.
Some of the disadvantages of B2Broker: high costs with minimum monthly fee starting at $2.000 and the minimum deposit requirement of $20.000. Depending on the pricing option, one-off bridge technology, gateway and API fee could also be charged.
B2BrokeTop Features:
Global reach with focus on investment firms, FOREX & Crypto Brokerage firms, Family Offices, and Hedge Funds

Access to FX, CFDs and Crypto Assets

24/7 Technical Support

A personal Account Manager
AvaTrade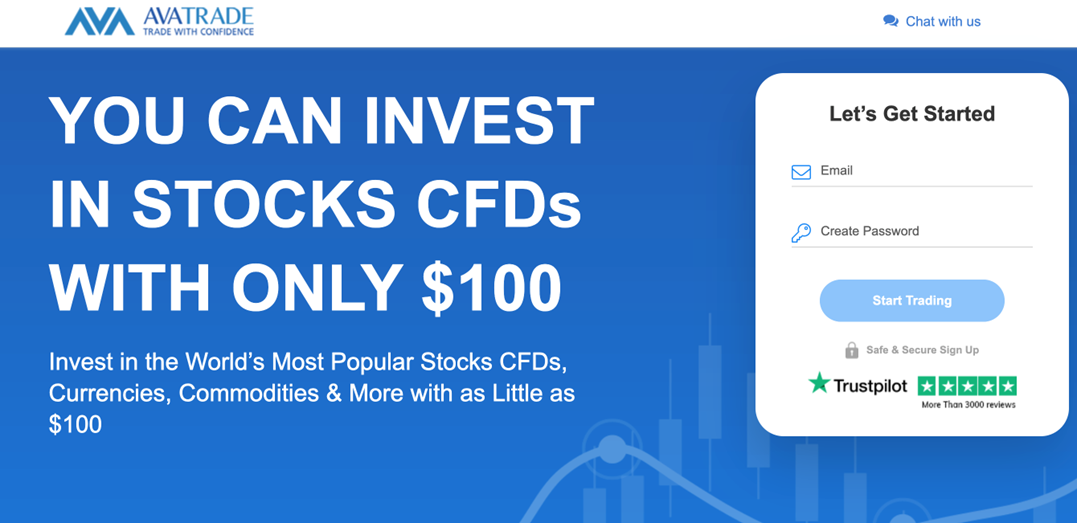 AvaTrade sees itself as a forward-thinking broker. The platform were among the first Forex trading platforms made available to retail traders when they were established in 2006.
AvaTrade have established a strong reputation for both themselves and their platform over that time. They are now recognized as one of the most highly regulated online brokers to provide CFD and cryptocurrency trading, which provides their clients a sense of security.
Technology, customer service, education, and security are given top priority. One of AvaTrade's drawbacks is that after three consecutive months of inactivity, they charge an inactivity fee of $50 every quarter. Additionally, some consumers complained that it took a lengthy time to deposit and withdraw money.
AvaTrade Top Features:
More than 400,000 Professional Traders

Instant Withdrawals

Desktop, tablet, mobile and Web-based trading

Zero Commissions

Multi-lingual service and support

1,250+ FX pairs, Commodities, Indices and Stocks

Advanced Trading Tools

Smart Charts, Webinars, and Tutorials
ZuluTrade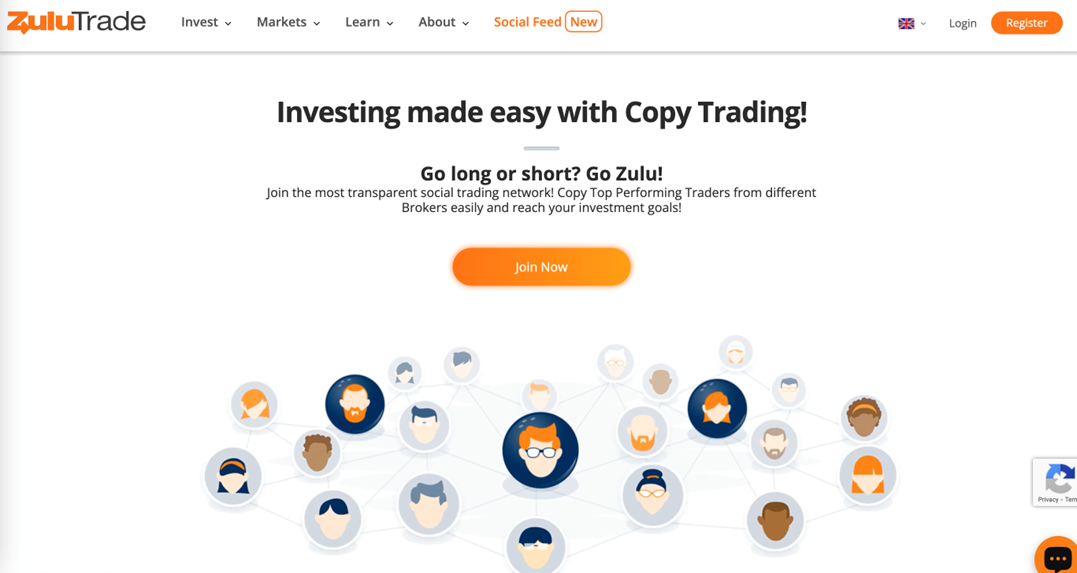 ZuluTrade, a member of the FINVASIA Group, is one of the most cutting-edge copy & social trading platforms available today.
The purpose of the ZuluTrade social trading platform is to bring together professional traders and novice investors to generate income on one platform. The platform covers commerce copying, communication, and knowledge and experience exchange among internet users. It serves as a kind of social network for traders, to put it simply.
Professional traders have one goal: to execute their trades profitably. And in automated or semi-automatic mode, inexperienced investors can mimic them. His orders and transactions will be automatically duplicated to the investor's account if the investor subscribes to the trader-manager.
ZuluTrade Top Features:
Trading crypto, CFDs, forex, commodities, stocks at one place

Desktop and Mobile app

Automated social trading through ZuluTrade and APIs

24/7 Customer Service

Licensed and regulated in EU, Japan and USA

Features like Combos, Cryptos, UserLists, TradeWall, Calendar, Forex Tools, Automator and ZuluGuard
FAQ
Yes. Since copy trading allows novice traders to trade well beyond their level of knowledge or skill, it is typically the best trading strategy for them.
Traders can gain from passive investment rather than active investment using duplicate trading or mirror trading. Professional traders choose the financial products to trade, doing all of the labor.