Search Knowledge Base by Keyword
How to trade Channel Down? | Crypto Chart Pattern
Technical analysts use the phrase "channel down" to refer to a chart pattern that develops when an asset's price forms a downward-sloping channel. This pattern might offer traders in the cryptocurrency market useful insight into the current market trend and possible trading opportunities.
Trading Emerging Channel Down pattern
Let's look at a straightforward example to better comprehend this pattern. Consider that over the course of several weeks, you keep tabs on the price of Sushi Swap coin (Sushi) and note that it has been going lower while remaining inside a clearly defined channel. The channel's upper border represents the peak price at which Sushi has traded during that time, while its lower boundary represents the trough.
Channel Down pattern for SushniSwap (Sushi)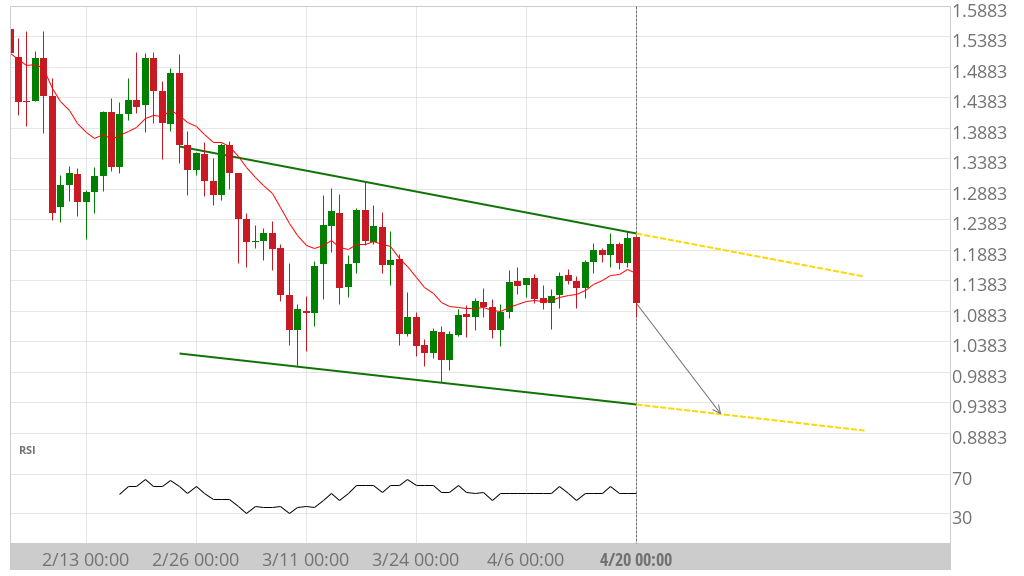 We can see from the chart above that the price of Sushi has been fluctuating within a channel with a downward slope for a number of weeks.
The price constantly "tests" or "touches" the bottom boundary of the channel as it continues to move lower but is unable to cross it. This is due to the fact that the lower border is working as a level of support, indicating that there are buyers willing to buy Sushi at that price and stop it from dropping further in the market.
When the price approaches the channel's upper limit, traders who have noticed a channel down pattern may be on the lookout for opportunities to enter short positions because this could mean that the price is likely to keep moving downward. Alternatively, when the price is nearing the lower border of the channel, traders may look for opportunities to enter long positions as this may suggest that the price is likely to bounce back and start trading inside the channel once more.
Trading Channel Down Breakouts
With complete patterns (i.e. a breakouts) – initiate a trade when the price breaks through the channel's trendlines, either on the upper or lower side.  When this happens, the price can move rapidly in the direction of that breakout.
Confirm the breakout: Before entering a trade, make sure that the breakout is confirmed by a significant move below the lower boundary of the trading channel and a sustained downtrend.
Consider the volume: A breakout accompanied by high trading volume can be a stronger signal than one with low volum
Use technical indicators: Technical indicators such as moving averages, relative strength index (RSI), and Bollinger Bands can help confirm a breakout and provide additional insight into market conditions.
Channel Down pattern you can easily find in Chart Patterns section on altFINS. Go to Chart Patterns section on altFINS and filter Type: Channel Down and Result Type: Breakout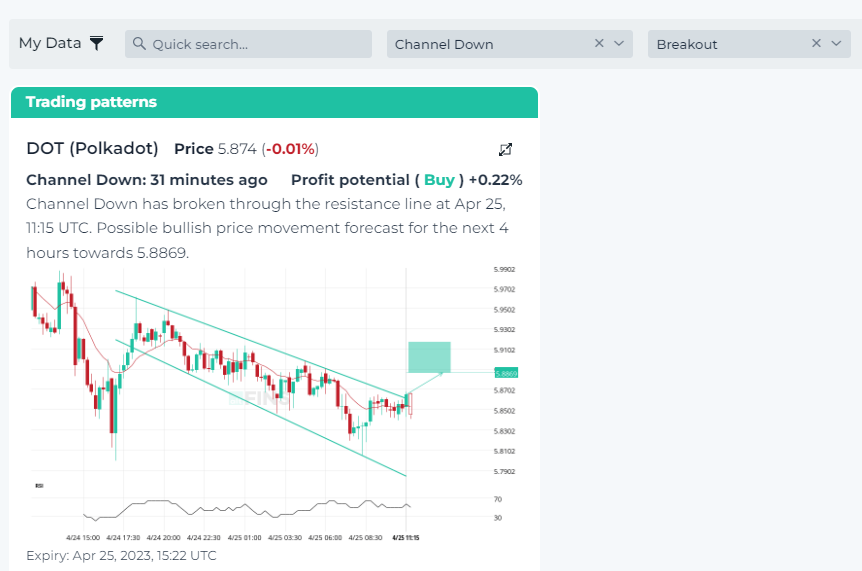 Or select Pattern Type: Channel Down and Patter Stage: Breakout in Technical Analysis section. 

#1 Example: Aptos (APT) Channel Down pattern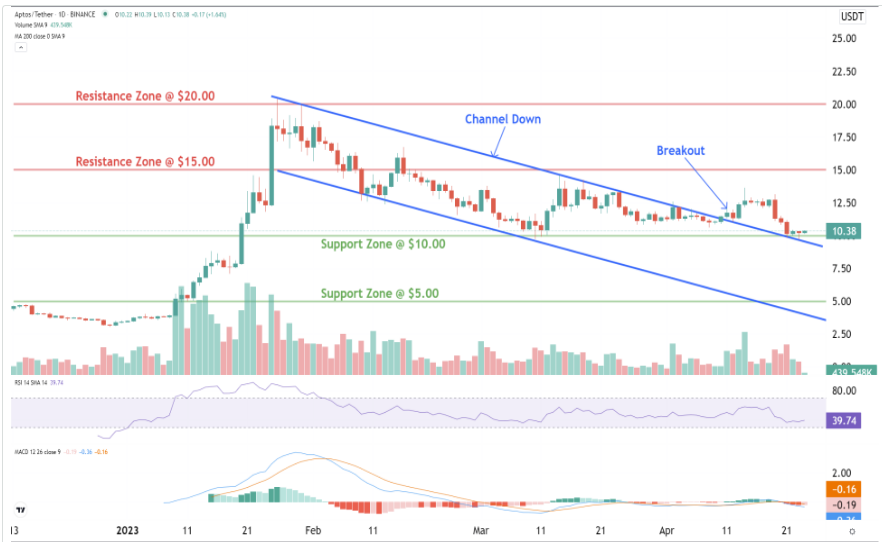 #2 Example: SandBox (SAND) Channel Down pattern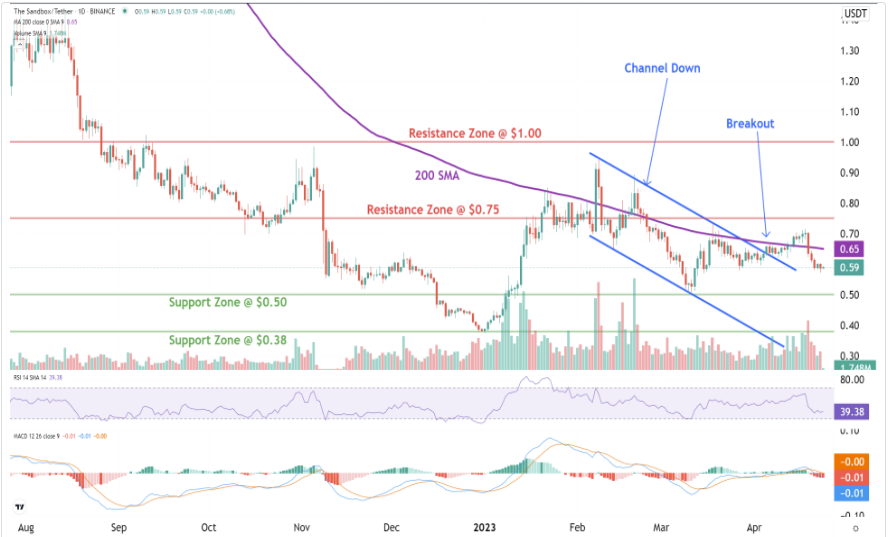 Learn how to trade Channel Down pattern in the following video

Find cryptocurrencies with channel down pattern on altFINS platform within a few clicks:
It's simple. You can also filter profit potential, success rate, buy or sell direction, exchange and more.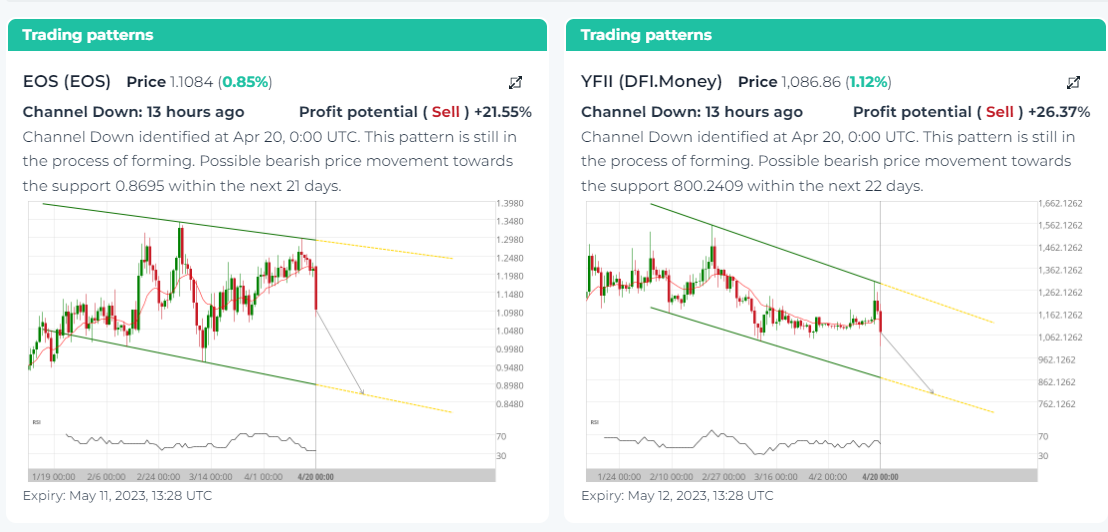 Are you interested to learn more about crypto chart patterns? Read this article with chart examples and tutorials.
Remember on altFINS you can filter among 26 automated chart patterns!
Become part of altFINS community