Search Knowledge Base by Keyword
H1 and H2 analytics are altFINS' proprietary analytics for detecting early momentum changes.
You can find these two analytics under the Screener > Filter & Signals: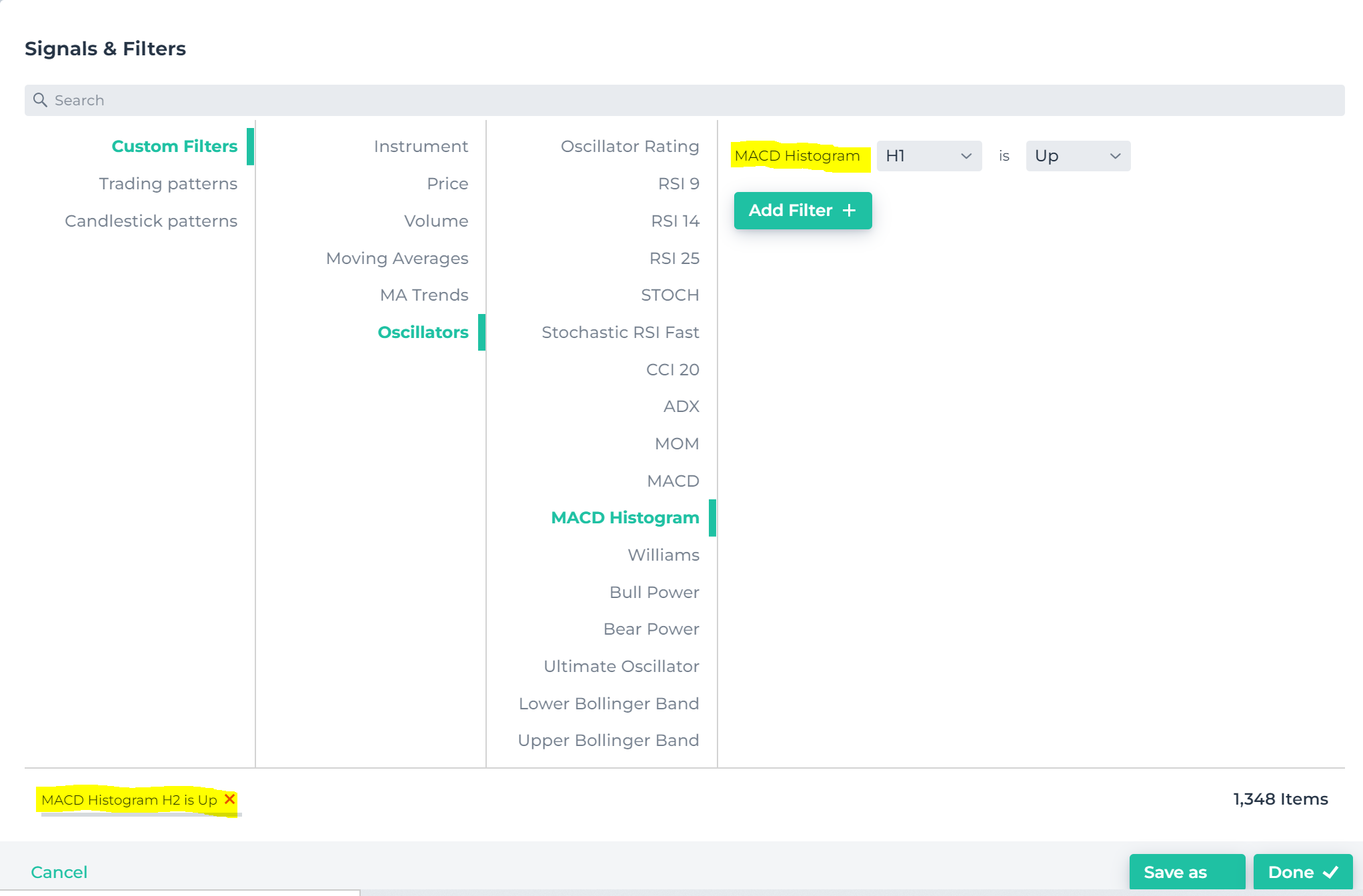 Here's another good article that explains various ways of detecting momentum change.
Here's a video tutorial on how to detect such early momentum change using H1 and H2 analytics.
Traders can use MACD Histogram to detect early momentum changes.  Recall that a MACD Signal Line crossover happens when a MACD Line crosses over a Signal Line (see "buy" and "sell" flags in Bitcoin chart below).  The difference between MACD Line and Signal Line is captured by MACD Histogram bars.  In essence, MACD Histogram is an indicator of indicators, and it is a step ahead of Signal Line crossover!
When the slope of the MACD Histogram changes, traders should take notice.  When MACD Histogram peaks and begins to decline (blue bars), that's a potential sell signal to a trader and it would occur sooner than the "Sell" Signal Line crossover (see Bitcoin chart below).  And when MACD Histogram troughs and begins to rise (blue bars), that's a potential buy signal.
In the Bitcoin chart below, notice how the change in the slope (red vertical lines) would give traders an earlier trade signal than a MACD Signal Line crossover (grey vertical lines). 
That slight difference in timing could make a huge difference in profits!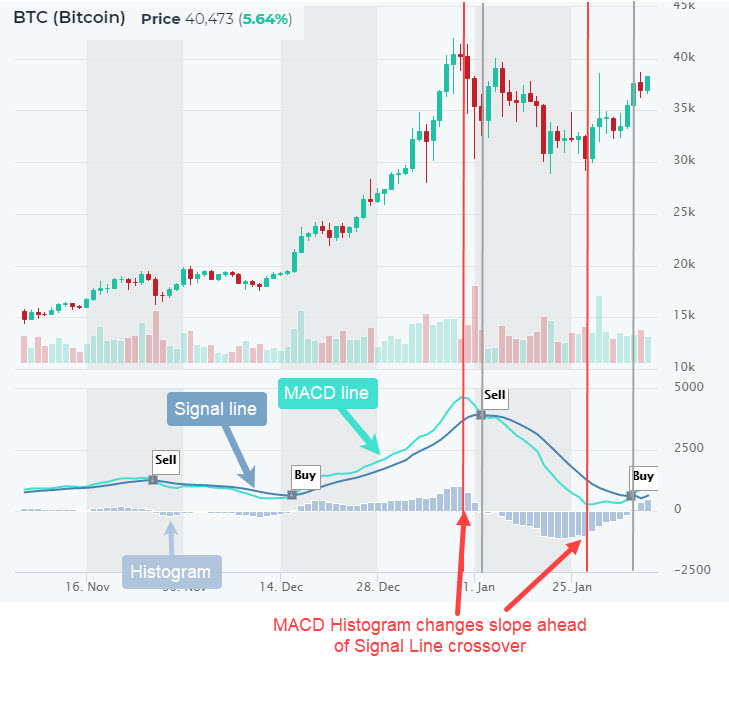 You can also find a pre-defined signal for fresh momentum changes in our Summary Signals page.  This could serve as a great starting point, a building block for your own custom filter: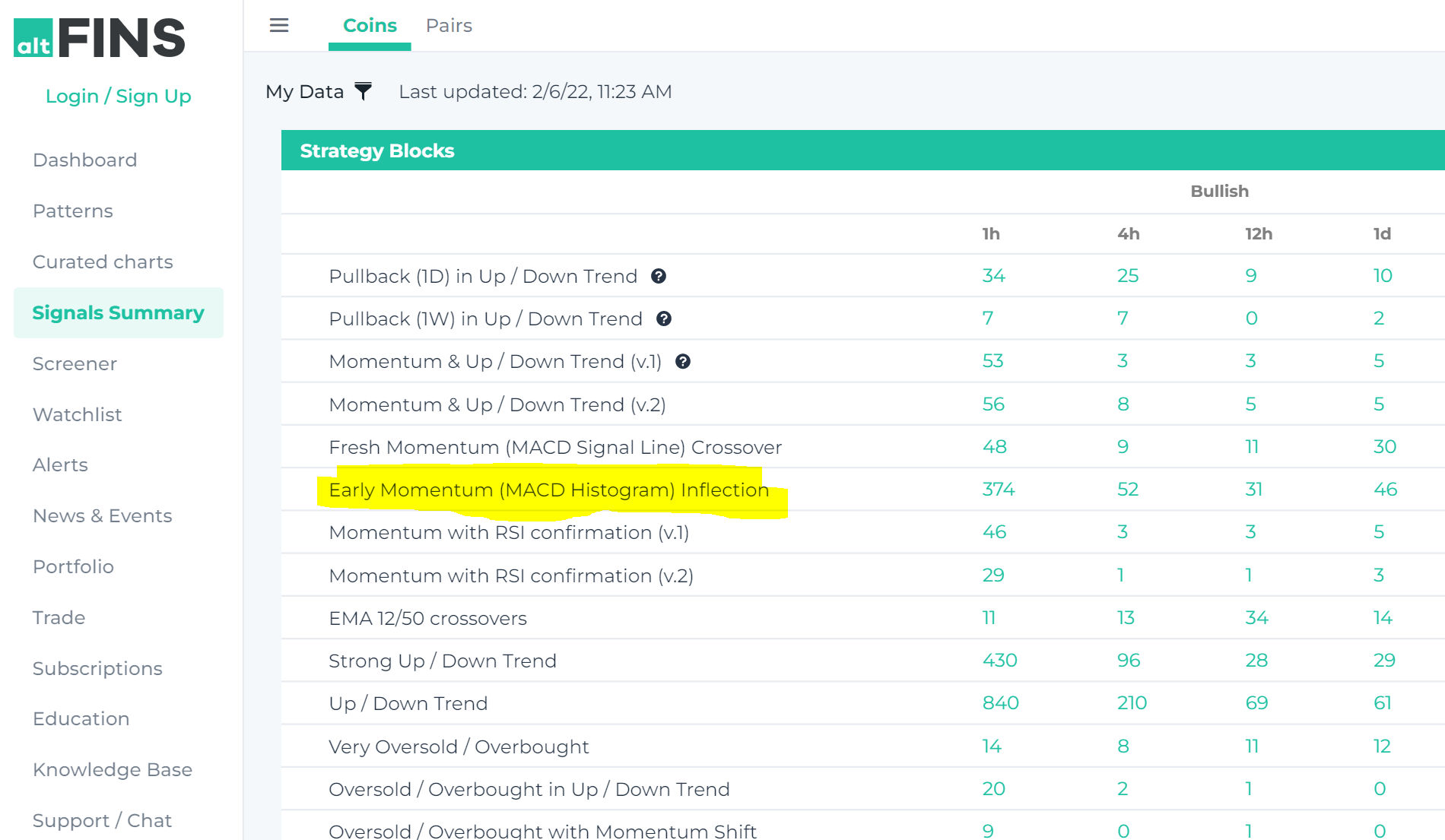 Sign up for our newsletter

Get daily trading ideas, educational videos and platform updates.
Download altFINS Mobile App
Follow us on:
✅ Telegram: https://t.me/altfinsofficialchat
✅ Twitter: https://twitter.com/AltfinsA
✅ Discord: https://t.co/uBvlTWgRgP
✅ Facebook: https://www.facebook.com/altFINS
✅ YouTube: https://t.co/QCvKBODSKH
✅ Reddit: https://www.reddit.com/user/altFINS_official
✅ Instagram: https://www.instagram.com/altfins_altcoins/
✅ LinkedIn: https://www.linkedin.com/company/altfins