Five cryptocurrencies on a tear: ETH, XRP, LINK, WAVES, DASH
ETH – Textbook Uptrend; Making New Highs This Year; Next Resistance is 20% Higher
Ethereum (ETH) is in an Uptrend across all time horizons (Short-, Medium-, and Long-Term). Since September, ETH was struggling with a Resistance Zone around $375, which it finally broke out of on Oct 21.  We believe that PayPal's launch of trading in four cryptocurrencies (BTC, ETH, LTC, BCH) has sparked a Bitcoin and now altcoin rally. Shortly afterwards, it cleared another Resistance Zone around $450.  Now that Resistance Zone has become a Support Zone, in a TA principal known as Polarity.  
Price has been marching steadily upwards, forming a textbook uptrend with a series of Higher Highs and Higher Lows.  ETH has cleared the this year's high of $490, and the next resistance is around $594, which is the 38.2% retracement from the 2018's ATH price). MACD is indicating bullish momentum and RSI is still not overbought (< 70). ADX is at 41.4, which indicates that current trend remains very strong.  On the caution side, OBV is not making new highs, which means that the recent price advances were not supported by big volume.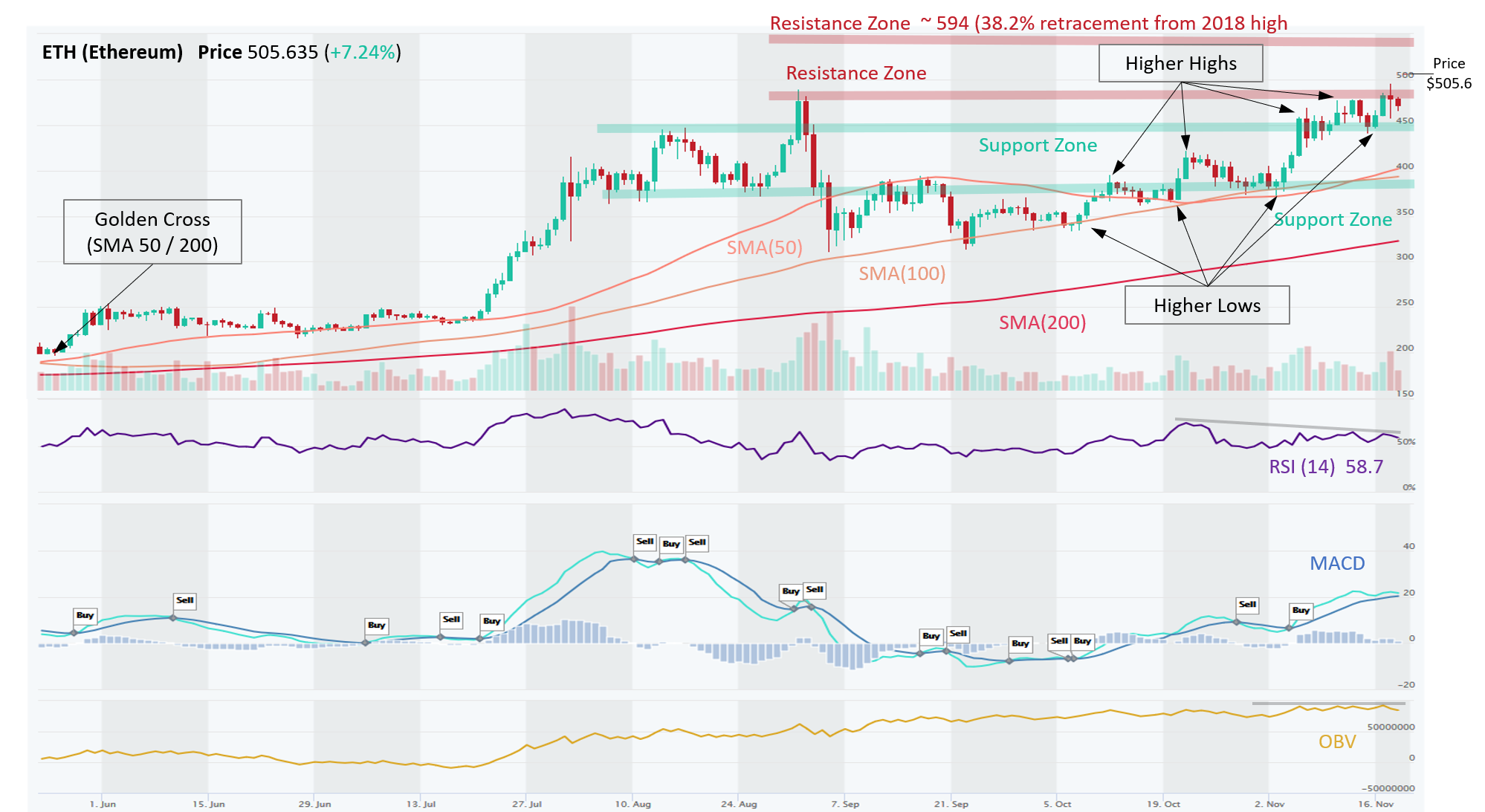 XRP – Strong Momentum Could Carry It to New Highs for 2020
Ripple (XRP) is in an Uptrend across all time horizons (Short-, Medium-, and Long-Term). XRP broke upwards from a Descending Triangle in early November.  Volume on Up days has also picked up, as indicated by rising OBV (volume on Up days exceeds volume on Down days), confirming the Uptrend.  It managed to break strong Resistance Zone (~ $0.26), which has now which turned into Support.
MACD posted a bullish signal on Nov 5, which along with RSI above 50 confirms bullish short-term momentum. Positively, RSI is also trending upwards, which coincides well with recent bullish price action. ADX is at 32.9, which indicates current trend is strong, and ADX trend is also rising, which may indicate that momentum of this current trend will increase.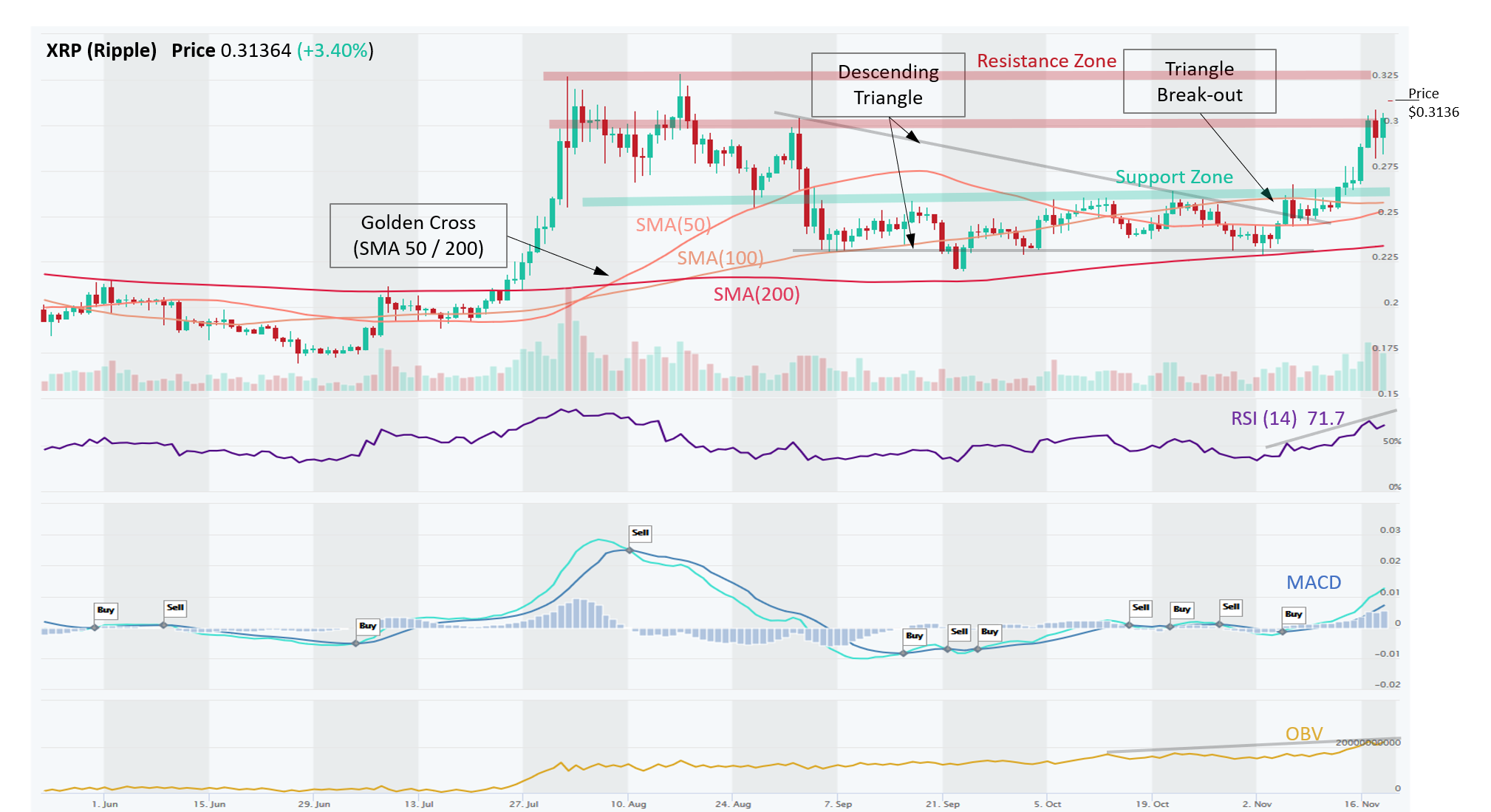 LINK – Steady Ascend in an Up Channel, Supported By Good Momentum and Volume
ChainLink (LINK) is in an Uptrend across all time horizons (Short-, Medium-, and Long-Term). After a 60% correction in September, there is renewed strength since October and LINK is trading in an Up Channel, respecting its boundaries and forming Higher Highs and Higher Lows (Uptrend definition).  It is now sitting at the Channel Resistance Trendline and near the next Resistance Zone around $15. Traders could wait for a breakout, or wait for another pullback to its Channel Support Trendline to go long.
RSI is above 50 and broke a downtrend, which along with MACD crossover are indicating steady bullish momentum. OBV also broke its downtrend and is making new highs in this channel formation, which is another indication that price may break-out from the channel to the upside. ADX is at 21, which indicates current trend remains strong, although ADX is declining modestly.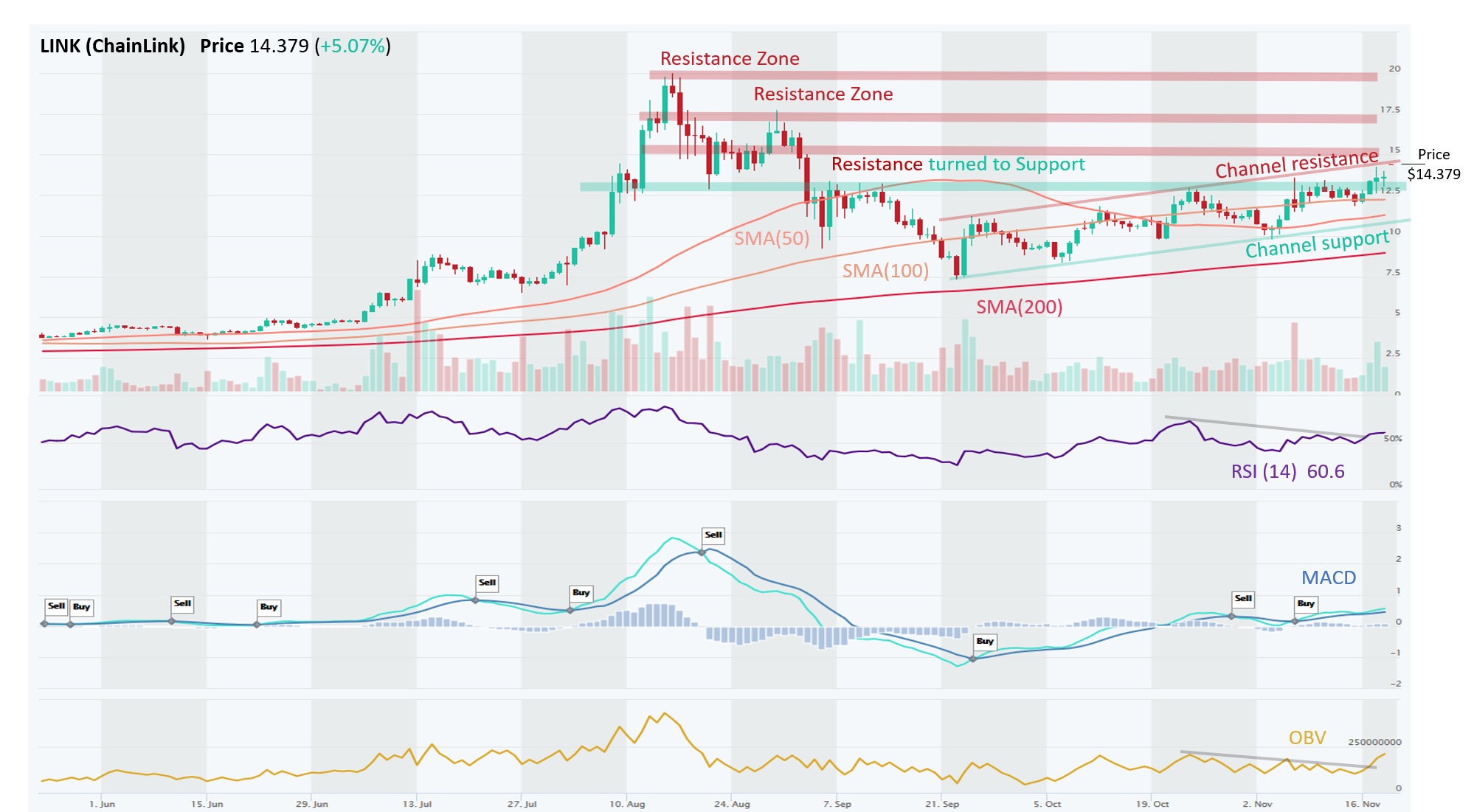 DASH – Unrelated Catalyst Sparked a Big Volume Breakout from a Descending Triangle
DASH (Dash) while still in a Downtrend on a Long-Term basis, the Medium- and Short-Term trends are clearly Up.  Price broke out from a Descending Triangle with a massive candle on Nov 12 (touching ~S100).  The catalyst was an IPO filing by another company, DoorDash (delivery service), which plans to list on NYSE under a ticker "DASH".  While completely unrelated to cryptocurrency DASH, it nevertheless jumpstarted a Short-Term Uptrend.  Makes us wonder though, when will the buyers realize DASH is not DoorDash, or does it not matter?!
Since then, MACD turned bullish, OBV is gaining traction,  and RSI crossed above 50, all of which indicates renewed bullish momentum.  RSI is rising but not overbought yet, leaving room for upside. Since DASH blew through numerous resistances, they now turned to support at $65 and $80 levels. ADX is at 33.4, which indicates that current trend is strong and ADX is rising.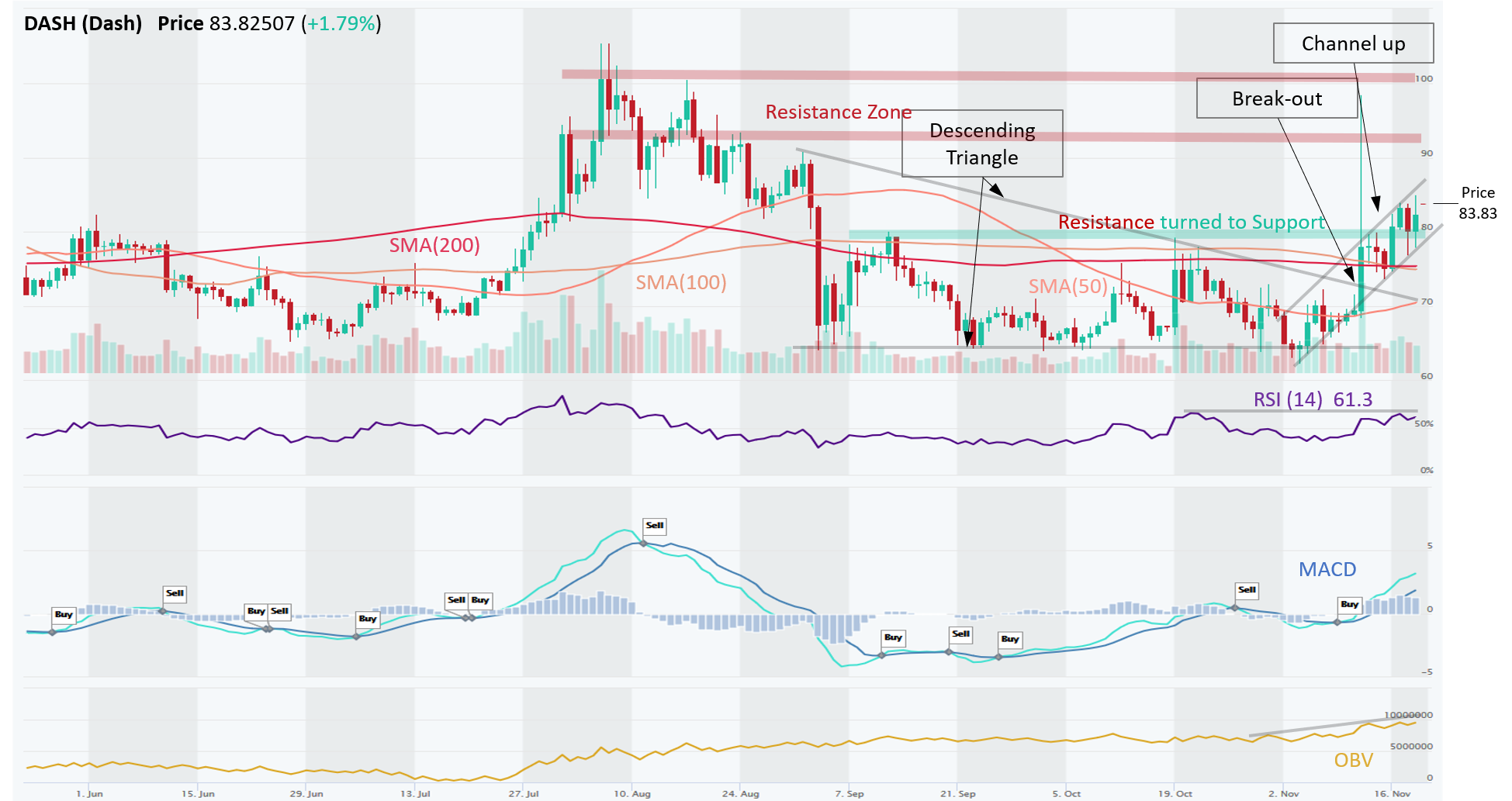 WAVES – Ride the Wave! 
WAVES (Waves) is in strong Uptrend across all time horizons (Shot-, Medium-, Long-Term). This week, WAVES had a monstrous bullish price action. WAVES was trading in an Up Channel and recently broke upwards from this channel. It broke all resistances that existed, posted new ATH and is marching upwards. RSI is in overbought territory (above 70), but RSI can stay overbought for a longer time. Also, RSI itself is trending upwards, which confirm this bullish price movement.
OBV is also making new highs, which confirms this bullish price action. MACD produced buy signal on Nov-6. According to ADX the current trend is very strong, and strengthening.  The only blemish in this pretty trend we could find is that volume overall is thin, at least in comparison to the last big run in August.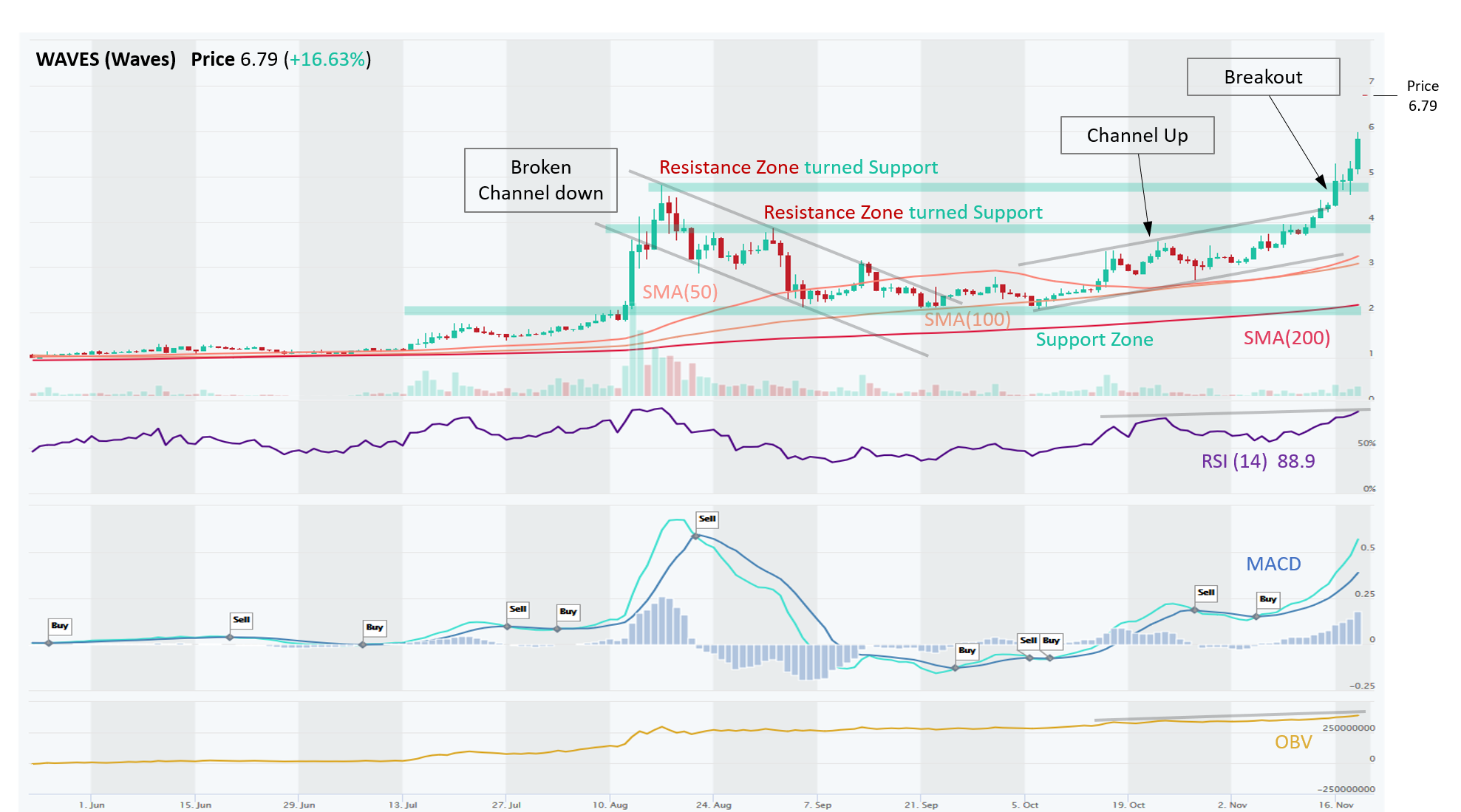 Risk management – Stop Loss and trade size. In all of these setups, traders should use Stop Loss orders to manage their downside risk, in case the trade goes against us, as it often will. Trading is about probabilities and even though these setups have a high win rate, one must be prepared to minimize losses on the trades that go bust. If Stop Loss order types are not supported by they exchange, at least set up a price alert (see video). Also, trade size should be such that you never risk losing more than 2% of your total equity. Keeping the trade size small allows the trader to setup a wider Stop Loss, which gives the trade more room and time to complete with success. Setting Stop Loss levels too tight can often result in getting knocked out of a trade prematurely.
Disclaimer: This content is for informational purposes only, you should not construe any such information or other material as investment, financial, or other advice. There are risks associated with investing in cryptocurrencies. Loss of principal is possible.