In addition to automated chart patterns, altFINS' analysts conduct technical chart analyses of top 30 cryptocurrencies. We call these Curated Charts and they evaluate 5 core principals of technical analysis: Trend, Momentum, Patterns, Volume, Support and Resistance.
DogeCoin (DOGE) technical analysis:
Trade setup: Price pulled back below 200-day MA and $0.075 support, which disrupts the Uptrend. It got oversold (RSI < 30) and bounced back but trends are mixed. Need price to break back above 200-day MA to resume Uptrend. (set a price alert).
Trend: Downtrend on Short- and Medium-Term basis and Neutral on Long-Term basis.
Momentum is Mixed as MACD Line is above MACD Signal Line (Bullish) but RSI ~ 50 (Neutral).
OBV (On Balance Volume): is rising, indicating that volume on Up days is greater than volume on Down days. Hence, demand (buyers) exceeds supply (sellers).
Support and Resistance: Nearest Support Zone is $0.055. The nearest Resistance Zone is $0.075 (previous support), then $0.090, and $0.115.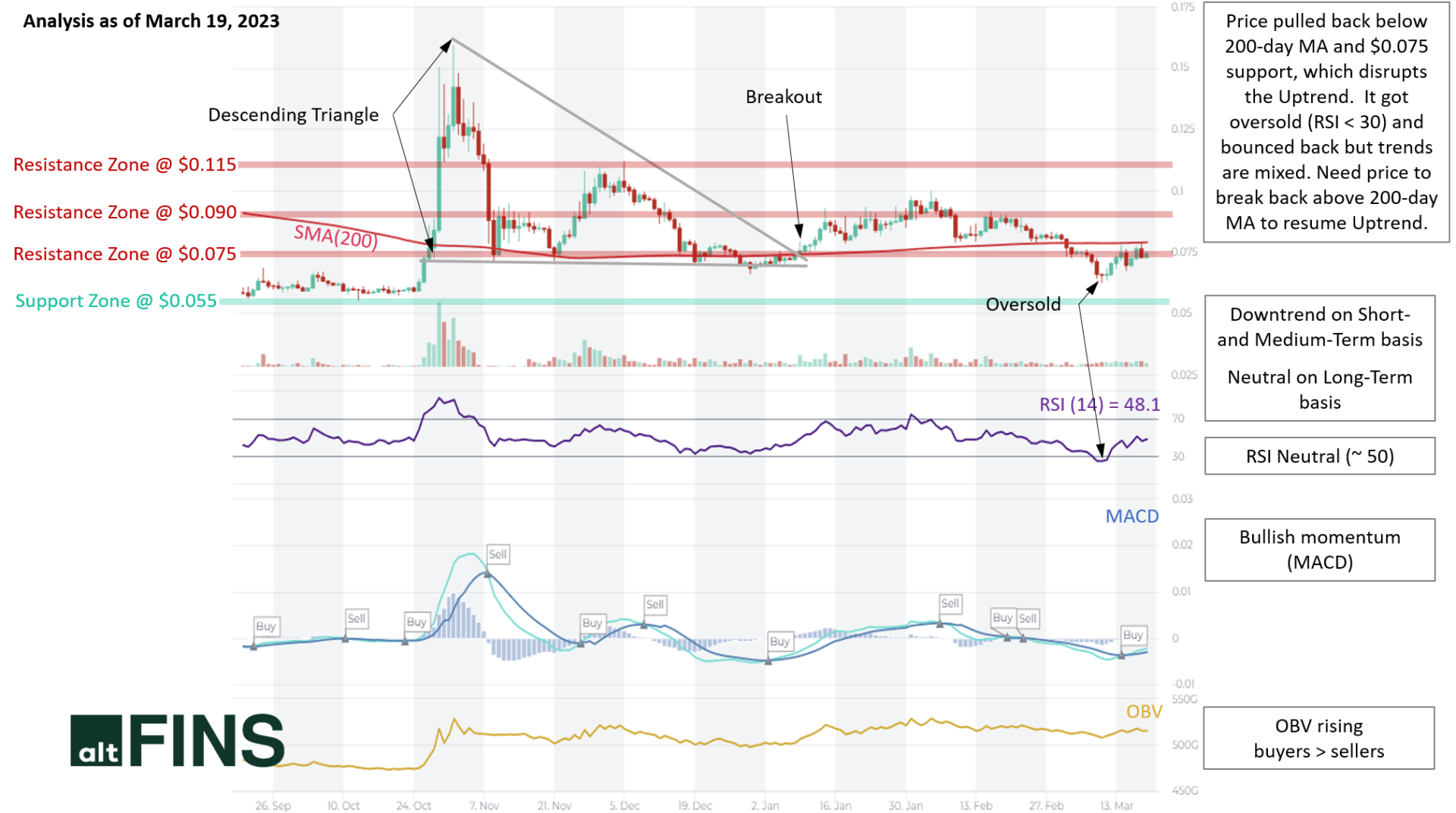 See live DogeCoin (DOGE) chart here
See more curated charts with technical analyses of coins.
Recent news and research:
How Dogecoin could become the currency of the internet according to Robinhood CEO
(Jan 14, 2022) Tesla to accept DOGE for merchandise payments
(Dec 28.2021) Planning for Better Breed of DOGE: Dogecoin Foundation Lays Out First-Ever Road Map
Dogecoin is better than Bitcoin for payments, Elon Musk declares
Shiba Inu Rival Dogecoin Hits Top 8 of Most Popular Coins Among BSC Whales
Dogecoin Holds above $0.16 Historical Price Level, Resumes Upward
Just 3 dormant addresses are behind 6% of Dogecoin (DOGE) market cap
New Dogecoin (DOGE) update has this key 'merit,' says Elon Musk
Coinbase to list DOGE on June 3rd
Elon Musk's latest Dogecoin 'trolling' isn't impressing the crypto community
DOGE Lost ~30% following Elon Musk's Saturday Night Live Appearance
Galaxy Digital – DOGE, the most honest sh*tcoin
Dogecoin gets listed by Gemini exchange
Dogecoin Enters Top 5 Cryptocurrencies after Beating Tether's Market Cap
DOGE out of control? Social media and whales sway Dogecoin price action
Dogecoin To Spark New Rallies In Undervalued Altcoins, Says Analyst Nicholas Merten
Bitfinex adds DOGE/USD and DOGE/USDt trading markets
Pro Trader Warns Dogecoin Could Drop 50% In A Retracement: How It Could Happen
Dogecoin steals the crypto spotlight as 'DogeDay' trends on Twitter
Find more real-time news here.
What is DogeCoin (DOGE)?
Find full description and news on altFINS platform.
Overview
Dogecoin is a playful cryptocurrency popularized by adopting the Shiba Inu internet meme.
History
Dogecoin is a meme cryptocurrency with the internet-famous Shiba Inu canine breed as a mascot. The project was introduced on Twitter by Jackson Palmer on November 27, 2013 when he tweeted about "investing" on "Dogecoin", a made-up name. Some of Palmer's friends encouraged him to create a real project, so he registered dogecoin.com and started working. Billy Markus saw the website and reached out to Palmer. Markus and Palmer thought Dogecoin would make the cryptocurrency space more palletable to newcomers since, as they built the protocol, Bitcoin was beleaguered by associations with Silk Road and dark web. Palmer exited the project and community in June 2014 by tweeting, "Unsubshibing. Peace." Unlike a variety of other altcoins launched in 2013 and 2014, Dogecoin has proved itself surprisingly resilient to crypto-asset market cycles, which is speculated to be the result of meme durability.
Technology
Dogecoin is a fairly-launched coin based on the structure of an existing project, Luckycoin, which itself is a code base fork of Litecoin, and arguably enjoys one of the most decentralized peer-to-peer networks after Palmer left the project. New blocks are added to the chain every 60 seconds, on average. It uses scrypt hash function for its proof-of-work consensus mechanism. The scrypt algorithm was specifically designed to make it costly to perform large-scale, custom-hardware attacks. At launch, it was mine-able on personal computers, which was attractive to cryptocurrency enthusiasts during a time when Bitcoin mining was increasingly industrialized and capital intensive. Dogecoin has no formal white paper, although several fans have written blog and forum posts as stand-in explainer documents.
Supply Curve Details
Dogecoin DOGE tokens are produced by mining blocks, which rewards miners a randomized quantity of coins. The randomization range halved every 100,000 blocks. Palmer originally capped the DOGE token supply at 100 billion. But in February 2014, the cap was abolished and an unlimited amount of DOGE can be created, shifting the cryptocurrency from a deflationary to an inflationary supply model. The block reward is now fixed at 10,000 per block, with one block being mined every one minute.
Asset profile is provided by messari. Original version can be found at Messari