In addition to automated chart patterns, altFINS' analysts conduct technical chart analyses of top 30 cryptocurrencies. We call these Curated Charts and they evaluate 5 core principals of technical analysis: Trend, Momentum, Patterns, Volume, Support and Resistance.
DogeCoin (DOGE) technical analysis:
Trade setup: Price is in a Downtrend and has broken below 200-day moving average, which is bearish. Now it's trading in a Falling Wedge pattern. We wait for a bullish breakout from Falling Wedge, which would signal that buyers have finally absorbed the supply from sellers and the price could reverse trends. (set a price alert).
Patterns: Falling Wedge Usually results in a bullish breakout. When price breaks the upper trend line the price is expected to trend higher. Emerging patterns (before a breakout occurs) can be traded by swing traders between the convergence lines; however, most traders should wait for a completed pattern with a breakout and then place a BUY order.
Trend: Downtrend across all time horizons (Short- Medium- and Long-Term).
Momentum is Mixed as MACD Line is above MACD Signal Line (Bullish) but RSI < 45 (Bearish). MACD Histogram bars are declining, which suggests that momentum is weakening.
Support and Resistance: Nearest Support Zone is $0.070, then $0.055. The nearest Resistance Zone is $0.090, then $0.100, $0.115.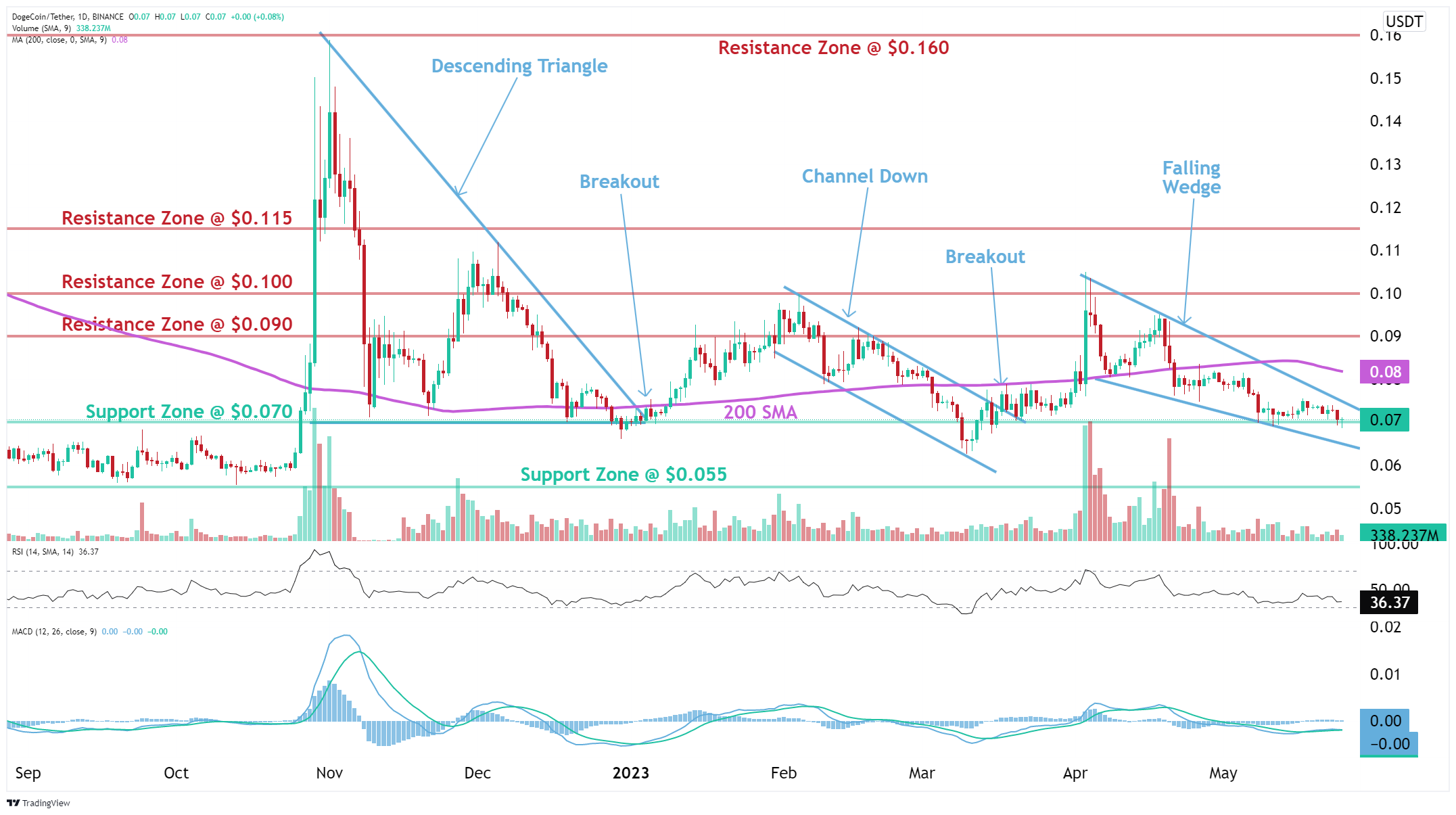 See live DogeCoin (DOGE) chart here
See more curated charts with technical analyses of coins.
Recent news and research:

Pepe Coin Surges: Trading Volume Skyrockets, Outpacing Dogecoin
DRC-20 tokens drive parabolic move in daily Dogecoin transactions
How Dogecoin could become the currency of the internet according to Robinhood CEO
(Jan 14, 2022) Tesla to accept DOGE for merchandise payments
(Dec 28.2021) Planning for Better Breed of DOGE: Dogecoin Foundation Lays Out First-Ever Road Map
Dogecoin is better than Bitcoin for payments, Elon Musk declares
Shiba Inu Rival Dogecoin Hits Top 8 of Most Popular Coins Among BSC Whales
Dogecoin Holds above $0.16 Historical Price Level, Resumes Upward
Just 3 dormant addresses are behind 6% of Dogecoin (DOGE) market cap
New Dogecoin (DOGE) update has this key 'merit,' says Elon Musk
Coinbase to list DOGE on June 3rd
Elon Musk's latest Dogecoin 'trolling' isn't impressing the crypto community
DOGE Lost ~30% following Elon Musk's Saturday Night Live Appearance
Galaxy Digital – DOGE, the most honest sh*tcoin
Dogecoin gets listed by Gemini exchange
Dogecoin Enters Top 5 Cryptocurrencies after Beating Tether's Market Cap
DOGE out of control? Social media and whales sway Dogecoin price action
Dogecoin To Spark New Rallies In Undervalued Altcoins, Says Analyst Nicholas Merten
Bitfinex adds DOGE/USD and DOGE/USDt trading markets
Pro Trader Warns Dogecoin Could Drop 50% In A Retracement: How It Could Happen
Dogecoin steals the crypto spotlight as 'DogeDay' trends on Twitter
Find more real-time news here.
What is DogeCoin (DOGE)?
Find full description and news on altFINS platform.
Overview
In 2013, Dogecoin (DOGE) was developed as a fun alternative to established cryptocurrencies like Bitcoin. The Shiba Inu emblem and moniker are based on a meme. Dogecoin is purposely abundant in contrast to Bitcoin, which was created to be scarce. Its supply is unlimited, and 10,000 new coins are mined every minute.
For the most of its existence, Dogecoin was viewed as a funny "memecoin" that was adored by its community, but with just marginal value. That all changed in 2021: even though each individual coin is only worth a few cents (see the current price), Dogecoin is now among the top ten most valuable cryptocurrencies by market cap, with a total value that has exceeded $50 billion.
Dogecoin (pronounced "dohj coin") was developed as a humorous, low-stakes alternative to Bitcoin; abundance is a major component of the concept. Doge attracted a passionate online community as soon as it was introduced in late 2013; this community has used DOGE for everything from paying strangers for insightful Reddit comments to funding the Jamaican bobsled team's trip to the 2014 Winter Olympics in Sochi.
Why does Dogecoin have value?
The market values DOGE similarly to any other asset based on supply and demand. Given the massive and expanding supply, a tremendous increase in demand was required to push prices as high as they have recently.
Prices increased by around 7,000 percent in the first quarter of 2021 as a result of retail investors on Reddit (including the wallstreetbets subreddit that gave rise to the "memestock" craze), the wider crypto boom, and months of tweets from Tesla founder Elon Musk that appeared to be made in jest, culminating in his appearance on Saturday Night Live in May 2021.
In 2021, rapidly rising DOGE prices received a lot of media attention (as well as social media posts), which briefly started a cycle that attracted new investors and raised prices even higher. FOMO (or "fear of missing out") attracts a flood of new traders whenever an asset experiences such astronomical increases. DOGE is still a very volatile cryptocurrency, thus there is no way to predict whether its value will rise or fall in the future.
From where did Dogecoin originate?
Software developers Billy Marcus and Jackson Palmer, pals from Reddit who had never met in person, created Dogecoin as a prank in late 2013. They blended two then-currently-trending topics in their online community: the burgeoning digital currency Bitcoin and a meme depicting a Shiba Inu and the misspelled word "dog."
To the astonishment of its inventors, Dogecoin became popular almost right once, with dogecoin.com having over a million visitors in its first month. Dogecoin's status as a full-fledged cryptocurrency with its own blockchain and a mining method akin to Litecoin's contributed to its comedic appeal. Due to its historically cheap prices (for long of its existence, DOGE could be purchased for pennies or less) and abundance, it has recently drawn the attention of investors anticipating that its value will increase.
Join our global community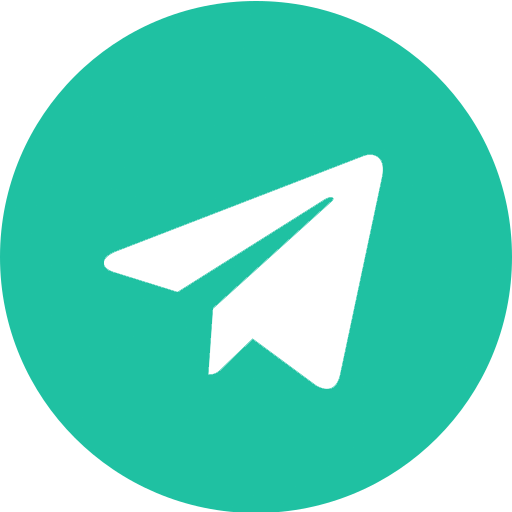 Download altFINS Mobile app