In addition to automated chart patterns, altFINS' analysts conduct technical chart analyses of top 30 cryptocurrencies. We call these Curated Charts and they evaluate 5 core principals of technical analysis: Trend, Momentum, Patterns, Volume, Support and Resistance.
Helium (HNT) technical analysis:
Trade setup: Price appears to have broken out of Descending Triangle pattern but we would wait for confirmation when price breaks above $1.50 resistance, which could signal trend reversal with upside potential back up to $2.00-$2.30. Recent price action has been sideways, which is quite bullish considering the overall bearish market sentiment. (set a price alert).
Trend: Downtrend across all time horizons (Short- Medium- and Long-Term).
Momentum is Mixed as MACD Line is above MACD Signal Line (Bullish) but RSI ~ 50 (Neutral).
Support and Resistance: Nearest Support Zone is $1.15. The nearest Resistance Zone is $1.50 (previous support), then $2.30.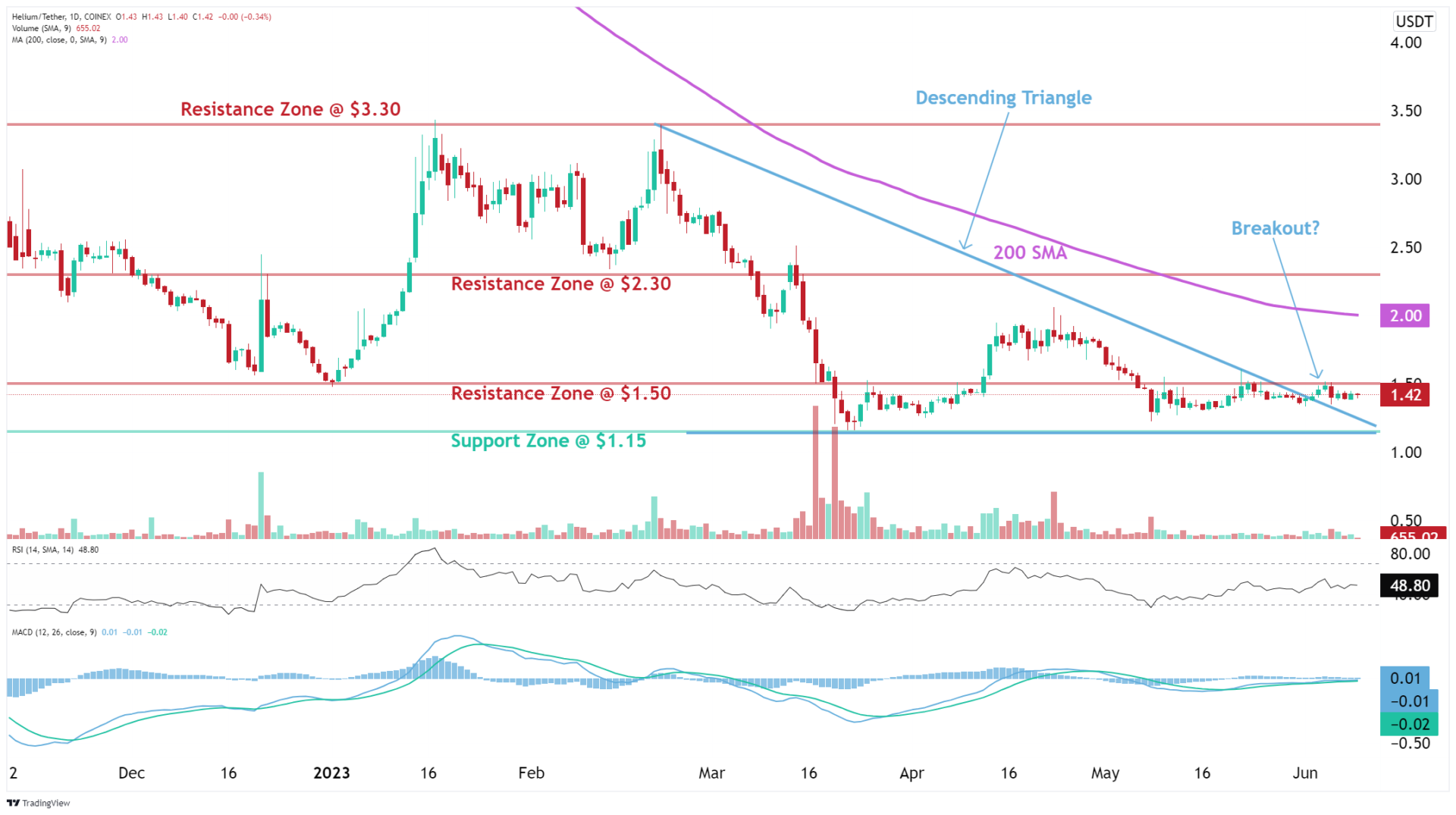 See live Helium (HNT) chart here
See more curated charts with technical analyses.
Recent news and research:

Helium Ditches Own Blockchain in Favor of Solana After Community Vote
Helium's Nova Labs now valued at $1.2 billion after fastest rollout in history
Bobcat Miner Launches Helium 5G Gateway to Mine HNT
HeliumRent Provides A New Way For Renting Helium Mining Hotspots
Helium Mining Hotspots fundraises $111mln and archives more than 100k active nodes.
Where to buy Helium: bull run continues, HNT reaches ATH
Find real-time news here.
What is Helium (HNT)?
Find full description and news on altFINS platform.
Overview
Helium is a decentralized, open wireless network built on a new blockchain for the physical world. It relies on a novel type of work called Proof of Coverage, and a new consensus algorithm (based on HoneyBadger BFT). The Helium Network is used to route data for long-range, lower power IoT devices that use Helium's LongFi protocol
History
Helium was founded in 2013 by Shawn Fanning, Amir Haleem, and Sean Carey, with a mission to make it easier to build connected devices. Helium believes that today's wireless connectivity options are wholely inadequate for the next generation of machines. To solve this they developed the Helium Hotspot, a combination of a physical blockchain node and wireless gateway that network participants can deploy to receive compensation in HNT, the native token. In order to receive rewards, Hotspots must submit proof of wireless coverage in a cryptographically verified location and time. Once the network is deployed, any sensor using the Helium LongFi wireless protocol can connect to the network which is intended for battery-powered devices sending small amounts of data over miles of range. Hotspots are rewarded in HNT based on the quality of the coverage they provide and the amount of LongFi sensor data they transport for devices on the network. HNT is burned to create Data Credits, a non-fungible token used for all transaction fees on the network. Data Credits are required for things like sending sensor data and asserting Hotspot location. Any LongFi-enabled IoT device can send data through any Helium Hotspot that's providing coverage.
Technology
Helium relies on a Proof-of-Coverage where Hotspots assert their location according to their GPS coordinates, and other Helium Hotspots routinely challenge in order to prove their location. Knowing where, when and how strongly a signal was received allows for verification of the transmitter location. Hotspots are constantly challenged by the Helium blockchain to prove their coverage, and they carry a score that floats dynamically between 0.0 and 1. This score represents the Network's confidence in their location as derived from those challenges, and thus the quality of their Helium LongFi wireless coverage Consensus is reached using the Helium Consensus Protocol. It works by having the best proofs of coverage from the prior epoch elect members for the next one who then runs a distributed key generator to bootstrap their threshold encryption keys. Each member accepts transactions until they have a certain amount in their queue, then encrypts them with the threshold public key and gossips encrypted data around. Once members all share their proposed transactions, they are all threshold decrypted at which point they cannot be censored. The transactions are deduplicated, invalid ones removed, and they are combined into a new block. This block then has a threshold signature applied to it. Members trying to censor transactions will end up with a different block than honest nodes and thus their signature shares won't be valid. Helium provides coverage using LongFi, an open-source protocol in the Sub-GHz frequency band. Using LongFi any device can broadcast a message within the coverage area of the Helium network and have their message relayed to a web server for a fee.
Usage Details
Helium, the native token of the Helium blockchain, has two primary uses: As a means of rewarding Helium Hotspot operators for participating in building out and securing the network and as the foundation for Data Credits (DCs) which are produced by burning Helium tokens. These DCs are used to pay all transaction fees on the network How to Earn Helium Tokens There are five ways Hotspots earn tokens: Network Data Transfer: Hotspots transfer data packets from devices using the network and are rewarded proportionally for their overall share of data transferred. Proof-of-Coverage: Hotspots validate their peer's wireless coverage Witnesses: Hotspots monitor and report Proof-of-Coverage Consensus Group: Hotspots validate transactions and publish new blocks. The likelihood of participating in this consensus process is based on a reputation score that changes based on Proof-of-Coverage participation Challenges: Hotspots are chosen to encrypt messages over the Internet to a target group of Hotspots. These challenges are used by Proof-of-Coverage to validate wireless coverage.
Launch Details
There is no premine of the Helium token. Once the mainnet went live, all Hotspots on the network began receiving Helium Tokens based on their participation in things like Proof of Coverage and being part of consensus groups. Helium, Inc. and other holders of Helium Security Tokens receive token distributions as defined in the genesis block at this time, as detailed in the Supply Curve details.
Asset profile is provided by messari. Original version can be found at Messari