In addition to automated chart patterns, altFINS' analysts conduct technical chart analyses of top 30 cryptocurrencies. We call these Curated Charts and they evaluate 5 core principals of technical analysis: Trend, Momentum, Patterns, Volume, Support and Resistance.
Kava (KAVA) technical analysis:
Trade setup: Kava has traded completely against the market in recent weekd. This is bullish as it shows that there's demand for the asset regardless of the overall bearish market sentiment. Price broke thru $1.00 and $1.15 resistances and, 200 day moving average, which are signs of Uptrend. Price got overbought RSI ~ 80 as it reached $1.50 and pulled back near $1.00, which could be an attractive entry with upside potential to $1.40.
Trend: Uptrend across all time horizons (Short- Medium- and Long-Term).
Momentum is Bullish but inflecting. MACD Line is above MACD Signal Line and RSI is above 55 but momentum may have peaked since MACD Histogram bars are declining, which suggests that momentum is weakening.
Support and Resistance: Nearest Support Zone is $1.00 (previous resistance), then $0.76. The nearest Resistance Zone is $1.15, then $1.40.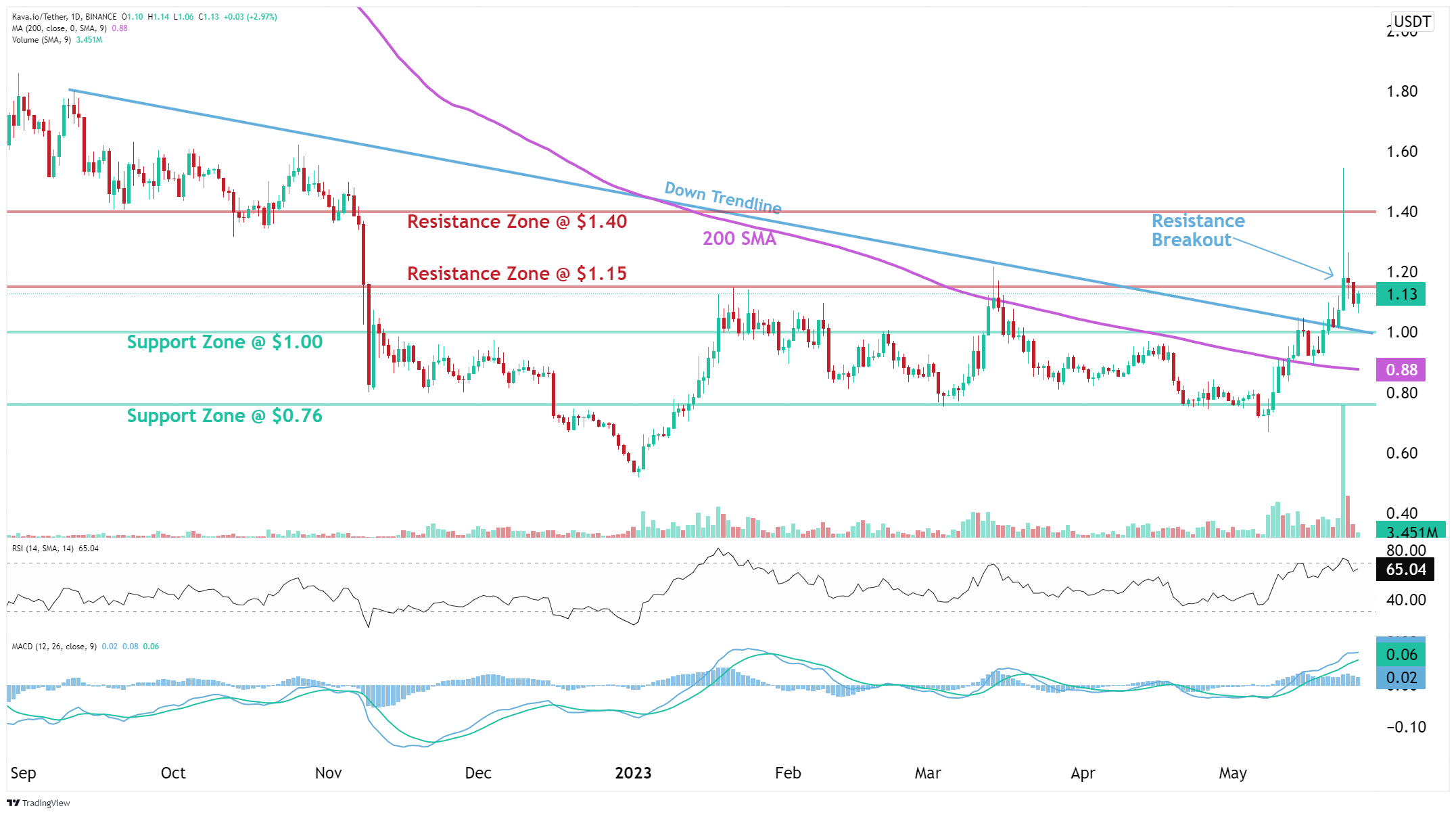 See live Kava (KAVA) chart here
See more curated charts of coins with technical analyses.
Recent news and research:

Kava Rise: $750M Developer Incentive Program
Kava is skyrocketing, up 10% in 24 hours: top places to buy Kava now
Will Kava turn the corner after the Kava 9 upgrade?
Find more real-time news here.
What is Kava.io (KAVA)?
Find full description and news on altFINS platform.
Overview
Kava is a cross-chain DeFi platform which supports multiple applications and services for cryptocurrency users. Kava's blockchain provides a safe and secure environment for DeFi apps and services to run.
History
Overview Kava is a Layer-1 blockchain that provides DeFi services such as stable coins, bonds, and lending to crypto users across many blockchain networks. Kava operates with a Tendermint-based Proof-of-Stake (PoS) consensus mechanism which offers Byzantine Fault Tolerance, instant finality, and security. With several Cosmos SDK modules implemented and 100+ professional validator secured, the Kava blockchain ensures users to earn more with their digital assets safely. History Kava aims to offer a foundation for various open financial services including Kava's security, cross-chain bridges, and adapted Chainlink Oracles to allow developers to quickly create new cross-chain DeFi applications and deploy them to Kava's global user base. The Kava lending platform and the native cross-chain money market application HARD Protocol built on Kava blockchain combine to create a decentralized bank for digital assets connecting users with products like stablecoins, loans, and interest bearing accounts so that they can do more and earn with their digital assets. The Kava ecosystem has three types of tokens, the KAVA token, the USDX stablecoin and the HARD token where the KAVA token is the native token of the Kava blockchain integral in the security, governance, and mechanical functions of the platform. Users can collateralize their crypto assets in exchange for Kava's stablecoin, USDX. The HARD token is the governance token of HARD Protocol and is used to incentivize early participants giving them a voice in the ongoing evolution and management of the application.
Asset profile is provided by messari. Original version can be found at Messari