Decentraland (MANA) Analysis
In addition to automated chart patterns, altFINS' analysts conduct technical chart analyses of top 30 cryptocurrencies. We call these Curated Charts and they evaluate 5 core principals of technical analysis: Trend, Momentum, Patterns, Volume, Support and Resistance.
Decentraland  (MANA) technical analysis:
Trade setup: Bullish breakout from Falling Wedge pattern, above $0.30 resistance, could signal potential bullish trend reversal. That $0.30 level held up in June and January, so it is a significant level. (set a price alert).
Pattern: Falling Wedge typically results in a bullish breakout. When price breaks the upper trend line the price is expected to trend higher. Emerging patterns (before a breakout occurs) can be traded by swing traders between the convergence lines; however, most traders should wait for a completed pattern with a breakout and then place a BUY order.
Trend: Neutral on Short-Term basis and Downtrend on Medium- and Long-Term basis.
Momentum is Mixed as MACD Line is above MACD Signal Line (Bullish) but RSI ~ 50 (Neutral).
Support and Resistance: Nearest Support Zone is $0.27. The nearest Resistance Zone is $0.30 (previous support), then $0.44, and $0.50.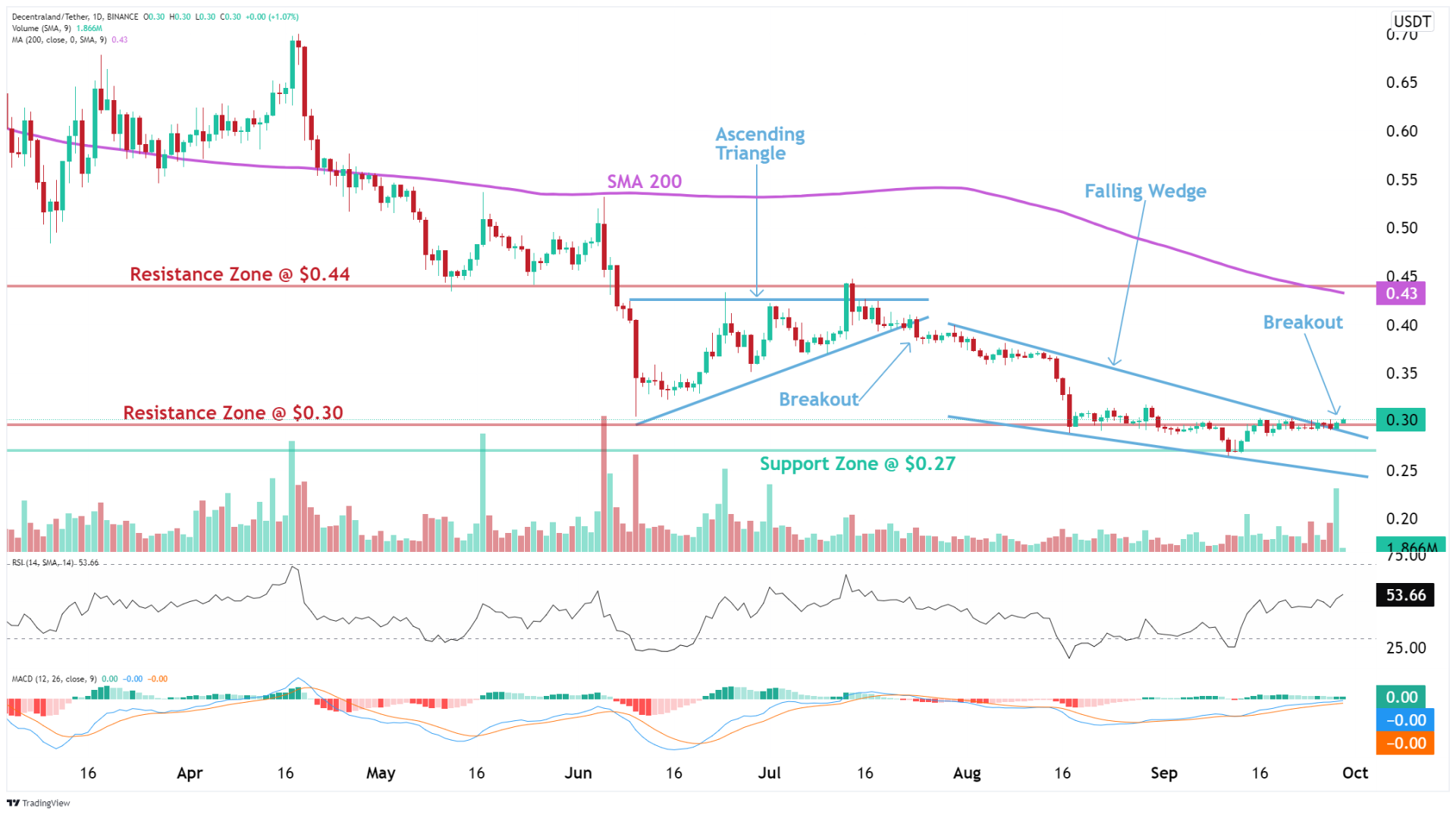 See live Decentraland (MANA) chart here
See more curated charts of coins with technical analyses.
Recent news and research:
(Feb 15, 2022) JPMorgan: Metaverse Could Be $1 Trillion Annual Market
(Dec 19, 2021) Metaverse News: Decentraland (MANA) partners with NBA champion Stephen Curry
(Dec 15, 2021) A Wave Of New Blockchain Games Are Accelerating Mainstream Adoption Of Collectibles And NFTs
What is Decentraland (MANA)?
Find full description and news on altFINS platform.
Overview
Decentraland is building a decentralized, blockchain-based virtual world for users to create, experience and monetize content and applications.
History
Decentraland is a decentralized, traversable, three-dimensional (3D), virtual reality platform being built on the Ethereum blockchain. The platform focuses on the ownership of parcels of digital land where users can create unique environments in a virtual world. Content creators will be able to prove ownership of, and capture value from, their contributions to the platform. Users will be able to traverse unique areas of content, which can be clustered into districts, giving content creators targeted traffic and allow for spatial discovery of new content by users. Currently, users gather, interact, share content, and play games primarily on large proprietary platforms like Facebook. The team believes that a decentralized model will allow participants to realize several benefits over current centralized services. Users and contributors will be able to benefit from transactions that occur on the platform, instead of allowing some or all of the revenue to flow to a single party. Furthermore, a decentralized platform will reduce the risk of censorship and vulnerabilities due to infrastructure failures or security breaches. Decentraland uses two tokens, LAND and MANA, which allow users to interact with the platform. Individual ownership of land parcels are represented by non-fungible LAND tokens containing the coordinates of a single point on the grid and a reference to the details of each parcel. Ownership details are managed through a ledger on a smart contract. To acquire LAND users must burn ERC20 based MANA tokens. MANA tokens are also used for the purchase of in-game goods and services. In Dec. 2017, the first LAND tokens representing parcels in the first part of the game, Genesis City, were auctioned off. In March 2018, the Decentraland Marketplace was released allowing users to buy and sell parcels (LAND) in Genesis City as well as explore the area on a map. As of May 2018, the platform was still under development. The team plans to roll out access to the Decentraland world through a variety of devices including mobile, web and virtual reality (VR) platforms.
Supply Curve Details
Decentraland completed a token sale on Aug. 18, 2017, after reaching the project's hard cap and raising 86,260 ether (ETH) worth $25 million at the time. Following the sale, a total of 2.81 billion MANA tokens were created. Participants in the token sale received 40% of total supply (1.12 billion MANA) with a discount system that was scheduled to sell 1,000 MANA at a range of $0.024 to $0.04. Due to a small number of large investors the sale was concluded in only 35 seconds. The development team, Decentraland Foundation, and a community reserve each received 20% of total supply (561.2 million MANA) with the founder allocation vesting over three years at semi-annual periods. Additional MANA tokens will be released on an ongoing basis using a continuous token model. In the first year the supply will increase by 8.00% and this rate decreases over time, to 6.06% by year 5 and 4.65% by year 10. These additional tokens will be sold through a smart contract, at a price that can be updated by the Decentraland Foundation to ensure coherence with the market price of MANA. Proceeds will be used to provide ongoing financing for the Foundation. On Dec. 15, 2017 the Genesis City auction, known as the Terraform Event, sold 90,000 parcels (LAND) in the first area of the platform. Of these, 40,000 were used to create designated community districts based on user proposals. These were priced at 1,000 MANA per LAND. The remaining supply of parcels was auctioned at the same starting rate with the requirement that each bid be 25.00% larger than the last resulting in some parcels selling for 80,000 MANA.
Technology
Decentraland consists of the consensus, land content, and real-time layers that allow the smart contract infrastructure to link to real-time visualization and gameplay for users. The base of the network rests on the consensus layer, where land ownership is established through the LAND smart contract and token system. Each LAND entry also contains a has that references the file containing the details of each parcel of land. Files related to LAND entries are contained in the content layer which stores specific details of a land parcel, such descriptions of objects, textures, sounds, as well as scripts controlling how the content is placed and behaves in the parcel. Additional details such as scripts for user interaction and a link to servers for peer-to-peer interactions can be stored in these files. The platform uses IPFS network to store data and links in the consensus layer to retrieve it. Users will interact with objects and other participants in the virtual world through the real-time layer. All interactions on this layer will be handled through peer-to-peer connections, with servers hosted by landowners or third-parties, removing the need to rely on centralized servers. The team has released a software development kit (SDK) that will allow developers to create content within Genesis City and continues to work on integrations for identity and a payment channel infrastructure to facilitate micro-payments on the platform.
Asset profile is provided by messari. Original version can be found at Messari