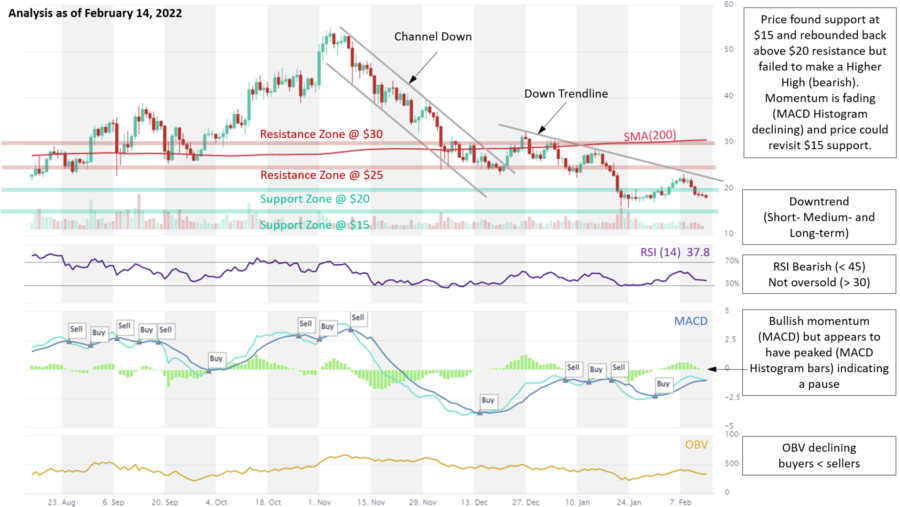 In addition to automated chart patterns, altFINS' analysts conduct technical chart analyses of top 30 cryptocurrencies. We call these Curated Charts and they evaluate 5 core principals of technical analysis: Trend, Momentum, Patterns, Volume, Support and Resistance.
Polkadot (DOT) technical analysis:
Trade setup:So far, price was rejected at $10 resistance. Wait for price to 1) break above $10 to confirm trend reversal, or 2) pull back to $7 support for swing entry. (set a price alert).
Trend: Uptrend on Short-Term basis, Neutral on Medium-Term basis and Downtrend on Long-Term basis.
Momentum is Bullish but inflecting. MACD Line is above MACD Signal Line and RSI is above 55 but momentum may have peaked since MACD Histogram bars are declining, which suggests that momentum is weakening.
OBV (On Balance Volume): is rising, indicating that volume on Up days is greater than volume on Down days. Hence, demand (buyers) exceeds supply (sellers).
Support and Resistance: Nearest Support Zone is $7. The nearest Resistance Zone is $10 (previous support), then $15.
See live Polkadot (DOT) chart here
See more curated charts of coins with technical analyses.
Recent news and research:

Polkadot Parachains Launch $250M Fund To Grow Ecosystem
 Liquidity solutions for the Polkadot ecosystem
 Polkadot Is Deutsche Telekom's Latest Crypto Experiment
 Polkadot's Parachain Winners Make Strides in Building Sharded Ecosystem
Parallel Finance wins Polkadot's fourth parachain slot auction with $300 million raised
Polkadot hits a new all-time high of $51 ahead of its very first parachain auctions getting approved
Primer on Polkadot & Kusama Parachains
Polkadot, Kusama Jump Ahead of Next Parachain Auction
Cardano and Polkadot Report a Jump in Weekly Cryptocurrency Inflows
Polkadot ecosystem coins.
Polkadot with Robert Habermeier and Nick Tomaino
Find more real-time news here.
What is Polkadot (DOT)?
Find full description and news on altFINS platform.
Overview
Polkadot is a blockchain network designed to support various interconnected, application-specific sub-chains called parachains (short for parallelized chains). Each chain built within Polkadot uses Parity Technologies' Substrate modular framework, which allows developers to select specific components that suit their application-specific chain best. Polkadot refers to the entire ecosystem of parachains that plug into a single base platform known as the Relay Chain. This base platform, which also leverages Substrate, does not support application functionality but instead provides security to the network's parachains and contains Polkadot's consensus, finality, and voting logic.
History
Polkadot origins Polkadot is the brainchild of Dr. Gavin Wood, who is one of the co-founders of Ethereum and the inventor of the Solidity smart contract language. Dr. Wood started working on his idea to "design a sharded version of Ethereum" in mid-2016 and released the first draft of the Polkadot white paper in Oct. 2016. In 2017, Dr. Wood and Parity's Peter Czaban founded the Web3 Foundation, a non-profit entity established to support the research and development of Polkadot as well as to oversee its fundraising efforts. The Switzerland-based Web3 Foundation hosted Polkadot's first token sale in Oct. 2017, using a Spend-All Second Price Dutch Auction to distribute the funds. The sale raised $145 million in just under two weeks, selling 50% of the initial 10 million DOT (old) supply, and the Web3 Foundation chose Parity Technologies to develop Polkadot.
Parity Technologies was founded by Dr. Wood and Jutta Steiner and is known for maintaining the Parity Ethereum client in addition to Substrate, which serves as the development framework for Polkadot. Parity Wallet hack and subsequent fundraising efforts Ten days after the token sale ended (Nov. 6, 2017), someone permanently froze the funds in the Parity multisig contract (the second such incident in a matter of months) compromising a little over $90 million worth of ETH equaling around 66% of Polkadot's token sale proceeds. Polkadot, along with Parity, has petitioned the Ethereum community to consider finding a way to return to the funds, but the situation remains unresolved. Despite the lost funds, Polkadot and Web3 Foundation reported the project still had enough funds to meet its development milestones.
The Web3 Foundation reportedly raised more capital to replenish the lost funds in a 2019 private token sale. In the sale, Polkadot sought to sell 500,00 DOT (old) tokens at a $1.2 billion valuation, pricing the tokens at $120 apiece. Although the foundation did not disclose any details related to the raise, it was reported that the sale closed in June 2019 at a "successful" valuation. Polkadot technical developments and mainnet rollout On the technical front, Polkadot started rolling out various proofs-of-concept (PoCs) in May 2018 to test its base relay chain, the relay chain's support for parachains, and its finality agent (dubbed GRANDPA). PoC 3, released in Jan. 2019, also introduced the Alexander testnet, Polkadot's first test network. But the project's first significant release came in Aug. 2019 with the public launch of Kusama. Kusama is an early, unaudited, and unrefined release of Polkadot, designed to serve as a "canary" network for Polkadot to test governance, staking, and sharding under real economic conditions. Polkadot also dedicated 1% of the initial DOT supply to Kusama stakeholders in order to encourage participation. Polkadot adopted a staged rollout strategy for its mainnet launch.
Polkadot's first mainnet chain candidate, Phase 1, launched on May 27, 2020. It marked the initial step in a multi-stage rollout process detailed in the project's mainnet launch roadmap. This early version of Polkadot operated as Proof-of-Authority (PoA) network managed by six validators belonging to the Web3 Foundation. Eventually, the network transitioned to its proposed Nominated Proof-of-Stake (PoS) system on Jun. 18, 2020 (Phase 2), which enabled DOT owners to claim validators slots and unlocked staking rewards. Phases 3 and 4 in late Jul. 2020 introduced Polkadot's governance functionality and handing control of the protocol over to the community, respectively. The final phase plans to unlock DOT token transfers on Aug. 18, 2020.
The Web3 Foundation continues to use the proceeds from DOT sales to fund ecosystem initiatives and back projects building on Polkadot (see: the Polkadot Ecosystem Fund). The foundation is governed by the Foundation Council, a governing body consisting of Dr. Gavin Wood (President and Founder), Dr. Aeron Buchanan (Vice President), and Reto Trinkler. DOT redenomination In the first official community vote for the network, Polkadot token holders voted to change the denomination between DOT and its smallest unit, Plancks, by a factor of 100. This change officially went into effect at block #1,248,328, which arrived on Aug. 21, 2020, about 72 hours after DOT transfers unlocked at block #1,205,128 (Aug. 18, 2020). It was a cosmetic change that was similar to a stock split. The token balances of each Polkadot account increased by 100x, increasing the total DOT supply from its original 10 million to 1 billion. But the move did not impact Polkadot's pre-market valuation as the dollar amount of each DOT will decrease by 100x.
Technology
Polkadot features a variety of technical components, including the relay-chain, parachains, the Polkadot Runtime Environment (PRE), and cross-network bridges. Relay-chain Polkadot's relay-chain is built with Substrate, a blockchain building framework that is the distillation of Parity technologies learnings building Ethereum, Bitcoin, and enterprise blockchains. It is at the core of the network, helping map addresses to account information, coordinating communications, and providing consensus through a pooled security mechanism utilizing proof-of-stake (PoS). All validators stake their DOTs and produced blocks directly on the relay-chain. The relay chain lacks features like smart contracts and instead is designed to be a minimal protocol to connect other network participants and provide transaction finality. Since this central chain is handling the bulk of the network's transaction flows, actions on the relay-chain may come at a premium. But the relay-chain will delegate a significant portion of the computational work to the surrounding parachains, which can have "differing implementations and features."
Parachains Parachains will be used to collect and process transactions while using the relay chain for finality. To increase transaction throughput, parachains will process transactions concurrently across multiple chains, instead of queuing transactions and processing them sequentially. Polkadot does not place any constraints on the design and structure of parachains. These network components can be application-specific or support a particular feature (e.g., privacy or scalability). But each parachain must generate a proof regularly so a designated Polkadot validator can verify and reconcile past transactions. Parachains also share the same state as the relay-chain, meaning if the relay-chain should revert at any point, then all parachains would revert as well. In terms of composability, cross-parachain communication is native to Polkadot. Therefore, parachains will be able to send messages (including transactions and data) to each other "without the need for smart contracts to perform the bridging functionality."
Polkadot Runtime Environment (PRE) The PRE consists of the networking, consensus and WebAssembly Virtual Machine subsystems. Polkadot breaks the components of the PRE down to: Network Interactions State storage and the Storage Trie Consensus Engine Wasm Virtual Machine (VM) Polkadot's state machine is compiled to WebAssembly (WASM), a high-performance virtual environment. WASM is developed by major companies including Google, Apple, Microsoft, and Mozilla, that have created a large ecosystem of support for the standard. Polkadot's networking uses libp2p, a cross-platform network framework for peer-to-peer applications that handles the peer discovery and communication in the Polkadot ecosystem. The Polkadot runtime environment is being coded in C++, and Golang to make Polkadot accessible to a wider range of developers. Bridging Polkadot will eventually enable the connections to outside networks like Ethereum and Bitcoin through a series of specialized bridge contracts or modules. There are two different types of external bridging in Polkadot: Bridge contracts: Smart contracts that connect Polkadot's relay-chain to external chains (for example, the Parity Bridge between an Ethereum Proof-of-Authority (PoA) sidechain to a Substrate-based chain) In-built bridging modules: Purpose-built modules that help external chains connect with Polkadot.
Supply Curve Details
The inflation rate structure is still to be defined but will vary based on the total network stake. The current specifications, available on the Token Economics section of the Web 3 Foundation website, state a 10% inflation rate with 75% of the supply staked. We used this metric to compute future issuance, as 75% of the outstanding supply staked is defined as ideal by the specifications. A treasury will also receive transaction and slashing fees. How much of those fees will go to the block producer is an adjustable parameter via governance. It is originally suggested that 20% will go to block producers and the other 80% will go to the treasury (instead of burning) to keep better control of inflation/deflation. The impact of the burn mechanism of transaction fees and slashing fees has not been computed to draw the supply curve.
Consensus Details
Polkadot uses what it calls a hybrid consensus, which separates finality from the block production mechanism. At a high level, Polkadot allows the network to produce blocks at a rapid pace while permitting the slower finality agent to run in a separate process, thereby not affecting transaction execution times. This design theoretically helps overcome the issues associated with probabilistic finality, namely the chance of unknowingly following an incorrect fork or the inability to produce new blocks (aka stalling). The two mechanisms that power Polkadot's consensus include: BABE: The Blind Assignment for Blockchain Extension (BABE) is the block production mechanism. It assigns block production slots to randomly selected validators according to stake (as defined by the Polkadot randomness cycle). GRANDPA: The GHOST-based Recursive ANcestor Deriving Prefix Agreement (GRANDPA) is the finality gadget for the Polkadot relay chain. This agent reaches agreements on chains rather than blocks, which could speed up the finalization process.
Polkadot helps elaborate on this definition by stating if "more than 2/3 of validators attest to a chain containing a certain block, all blocks leading up to that one are finalized at once." While the core technology of Polkadot is the relay chain, the network reaches consensus through a modified and proprietary PoS mechanism consisting of four key participants: collators, validators, nominators, and fishermen.
Each parachain has a collator that fulfills the task of a miner in a proof-of-work (PoW) blockchain. A collator must maintain the Polkadot relay chain state as well as the state of the parachain. The collator then manages the queue of transactions going into and out of the parachain from the relay chain. Collators collect parachain transactions, produce state transition proofs, create new candidate blocks and then pass them along to validators in exchange for a fee for their work. In a competitive market with many collators, collators can incentivize validators to choose their block by sharing a portion of their fee with the validator.
Validators are randomly nominated to accept block candidates from parachain collators, verify the information in the block, and republish the block candidate to the Polkadot relay chain. Once a validator confirms a block, they also validate and change the state of the relay chain block by moving the transaction data from the originating parachain's input queue to the destination parachain's output queue. Validators are incentivized through a staking mechanism that requires them to stake Polkadot (DOT) tokens to the network to be chosen as an active validator. Validators that break the consensus algorithm are punished by losing a portion of their stake, while those that correctly secure the network and verify blocks are rewarded with new tokens.
Nominators are those who may be unable to participate in the transaction validation process directly, so they instead contribute tokens to a validator of their choice. Nominators receive a pro-rata share of the validator reward based on their portion of the validator's bond, so nominators are incentivized to choose a validator most likely to receive the largest reward. The team believes the nominator process will create a competitive, but honest, marketplace for high-quality validators and nominators. Fishermen Fishermen do not participate in the transaction validation process with validators and nominators, but instead, act as watchmen monitoring activity across the Polkadot network and identify validators who break consensus rules. Fishermen stake a smaller bond of tokens than a validator but receive a proportionally larger reward than validators for their role in securing the network.
Asset profile is provided by messari. Original version can be found at Messari