In addition to automated chart patterns, altFINS' analysts conduct technical chart analyses of top 30 cryptocurrencies. We call these Curated Charts and they evaluate 5 core principals of technical analysis: Trend, Momentum, Patterns, Volume, Support and Resistance.
VeChain (VET) technical analysis:
Trade setup: Consolidating in a Sideways Channel ($0.02-0.03). Swing trader: trade the channel (Enter near $0.02 support and Exit near $0.03 resistance). Support at $0.02 is also where price bottomed out in June. (set a price alert).
Pattern: Price is trading in a Sideways Channel , which is a neutral pattern (indication of market indecision). Trend Traders ought to wait for a breakout in either direction, although typically it breaks in the direction of the existing trend. Swing Traders can trade the range – Enter near Support and Exit near Resistance.
Trend: Downtrend across all time horizons (Short- Medium- and Long-Term).
Momentum is Mixed as MACD Line is below MACD Signal Line (Bearish) but RSI ~ 50 (Neutral).
OBV (On Balance Volume): is flat, indicating that volume on Up days is equal to volume on Down days. Hence, demand from buyers and supply from sellers are in equilibrium
Support and Resistance: Nearest Support Zone is $0.020. The nearest Resistance Zone is $0.030, then $0.035.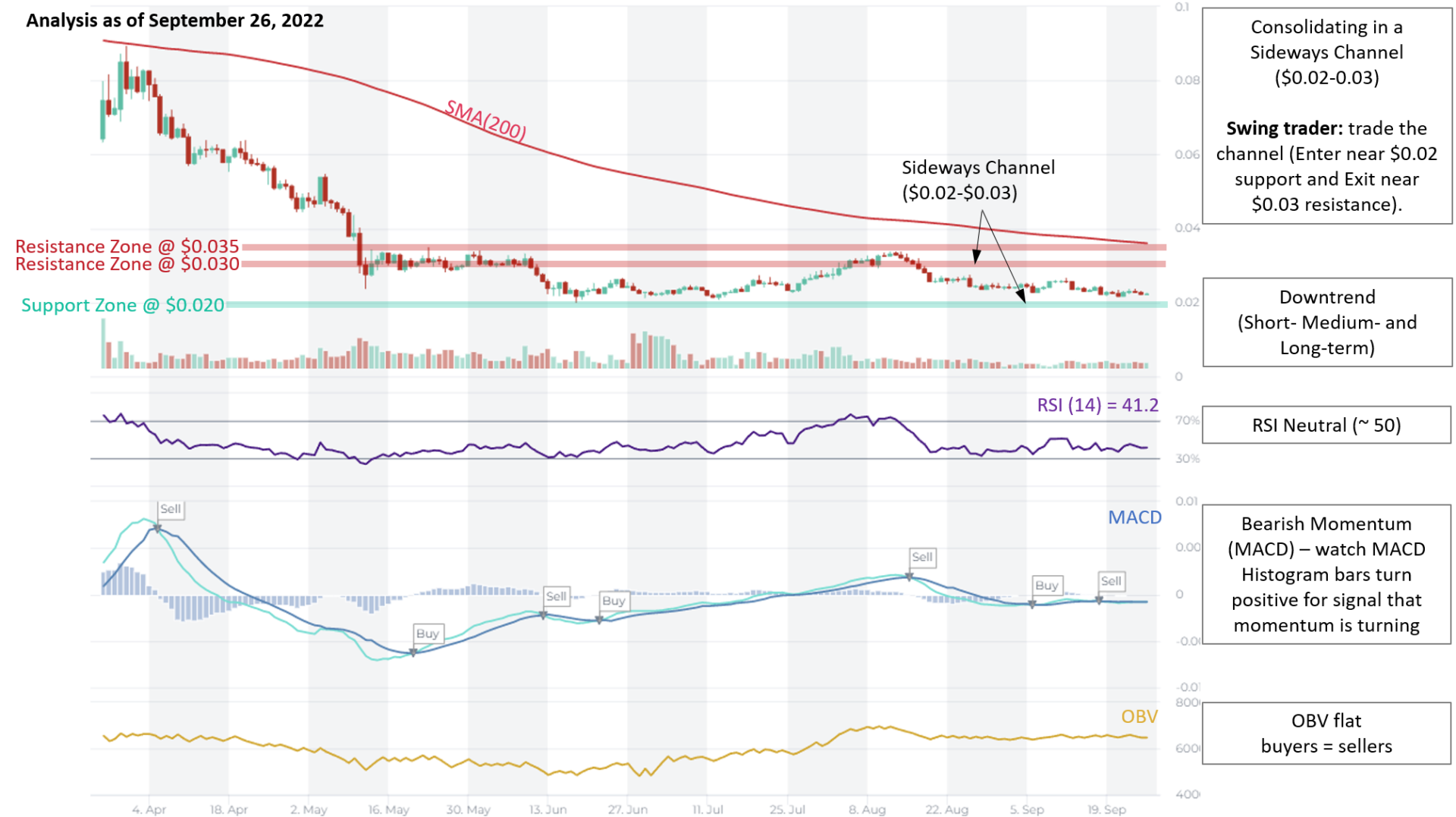 See live Vechain (VET) chart here
See more curated charts of coins with technical analyses.
Recent news and research:
(Jan 3.2022) VeChain Foundation Announces New Stablecoin, Could It Create Fresh Demand For VET?
VeChain has partnered with top Shanghai-based Renji Hospital to launch MyBaby, a blockchain-based service that tracks IVF progress.
VeChain has taken blockchain's technology potential to a new sector in association with DNV and one of China's most important Healthcare facilities, the Renji Hospital. The partners have launch MyBaby, a blockchain-based service app for In-Vetro fertilization (IVF). 
Via its official Twitter handle, the VeChain Foundation confirmed a meeting with government officials from three important Chinese districts. Representatives from Shanghai, Changing, and Huangpu visited the organization's office in Singapore. Per the report by the VeChain Foundation, the representatives from the enterprise blockchain platform and the governments talked about "potential transformative collaborations".
Find more real-time news here.
What is VeChain (VET)?
Find full description and news on altFINS platform.
Overview
VeChain is a smart contract platform focused on providing supply chain management solutions for enterprises and integrating with Internet of Things (IoT) devices to facilitate the process. Its goal is to leverage distributed ledger technology to streamline these operations and information flow for complicated supply chains. VeChain Token (VET) and VeChainThor Energy (VTHO) are the two tokens on the Vechain network. The former is used to relay value across VeChain's network, while the latter is utilized to power smart contract transactions as energy or "gas." The platform claims to give authorized stakeholders with a total view of critical information related to a product and its business processes (i.e storage, transit, supply and authenticity) as well as increase market transparency.
History
VeChain is a multi-purpose enterprise blockchain for improving business operations and product tracking. VeChain blockchain development started in 2015 as a modified fork of Ethereum with a design focus on Internet of Things (IoT) and supply chain management. To date, VeChain has expanded their focus to multi-purpose functionality with customizable support for a range of enterprise uses. On-chain governance, cheap transaction fees, interoperability with non-blockchain technologies, and regulatory compliance are all priorities for its core developers. VeChain wants to make all required information from manufacture to delivery (storage, transportation, and supply) available to all authorized parties for any enterprise business process that interacts with the VeChain Thor blockchain.
Technology
VeChain's blockchain is built on a modified version of the Ethereum codebase and it optimizes its blockchain (called Thor) for enterprise use cases. Thor is the core of the blockchain, which functions as a basic layer for message exchange, key management, and data storage. Business applications can be built on top of Thor for smart contract creation and data auditing. VeChain plans to develop Thor smart contract development with visualization tools and support for multiple languages. VeChain IDs are a key component of the blockchain. Physical good tracked with VeChain are assigned digital identities created with a SHA256 hash and tracked with NFC, RFID, and QR codes. It uses a Proof of Authority (PoA) consensus mechanism that relies on masternodes to validate transactions. Authoritative masternodes are selected by the VeChain Foundation and the community after Know Your Customer (KYC) processes. VeChain's blockchain circulates two tokens. The first, VET, is the network's primary medium of exchange for governance and payments. The second, VeThor (VTHO), is a token for a lower transaction fee model that is credited to VeChain users daily based on the amount of VET they hold. VeThor is used to executing smart contracts and transactions on the VeChain blockchain. VeChain blockchain users are categorized as users and service providers. Users include manufacturers, retailers, consumers, and other enterprise clients. Service providers build specific applications on the network like smart contracts and other blockchain-based software applications.
Supply Curve Details
VeChain created a total of 1 billion VEN tokens. Of the total supply, 41% (410.0 million VEN) was sold in a public sale with a smaller 9% (90.0 million VEN) sold during a related private sale. Enterprise investors were allocated 14% of tokens (140.8 million VEN). The team received 5% of tokens (50 million VEN) which remain locked and 12% of tokens (120 million VEN) were set aside for ongoing operations. Following the token sale, VeChain was required to refund Chinese citizens that participated in the token sale leading them to burn 13.3% of the total token supply (132.8 million VEN) reducing the maximum supply to 867.2 million VEN. On Dec. 13, 2019, an attacker stole approximately 1.16 billion VET tokens from the VeChain Foundation's "buyback address." The Foundation attributed the cause of the hack to the negligence of its own staff and proceeded to have exchanges blacklist the addresses associated with the stolen funds.
Asset profile is provided by messari. Original version can be found at Messari