In addition to automated chart patterns, altFINS' analysts conduct technical chart analyses of top 40 cryptocurrencies such as Sandbox (SAND). We call these Curated Charts and they evaluate 5 core principals of technical analysis: Trend, Momentum, Patterns, Volume, Support and Resistance.
Sandbox (SAND) technical analysis:
Trade setup: Bullish breakout from Channel Down was confirmed by break above $0.75 resistance, which could be a sign of trend reversal with upside to $1.00+ (set a price alert).
Trend: Uptrend on Short- and Medium-Term basis and Downtrend on Long-Term basis.
Momentum is Mixed as MACD Line is below MACD Signal Line (Bearish) but RSI > 55 (Bullish).
OBV (On Balance Volume): is rising, indicating that volume on Up days is greater than volume on Down days. Hence, demand (buyers) exceeds supply (sellers).
Support and Resistance: Nearest Support Zone is $0.50. The nearest Resistance Zone is $0.75, then $1.00.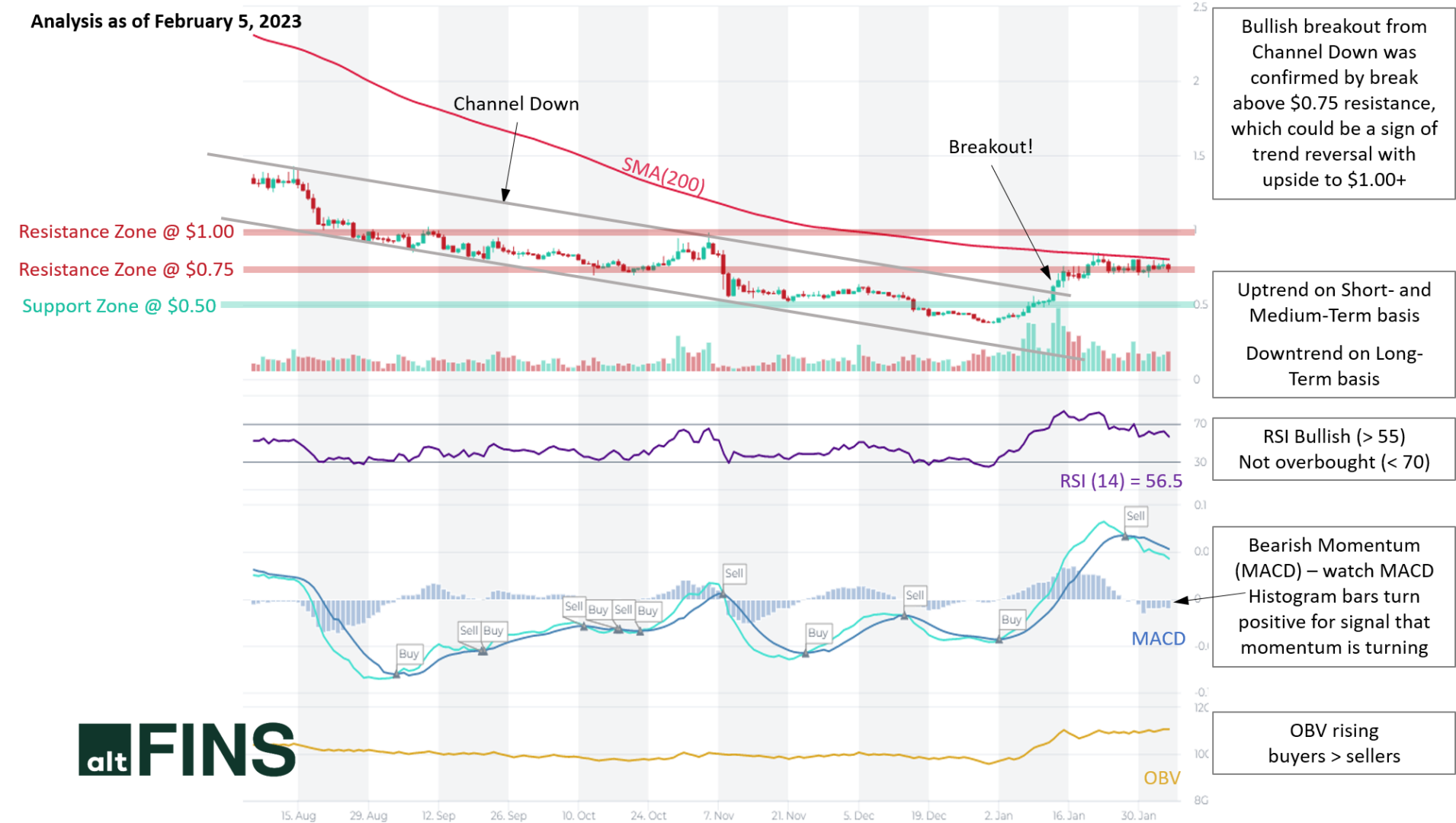 See live Sandbox (SAND) chart here
Read more curated charts of coins with technical analyses.
Recent news and research:
The Sandbox gears up to raise $400 million at a $4 billion valuation: report
Banking giant HSBC partners with metaverse firm The Sandbox
 JPMorgan: Metaverse Could Be $1 Trillion Annual Market
 Introducing SAND staking on Polygon
Metaverse Startup The Sandbox Closes $93M Series B Led by SoftBank
Funding Is Literally Pouring Into Crypto Projects
Why People Are Buying Digital Lands in The Sandbox and Why You Should Too
Find more real-time news here.
What is Sandbox (SAND)?
Find full description and news on altFINS platform.
Overview
The Sandbox is a virtual world where players can build, own, and monetize their gaming experiences using non-fungible tokens(NFTs) and $SAND, the platform's utility token. Players can create digital assets in the form of NFTs, upload them to the marketplace, and integrate into games with The Sandbox Game Maker. The Sandbox virtual world is made up of LAND – digital pieces of real estate – in The Sandbox metaverse that players can buy to build experiences on top of.
History
The Sandbox project was initially started in 2012 on mobile platforms which to date have gathered more than 40 million global installs on mobile devices. In January 2018, The Sandbox project started developing a new version of the game – a 3D, multiplayer platform using blockchain technology (Ethereum) to offer a virtual world where players can build, own, and monetize their gaming experiences. The Sandbox aims to bring blockchain into mainstream gaming, attracting both crypto and non-crypto game enthusiasts by offering the advantages of true-ownership, digital scarcity, monetization capabilities, and interoperability across games. Over the past 3 years, The Sandbox has built the ground to establish the Players & Creators 100% Ownership Economy with NFTs and LANDS. They have raised $3.41M USD from strategic investors such as Hashed, Square Enix, True Global Ventures and their team has already launched several powerful creation tools in beta. The Sandbox has secured over 60 partnerships to develop content on the platform, including brands like Smurfs, Shaun the Sheep, dApp game studios like Dapper Labs (CryptoKitties), investors such as Square Enix (Final Fantasy, Tomb Raider), and iconic game companies like ATARI (Rollercoaster Tycoon, Pong). The Sandbox recently released its 2020 Year in Review which details the developments of 2020 and what's in store for 2021.
SAND Usage Details
$SAND will enable players to create, play, own, govern, trade and earn within The Sandbox virtual world gaming platform. It is the ERC-20 token that will be used all across The Sandbox metaverse. $SAND is a primary asset of The Sandbox platform and serves a few purposes including: Medium of exchange: Players can potentially collect SAND through gameplay, and subsequently spend $SAND to play games, purchase equipment, or customize Avatar characters. Creators can spend SAND to acquire ASSETS and LAND. Artists can spend SAND to upload ASSETS to the Marketplace and buy GEMs for defining item rarity. Governance: $SAND allows holders to participate in governance decisions. SAND owners can vote themselves or delegate voting rights to other players of their choice. Staking: Users can stake $SAND tokens to earn rewards, as well as GEMs and CATALYSTs for ASSETS creation. The Sandbox also utilizes the ERC-721 non-fungible token standard for its LAND – digital land – assets (read the technology section to find out more about The Sandbox's other ecosystem tokens).
Sandbox Technology
The Sandbox platform currently runs exclusively on Ethereum, which is used to record the ownership of tokens and allow owners to transfer, sell, or use them without restrictions. IPFS is used to store all related information of ASSETS, and ensures that this information cannot be changed without the permission from respective owners.The ERC-20 standard is used for the SAND, GEM, and CATALYST tokens, while ERC-1155 and ERC-721 standards are used for the storage and trading of LAND and ASSETS. The Sandbox gaming environment will be divided into 5 types of tokens: SAND – the in-game currency used across The Sandbox ecosystem LANDS – worlds in which players play that are created by the community ASSETS – voxel models created by players and traded in the marketplace) GEMS – burnt to give attributes to ASSETS. GEMS are ERC20 tokens. CATALYSTS – burnt to mint ASSETS. Depending on their power, they allow users to associate a certain number of GEMS to an ASSET. CATALYSTS are ERC20 tokens The Sandbox platform architecture is composed of several components. In terms of blockchain integration, The Sandbox uses a traditional backend running on the cloud (currently using AWS) to support its web frontend. An S3 bucket is used to store the asset of the artist before they get minted. While The Sandbox currently guarantees the privacy of an artist's work (to protect their work from being copied prior to minting), the team envisions that later systems will prevent even The Sandbox from viewing an artist's work pre-minting. Once a UGC asset is minted, The Sandbox backend releases the ASSET on IPFS so that it becomes publicly tradeable. The Sandbox smart contract records the hash of every ASSET so that the owner of the ASSET will always be able to prove ownership of not only the number recorded on the blockchain (which many projects in the blockchain gaming space stop there) but also the voxel model and various renders. The overall Sandbox architecture and respective components are as follows: Creators can create ASSETS with VoxEdit, and upload those ASSETS through the browser Metamask – a web3 provider – acts as an intermediary between the users and Ethereum A browser in which the user will interact with the smart contracts and our server The smart contracts running on the blockchain The Sandbox server currently hosted on AWS The backend is being developed with Node.js, which manages the creation of an asset on S3, generating a Hash ID for that ASSET, which is sent back to the frontend so it can begin the transaction using the smart contract. Finally, once a transaction is confirmed The Sandbox releases the asset on the IPFS network. ensuring that future owner will always be able to prove that what graphical representation they hold is indeed the original one.
Asset profile is provided by messari. Original version can be found at Messari