Kyber Network (KNC) Analysis
In addition to automated chart patterns, altFINS' analysts conduct technical chart analyses of top 30 cryptocurrencies. We call these Curated Charts and they evaluate 5 core principals of technical analysis: Trend, Momentum, Patterns, Volume, Support and Resistance.
Kyber Network (KNC) technical analysis:
Trade setup: Price has broken back above $0.57 resistance and above 200-day moving average (~$0.63), with unusually high volumes, which could signal potential trend reversal with upside to $0.80. (set a price alert).
Trend: Uptrend on Short-Term basis, Neutral on Medium-Term basis and Downtrend on Long-Term basis.
Momentum is Bullish ( MACD Line is above MACD Signal Line and RSI is above 55).
Support and Resistance: Nearest Support Zone is $0.57 (previous resistance), then $0.45. The nearest Resistance Zone is $0.80, then $0.95.
See live Kyber Network (KNC) chart here
See more curated charts of coins with technical analyses.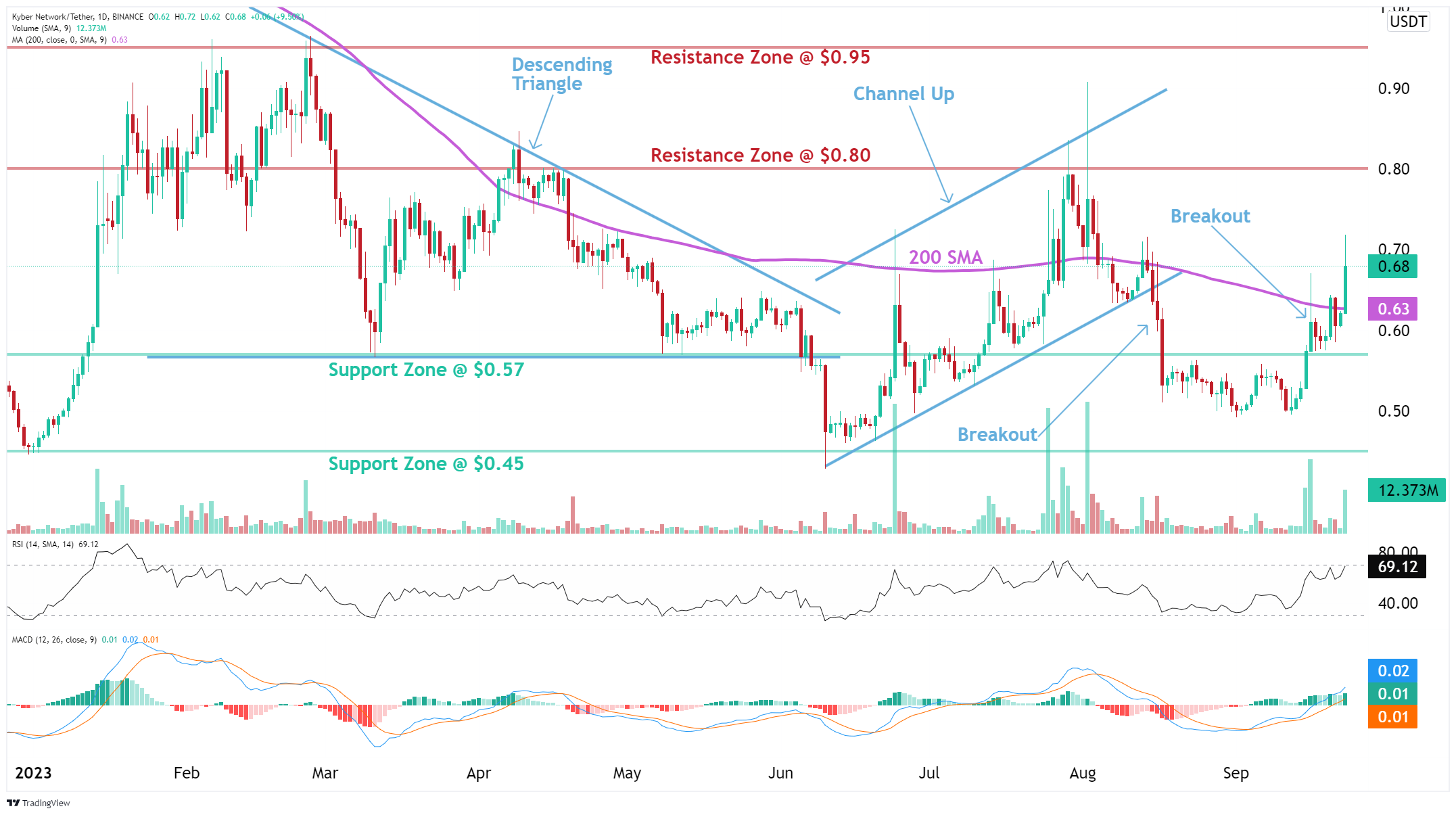 Recent news and research:
DeFi protocol Kyber Network suffers frontend hack, loses $265K
Find more real-time news here.
What is Kyber Network (KNC)?
Find full description and news on altFINS platform.
Overview
Kyber Network is an Ethereum based decentralized exchange focused on rapid onchain execution of transactions.
History
Kyber Network is an Ethereum based protocol focused on aggregating liquidity and facilitating swaps for ERC-20 tokens. The team raised money through an ICO in September, 2017 and launched the mainnet in February, 2018. Kyber functions by aggregating liquidity from reserves which are operated by reserve managers. These managers are responsible for maintaining liquidity in the trading pairs offered and updating bid and ask spreads. For their services, managers are compensated through the spread in each transaction. Further, anyone with additional capital can contribute to reserve pools and receive a return. There are currently three types of reserve managers: Fed Price Reserve utilizes off-chain price feeds and calculates conversation rates, Automated Price Reserve uses an algorithm to automatically determine prices based on relative liquidity, and Orderbook Reserve which is the only trustless method that uses a fully on-chain orderbook. Services such as wallets, vendors, or decentralized applications can build on top of Kyber to access the pools of capital consisting of the aggregate of all reserves. Users of these services can swap tokens with their order being executed at the best price available. This incentivizes reserve managers to ensure they keep their prices competitive and to make markets in lower liquidity tokens where they can take larger spreads.
Technology
The network relies on the core Kyber Network smart contract that accepts user tokens for exchange and sends corresponding tokens directly to the user from a reserve account. Users on the network are expected to be individuals, other decentralized applications, and merchants that want to accept a variety of payment options while receiving only a single type. When users send a token for conversion they receive the corresponding token within the same transaction removing the need for deposits or an order book. In order to function properly, there must be enough liquidity in various token pairs. Reserve managers attempt to provide this by holding various tokens for exchange and rebalancing their holdings if the balance of a specific token becomes too low. Reserve managers decide on and provide continuously updated exchange rates to the core smart contract. Third-party contributors are expected to provide capital to reserve pools in exchange for a share of the fees, which is the bid/ask spread collected on transactions. Reserve managers will be able to decide if they wish to operate as a private entity or allow third-party contributors. Tools to track prices and volumes across the network have been created to help manage reserve portfolios. Initial governance, including listing token pairs and permissioned reserve managers, will be handled directly by the project.
Usage Details
The Kyber Network Crystal (KNC) token is used by reserve managers to pay a 0.25% fee for every transaction. This acts as a barrier to wash trading, and to make up for this fee managers can incorporate it into their bid/ask spread to remain profitable. Reserve pools that wish to participate in the exchange market are required to stake an amount of KNC tokens in a smart contract and meet specific liquidity requirements defined by the network. In each trade a small amount of KNC will be transferred from the staked amount, acting as a fee for reserves that use the network. These tokens will be used to compensate partners for services they provide on the network, such as wallets that directed trades to the network. Because fees will be calculated based on trades in different tokens the smart contract will use the prevailing KNC conversion rate when collecting tokens from reserve managers. In the case that this conversion leads to more KNC being collected than needed to compensate partners the remaining tokens will be burned by the network.
Asset profile is provided by messari. Original version can be found at Messari