In addition to automated chart patterns, altFINS' analysts conduct technical chart analyses of top 30 cryptocurrencies. We call these Curated Charts and they evaluate 5 core principals of technical analysis: Trend, Momentum, Patterns, Volume, Support and Resistance.
Crypto.com (CRO) technical analysis:
Trade setup: Following a failed breakout from Descending Triangle, price broke below $0.10 support, which held up in June, Sept, Oct, and made a new Lower Low. That's a sign of Downtrend. Investors are clearly concerned with all centralized exchanges in the aftermath of FTX insolvency. Crypto.com revealed it's (set a price alert), which include BTC (31%), SHIB (20%), ETH (17%), stablecoins (11%) and others (20%).
Trend: Downtrend across all time horizons (Short- Medium- and Long-Term).
Momentum is Bearish but inflecting. MACD Line is below MACD Signal Line and RSI is below 45 but momentum may have bottomed since MACD Histogram bars are rising, which suggests that momentum could be nearing another upswing.
OBV (On Balance Volume): is declining, indicating that volume on Up days is lower than volume on Down days. Hence, demand (buyers) is below supply (sellers).
Support and Resistance: Nearest Support Zone is $0.055. The nearest Resistance Zone is $0.100 (previous support), then $0.150.
See live Crypto.com (CRO) chart here
See more curated charts of coins with technical analyses.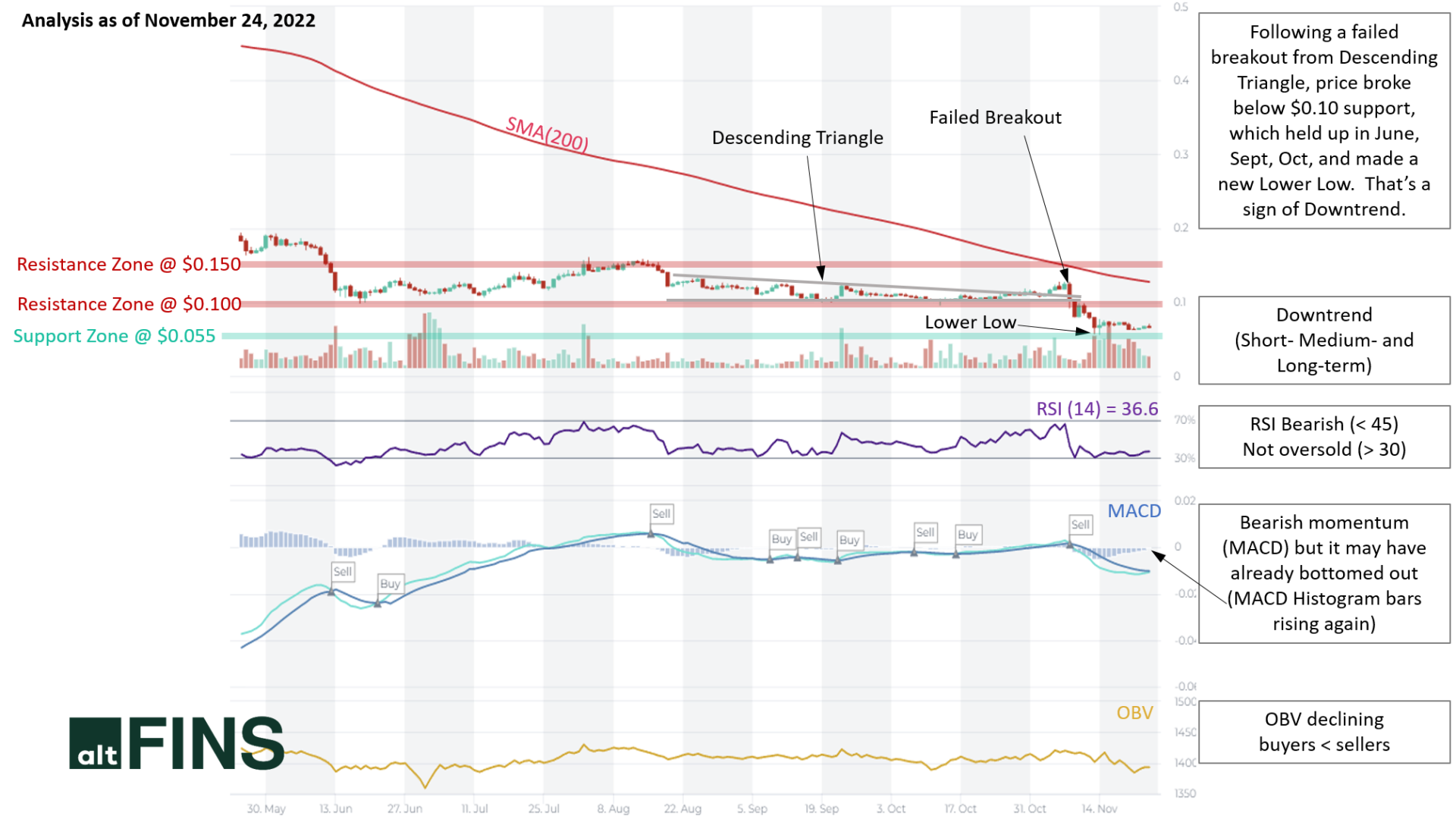 Research and News
LA Lakers' Home Arena Renamed After Crypto.com in $700M Deal
Crypto.com Plans Global Institutional Expansion With Fireblocks
Find more real-time news here.
What is Crypto.com (CRO)?
Find full description and news on altFINS platform.
Supply Curve Details
A total of 100,000,000,000 CRO will be issued. 10% will be airdropped to MCO token holders at the rate of 166,666,666 CRO every months for 60 months., based on their MCO token ownership relative to the MCO token Total Supply.
MCO tokens held by Crypto.com will not be eligible for the CRO airdrop. and all unallocated CRO airdrop tokens will be used for Community development activities. 20% will be allocated to Ecosystem grants and 20% will go to a Capital Reserve. Crypto.com Chain will utilize Tendermint Core as its consensus engine.
The entirety of the supply has already been issued, but 50% has been set apart to incentivize all actors providing services to ensure integrity and successful processing of the transactions. Indeed, 30% will be reserved for Secondary Distribution. The Secondary Distribution wallet will receive a daily token supply through a smart contract. 10% will be issued the first year, 8% the second year, 6% the third year, 4% the fourth year and 2% the fifth year. Those tokens will be distributed as network fee incentives and progressively distributed on exchanges at prevailing market price.
The rewards will be distributed to the following actors: Customer acquirer nodes (60%), Merchant acquirer nodes (20%) & Council Nodes (20%). Those actors will have to stake CRO in order to receive rewards. Moreover, 20% has been set aside for the Network long-term incentives.
Asset profile is provided by messari. Original version can be found at Messari