Crypto.com (CRO) Analysis
In addition to automated chart patterns, altFINS' analysts conduct technical chart analyses of top 30 cryptocurrencies. We call these Curated Charts and they evaluate 5 core principals of technical analysis: Trend, Momentum, Patterns, Volume, Support and Resistance.
Crypto.com (CRO) technical analysis:
Trade setup: Bearish breakout from Channel Up pattern signaled resumption of downtrend (existing trend). Now, price reached $0.05, which held up in June and could be a swing entry for aggressive swing traders but it would be a risker trade setup since overall trend is down. Note the unusually large volume around $0.05 level recently, which also suggests that this level will hold up. (set a price alert).
Trend: Neutral on Short-Term basis and Downtrend on Medium- and Long-Term basis.
Momentum is Mixed as MACD Line is above MACD Signal Line (Bullish) but RSI ~ 50 (Neutral).
Support and Resistance: Nearest Support Zone is $0.050. The nearest Resistance Zone is $0.060, then $0.075, and $0.085.
See live Crypto.com (CRO) chart here
See more curated charts of coins with technical analyses.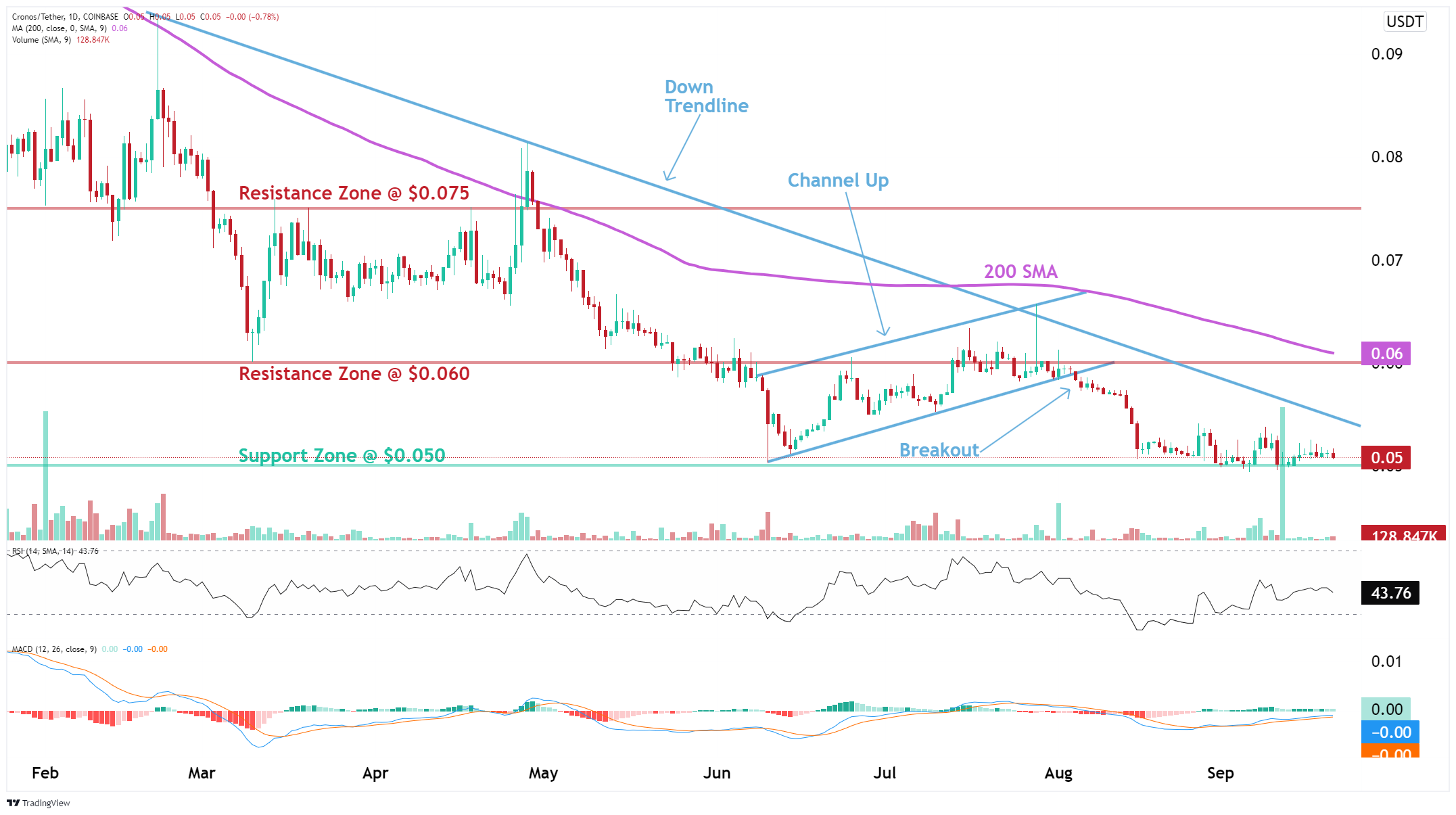 Research and News
LA Lakers' Home Arena Renamed After Crypto.com in $700M Deal
Crypto.com Plans Global Institutional Expansion With Fireblocks
Find more real-time news here.
What is Crypto.com (CRO)?
Find full description and news on altFINS platform.
What is Crypto.com?
Singapore-based Crypto.com operates a cryptocurrency exchange. According to reports, the business has 4,000 staff members and 50 million consumers as of May 2022. The exchange also issues a cryptocurrency called Cronos.
History of Crypto.com
Bobby Bao, Gary Or, Kris Marszalek, and Rafael Melo launched the business in Hong Kong[4] in 2016 under the name "Monaco." In 2018, the business changed its name to Crypto.com after purchasing a domain from cryptography expert and professor Matt Blaze. The domain was valued by the domain's sellers at $5 to $10 million USD.
Foris DAX Asia, a subsidiary of Foris DAX MT (Malta) Limited with offices in Singapore, runs Crypto.com.
The corporation boasted more than 50 million active users as of May 2022, up from 10 million users in February 2021.