In addition to automated chart patterns, altFINS' analysts conduct technical chart analyses of top 30 cryptocurrencies. We call these Curated Charts and they evaluate 5 core principals of technical analysis: Trend, Momentum, Patterns, Volume, Support and Resistance.
Ape Coin (APE) technical analysis:
Trade setup: Trading in a Channel Down pattern. Swing traders can trade the Channel (Enter near support trendline, Exit near resistance trendline). Trend traders ought to wait for a breakout. If it breaks out above Resistance Trendline (around $4 currently), price could rally to $5 or higher. (set a price alert).
Pattern: Price is trading in a Channel Down pattern. With emerging patterns, traders who believe the price is likely to remain within its channel can initiate trades when the price fluctuates within its channel trendlines. With complete patterns (i.e. a breakout) – initiate a trade when the price breaks through the channel's trendlines, either on the upper or lower side. When this happens, the price can move rapidly in the direction of that breakout.
Trend: Uptrend on Short-Term basis and Downtrend on Medium- and Long-Term basis.
Momentum is Bullish but inflecting. MACD Line is above MACD Signal Line and RSI is above 55 but momentum may have peaked since MACD Histogram bars are declining, which suggests that momentum is weakening.
OBV (On Balance Volume): is rising, indicating that volume on Up days is greater than volume on Down days. Hence, demand (buyers) exceeds supply (sellers).
Support and Resistance: Nearest Support Zone is $3.00. The nearest Resistance Zone is $4.00, which it broke, then $5.00, and $6.00.
See live Ape Coin (APE) chart here
See more curated charts of coins with technical analyses.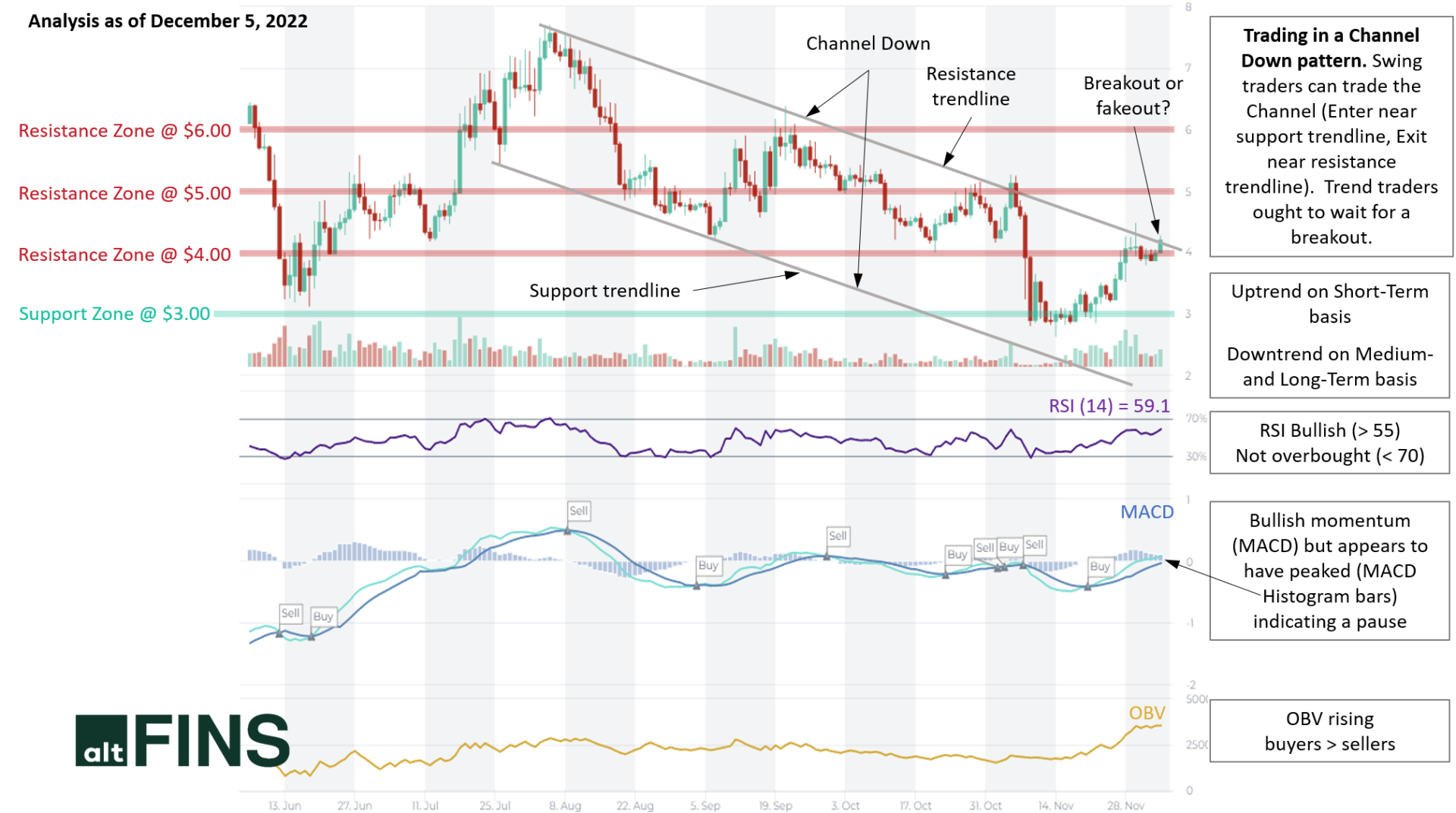 Recent news and research:
SHIB & APE Can Now Be Used as Payment Methods on Coinbase Commerce
APE up 30% After Featuring in Snoop Dogg & Eminem's Epic Music Video
Nifty News: Apecoin no longer going bananas, Pharrell touts Doodles and more
Find more real-time news here.
What is Ape Coin (APE)?
Find full description and news on altFINS platform.
Overview
ApeCoin (APE) is a governance and utility token that grants its holders access to the ApeCoin DAO, a decentralized community of Web3 builders. In addition to participating in ApeCoin governance, token holders can purchase products and services, and pay for in-game assets in play-to-earn games like Benji Bananas by Animoca Brands. Decisions reached by the ApeCoin DAO are implemented by the APE Foundation, which serves as the steward of the ApeCoin token.
History
Yuga labs have grown to become the leading NFT brand with the launch of its Bored Ape and Mutant Ape NFT collections. Ownership of these premium NFTs has evolved into an elite movement of highly influential figures who hang out in the Bored Ape Yacht Club. However, to power the ecosystem of apps and services deployed by Yuga Labs and third-party brands, ApeCoin was launched. ApeCoin started trading in the early hours of March 17, 2022 and was first distributed to Bored Ape and Mutant Ape NFT holders, who received about 10000 and 2000 tokens respectively.
The token price hit a peak of $39.40 before hovering at the $10 mark within 24 hours of the launch. This had a ripple effect on the floor price of the Bored Ape which spiked from 91.9 ETH to 105.9 ETH and Mutant Ape from 20.3 ETH to 23.3 ETH as highlighted by Decrypt on launch day. Since its launch, ApeCoin has received partnership deals from popular projects like Animoca Brands, and nWayPlay which are working to integrate ApeCoin as its in-game currencies.
Supply Curve Details
Out of the 1 billion ApeCoin tokens issued at launch, the supply schedule is specified as follows: The 150000000 tokens airdropped to BAYC/MAYC NFT holders were all unlocked immediately. 470,000,000 tokens to DAO treasury and resources (117,500,000 unlocked at launch, then 7,343,750 unlocked per month for 48 months) 150,000,000 tokens to Yuga Labs (Initial lock-up of 12 months, then 4,166,666.67 unlocked per month for 36 months) 10,000,000 tokens to the Jane Goodall Legacy Foundation (Initial lock-up of 12 months, then 277,777.78 tokens unlocked per month for 36 months) 80,000,000 tokens to founders of Yuga Labs (Initial lock-up for 12 months, then 2,222,222.22 unlocked per month for 36 months) 140,000,000 tokens were issued to launch contributors, though the Lockup schedules vary by contributor
Usage Details
APE is an ERC-20 governance and utility token that drives the vision of the ApeCoin community. As a governance token, it allows its holders to participate in ApeCoin DAO where they can initiate, contribute and vote on ideas that govern the APE ecosystem. The utility derived from holding APE grants users access to exclusive features in the ecosystem such as games, merch, events, etc. Additionally, they can utilize the token as a currency to facilitate transactions within the ecosystem. Plans are underway for third-party projects and developers to integrate ApeCoin for use as in-game currency or payment for services.
Technology
As the Web3 economy evolves beyond the real world into the metaverse, ApeCoin was built as a decentralized protocol that integrates the culture known to the Bored Ape Yacht Club (BAYC), into the metaverse experience. To foster this vision, the protocol is powered by ApeCoin, ApeCoin DAO, the Board, and the Ape foundation. ApeCoin ApeCoin (APE) is the base layer that allows anyone access to the ApeCoin DAO by simply purchasing some APE tokens. With it, each token holder will have a stake in the organization's development and can contribute to its growth. ApeCoin DAO ApeDAO is the governance infrastructure that determines the growth and success of the APE ecosystem. Members of the DAO (ApeCoin holders) are able to initiate APE Improvement Proposal (AIP) processes on decisions pertaining to Ecosystem Funding allocations, governance rules, partnerships, etc., for deliberation and voting. This provides a fairground for committed members to contribute to the growth of the ecosystem.
The Board The Board In the quest to improve the efficiency of the ecosystem, a special council named "The Board" was set up to represent ApeCoin DAO members in the APE Foundation. The Board serves as administrators to see that DAO proposals are well implemented toward the actualization of the community vision. The initial Board is comprised of: Alexis Ohanian (co-founder of Reddit; general partner and founder of Seven Seven Six), Amy Wu (head of ventures and gaming at FTX), Maaria Bajwa (principal at Sound Ventures), Yat Siu (co-founder and chairman of Animoca Brands) and Dean Steinbeck (president and general counsel at Horizen Labs). The current Board members will serve a term of six months, after which DAO members will vote annually on the new leadership. The Ape Foundation The Foundation is the steward of ApeCoin and provides the base layer for ApeCoin holders to collaborate on initiatives that drive the growth of the ecosystem. This is done by facilitating community-led governance processes within the ApeCoin DAO. Decisions reached by the ApeCoin DAO are to be implemented by the Foundation, using resources from the Ecosystem fund.
Asset profile is provided by messari. Original version can be found at Messari