APE (APE) Analysis
In addition to automated chart patterns, altFINS' analysts conduct technical chart analyses of top 30 cryptocurrencies. We call these Curated Charts and they evaluate 5 core principals of technical analysis: Trend, Momentum, Patterns, Volume, Support and Resistance.
Ape Coin (APE) technical analysis:
Trade setup: Trends are improving, although price still needs to break above 200-day moving average (~$1.81) to confirm an Uptrend. But if it does, it could revisit $2.00 or even $2.50 thereafter. (set a price alert).
Trend: Uptrend on Short- and Medium-Term basis and Neutral on Long-Term basis.
Momentum is Bullish but inflecting. MACD Line is above MACD Signal Line and RSI is above 55 but momentum may have peaked since MACD Histogram bars are declining, which suggests that momentum is weakening.
Support and Resistance: Nearest Support Zone is $1.50 (previous resistance), then $1.00. The nearest Resistance Zone is $2.00, then $2.50.
See live Ape Coin (APE) chart here
See more curated charts of coins with technical analyses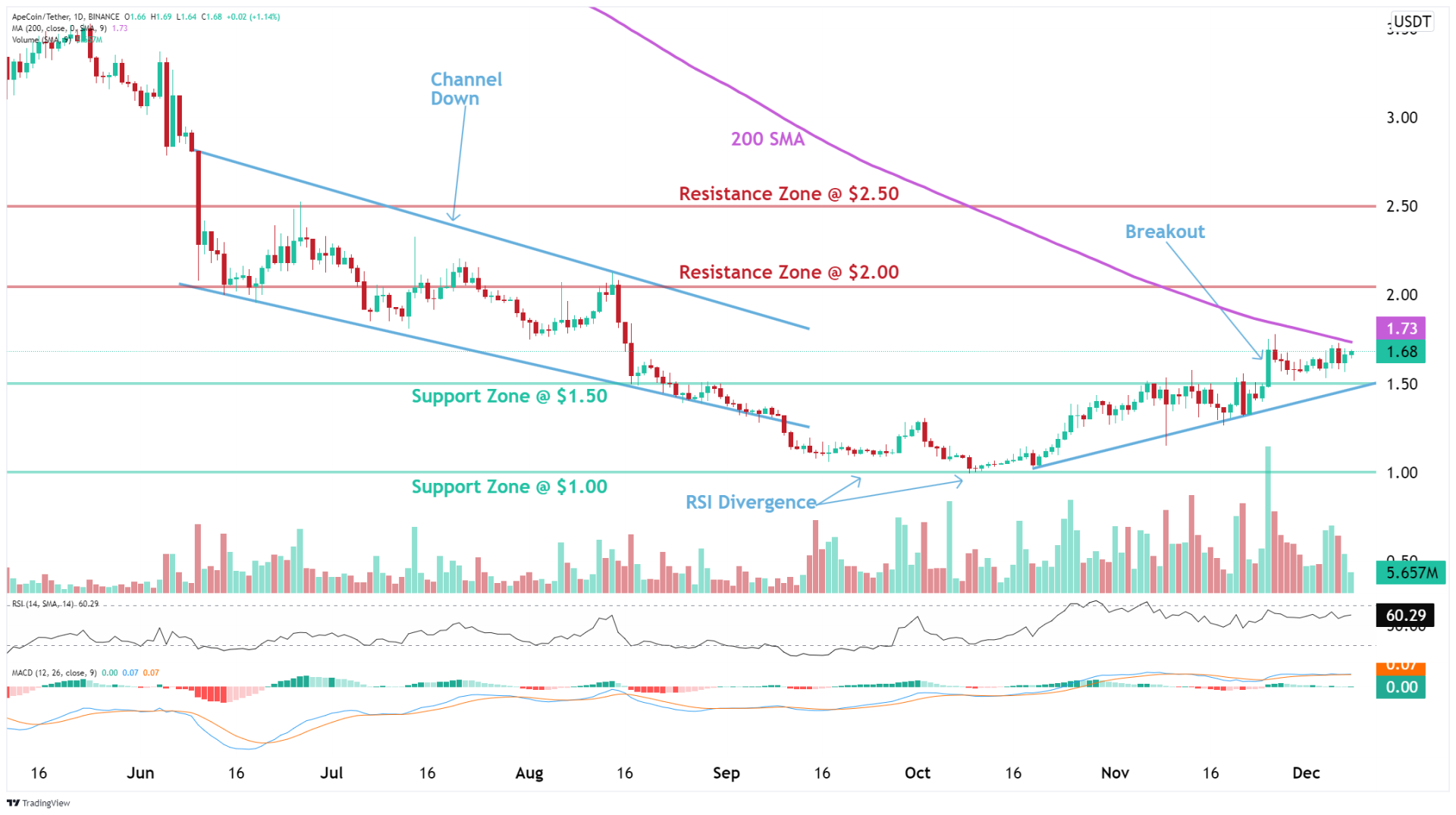 Recent news and research:
Find more real-time news here.
SHIB & APE Can Now Be Used as Payment Methods on Coinbase Commerce
APE up 30% After Featuring in Snoop Dogg & Eminem's Epic Music Video
Nifty News: Apecoin no longer going bananas, Pharrell touts Doodles and more
What is Ape Coin (APE)?
Find full description and news on altFINS platform.
Overview
The governance and utility token ApeCoin (APE) gives its owners access to the ApeCoin DAO, a decentralized group of Web3 developers. Token holders can buy goods and services, participate in ApeCoin governance, and pay for in-game items in play-to-earn games like Animoca Brands' Benji Bananas. The APE Foundation, which looks after the ApeCoin token, carries out the decisions made by the ApeCoin DAO.
History
With the introduction of its Bored Ape and Mutant Ape NFT collections, Yuga Labs has elevated itself to the position of being the top NFT brand. Ownership of these high-end NFTs has developed into an exclusive club for powerful individuals who frequent the Bored Ape Yacht Club. However, ApeCoin was introduced to fuel the ecosystem of apps and services used by Yuga Labs and other brands. Early on March 17, 2022, ApeCoin trading began. The first tokens were given to Bored Ape and Mutant Ape NFT holders, who received roughly 10,000 and 2,000 tokens, respectively.
Within 24 hours after the introduction, the token price fluctuated around $10 after reaching a high of $39.40. As Decrypt noted on launch day, this had a knock-on impact on the floor price of the Bored Ape, which increased from 91.9 ETH to 105.9 ETH and the Mutant Ape from 20.3 ETH to 23.3 ETH. Since its debut, popular projects like Animoca Brands and nWayPlay have entered into collaboration agreements with ApeCoin in an effort to incorporate it as one of their in-game currencies.
Supply Curve Details
The 150,000,000 tokens that were airdropped to BAYC/MAYC NFT holders were all immediately unlocked out of the 1 Billion ApeCoin Tokens that were Issued at Launch. 470,000,000 tokens go to the DAO's treasury and resources (117,500,000 unlocked at launch, then 7,343,750 unlocked each month for 48 months); 150,000,000 tokens go to Yuga Labs; 10,000,000 tokens go to the Jane Goodall Legacy Foundation; and 80,000,000 tokens go to the founders of Yuga Labs (initial lock-up of 12 months, then 2,222,666.67 tokens unlocked each month for 36 months).
Usage Details
The ApeCoin community is led by APE, an ERC-20 utility and governance token. Its function as a governance token enables its owners to take part in ApeCoin DAO, where they can propose, support, and vote on policies that direct the APE ecosystem. Users are given access to premium features in the ecosystem, such as games, merchandise, events, etc., thanks to the utility obtained from having APE. They can also use the token as money to speed up transactions within the network. Developers and third-party projects are preparing to incorporate ApeCoin for use as in-game money or as a form of service payment.
Technology
ApeCoin was created as a decentralized system that incorporates the Bored Ape Yacht Club (BAYC) culture into the metaverse experience as the Web3 economy develops beyond the physical world into the metaverse. The protocol is run by ApeCoin, ApeCoin DAO, the Board, and the Ape foundation to support this objective. ApeCoin ApeCoin (APE) is the foundational currency that enables anyone to gain access to the ApeCoin DAO by buying a few APE tokens. With it, every token owner will have a part in the company's future and be able to help it expand. The governance framework that controls the development and success of the APE ecosystem is called ApeCoin DAO, or ApeDAO. Holders of ApeCoin, who are members of the DAO, can start APE Improvement Proposal (AIP) processes to discuss and vote on issues including partnerships, governance rules, and the distribution of ecosystem funding. This offers a level playing field for committed members to contribute to the ecosystem's expansion.
The Board The Board To represent ApeCoin DAO members in the APE Foundation in the effort to increase ecosystem efficiency, a special council dubbed "The Board" was established. The Board acts as administrators to ensure that DAO recommendations are properly executed in order to realize the community's goal. The first Board is made up of Yat Siu, co-founder and chairman of Animoca Brands, Dean Steinbeck, Amy Wu, Maaria Bajwa, Yat Ohanian, general partner and founder of Seven Seven Six, and Yat Siu, co-founder and co-founder of Reddit (president and general counsel at Horizen Labs). The present Board members will hold office for a period of six months, following which DAO members will elect new leaders yearly. The Ape Foundation The Foundation manages ApeCoin and offers a foundation for its users to work together on projects that advance the ecosystem's expansion. The Foundation will use funds from the Ecosystem fund to implement decisions made by the ApeCoin DAO, which is accomplished via promoting community-led governance processes within the ApeCoin DAO.