We're highlighting results for five popular strategy screens, and featuring new picks.
These screens are now accessible in our Signals Summary tab to all users. You can run these screens anytime (watch 3 min video) and create alerts to get notified with coins or pairs that match the screen criteria.
Below we highlight one specific setup for each strategy screen, but let's start with Bitcoin (BTC), because it sets the tone for the entire market.
Bitcoin picked up steam after consolidating for a few days following a breakout from a symmetrical triangle and is now closing in on $12K resistance. Moving averages are trending upwards, which gives BTC an edge, because its supports are rising, currently at $11K. RSI is overbought at 72.87.  Also, be wary of a potential divergence, as BTC price is higher but RSI is not making new highs – RSI after break-out was around 74. This may mean that taking out 12K will not be an easy task.
Bitcoin's bullish trends (TA and fundamentals) set up a positive backdrop for alcoins.

Now onto the five strategy screens.  Here are the highlights: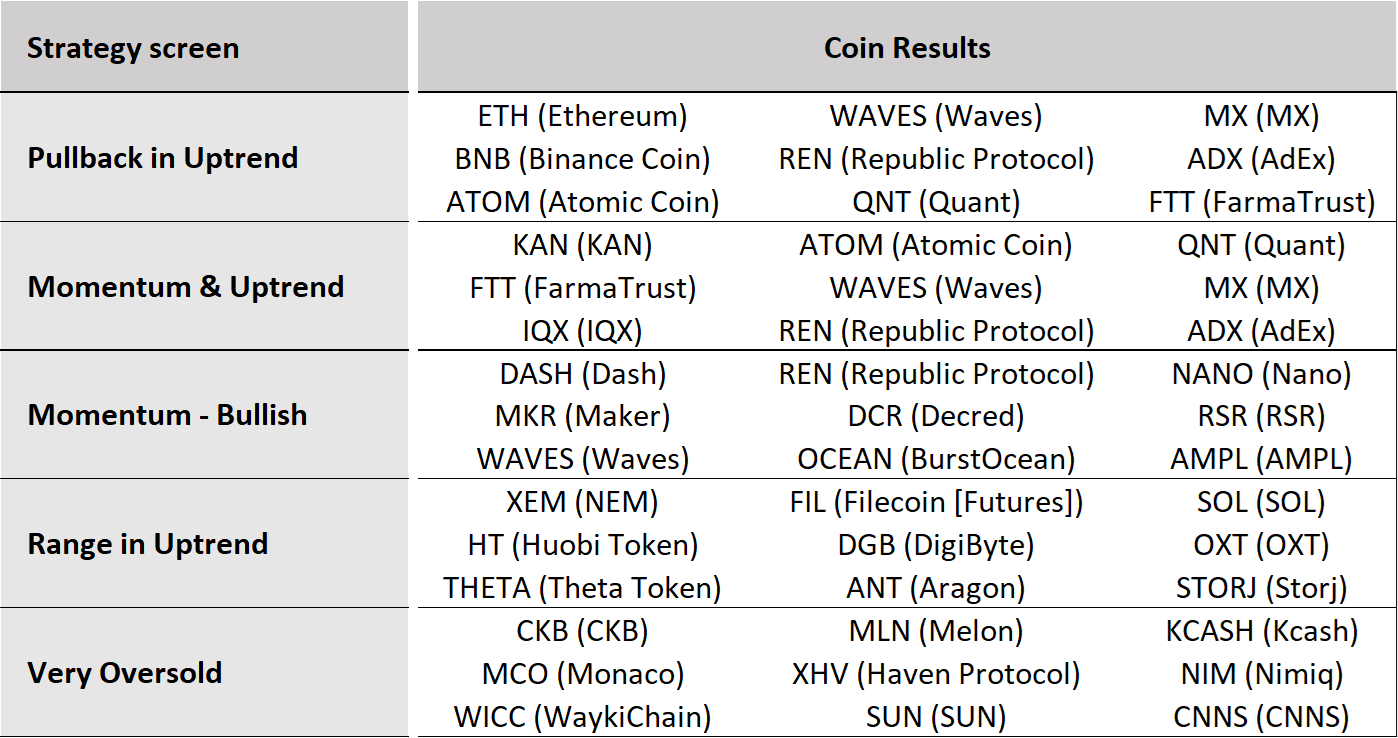 1. Pullback in Uptrend. This is a trend following strategy. Pullbacks can often provide opportunities to jump on an established trend.
We are highlighting ETH (Ethereum) again in this strategy, because it has pulled back again and it is beautifully respecting its SMA(100) support. Uptrend is still intact and sooner or later it will test resistance at 400 and with RSI only at 60s, it has the potential to finally break this barrier.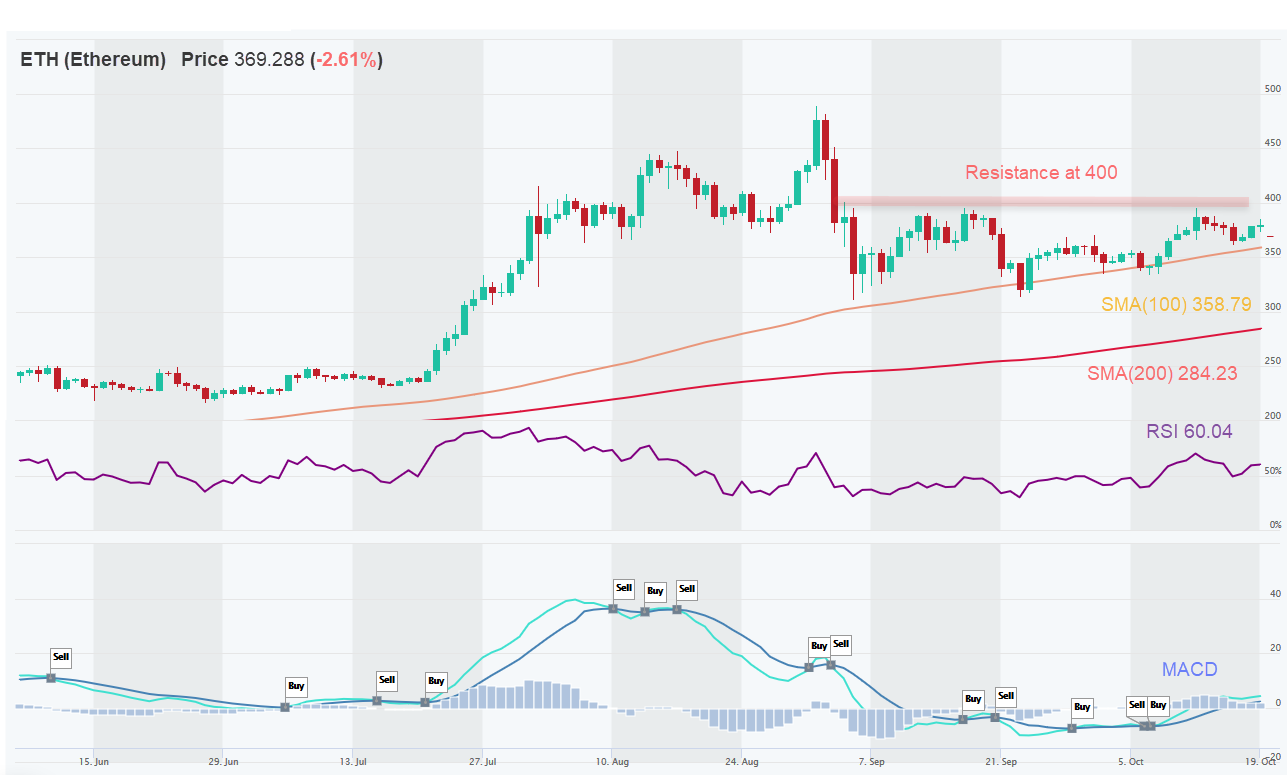 2. Momentum & Uptrend. This screen looks for coins in a long-term uptrend and a recent bullish momentum upswing.
ADX is interesting, because it has just printed a fresh MACD buy signal. It is also trading near SMA(100) support, which the coin has respected almost perfectly. With RSI still having steam to run, perhaps the coin has a shot to tackle the resistance at 0.30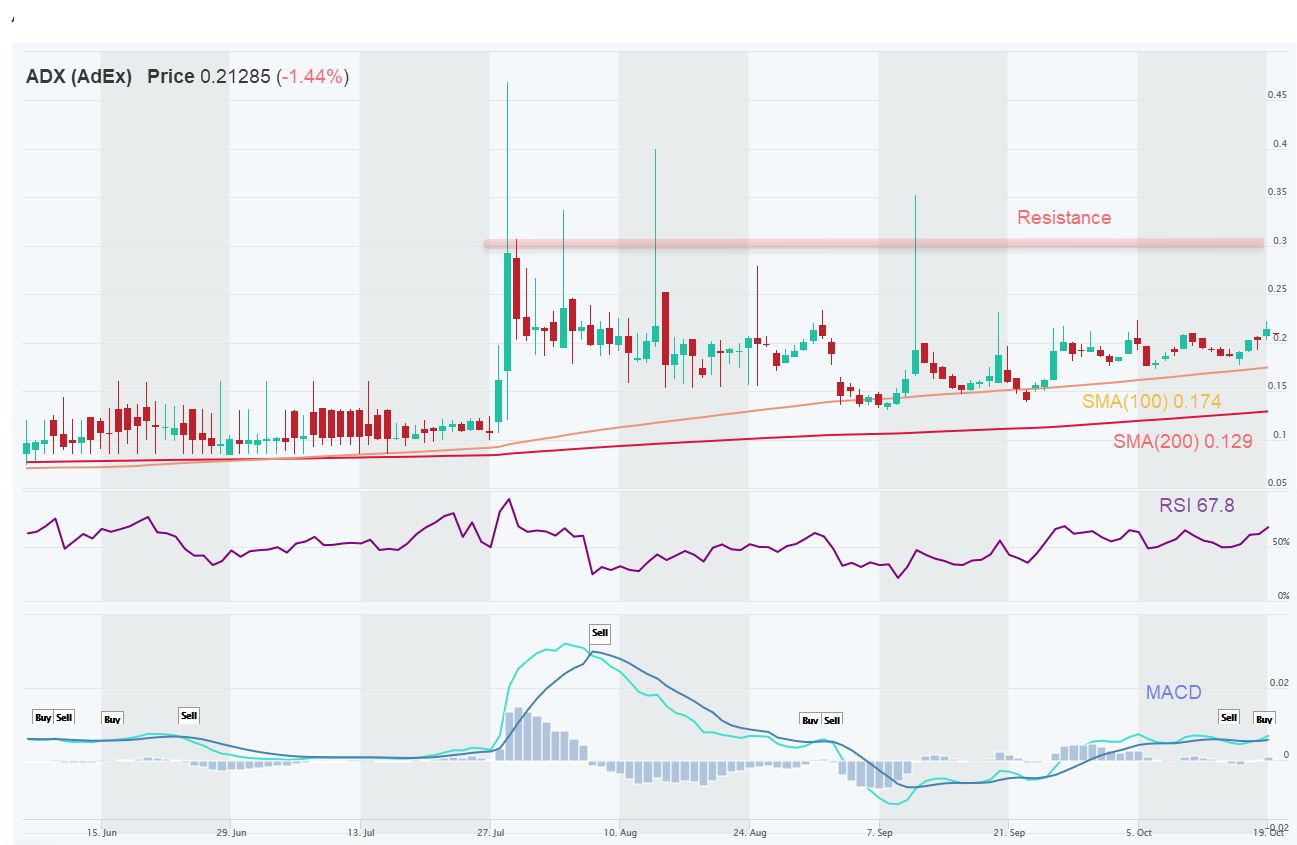 3. Momentum – bullish. This screen looks for coins with bullish momentum, regardless of trend direction.
Confirmation of a trend.

If the momentum signals are bullish and the general uptrend is Up, then this can serve as a confirmation.

Reversal indication.

If the momentum signals are bullish but the general trend has been Down, then this could signal a trend reversal (from Down to Up in this case). Vice versa, if the coin has been in an UpTrend, but momentum signals turn bearish, this could indicate a correction / pullback or a trend reversal.
In this strategy, we highlight price action of MKR (Maker). It has also just printed fresh MACD buy signal, while being at SMA(100) support. SMA(100) support was wobbly lately, but SMA(200) support was always respected, so there is limited downside risk. With RSI still in 50s, MKR has a decent chance to tackle and potentially take out resistance at 600.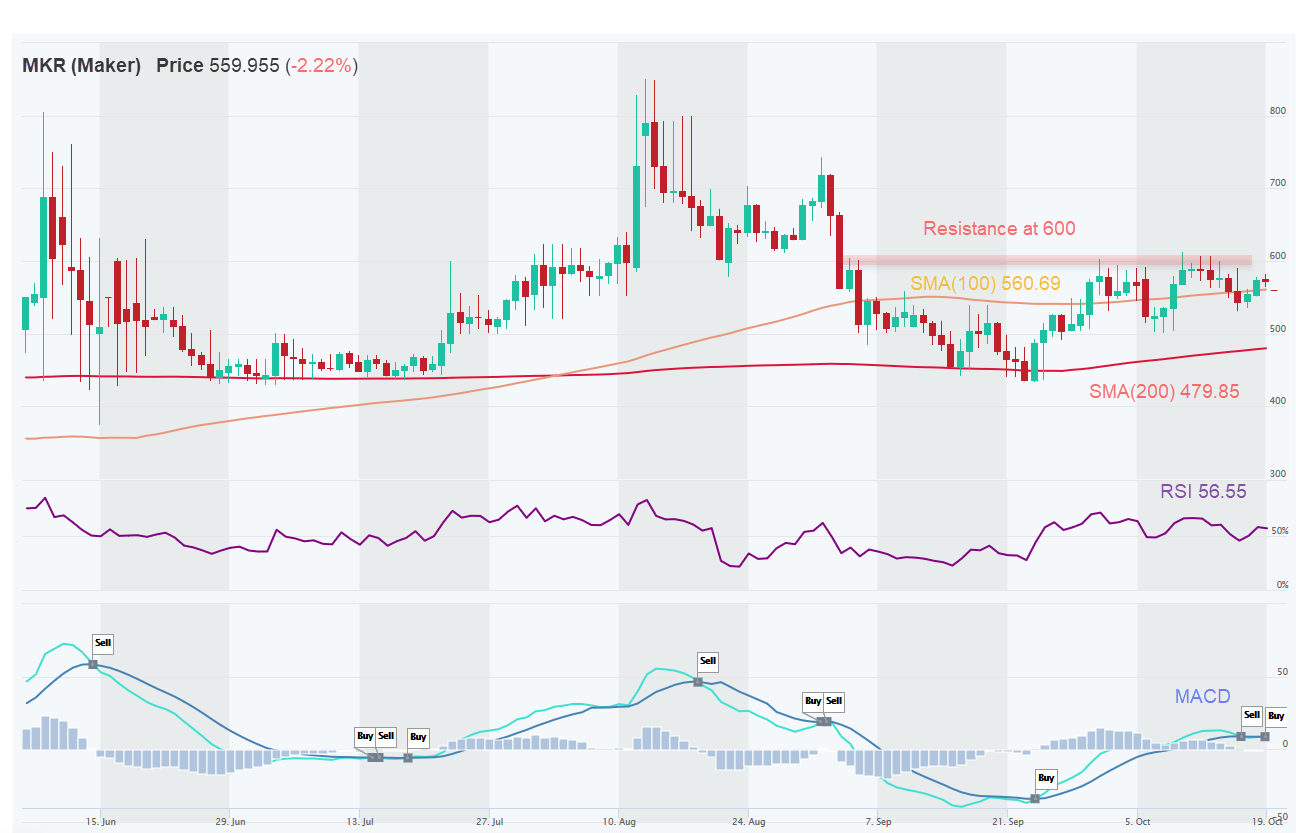 4. Range in Uptrend. Range-bound trading is a trading strategy that seeks to identify and capitalize on coins trading in price channels.
In this strategy we highlight price action of NEM. Since early September it is ranging between 0.125 and 0.1. SMA(100) is coming close to 0.1, which may act as another bounce towards 0.125 area. RSI is also beginning to be oversold, which increases the probability of a bounce from these levels.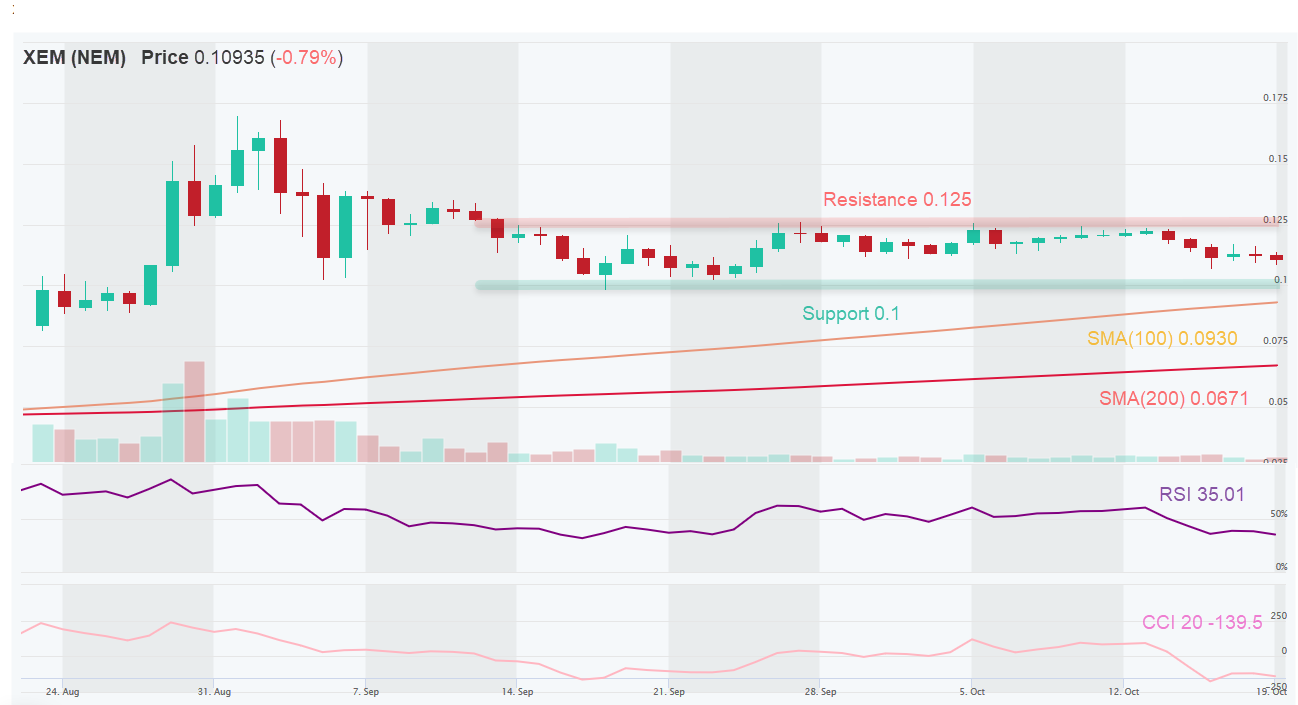 5. Very Oversold.  This screen looks for extremely oversold situations that could be ripe for a bounce as sellers get exhausted and value hunters step in.  This type of situation ain't for the faint of heart and is clearly intended for swing traders looking for a reversal.  But it could turn into one of those "catching a falling knife" situations.
This week, DGB (DigiByte) caught our interest, not only it is oversold on RSI, STOCH, but it is finally approaching SMA(200) support, which can breathe new life into the coin and perhaps bounce it towards SMA(100) resistance and beyond.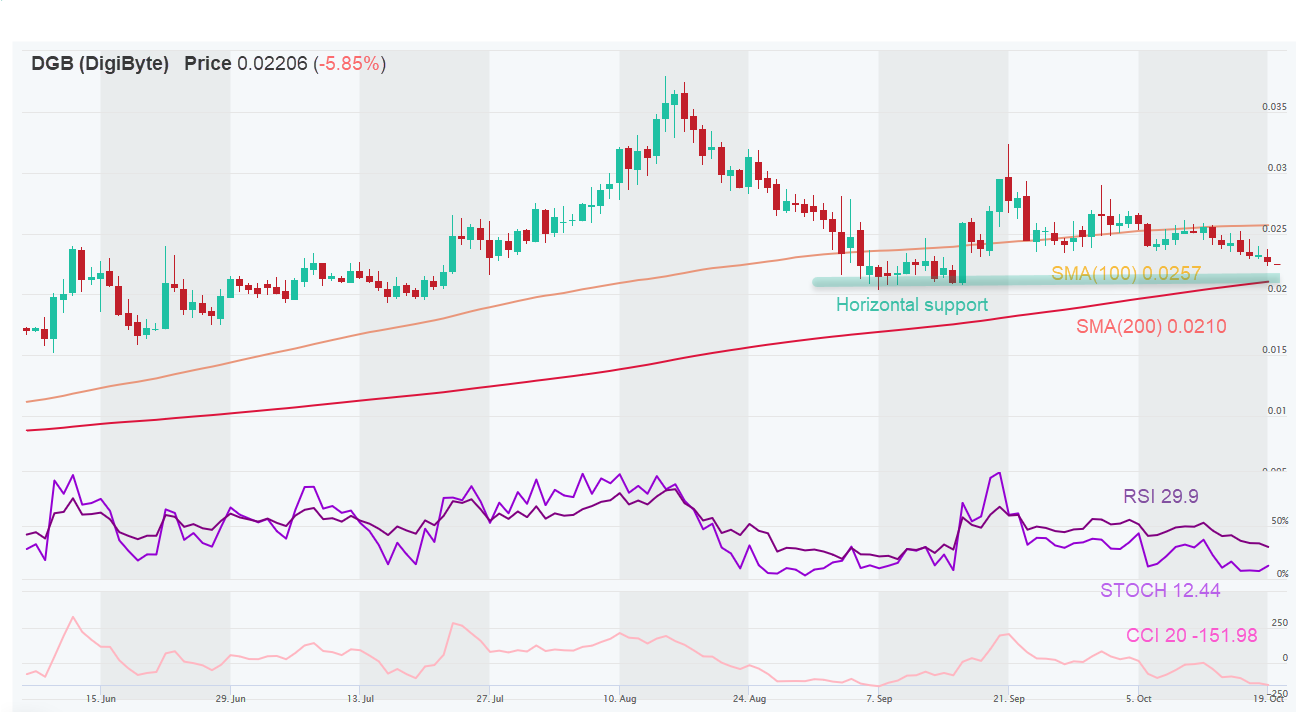 Risk management – Stop Loss and trade size. In all of these setups, traders should use Stop Loss orders to manage their downside risk, in case the trade goes against us, as it often will. Trading is about probabilities and even though these setups have a high win rate, one must be prepared to minimize losses on the trades that go bust. If Stop Loss order types are not supported by they exchange, at least set up a price alert (see video). Also, trade size should be such that you never risk losing more than 2% of your total equity. Keeping the trade size small allows the trader to setup a wider Stop Loss, which gives the trade more room and time to complete with success. Setting Stop Loss levels too tight can often result in getting knocked out of a trade prematurely.
Disclaimer: This content is for informational purposes only, you should not construe any such information or other material as investment, financial, or other advice. There are risks associated with investing in cryptocurrencies. Loss of principal is possible.