Scan Analyze and Trade altcoins across exchanges
Daily Update: Is the Bottom Near?
In today's video, we look for ways to spot a bottom, at least a local bottom, as well as demonstrate a couple of useful market scans to look for coins in an uptrend but oversold (due for a bounce).
So is the bottom near?
While yesterday's 10-15% pullback in altcoin prices was painful, it comes after 20-30% gains during Santa Rally in late 2021.
Market is basically back at the flash crash lows on Dec 4th.  That was another day with a big drawdown.  Those Dec 4th lows found support and the market proceeded to rebound by 20-30%.  We're back at those levels in many cases and RSI indicator appears oversold or close to it.
For BTC, there's a robust support level at $40K. Also, the last time it dipped there, and below 200-day MA, the price rallied to new highs!
Bitcoin (BTC) – technical analysis: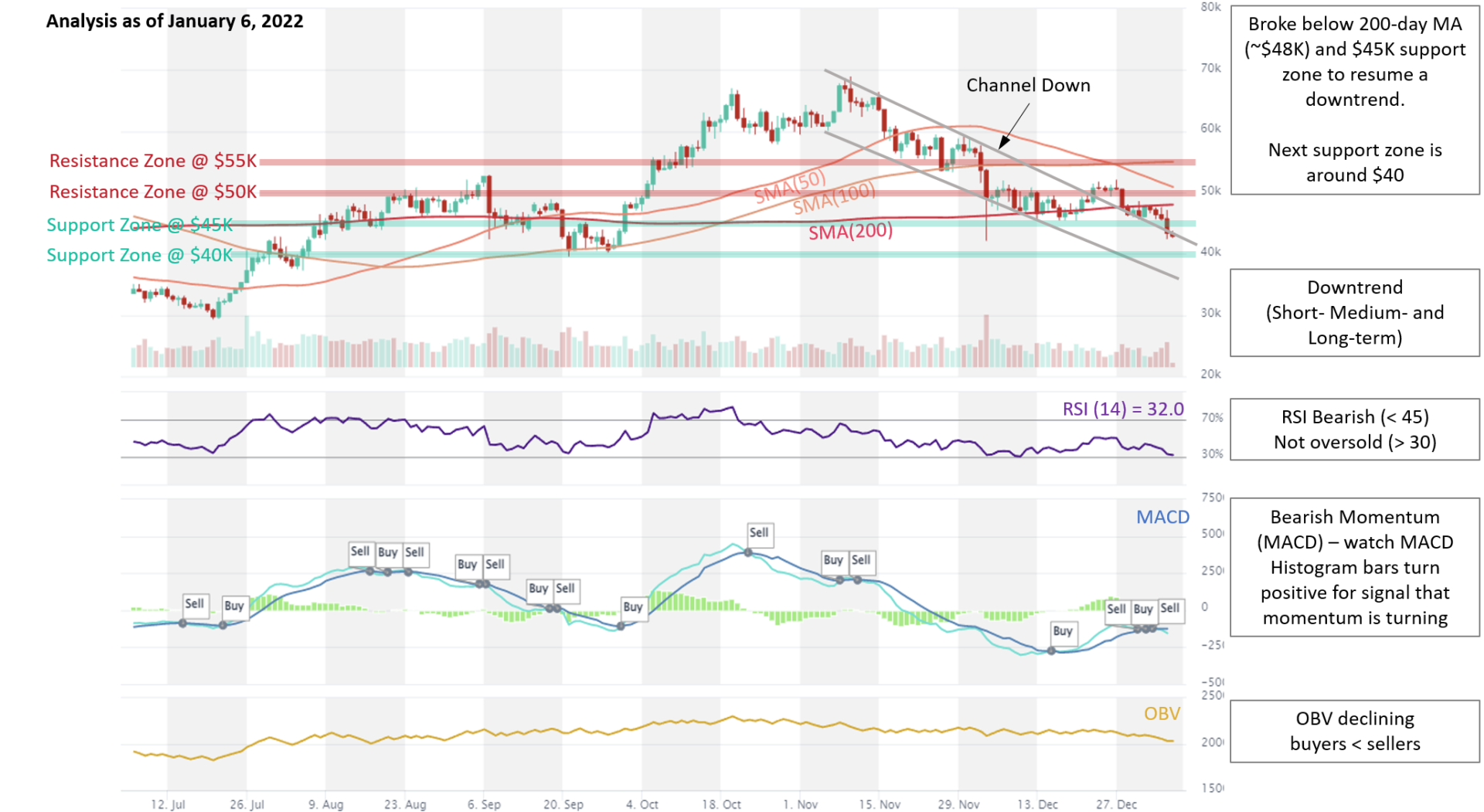 Root cause of this correction is the same issue that has plagued crypto and other risk asset classes like equities, especially tech stocks, since October 2021 when BTC peaked.
And that's rising inflation, which is forcing central banks like the FED in US to end their easy monetary policies. That means rising interest rates, which tends to cool off the economies and reduce valuations of assets in general.
Yesterday, the market reacted to the release of the transcript from a recent FED meeting, in which, the FED board members raised their concerns with inflation. So now the market anticipates 3 interest rate hikes in 2022.
Given the FED's hawkish tone, markets have increased the probability of a rate hike by March. Futures show a ~72% chance of at least one hike by March, up from a ~57% chance a week ago, according to the CME FedWatch tool. Markets are now also pricing in a ~80% chance of at least three hikes by the end of 2022, up from ~75% a week ago.
However, as inflation pressures decline in 2022, these concerns may dissipate. A lot of negative news is already priced in.
For assets where the price is near a Dec 4 flash crash low and near a horizontal support and/or 200-day MA, it could be a good entry.
Also, keep an eye on RSI for possibly oversold situations (see video tutorial), due for a bounce.
Subscribe for altFINS Youtube channel to get daily videos with altFINS CEO Richard, about Crypto market.