Crypto Market Update
What is happening on Crypto Market now?
Update: 24.10.2022
Both Digital Assets and US Equity are higher compared to the last week. NASDAQ closed the week on Friday higher at 10.859 (⬆️5.21%) and S&P closed at 3.752 (⬆️4.72%). Bitcoin (BTC) ended the week higher by ⬆️1.5%, closing at 19.567 on Sunday, while Ethereum (ETH) jumped by almost ⬆️4.5% to 1.363. Markets started the week with fresh lows again as investors expect the FED will raise interest rates to 5% next year, suggesting even stronger tightening to tackle high inflation than a couple of weeks ago. The higher expectations came because of higher-than-expected US CPI reading for September 2022, which showed an alarming acceleration in monthly price pressures, especially across a broad array of everyday items and services. However, both markets erased most of the losses and prices retraced back up, ending the week higher.

Bitcoin's and Ethereum's price volatility is now lower than that of both the NASDAQ and S&P 500, first time since 2020. This new trend suggests that the cryptocurrency markets are less reactive to volatile macroeconomic events than they were earlier in 2022, although equity markets have remained extremely responsive.

The most recent US CPI reading together with a resilient US labour market point to another hike of 0.75% in early November, followed by another 0.75% hike in December 2022, a with another 0.50% rise expected for February 2023.
To slow down the hikes, FED needs to see that the inflation is beginning to ease on a monthly basis, which is not the case yet. The move in rate expectations to 5% came also after Canada and the UK reported last week their CPI readings rose more than expected in September 2022. Currently, the FED fund rate target range stands at 3.00 – 3.25% and the last median projection among FED's board members for a target range midpoint remains at 4.4% at the end of 2022 and 4.6% at the end of 2023. After a small revision, we expect the US CPI to cool down little bit in October 2022 and settle at 8.14%, with core CPI at slightly lower at 6.58% compared to 8.20% and 6.64% for September 2022, respectively.
Bitcoin price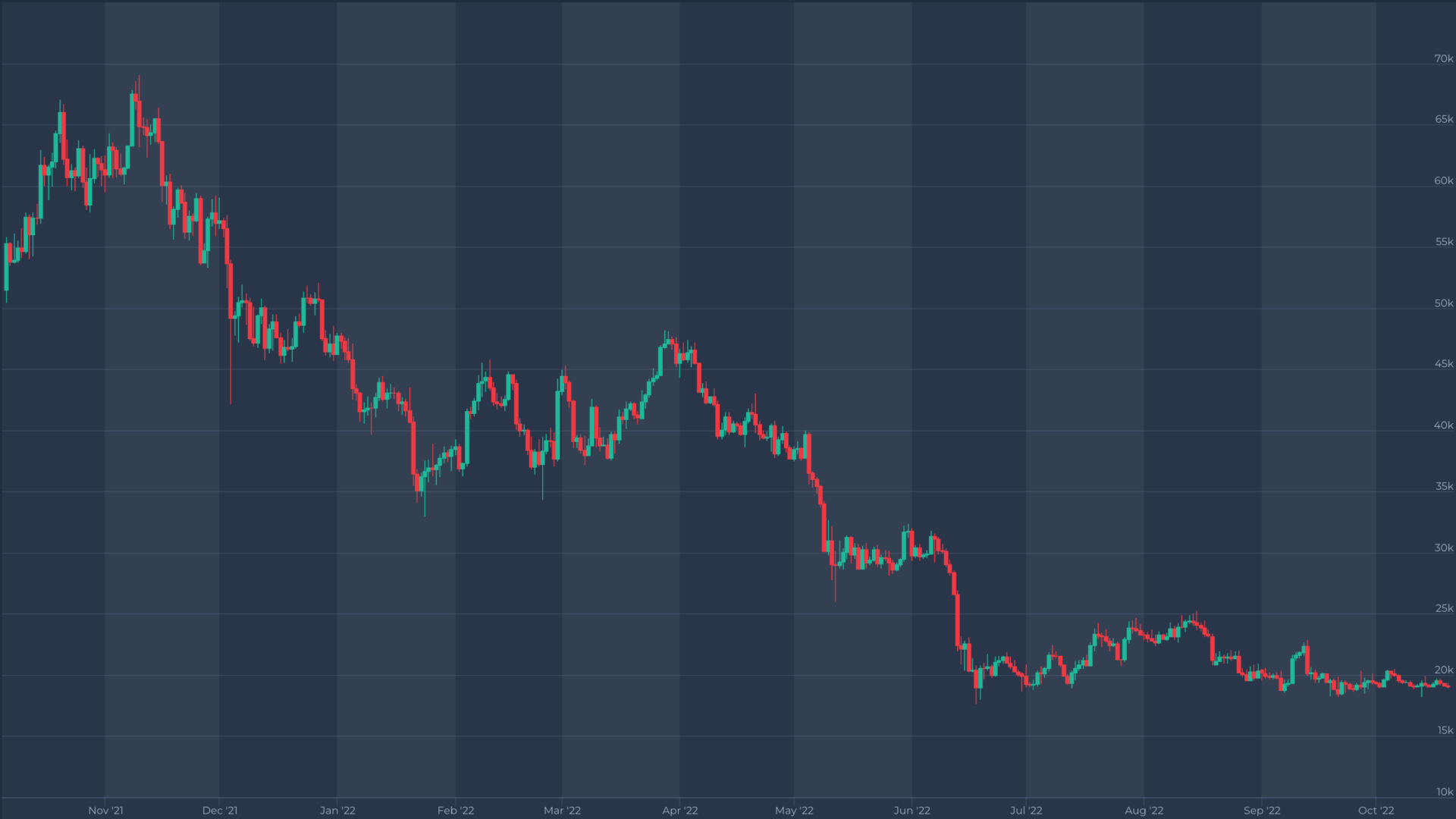 Source: altFINS.com

NASDAQ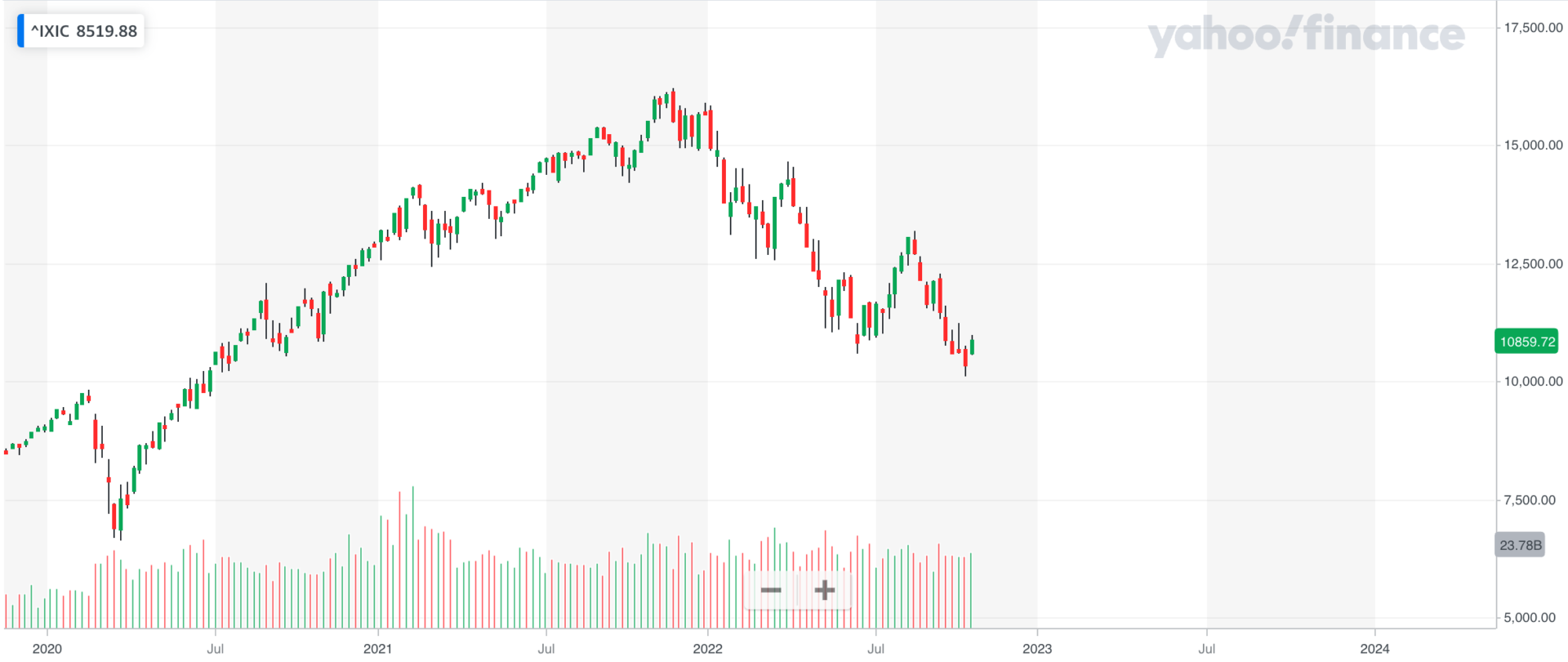 Source: Yahoo Finance

US CPI


US Fund Rates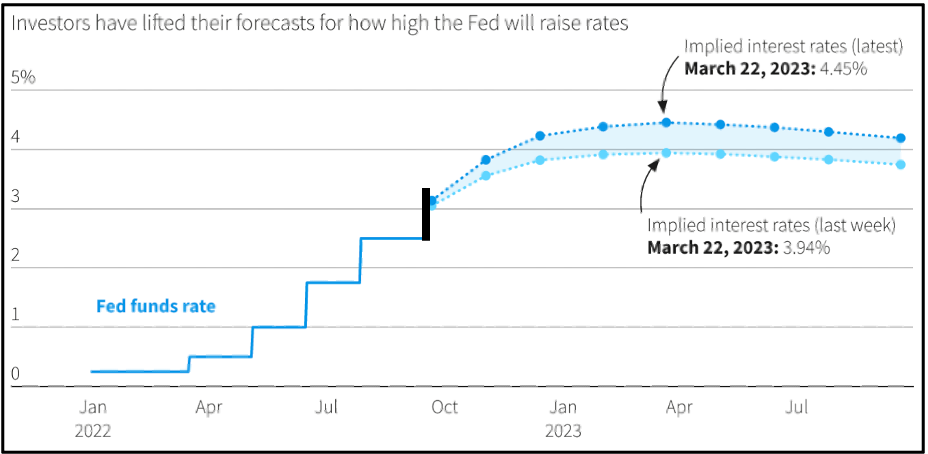 Source: Refinitiv | Reuters, Sep. 14, 2022 | by Vincent Flasseur
The crypto market sentiment (measured by Crypto Fear & Greed Index) remained at ⬇22/100, indicating Extreme Fear, compared to a week ago. The total crypto market cap is back up by more than ⬆️3%, remaining slightly below the $1 trillion mark. Ethereum (ETH) dominance increased to 17.4%, closing higher by almost  ⬆️1.50% compared to the previous week. While Bitcoin (BTC) dominance remained relatively unchanged at around 40.0%.
WHAT TO WATCH FOR: The next monetary policy meeting for the ECB: October 27th, 2022; FED: November 01-02nd, 2022; The next US CPI release for October 2022 is scheduled for November 10th, 2022. The next US GDP update will be released on October 27th. 2022.

Remember, the market tends to be 1-step ahead of any major event, so do not miss new opportunity and stay alert of the market developments. It will be important to remain selective on your investments during this monetary policy shift, and as it is with every market correction, be ready to enter the market at much lower valuations.
Know when to enter the market – be ready – get more insights, trends, and research reports at altFINS.com.
altFINS is a leading crypto analytics platform used by tens of thousands of traders and investors to find profitable trading ideas.
Project altFINS began out of frustration with a lack of high-quality tools to find trading ideas, create alerts, execute trading strategies, and monitor portfolio performance across exchanges. Our team decided to fill that void.
We are building a comprehensive and yet intuitive platform that enables coin screening and analysis using traditional technical analysis as well as alternative on-chain data, and trade execution across exchanges. The combination of trade idea discovery and trade execution is truly unique in the crypto trading space.

Do you like this article? Subscribe for altFINS newsletter
Visit altFINS for more information. Do you have some questions? Ask us in Telegram chat !