Cryptocurrency Price Analysis – week 9 and YTD, 2021
Altcoins find a footing after a sharp correction in prior week.
Last week, cryptocurrency prices rebounded across nearly all of top 50 coins by market cap.  Crypto market is likely to go sideways for a few weeks, consolidating massive gains from early 2021 period.  Many altcoins are now sitting on their support, which can serve as a springboard for new gains. Consolidation areas in an Uptrend often show up as Triangles (symmetrical, descending or ascending) or sideways channels.
At times like these, when markets pull back, check our Signals Summary for pullback in Uptrend opportunities.
Bitcoin (BTC) and Ethereum (ETH) were up 10.2% and 18.7% last week, respectively, recovering part of the losses from prior week when Bitcoin corrected by as much as 26.4% to about $43K.  We believe that $44K is a minor support and $40K a robust support area.  YTD, Bitcoin (BTC) and Ethereum (ETH) are up 72.2% and 128.9%, respectively.
The firming in prices comes as weakness continues among the large US tech names. Prices also spiked higher following news that the US Senate passed a $1.9T Covid-19 stimulus package. The Bitcoin mining network will be in focus in the coming weeks as reports indicate China's Inner Mongolia region will ban crypto mining in order to meet its energy reduction targets. Inner Mongolia is thought to account for up to 8% of Bitcoin mining.
Industry focus has turned to the increasing use of non-fungible tokens (NFTs) last week. Most NFTs are stored on the Ethereum blockchain and are representations unique assets, such as art, music, videos, collectibles, tweets, and video game items such as virtual land and player accessories. An example of the current market exuberance was highlighted when a 10-second video that was purchased for $67K in Oct-20 and that can be viewed for free and was recently sold for $6.6M. According to DappRadar, in Dec-20 there was $12M in volume from NFTs while in February it reached $342M.
Corporate and institutional allocations to crypto continues:
Goldman Sachs restarts cryptocurrency trading desk: Reuters reported that Goldman Sachs will begin dealing bitcoin futures and non-deliverable forwards for clients from next week. In addition it is exploring the potential for a bitcoin ETF, while the bank has issued a request for information to explore digital asset custody.
Majority of Institutional investor believe crypto is here to stay: Business Insider cited a JP Morgan survey of 3,400 Institutional investor, where 58% said crypto is here to stay and 22% indicated that their firm will likely trade or invest in asset class.
Evolve files Preliminary Prospectus for Ether ETF in Canada: The announcement stated that the Ether ETF will offer USD denominated unhedged units of Ether.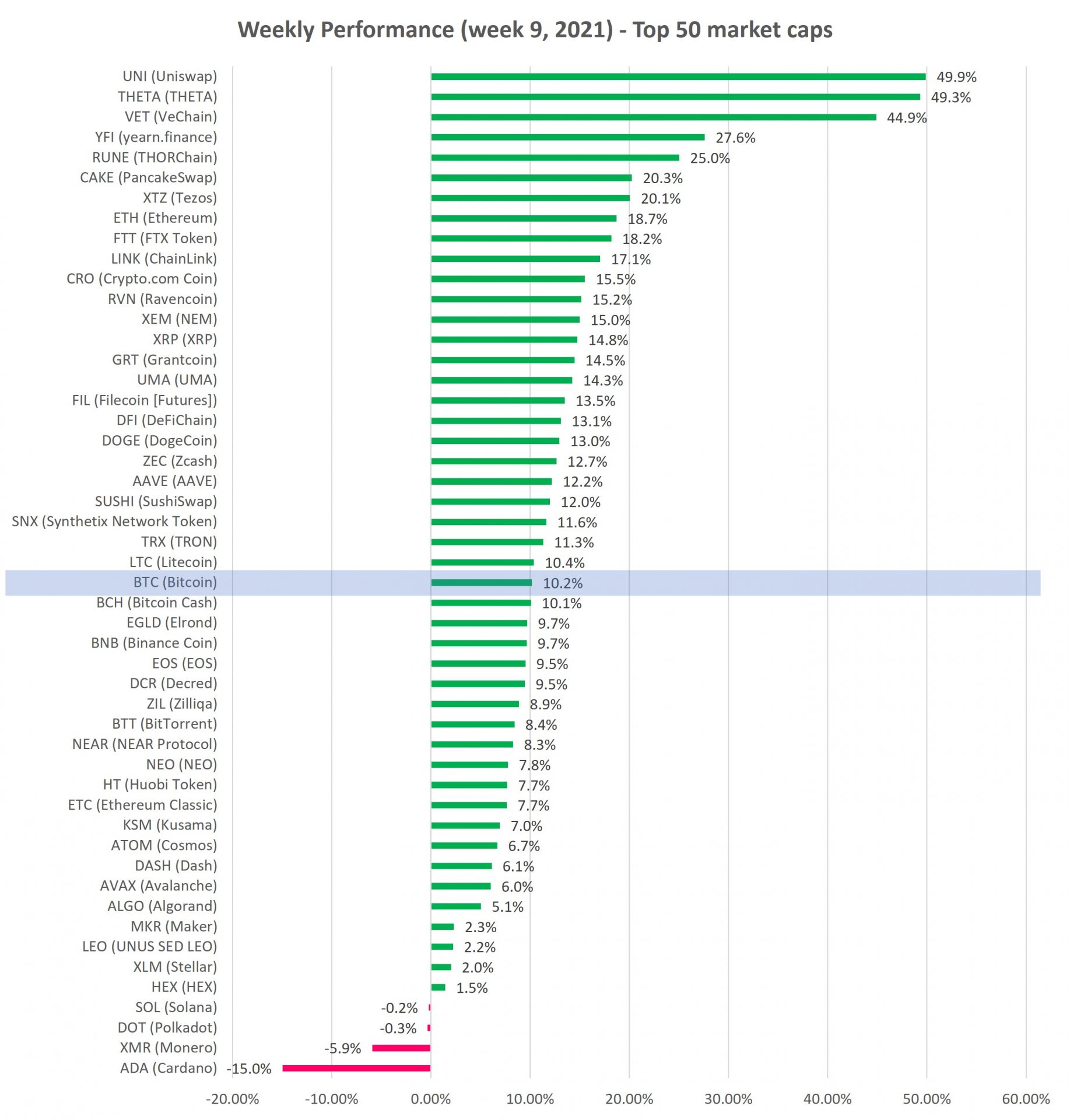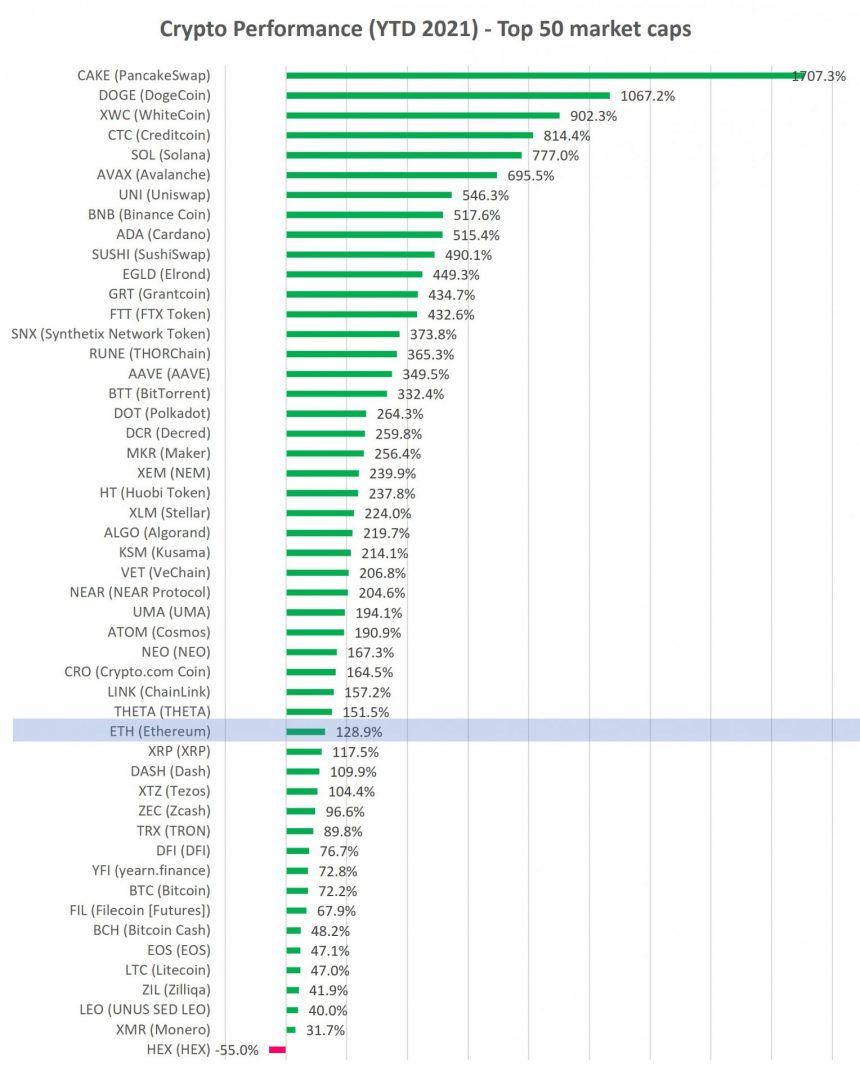 Source: altFINS.com
Decentralized Finance (DeFi) – Total Value Locked (TVL) increased by 5.3% last week to $38B, still below its peak of $45.5B (Feb 2021) but is still up 144% YTD.
DeFi cryptocurrency prices rebounded last week, despite the decline in TVL, as total DeFi category market cap increased 24.3% last week and is up 293% YTD (i.e. ~ 4x).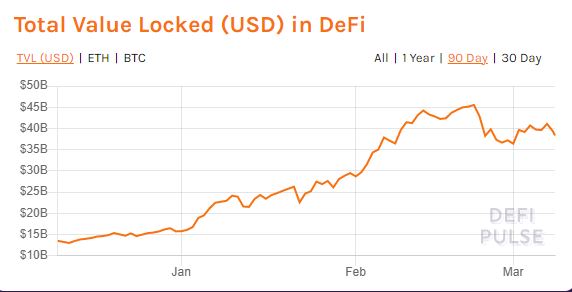 Source: DeFiPulse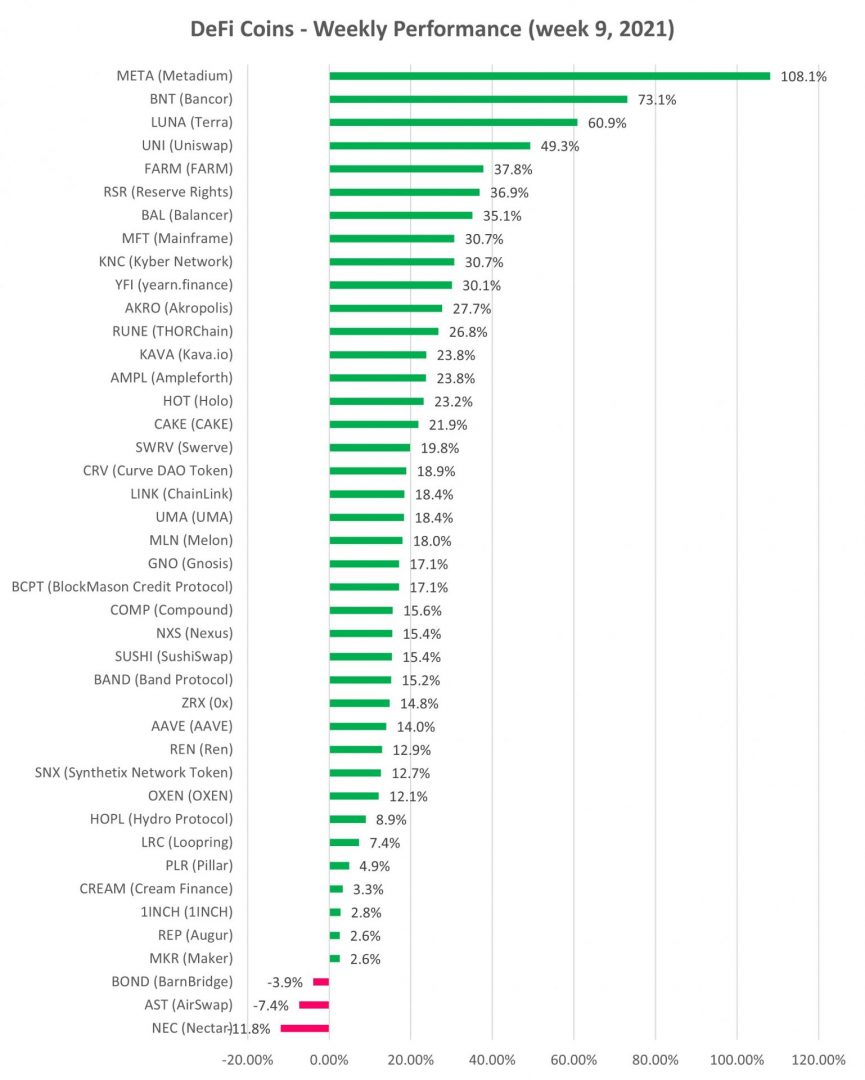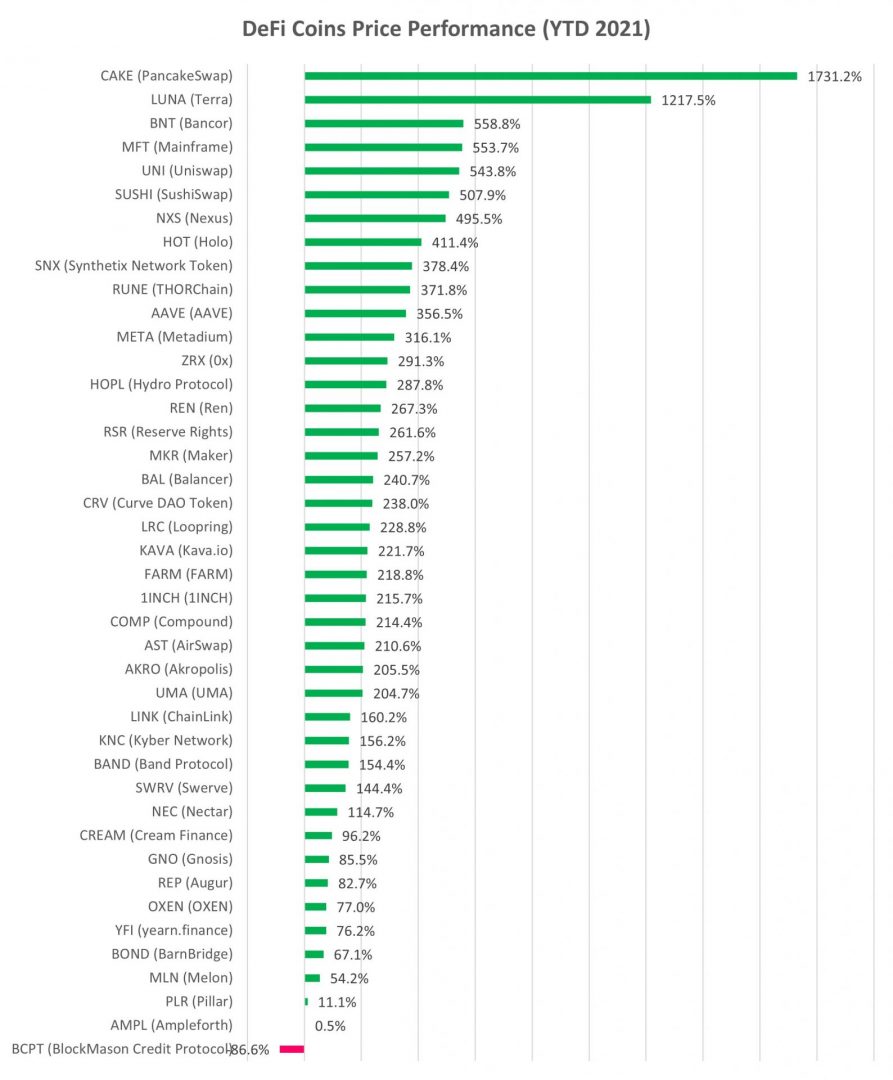 Source: altFINS.com
Check our unique automated chart pattern recognition for fresh trading ideas. Also, during market corrections, it's always good to revisit coins in an Uptrend but with a pullback. Our Signals Summary has this and other pre-defined filters ready for action.
Subscribe to our newsletter to receive future blog updates in your inbox and make sure you add altfins.com to your email whitelist.
Disclaimer: This content is for informational purposes only, you should not construe any such information or other material as investment, financial, or other advice. There are risks associated with investing in cryptocurrencies. Loss of principal is possible.