Cryptocurrency Price Analysis – week 8 and YTD, 2021
Broad correction hits cryptocurrency markets following extraordinary start of 2021.
Last week, cryptocurrency prices were down across nearly all of top 50 coins by market cap.  Crypto market is likely to go sideways for a few weeks, consolidating massive gains from early 2021 period. Consolidation areas in an Uptrend often show up as Triangles (symmetrical, descending or ascending) or sideways channels.
At times like these, when markets pull back, check our Signals Summary for pullback in Uptrend opportunities.
Bitcoin (BTC) and Ethereum (ETH) were down 16.7% and 21.1% last week, respectively. Just a few days after reaching a new ATH of $58,400, Bitcoin corrected by as much as 26.4% to about $43K, before recovering some.  We believe that $44K is a minor support and $40K a robust support area.
The sharp decline was attributed to the broader sell-off that was seen in the US tech sector, which itself was caused by concerns over spikes in long-term bond yields. Despite the move down, it is important to note the over the last year, the price has increased over +400% and when previous up moves of similar scale have occurred, it was not uncommon to see several significant pullbacks of over 20% as the market digests the price action.
Corporate and institutional allocations to Bitcoin have continued:
MicroStrategy bought another $1.03B of Bitcoin. In a tweet, CEO Michael Saylor said that the average price of their recent purchase was at $52,765 and that they now own 90,531 coins acquired at an average price of $23,985.
Square bought $170M more Bitcoin. The company reported that including its recent purchase of 3,318 coins and including its previous purchase of $50M, BTC now makes up 5% of its total cash, cash equivalents and marketable securities.
CI Global Asset Management files prospectus for Ether ETF. If successful, it is expected to be the first ETF in the world to invest directly in Ether.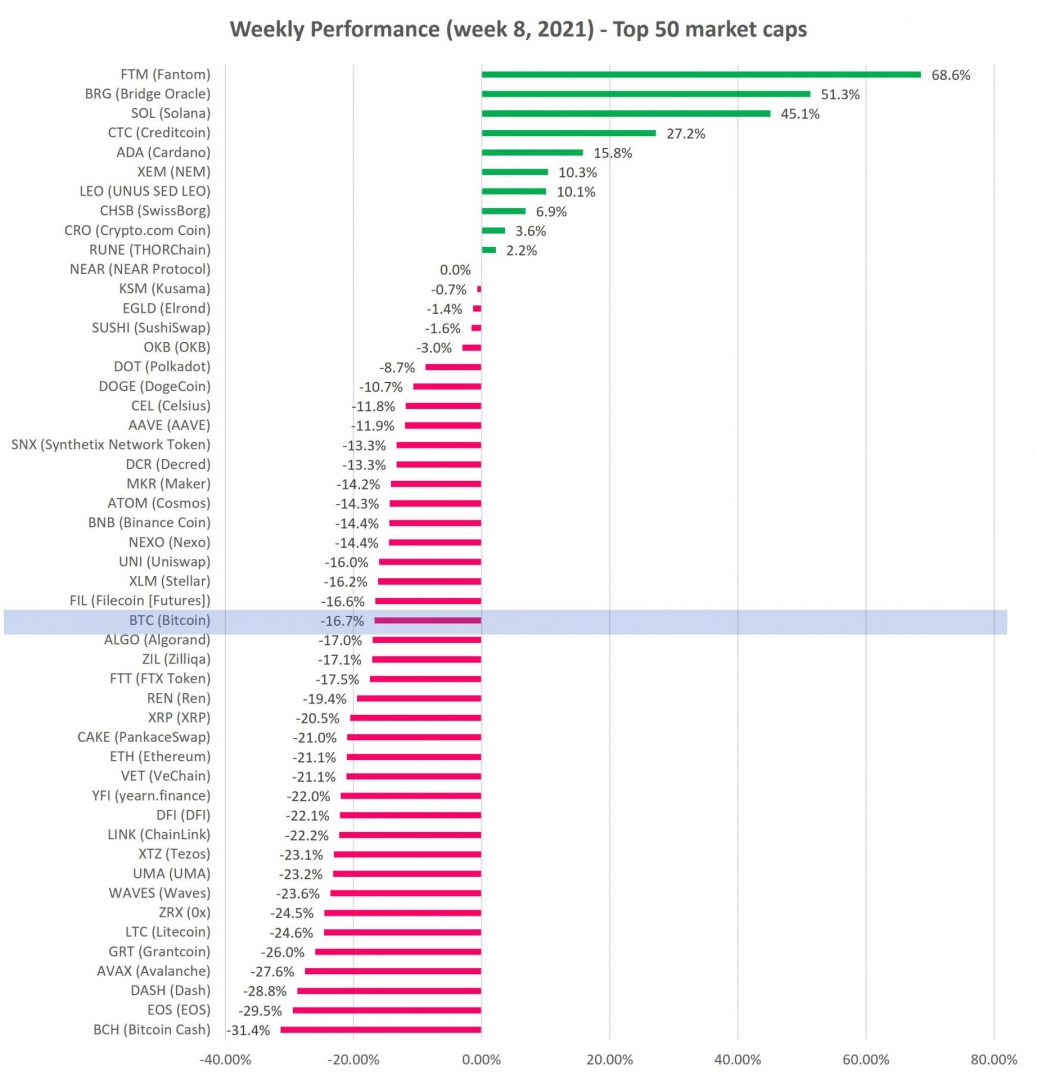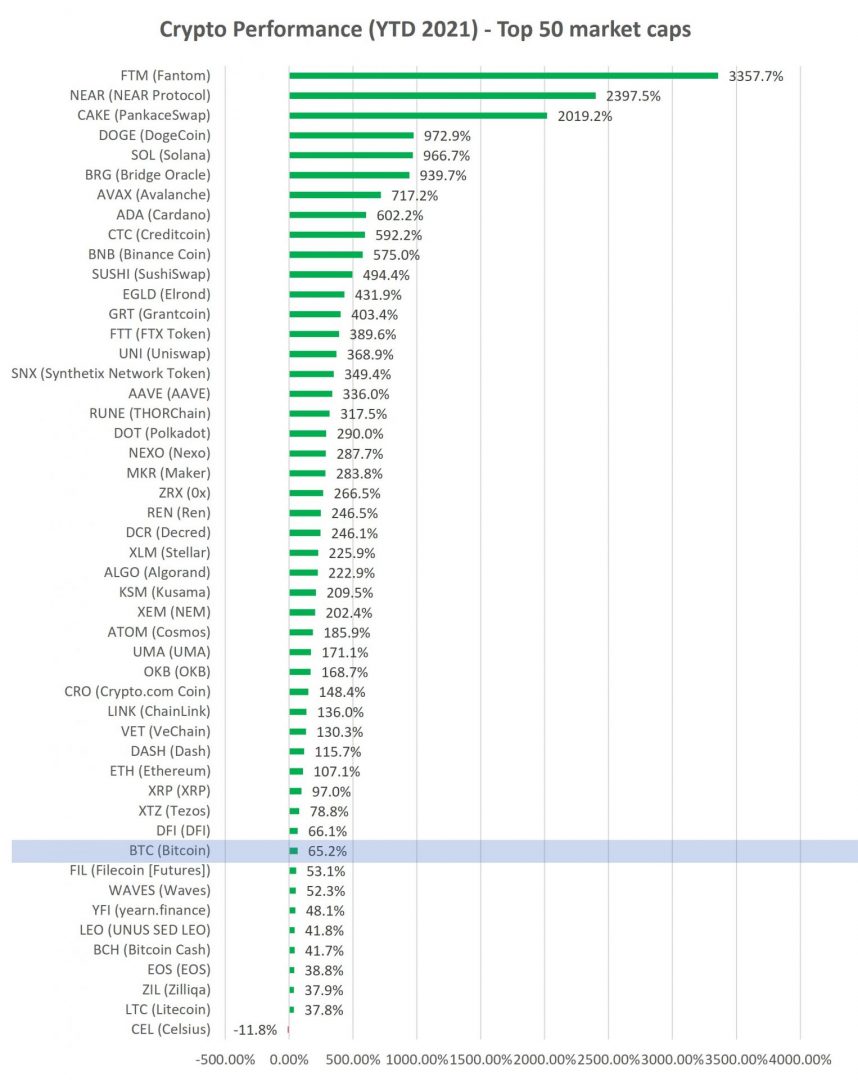 Source: altFINS.com
Decentralized Finance (DeFi) – Total Value Locked (TVL) declined by 15.6% last week to $38B but is still up 142% YTD.
DeFi cryptocurrency performance reflected the decline in TVL as total DeFi category market cap slumped (24.4%) last week, although it is still up 205% YTD (i.e. ~ 3x).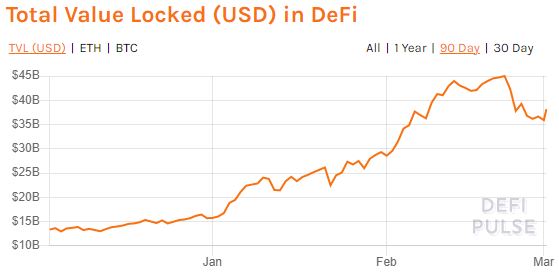 Source: DeFiPulse.com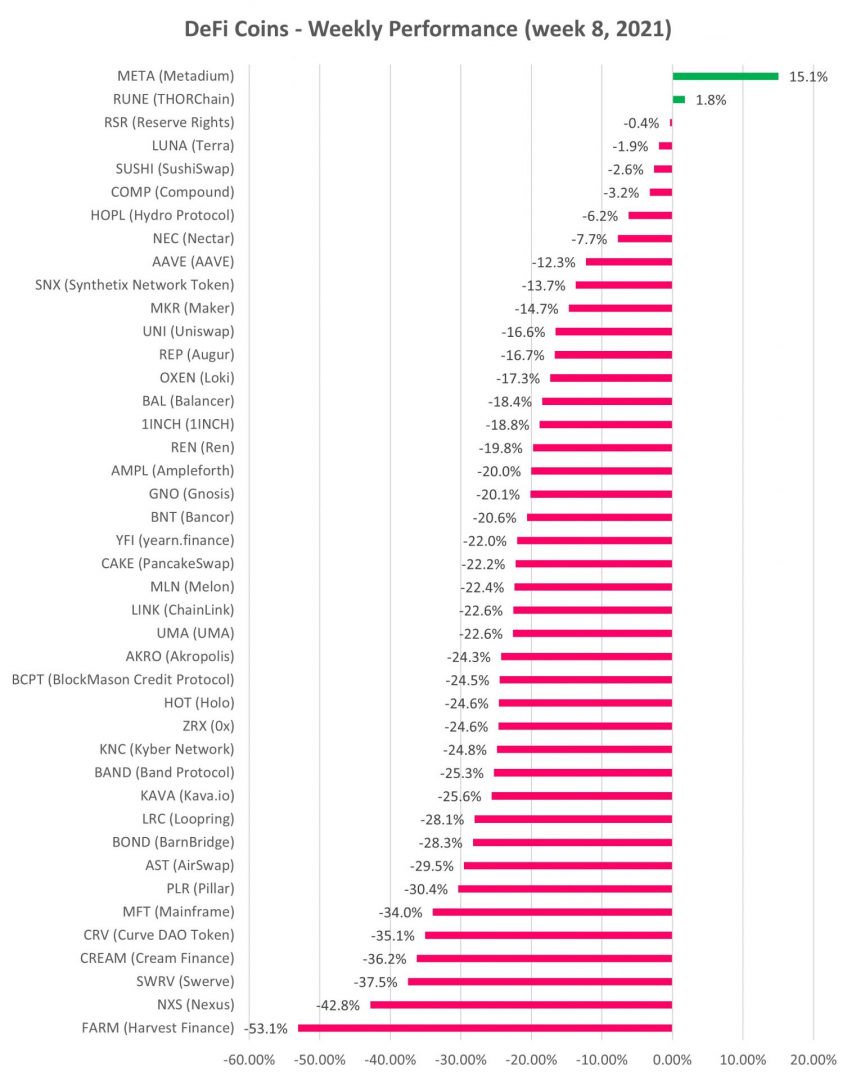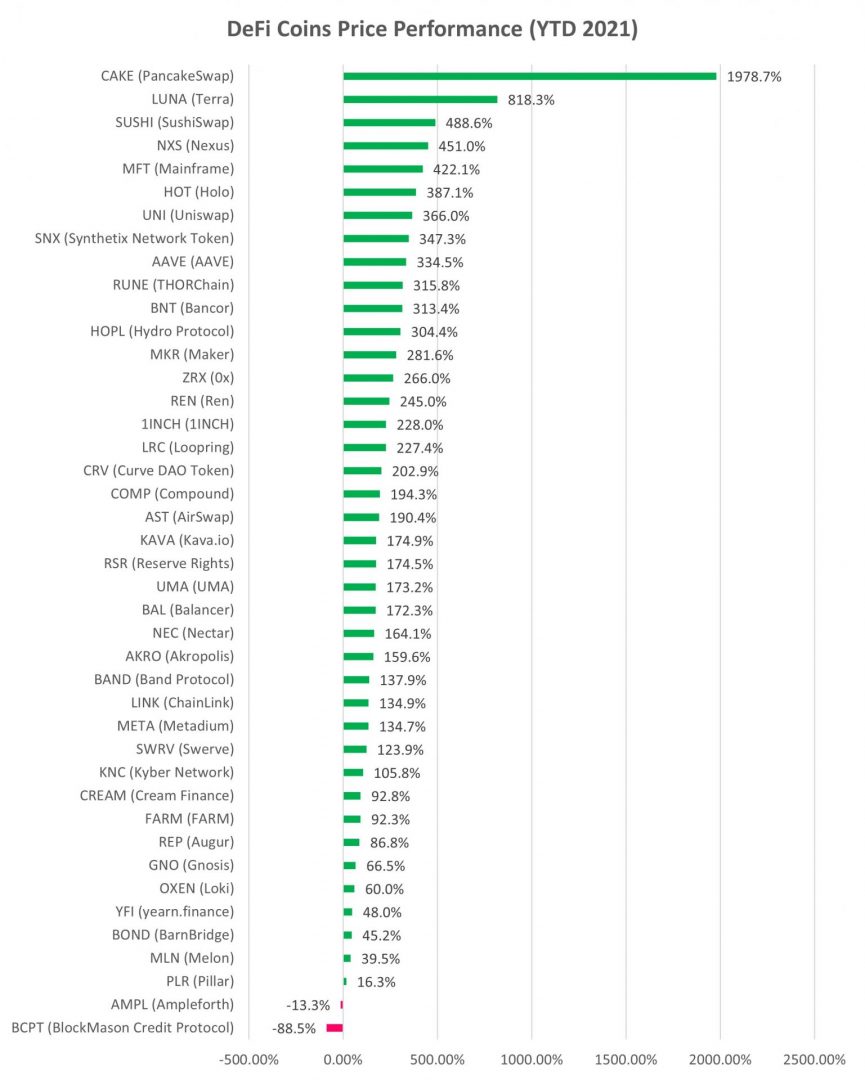 Source: altFINS.com
Check our unique automated chart pattern recognition for fresh trading ideas. Also, during market corrections, it's always good to revisit coins in an Uptrend but with a pullback. Our Signals Summary has this and other pre-defined filters ready for action.
Subscribe to our newsletter to receive future blog updates in your inbox and make sure you add altfins.com to your email whitelist.
Disclaimer: This content is for informational purposes only, you should not construe any such information or other material as investment, financial, or other advice. There are risks associated with investing in cryptocurrencies. Loss of principal is possible.