Last couple of days have helped to patch up the recent ugly downtrends left by the volatility tornado triggered by Elon's schizo tweets and China mining crackdown.
While most coins are still in a downtrend on Short- and Medium-Term basis, there are some that are bucking that trend and others that provide some swing trading opportunities.
altFINS' Signals Summary page shows that 48 coins are still in an Uptrend on Short- Medium- and Long-Term basis (daily interval):

Clicking on the number 48 in the table takes us to the Crypto Screener results (see table below).  Among the coins still in a solid Uptrend are well known stars like Polygon (MATIC) and Celsius (CEL), but also many true small caps:

Swing trade opportunities. Switching gears a bit.  While trend traders can continue to screen the market for the few remaining coins in an Uptrend, others can look for momentum swings.
Swing traders are looking to enter on momentum upswing, ideally around key levels (support and resistance) and exit when momentum loses steam.  Read more on swing trading here.
Our Curated Charts highlight several such Swing Trade opportunities today: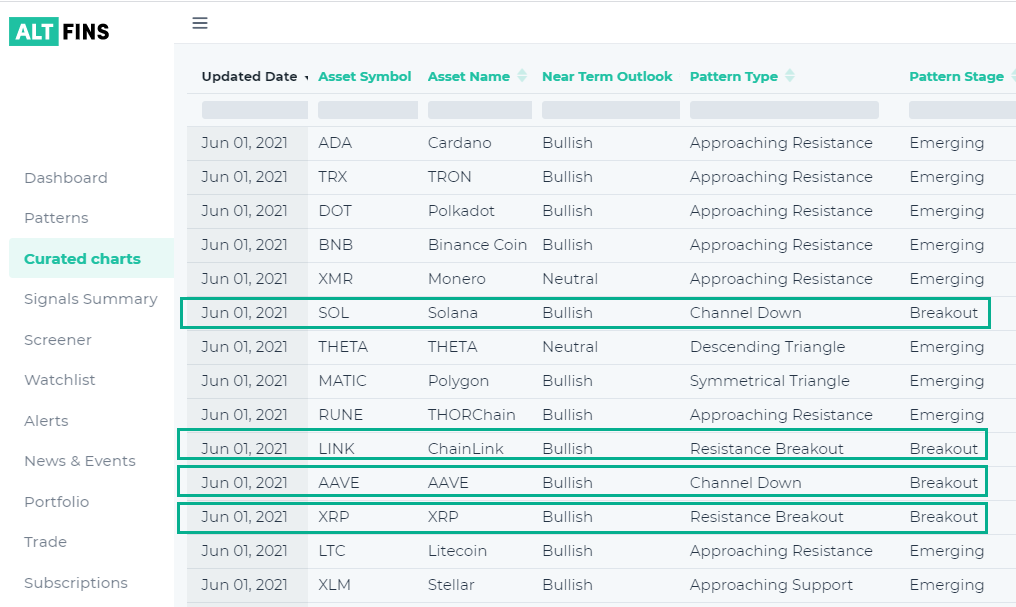 Solana (SOL) is an example where price appears to have broken out from consolidating in a Channel Down pattern and also broken through a key level ($30).
While still not a complete reversal from a downtrend (Short- and Medium-term basis), it does provide a potentially attractive swing entry point.
Momentum (MACD) is also inflecting bullish and could carry the price to $40 resistance zone.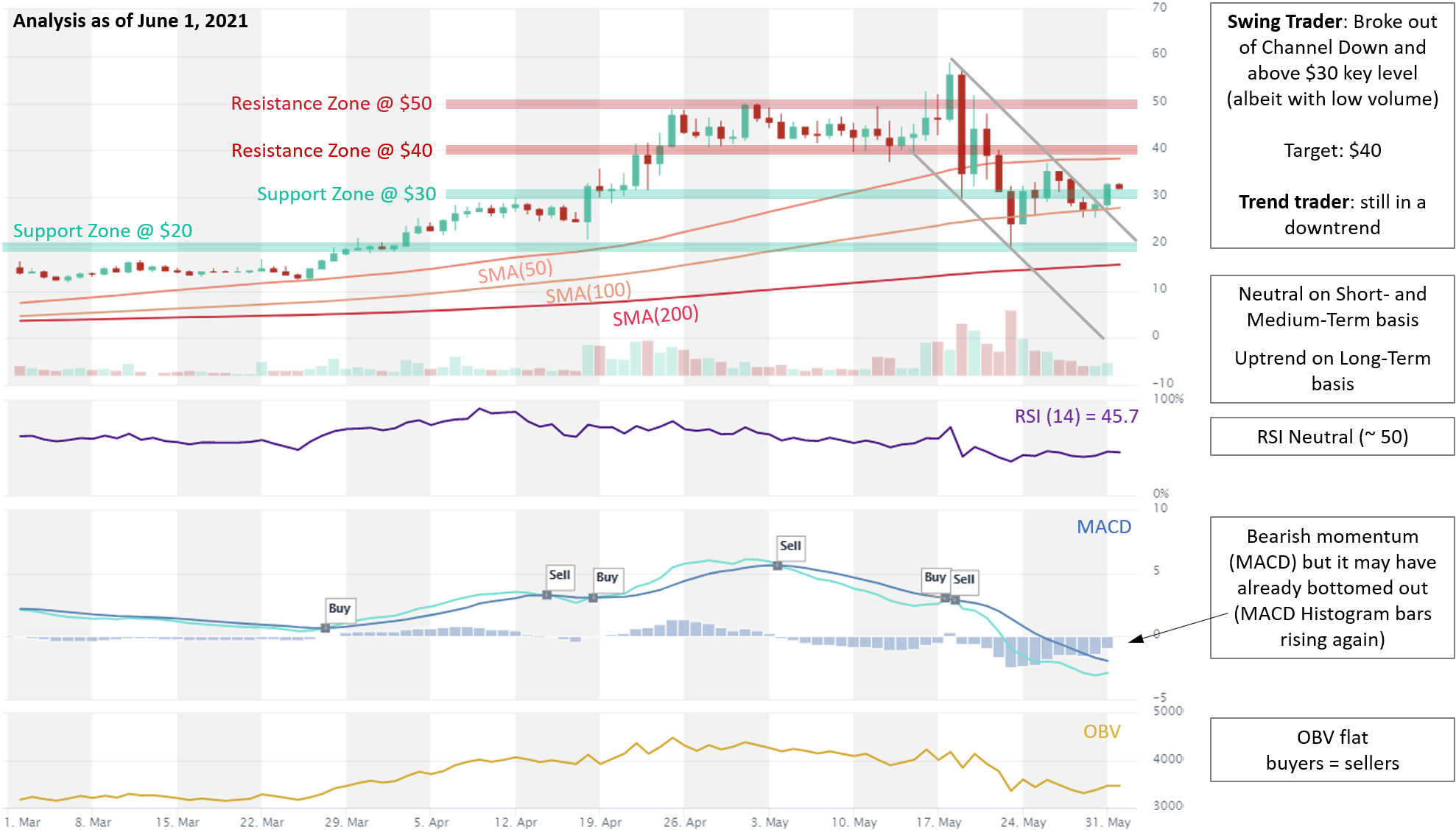 Typically, resistance breakouts result in further gains to the next resistance zone.  Not always, of course, but often enough (~70% of time) to make it one of the most attractive trading strategies.
New MACD Buy / Sell signals tutorial video. MACD Buy / Sell crossover signals are a very popular and powerful momentum trading tool.  We've added a 3 min video to our knowledge base on how to create a MACD Buy / Sell signal and alert for any coin (we used ADA as example).  Watch here.
Download altFINS Mobile App
Follow us on:
✅ Telegram: https://t.me/altfinsofficialchat
✅ Twitter: https://twitter.com/AltfinsA
✅ Discord: https://t.co/uBvlTWgRgP
✅ Facebook: https://www.facebook.com/altFINS
✅ YouTube: https://t.co/QCvKBODSKH
✅ Reddit: https://www.reddit.com/user/altFINS_official
✅ Instagram: https://www.instagram.com/altfins_altcoins/
✅ LinkedIn: https://www.linkedin.com/company/altfins
Risk management – Stop Loss and trade size.  In all of these setups, traders should use Stop Loss orders to manage their downside risk, in case the trade goes against us, as it often will.  is about probabilities and even though these setups have a high win rate, one must be prepared to minimize losses on the trades that go bust.  If Stop Loss order types are not supported by they exchange, at least set up a price alert (see video).  Also, trade size should be such that you never risk losing more than 2% of your total equity.  Keeping the trade size small allows the trader to setup a wider Stop Loss, which gives the trade more room and time to complete with success.  Setting Stop Loss levels too tight can often result in getting knocked out of a trade prematurely.
Disclaimer: This content is for informational purposes only, you should not construe any such information or other material as investment, financial, or other advice.  There are risks associated with investing in cryptocurrencies. Loss of principal is possible.