Bitcoin Analysis – approaches $50K – what's next?
Bitcoin has continued in its strong uptrend and is approaching $50K, which could be a significant psychological level (resistance).
Support and Resistance levels are often concentrated around big round numbers, like milestones where sellers and buyers trade elevated volumes.
Even in Uptrends, prices don't go straight up but tend to advance in a zig zag manner, two steps forward, one step back (also called consolidation).  Find coins in Uptrend here.
Bitcoin is likely to consolidate in a $42K-$48K range.
Before decisively breaking through $50K, BTC is likely to bounce between Support ($40K) and Resistance ($50K) a few times, giving traders an opportunity to bag these round trips.  
Consolidation areas in an Uptrend often show up as Triangles (symmetrical, descending or ascending) or sideways channels.
Here's a quick Bitcoin analysis using a brief history of Bitcoin's advance from $4K to $48K and see how it behaved around big 10K milestones ($10K, $20K…).
1. Getting through $10K resistance.  It took Bitcoin about 3 months to decisively break through the $10K level.  During the consolidation period, traders had multiple opportunities to sell at $9,800 and buy at $9,200.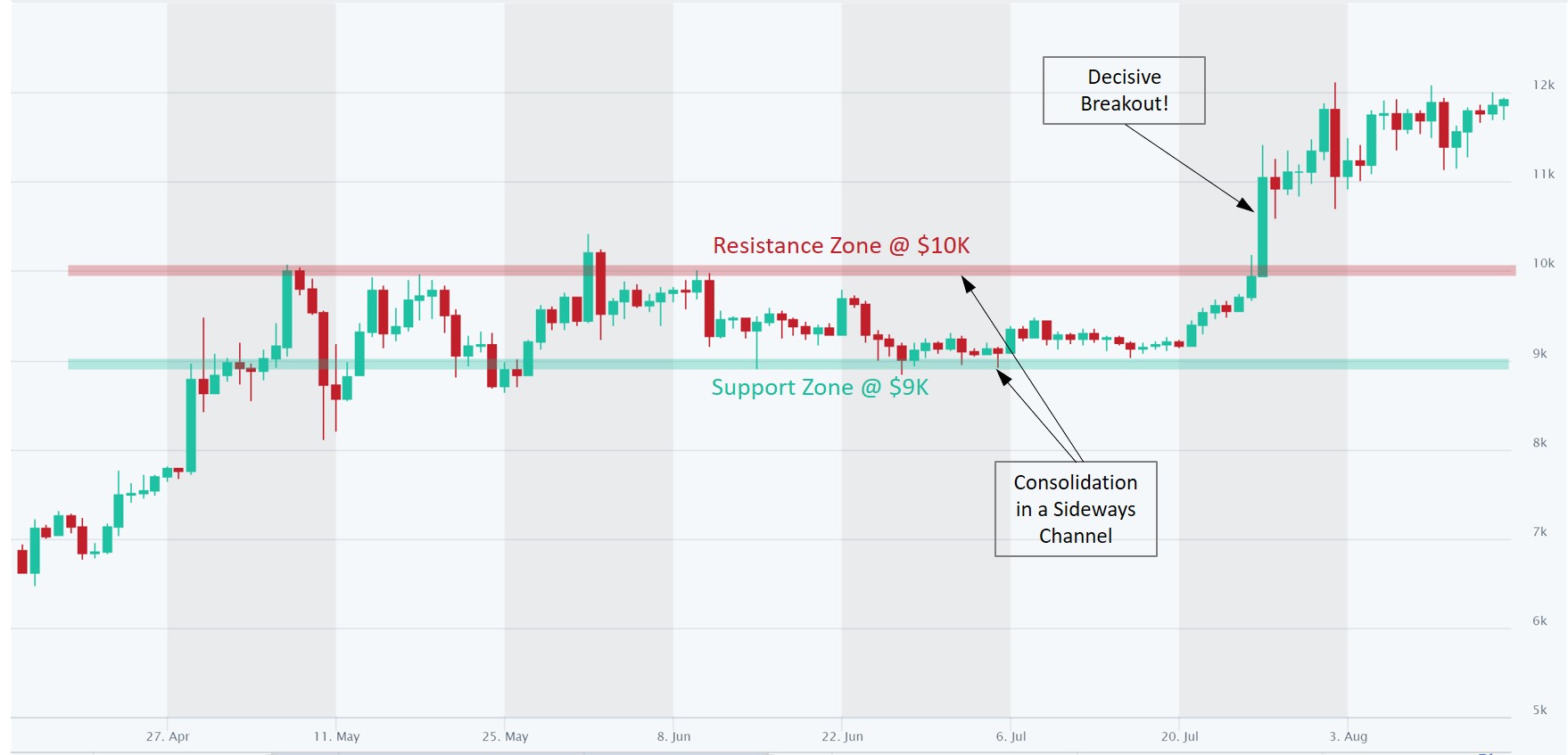 2. Getting through $20K resistance.  It took Bitcoin less than a month to consolidate at the next big mark: $20K.  Still, there was a brief consolidation area between $18K and $20K that could have been traded.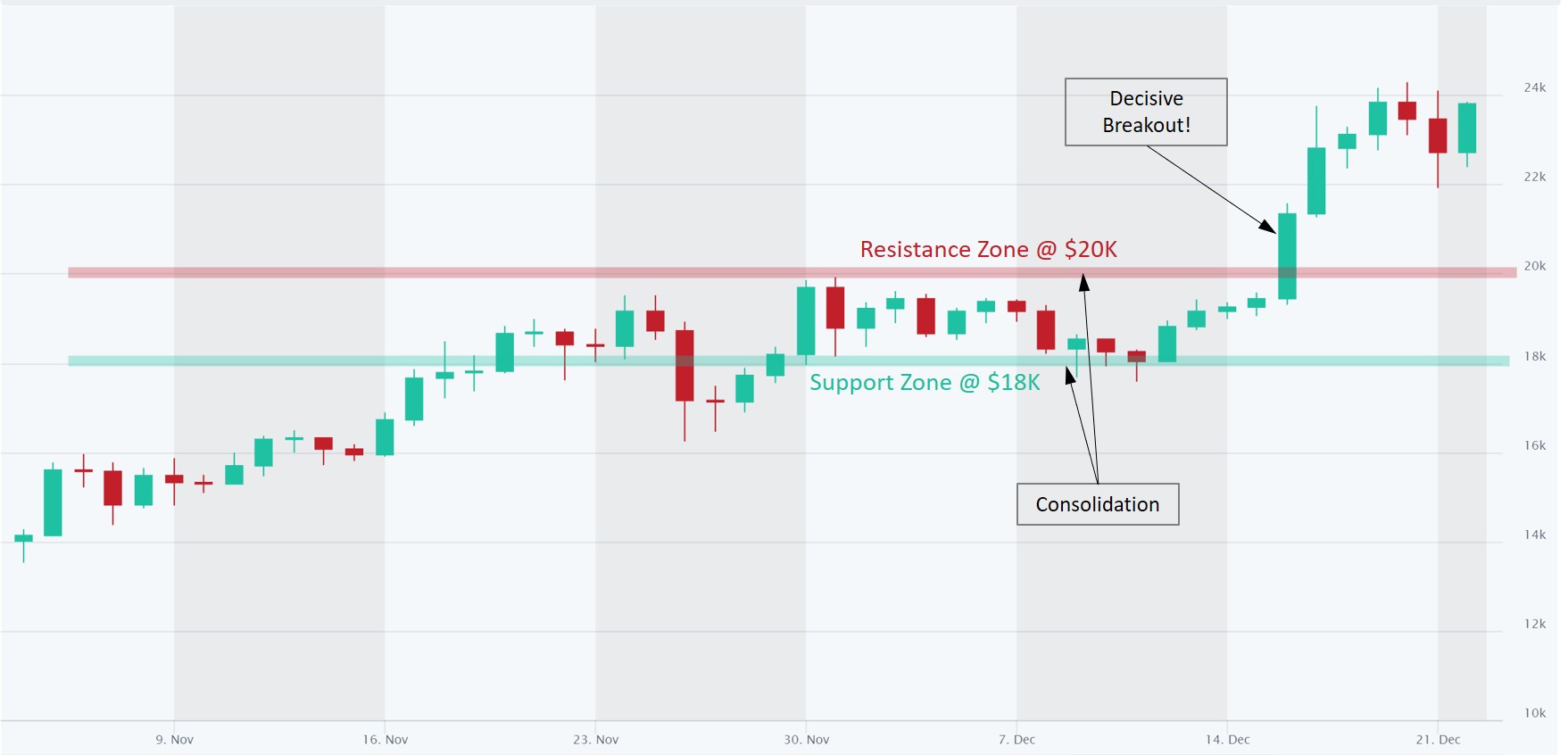 3. Getting through $30K (resistance?).  Bitcoin bus blew through the $30K level, without even slowing, leaving many investors who wished to hop on, just standing by and watch…boo hoo.  And those who sold here, expecting a speed bump, were also left in the dust.  So the lesson is, wait for the first rejection at an assumed resistance level before getting off the gravy train.  
4. Getting through $40K resistance.  Finally, the most recent big resistance area was $40K.  Bitcoin worked on it for a month, consolidating in a Descending Triangle pattern, again giving traders some decent trading opportunities between $30K and $40K levels, or more precisely between $30K support and the upper resistance line of the triangle.  Then it broke out of the triangle, climbed to $40K before Elon Musk announced that Tesla invested $1.5B into BTC and the price gapped up.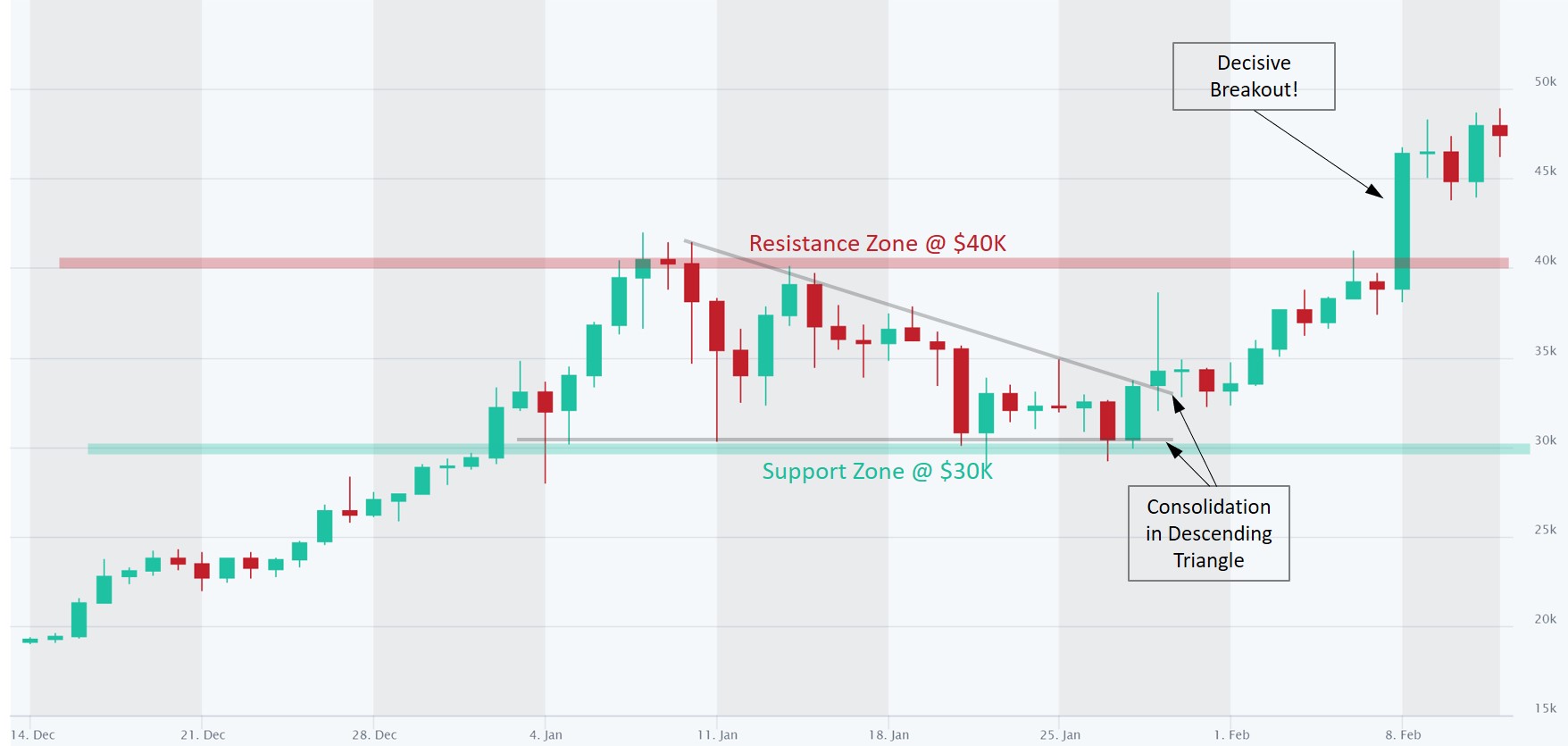 Conclusion.   Swing trading these zig zags in an uptrend is not for everyone.  However, for an investor who's bullish and long Bitcoin, it could be prudent to carve out a piece (5-25%) of the position, and trade around his core position in an effort to enhance his profits.  Keeping with a golden rule to always trade with the trend, investor would then sell a piece of the position at resistance level near $50K (but not go short) and buy back at Support ($40K-ish).  The risk is that BTC just blows through $50K like it did with $30K, but we think the odds are that it will consolidate in a $40K-$50K range, instead, especially since $50K seems like a significant psychological milestone.
Download altFINS Mobile App
Follow us on:
✅ Telegram: https://t.me/altfinsofficialchat
✅ Twitter: https://twitter.com/AltfinsA
✅ Discord: https://t.co/uBvlTWgRgP
✅ Facebook: https://www.facebook.com/altFINS
✅ YouTube: https://t.co/QCvKBODSKH
✅ Reddit: https://www.reddit.com/user/altFINS_official
✅ Instagram: https://www.instagram.com/altfins_altcoins/
✅ LinkedIn: https://www.linkedin.com/company/altfins
Disclaimer: This content is for informational purposes only, you should not construe any such information or other material as investment, financial, or other advice. There are risks associated with investing in cryptocurrencies. Loss of principal is possible.