Bitcoin (BTC) is still battling to surpass all-time-high (ATH) at ~ $20K.  There's a lot of supply from sellers around this level, and after two failed attempts to break that formidable Resistance Zone on Nov 23 and Nov 30, price formed a Double Top, a bearish pattern.
Price has dipped as low as $17,580 yesterday, then bounced. It will take some time for buyers to soak up the supply from traders and investors who are taking some profit off the table here.  $20K is a big psychological barrier, but we believe that Bitcoin (BTC) will clear it and make substantial gains in 2021.
Near term momentum is bearish with MACD Crossover below signal line (i.e. Sell) and RSI declining as well.  In fact, MACD histogram has growing bearish momentum, evidenced by the bigger histogram bars vs the previous downswing (see chart).  OBV (volume on Up days vs Down days) has been flat, indicating a balance in supply and demand at these levels.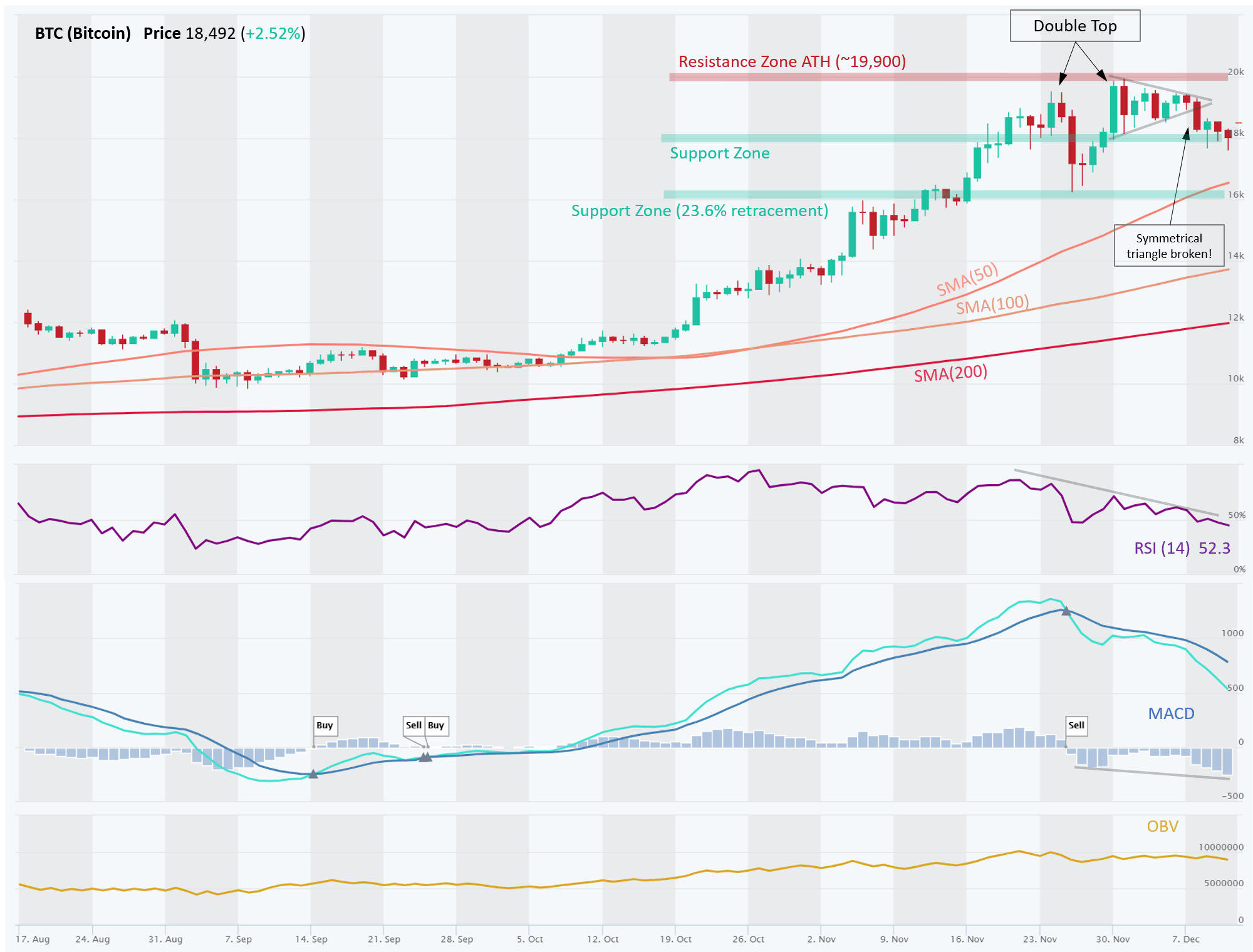 Source: altfins.com
Check our blog for analyses of other top 50 altcoins as well as our automated chart pattern recognition for fresh trading ideas.  Also, during corrections in the market, it's always good to revisit coins in an Uptrend but with a pullback.  Our Signals Summary has this and other pre-defined filters ready for action.
How low can it go?  $16K looks like a more robust Support Zone.  That's where the price bounced off after the first failed attempt to break $20K.  It's also coincidentally around the first Fibonacci retracement level of 23.6% (next one is at 38.2%, 50.0%, 61.8%).
From a historical perspective, when looking at bull market corrections since 2015, there have been 20 corrections of 20%+ with an average decline of 33% and lasting on average 12 days, according to research from Kraken Intelligence (see table below).  A 33% drawdown would put Bitcoin at $13,400.  That would painful, and is in our view very unlikely, considering the demand we are seeing from retail and institutional buyers alike.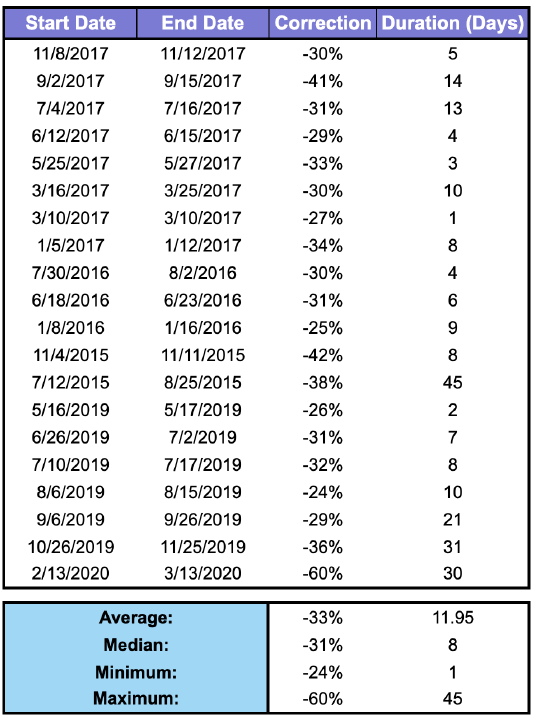 Just this week, MassMutual (Massachusetts Mutual Life Insurance Co.) announced that it bought $100M worth of Bitcoin.  MassMutual has over $235B in assets under management. So we're seeing massive, long-standing institutions begin to allocate capital to cryptocurrencies as an inflation hedge or as part of diversification strategy.
On the retail side, we have seen in 2020 many digital wallet providers (Square, PayPal), digital banks (neo banks like Revolute) and brokers (Robinhood) enable buying or trading of cryptocurrencies.  We wrote about PayPal's annoucement, which we believe is a game changer, as it enables over 365M PayPal users to buy four cryptocurrencies (Bitcoin, Litecoin, Bitcoin Cash, and Ripple).  We calculated that PayPal's user base could generate demand for about 15% of Bitcoin's market cap over the next 12 montsh!  That is bound to move the price higher.
Disclaimer: This content is for informational purposes only, you should not construe any such information or other material as investment, financial, or other advice. There are risks associated with investing in cryptocurrencies. Loss of principal is possible.