What Is Happening In Crypto Market? Crypto Market Overview Week 44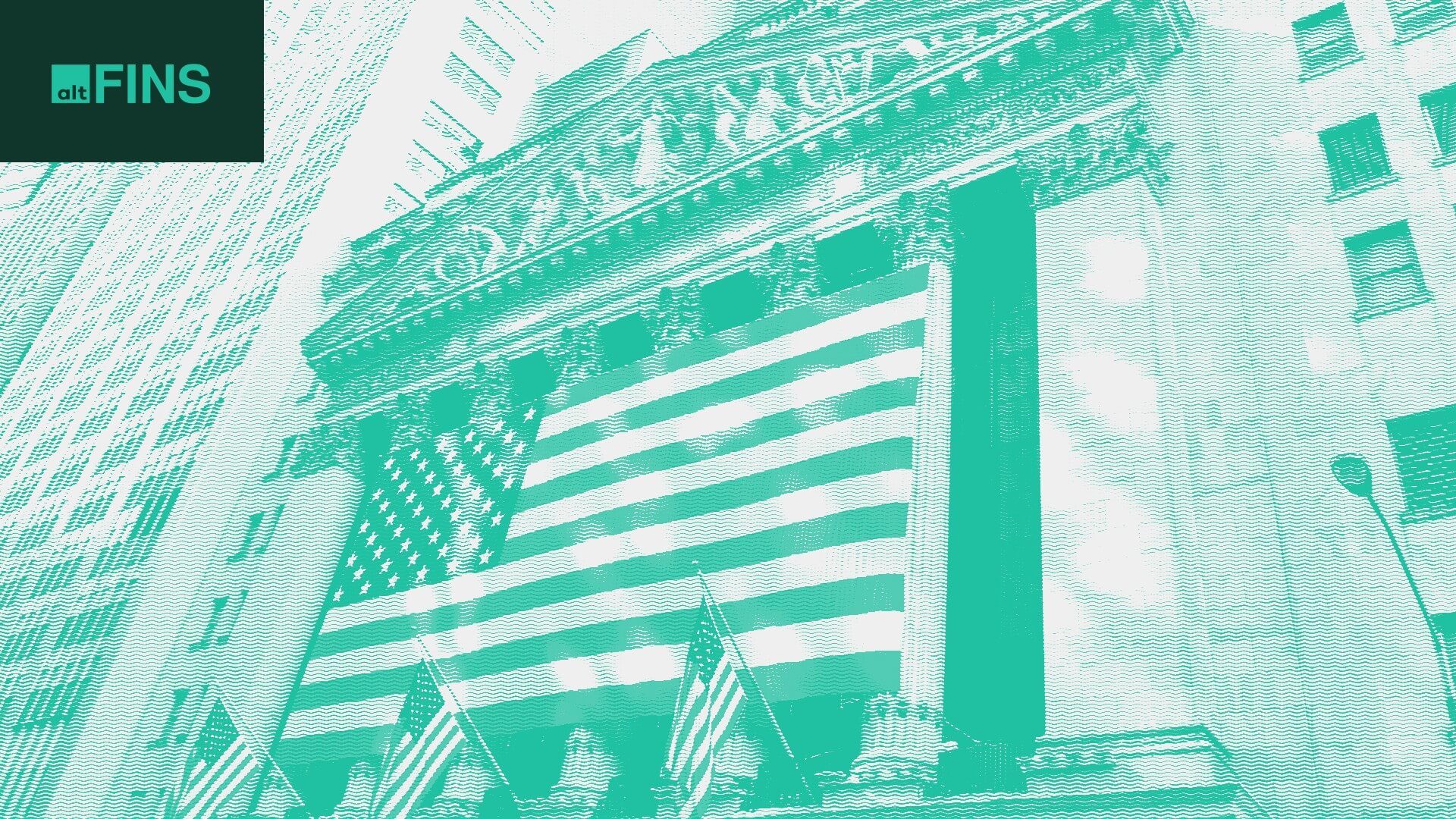 Crypto Market – Overview For Week 46

US Equity and Digital Assets markets ended the week 46 a bit weaker, with NASDAQ closing lower by (NASDAQ⬇️1.6%) at $11.146 and S&P 500 lower by (S&P500⬇️0.7%) at $3.965. Likewise, the two top digital assets, Ethereum closed lower by (ETH⬇️6.6%) at $1.142, while Bitcoin ended the week lower by (BTC⬇️0.4%), closing at $16.291. The crypto markets continue to decline in prices as a consequence of the FTX fallout that came alight on the 11th November 2022, when its co-founder & CEO filed for bankruptcy protection. Previous week's slump in crypto prices reflect the cascade of failures at other digital asset providers tied to the centralized crypto exchange FTX's collapse. The crypto market remains exposed to high downside risks, as the community now pays more attention to other providers like Crypto.com, Genesis Trading and Grayscale Bitcoin Trust (GBTC), among those the most affected. In fact, another full-blown panic over solvency issues at these or other big crypto providers will surely send the crypto markets further down in price.

However, it is worth to point out that the digital asset market bottom might be around the corner, as some of the most popular long-term indicators point to that conclusion. Looking at Bitcoin (BTC)'s Halving trajectory, its price is only few weeks away from its latest all-time high to put "in" a new macro low. The halving model uses the law of supply and demand and as miners provide constant pressure on the market, it can affect Bitcoin (BTC)'s total supply inflation directly.

Moreover, Bitcoin (BTC)'s MVRV-Z score indicator points to a new macro bottom, too, as whenever the Z-Score fell out of the green channel in the past cycles, the bottom was "in" for the Bitcoin (BTC), and now we are getting closer to that level. The MVRV-Z Score is a chart that identifies periods when Bitcoin (BTC) is extremely over- or undervalued relative to its 'fair value'. The Z-score is the standard deviation that pulls out the extremes in the data between market value and realized value.
BTC/USD MVRV Z-SCORE Indicator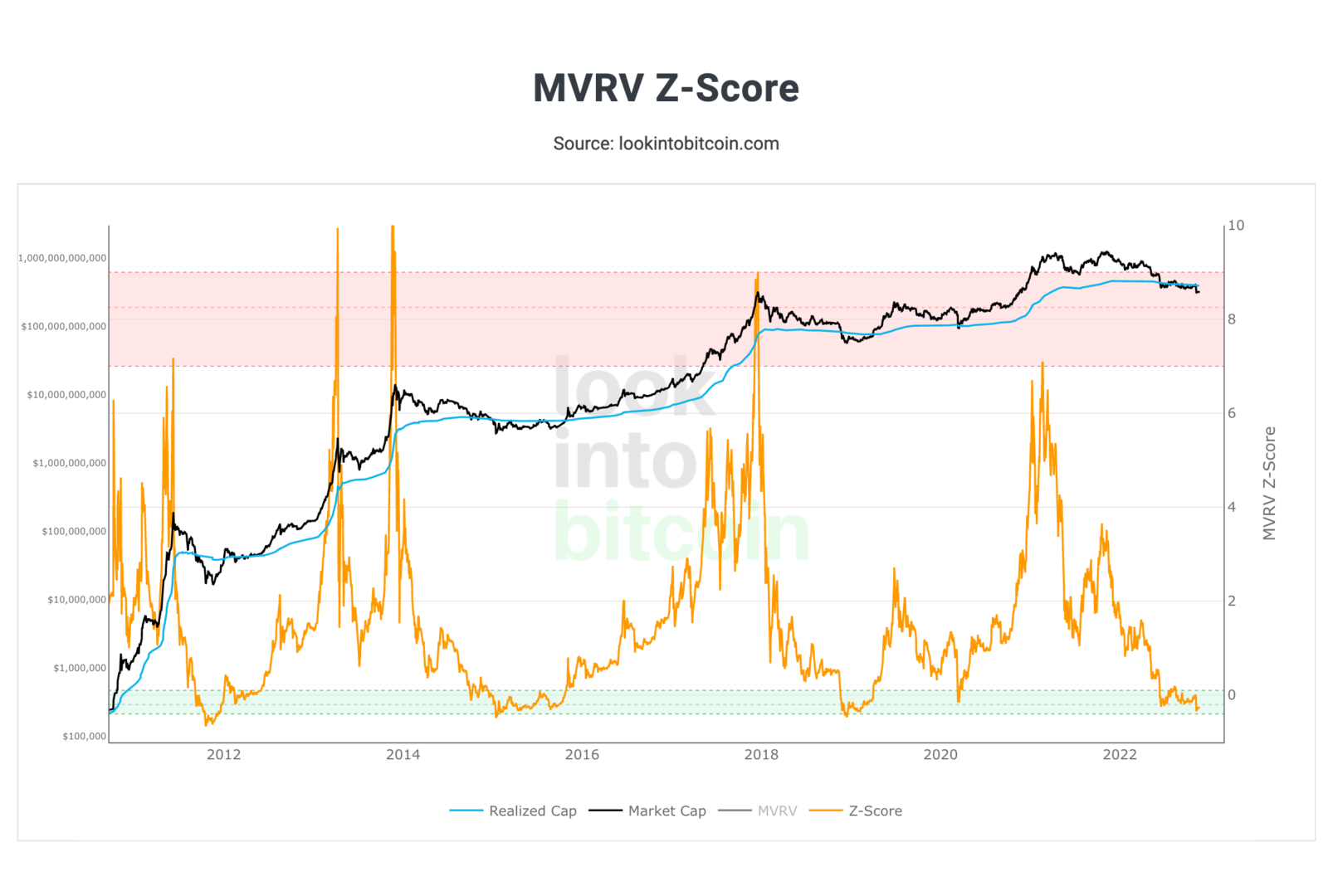 BTC/USD Halving Indicator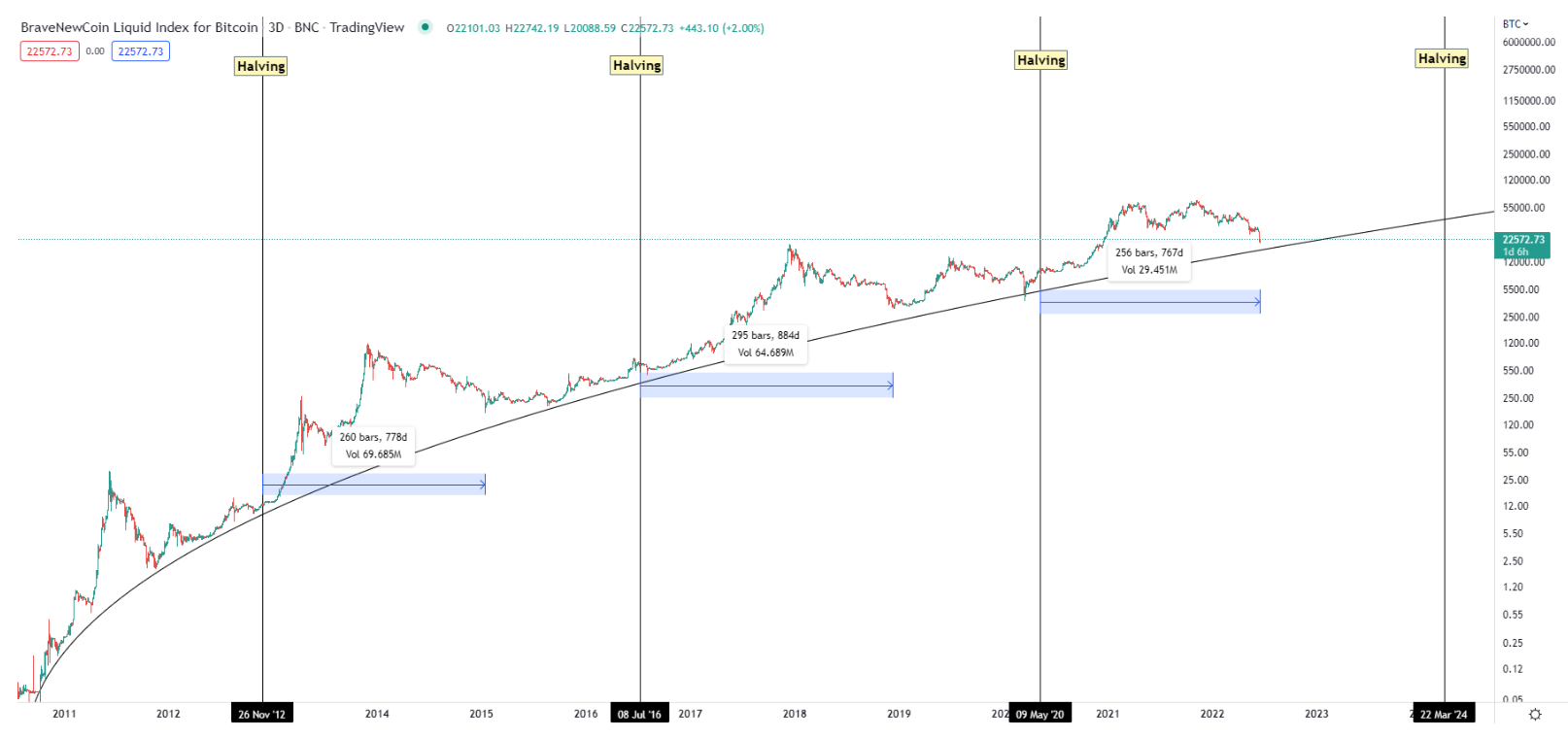 Source: TradingView
Crypto Market And Equity Market Performance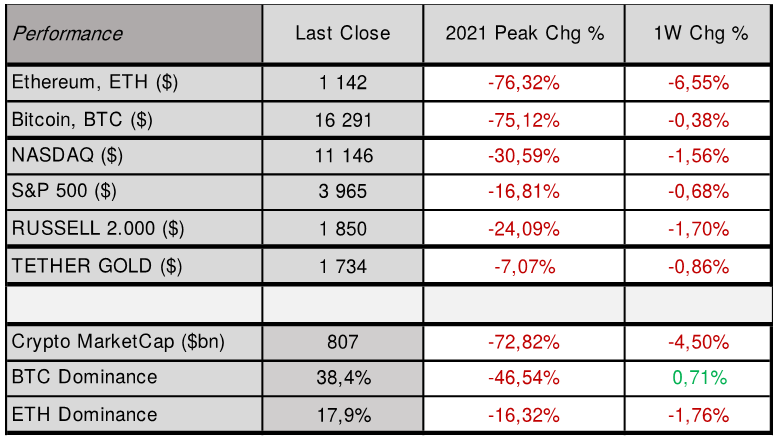 The US Equity markets, on the other hand, have been largely unaffected during the FTX exchange drama. The major US indexes stayed at the elevated price levels after jumping up because of the lower-than-expected US CPI figures published on the 10th November 2022. The US CPI starts to show signs of retracing, standing at 7.7% and the core CPI at 6.3%, compared to 8.20% and 6.64% a month ago. If the inflation continues to drop down, we will see an increased likelihood of a risk asset rebound across both equity and digital asset markets, therefore the next CPI reading, released on December 13th, 2022, is going to be closely watched. We expect the US CPI will slightly drop to 7.60%, with core CPI hovering around 6.26% in November 2022. Moreover, the market sees the US Federal Bank will begin to ease hiking on its next policy meeting in December and it is expected they will raise the fund rates by 0.50%.
Bitcoin price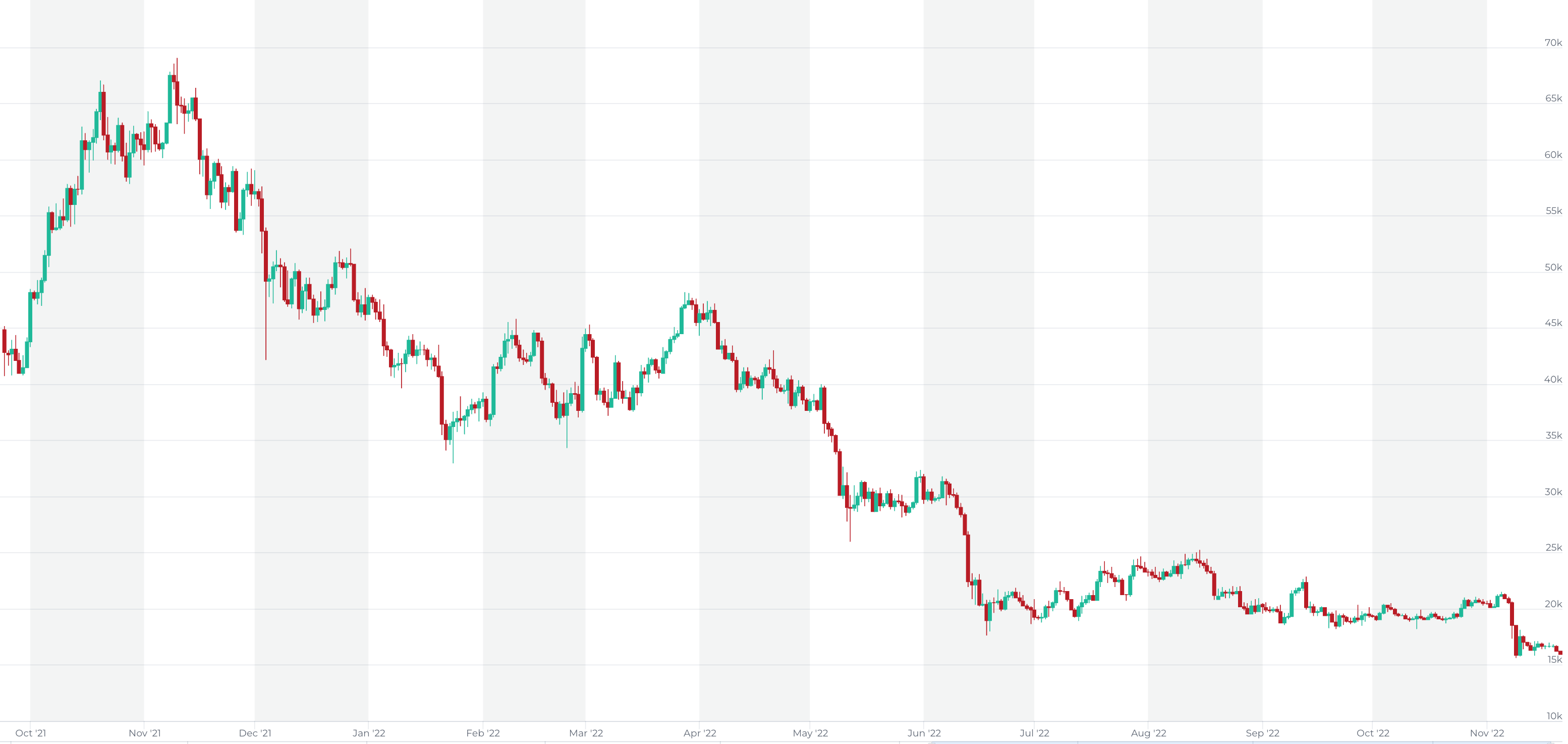 Source: altFINS.com

NASDAQ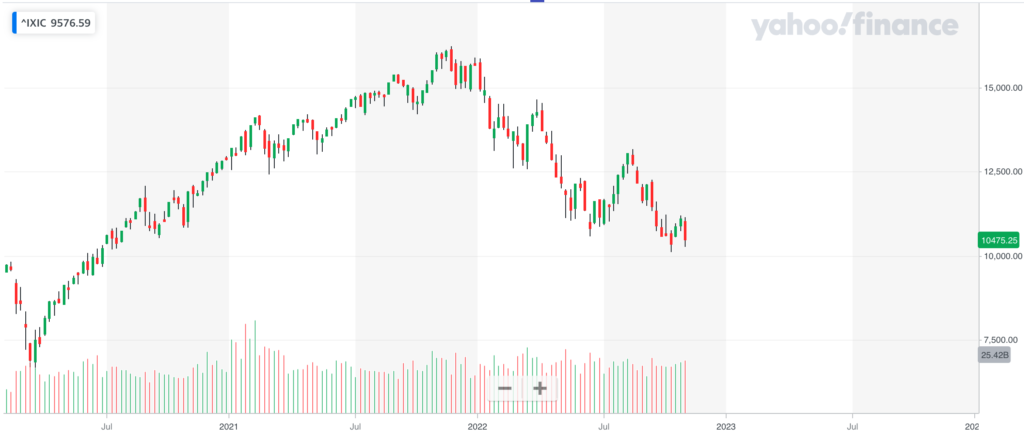 Source: Yahoo Finance

US CPI


US Fund Rates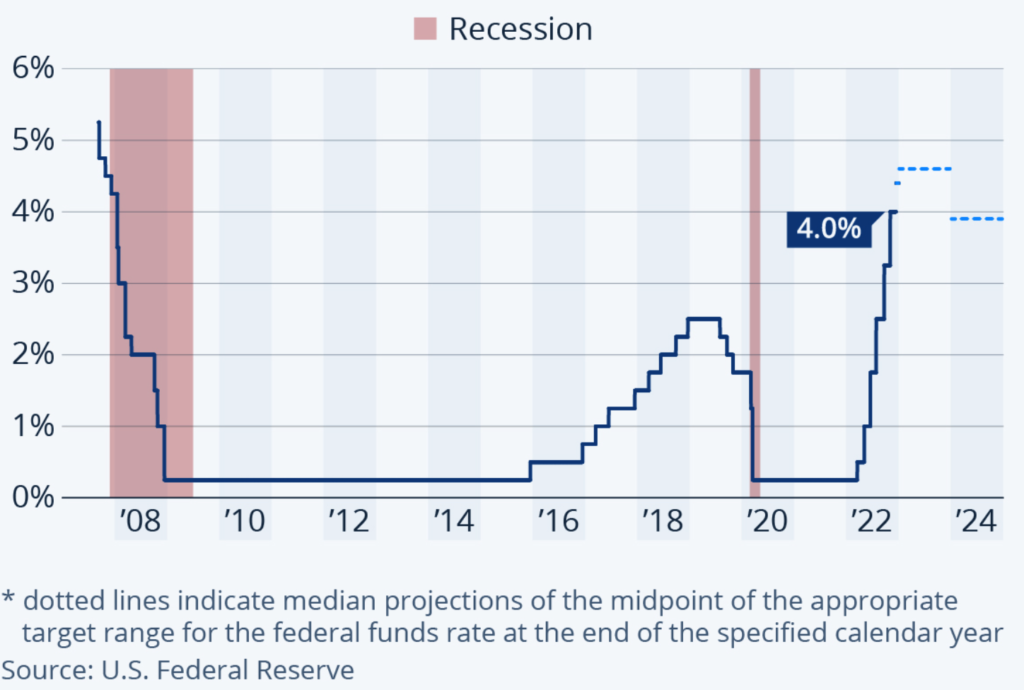 Source: Statista, Nov. 07, 2022
The Digital Asset market sentiment (Crypto Fear & Greed Index) dropped further to ⬇️21/100, indicating Extreme Fear, a territory where it is standing throughout much of the growing FTX crisis. The Total Cryptocurrency Market Cap dropped further, closing at roughly 807 billion on Sunday's close, around ⬇️4.5% lower compared to a week ago. Ethereum (ETH)'s Dominance decreased to 17.9%, lower by more than ⬇️1.8%, while Bitcoin (BTC)'s Dominance is up by ⬆️0.7% to 38.4%.
WHAT TO WATCH FOR: The next monetary policy meeting for the FED: December 13-14th, 2022 and for the ECB: December 15th, 2022; US CPI for November 2022 will be released on December 13th, 2022.

Remember, the market tends to be 1-step ahead of any major event, so do not miss new opportunity and stay alert of the crypto market developments. It will be important to remain selective on your investments during this monetary policy shift, and as it is with every crypto market correction, be ready to enter the crypto market at much lower valuations.
Know when to enter the market – be ready – get more insights, trends, and research reports at altFINS.com.
altFINS is a leading crypto analytics platform used by tens of thousands of traders and investors to find profitable trading ideas.
Project altFINS began out of frustration with a lack of high-quality tools to find trading ideas, create alerts, execute trading strategies, and monitor portfolio performance across exchanges. Our team decided to fill that void.
We are building a comprehensive and yet intuitive platform that enables coin screening and analysis using traditional technical analysis as well as alternative on-chain data, and trade execution across exchanges. The combination of trade idea discovery and trade execution is truly unique in the crypto trading space.