Using Twitter News to find trading ideas
Using Twitter News to find trading ideas
altFINS' Twitter News feed can often be a great source of trading ideas.  News about exchange listing, trading competition, mainnet launch, product updates or AMA (ask me anything) sessions, can be significant catalysts.  altFINS aggregates tweets on over 3,000 altcoins into one single news feed that users can search through.
For example, we noticed that Huobi Global and Binance, two major crypto exchanges, have announced upcoming trading competitions for TRX, SUN, JST, BTT and WIN.  This has sparked major price rallies.  Just look at their charts….prices are off the chart!!
We highlight an analysis on TRX, which recently broke through resistance and seems poised for additional gains. 
You can also watch a video of the TRX analysis and trade (see below), and also about how to leverage Twitter news for trading ideas. You can find more technical analyses in our Curated Charts section.
Trade setup: Trend traders should note a recent bullish break through resistance, which signals potential continued gains for this Strong Uptrend. Price is making new ATH. Momentum has also recently turned bullish and so has the volume (OBV).
Trend: is in a Strong Uptrend across all time horizons (Short-, Medium- and Long-Term).
Momentum: recently turned bullish (MACD Line crossed above MACD Signal Line) and so is RSI (>50, but not overbought).
OBV (On Balance Volume): is flatish, indicating that volume on Up days is about equal to volume on Down days.  Hence, demand (buyers) are in equilibrium with supply (sellers).  
Support and Resistance: Nearest Support Zone is around $0.05 and the nearest Resistance was at $0.06 but was just broken, hence it now turns into Support.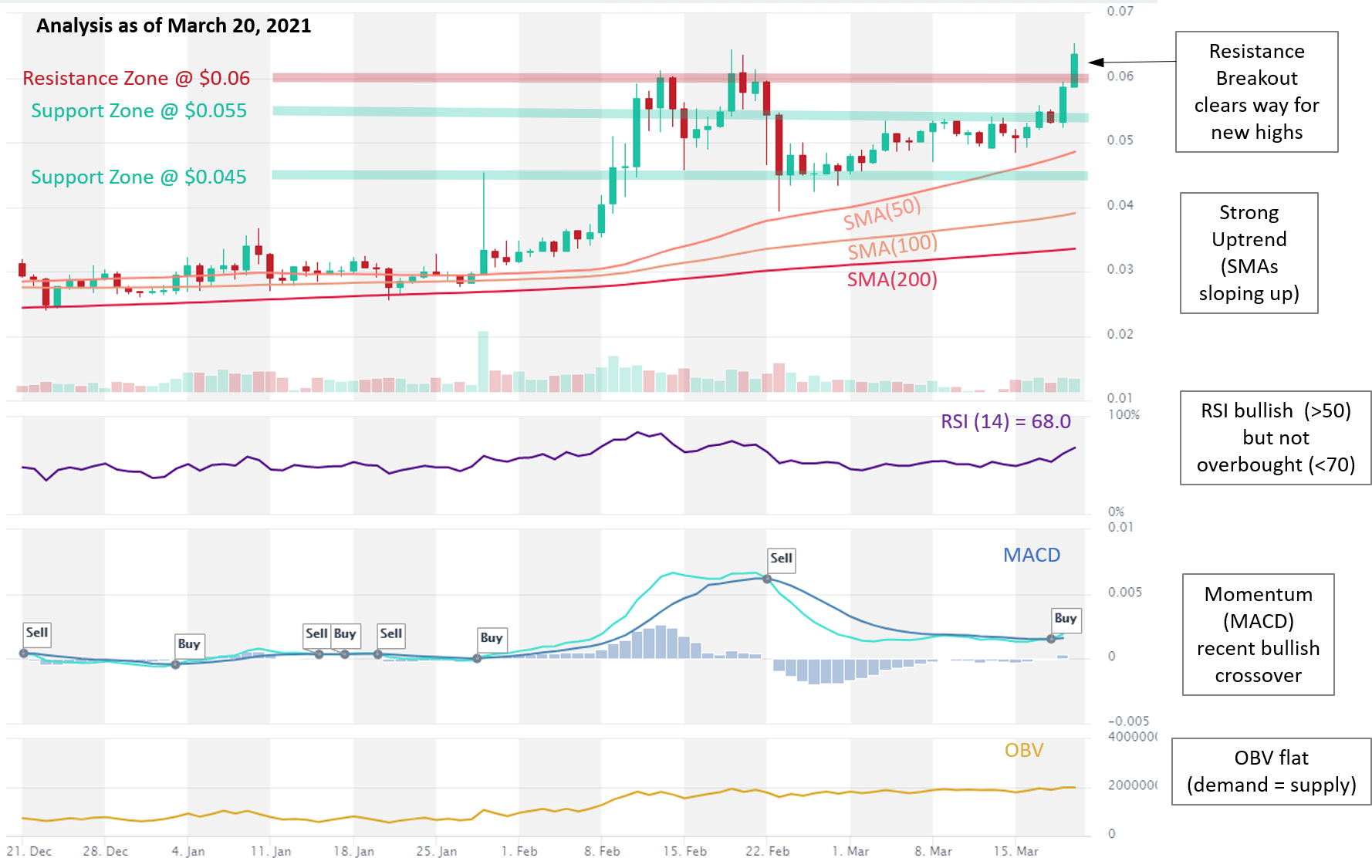 Disclaimer: This content is for informational purposes only, you should not construe any such information or other material as investment, financial, or other advice. There are risks associated with investing in cryptocurrencies. Loss of principal is possible.