CRYPTO MARKETS RALLY – SUSTAINABLE?  
Crypto markets rallied off of their support levels reached last week.
BTC ended the week up +20.3% and Ethereum (ETH) was up +23.3%, versus last week's declines of -10.0% and -14.5%, respectively.
What were the reasons and is it sustainable?  Is this a start of a new prolonged run?
There were technical and fundamental reasons for the big bounce:
1) Crypto markets were way oversold and had reached robust support areas, as we discussed last week.
2) Short squeeze (investors were forced to buy BTC and close their short positions)
3) The overhang on BTC from Grayscale share unlock has passed.
4) Positive takeaways from Bitcoin conference (The B Word) discussion by Tesla CEO Elon Musk, Square and Twitter CEO Jack Dorsey and ARK Invest CEO Cathie Wood.
5) Report that Amazon was looking to accept BTC for payment
Bitcoin (BTC) technical analysis (see more): Wait for a breakout (above $40K) to Buy or a pullback to $36K.
After a false bearish breakout, BTC recovered and is back to trading in a sideways channel ($30K-$40K).
Momentum (MACD) inflected bullish and carried the price to the upper half of the trading range. Short-Term trend has inflected upwards.
It's faced stiff resistance at $40K in recent weeks, so a brief pullback would be normal to digest 30% gains in a week.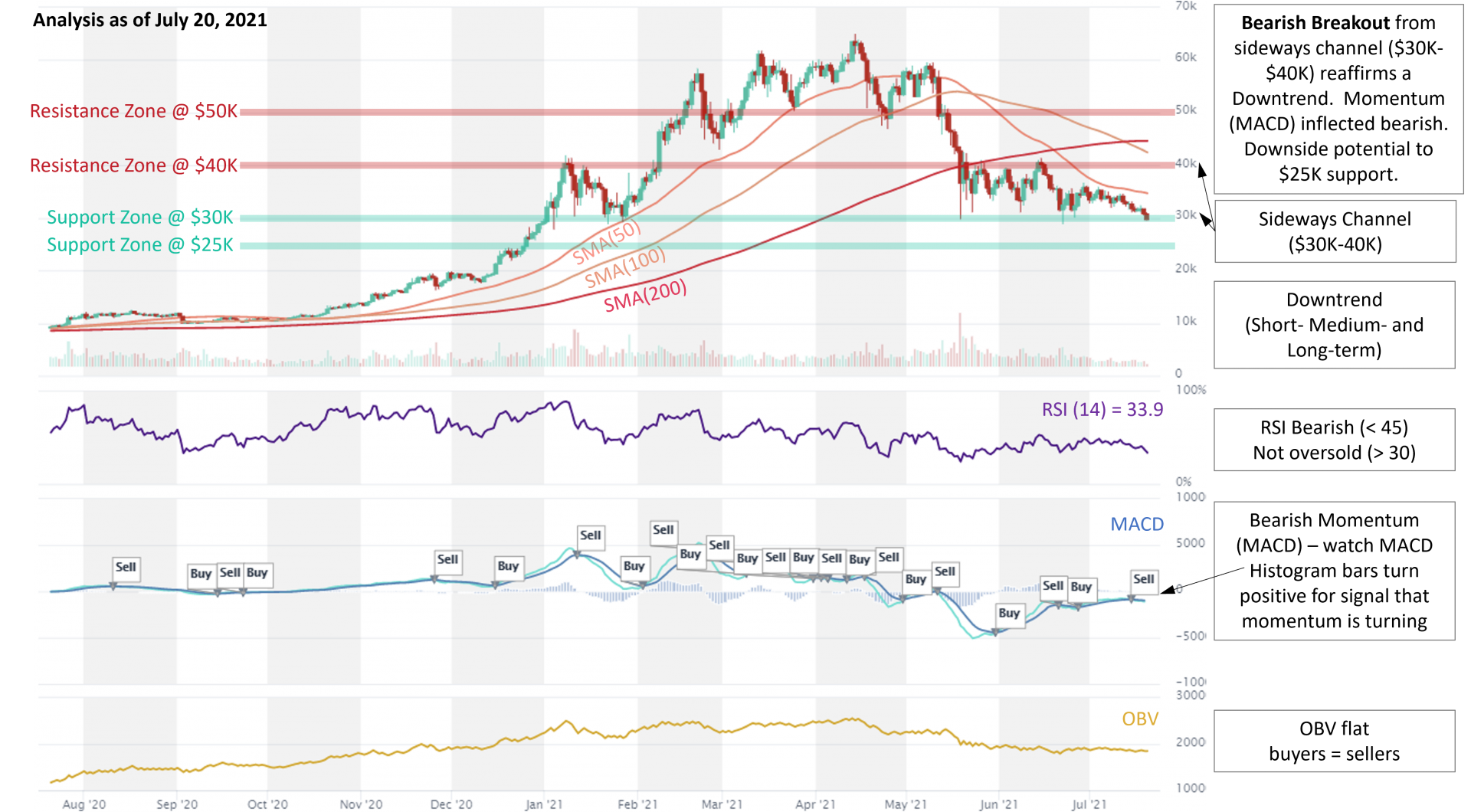 Check our curated charts for more technical analyses of top 30 altcoins.

Trends among altcoins improved. We're seeing good signs of potential trend reversal forming.  Some altcoins have posted Higher Lows and are making Higher Highs now.  Also, Short-Term trends have neutralized (from Downtrend) and in some cases even turned upwards.
Our Signals Summary page indicates that the number of coins in a Strong Uptrend is still low but has increased from prior week:

Versus last week:

See top 50 coins by market cap "Performance" tab on our platform (see charts below). Check our curated charts for technical analysis of top 30 altcoins.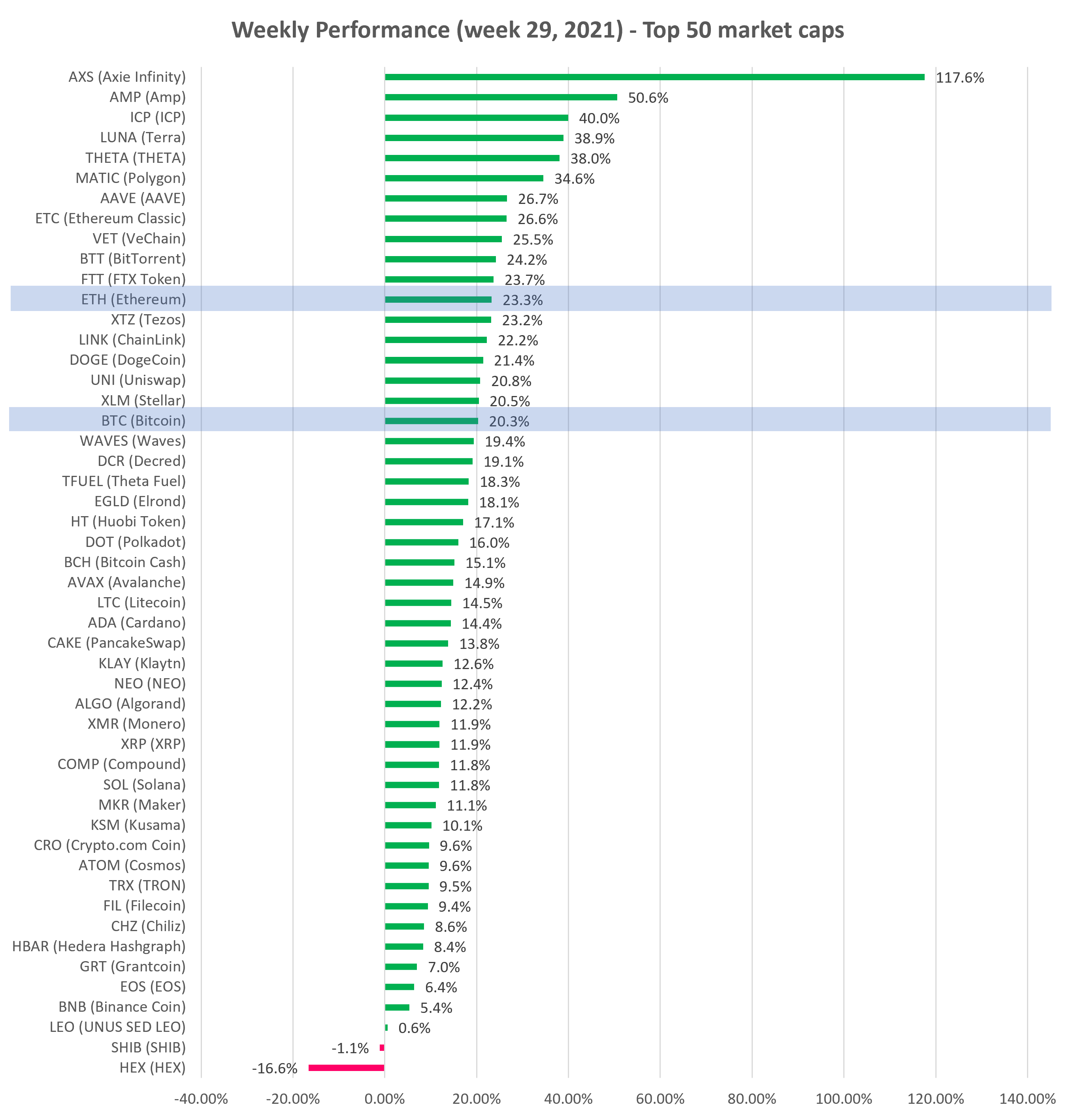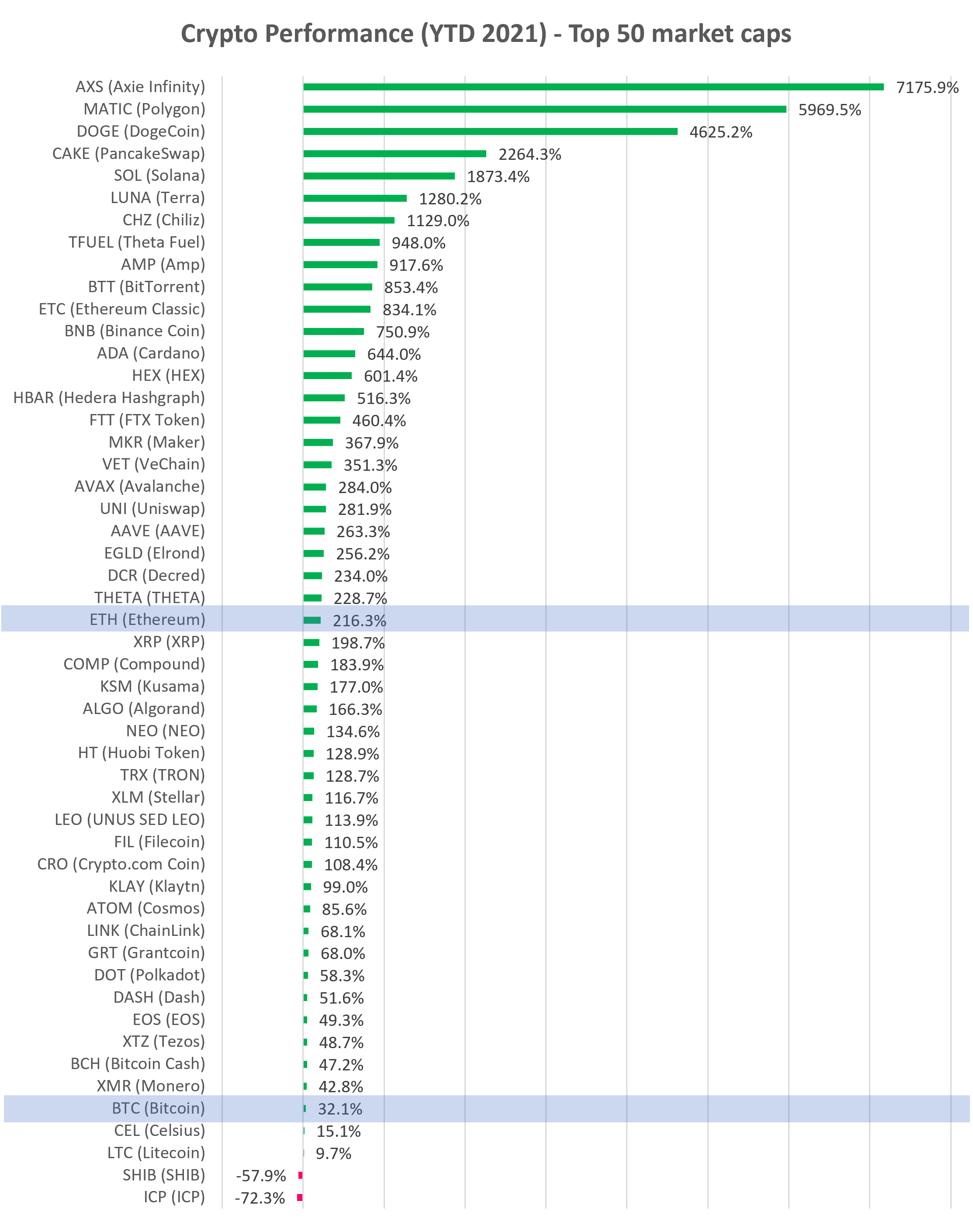 Decentralized Finance (DeFi) – Total Value Locked (TVL) increased last week to $58B, +22% w/w (vs. -15% last week), and is still up +253% YTD.
DeFi cryptocurrency prices rebounded along with the rest of the market (see below). Total DeFi category market cap increased last week by 31% (versus -13% last week), and is still up +300% YTD (i.e. ~ 4.0x).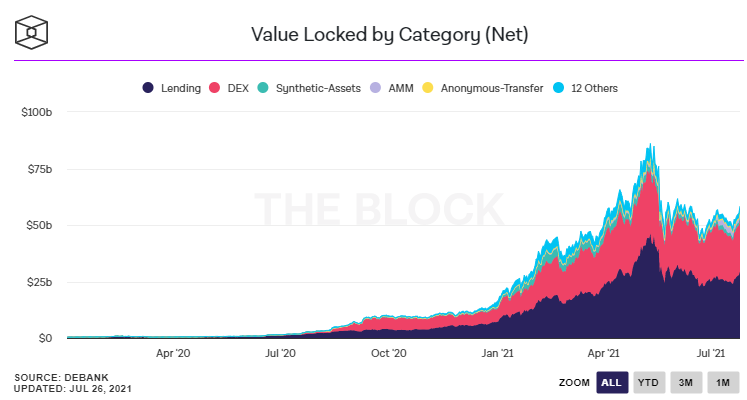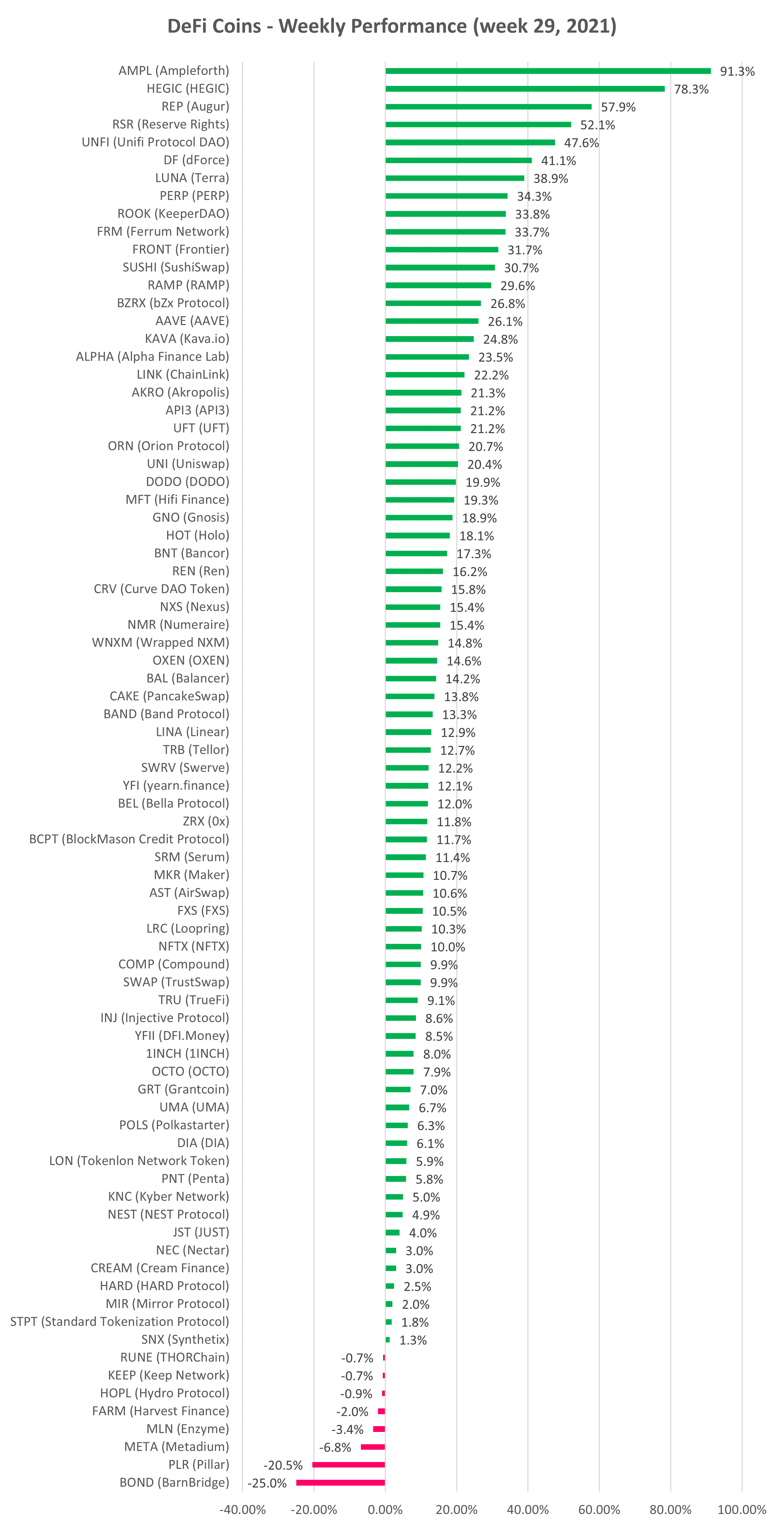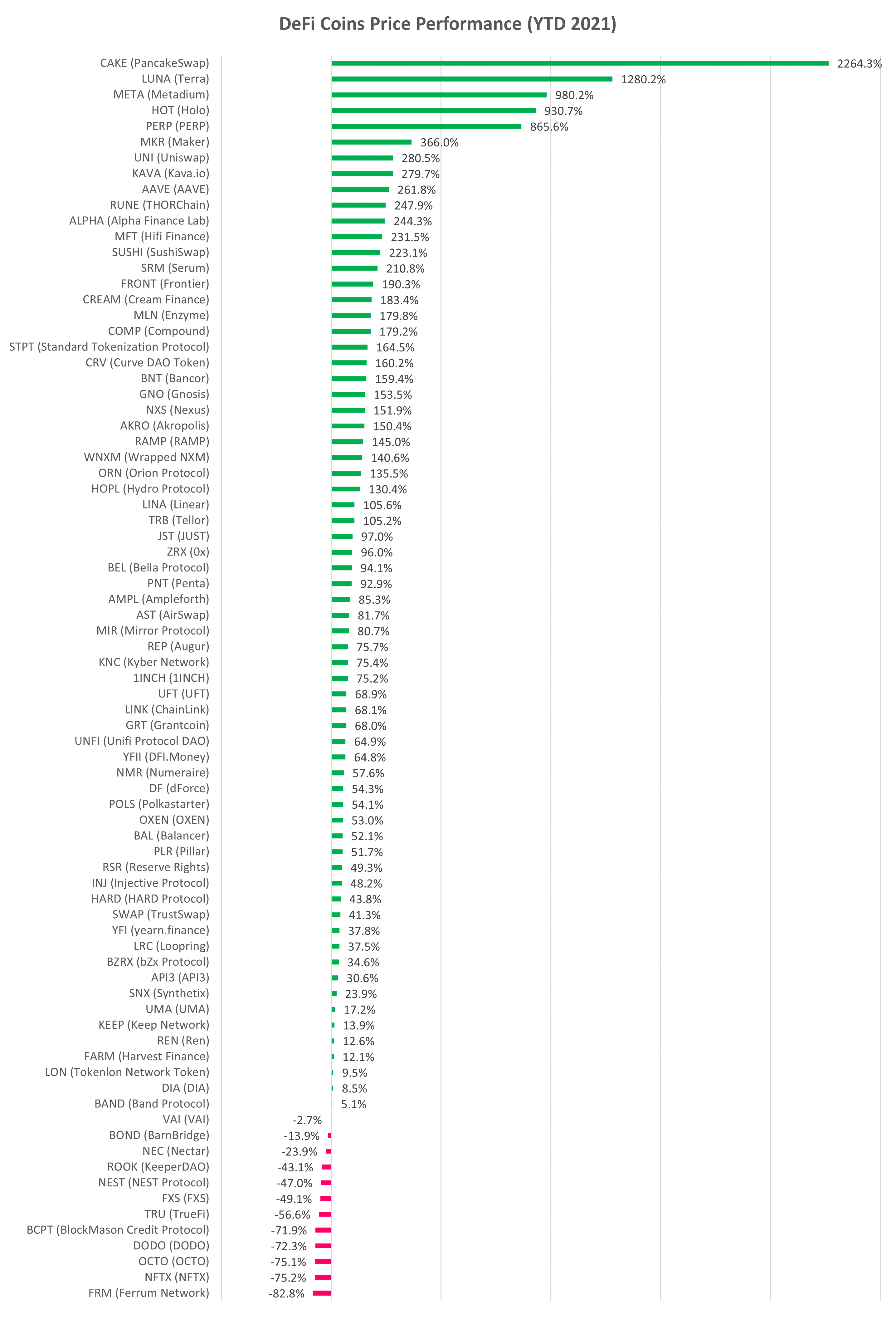 Source: altFINS.com
Check our unique automated chart pattern recognition for fresh trading ideas. Also, during market corrections, it's good to revisit coins in an Uptrend but with a pullback. Our Signals Summary has this and other pre-defined filters ready for action.
Subscribe to our newsletter to receive future blog updates in your inbox and make sure you add altfins.com to your email whitelist.
Disclaimer: This content is for informational purposes only, you should not construe any such information or other material as investment, financial, or other advice. There are risks associated with investing in cryptocurrencies. Loss of principal is possible.