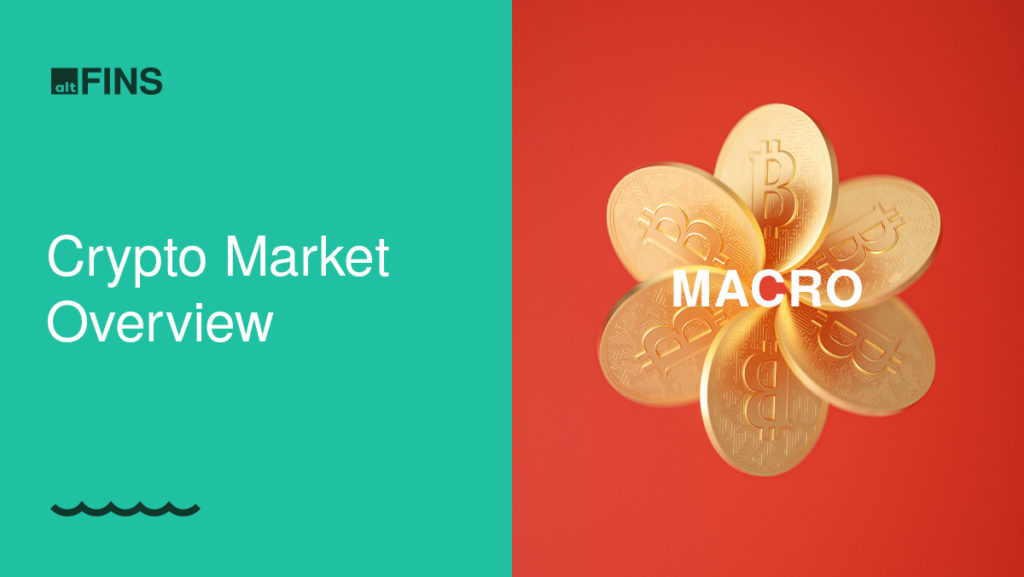 Crypto Market – Overview For Week 44
Compared to the previous week, US Equity and Digital Assets corrected, with NASDAQ closing lower by (NASDAQ⬇️5.65%) at $10.475 and S&P 500 by (S&P500⬇️3.36%) at $3.770. Ethereum corrected only by (ETH⬇️1.13%) to close the week at $1.572. Bitcoin, on the other hand, ended the week higher by almost (BTC⬆️2.00%), closing slightly below $21.000-mark.
Last week, the FED raised the fund rates by 0.75%, the 4th time this year, pushing rates to a new target range of 3.75% – 4.00%. During the press conference, the FED's chair Jay Powell had warned the rate may reach higher levels than expected, giving indication to markets that the FED is not pivoting yet. The last median projection among FED's board members for a target range midpoint remains at 4.4% at the end of 2022 and 4.6% at the end of 2023, however, the markets have started to price in the fed funds rate peaking above 5.00% next year.
The US labour market added 261,000 new positions last month, which was more than forecast of 200,000. The US labour market remains solid, which remains FED's concern as they aim to restrain economic growth to bring high inflation down. According to FED's chair Jay Powell, the US labour market is "overheated", with unemployment rate standing at 3.7%, above its pre-pandemic level. Despite the strong labour market, the federal bank plans to ease hiking the rates and increase them by 0.50% in December's meeting and another 0.50% in February 2023.
After a revision, we expect the US CPI further cooled to 8.09% in October 2022, with core CPI to 6.58%, compared to 8.20% and 6.64% in September 2022, respectively.
Crypto Market And Equity Market Performance

Bitcoin price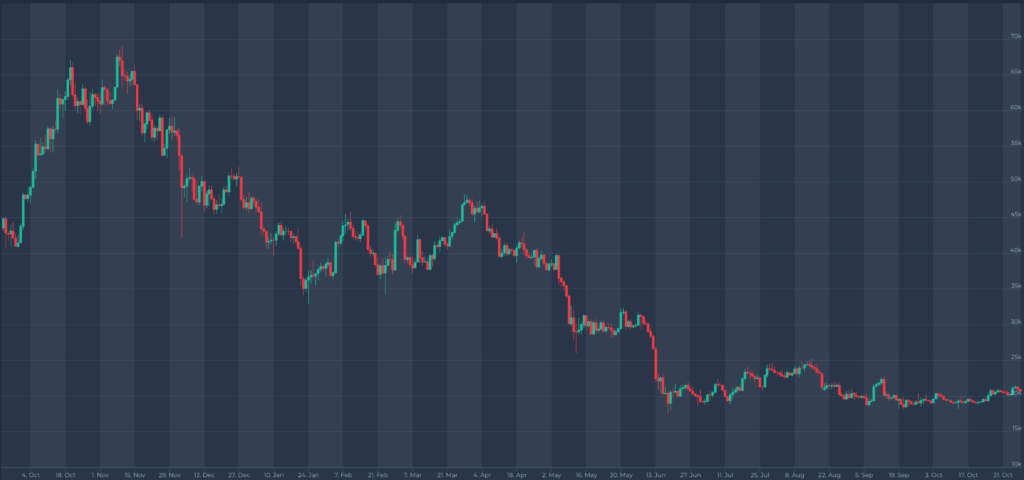 Source: altFINS.com

NASDAQ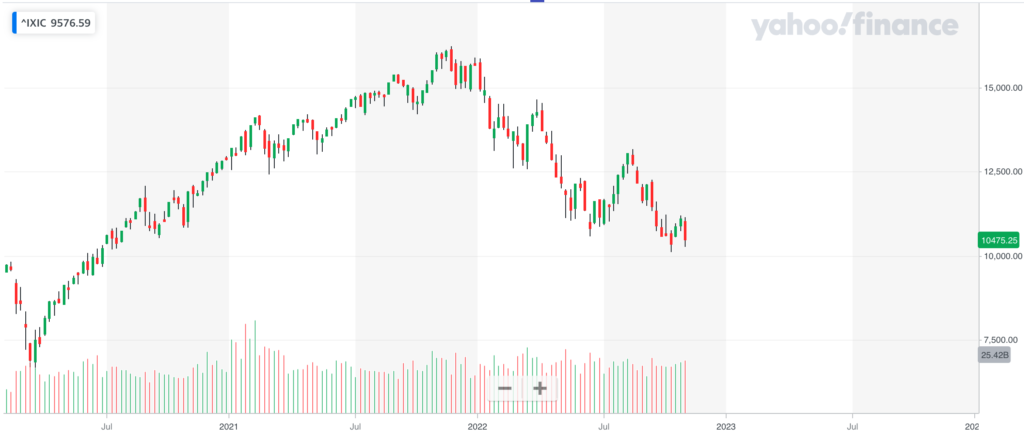 Source: Yahoo Finance

US CPI


US Fund Rates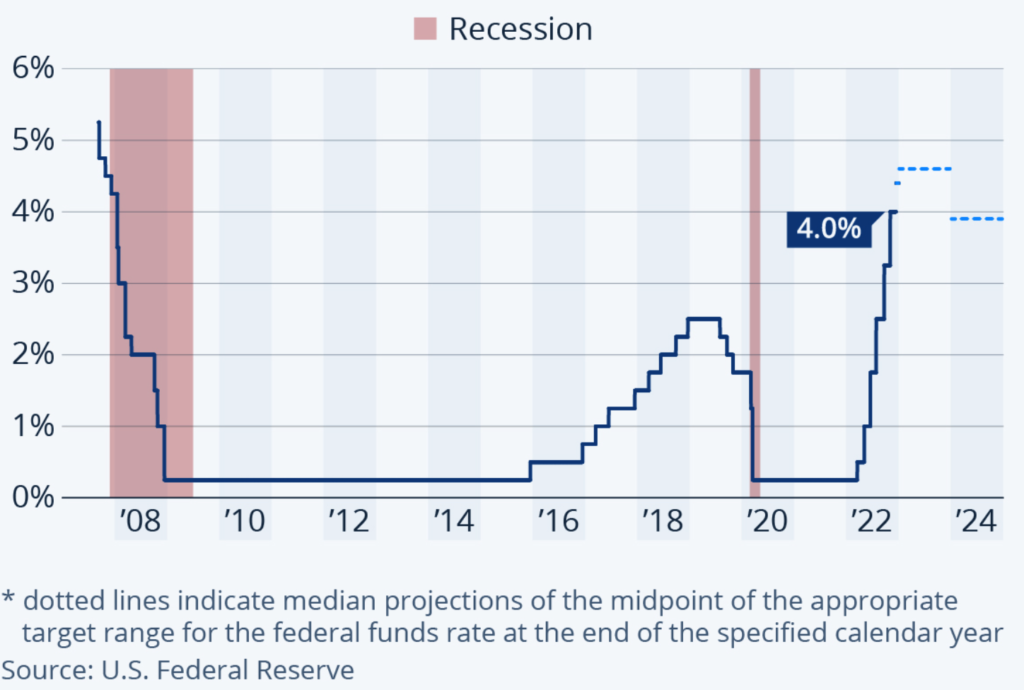 Source: Statista, Nov. 07, 2022
 Crypto Market Sentiment
The Digital Asset market sentiment (Crypto Fear & Greed Index) moved further up to 33/100, which continues indicating Fear. Last week, the index stood at 31/100. The Total Cryptocurrency Market Cap has remained above the $1 trillion mark, closing at 1.03 trillion on Sunday' close, more than ⬆️0.50% higher compared to a week ago. Ethereum (ETH)'s Dominance had decreased to 18.8%, lower by more than ⬇️2.5%, while Bitcoin (BTC)'s Dominance had decreased by almost ⬇️1.0% to 38.7%.
WHAT TO WATCH FOR: The next monetary policy meeting for the FED: December 13-14th, 2022 and for the ECB: December 15th, 2022; US CPI for October 2022 will be released on November 10th, 2022.

Remember, the market tends to be 1-step ahead of any major event, so do not miss new opportunity and stay alert of the crypto market developments. It will be important to remain selective on your investments during this monetary policy shift, and as it is with every crypto market correction, be ready to enter the crypto market at much lower valuations.
Know when to enter the market – be ready – get more insights, trends, and research reports at altFINS.com.
altFINS is a leading crypto analytics platform used by tens of thousands of traders and investors to find profitable trading ideas.
Project altFINS began out of frustration with a lack of high-quality tools to find trading ideas, create alerts, execute trading strategies, and monitor portfolio performance across exchanges. Our team decided to fill that void.
We are building a comprehensive and yet intuitive platform that enables coin screening and analysis using traditional technical analysis as well as alternative on-chain data, and trade execution across exchanges. The combination of trade idea discovery and trade execution is truly unique in the crypto trading space.

Do you like this article? Subscribe for altFINS newsletter
Visit altFINS for more information. Do you have some questions? Ask us in Telegram chat !