Watch a video with altFINS CEO & founder Richard Fetyko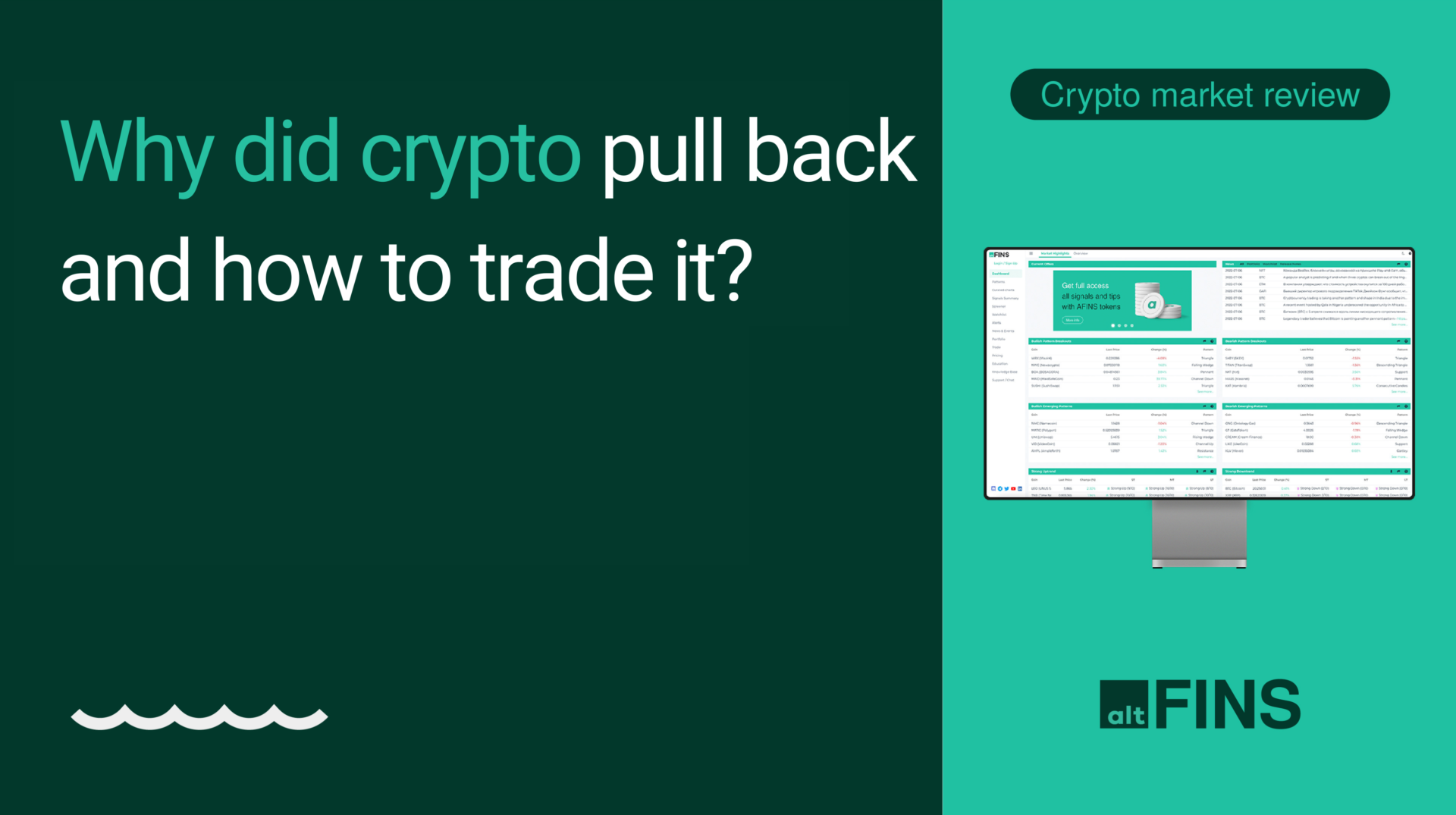 In the video he covers three topics:
What caused recent pullback in crypto?

Trading Channels: FTX, LEO, KSM

Trading pullbacks: UNI, ETC
Also, last week we added an awesome section to our platform called Research Hub. It has our own proprietary research reports on coins with big upside potential, but also big picture, thematic reports from third parties. Check it out.
Crypto performance last week- down double digits. But keep in mind that we saw huge gains in the last few weeks, like 100% in some cases. Even ETH rallied from $900 to $2,000! So not surprising to see profit taking.
Macro impact: Fed rate expectations have changed again last week, tilted in favor of a larger interest rate increase of 0.75% v. 0.50% previously expected. The change occurred for 2 reasons:
The Fed meeting notes came out last week. These are notes from the July Fed meeting when rates were raised by 75 bps.

Comments from a Fed member, James Bullard, that he prefers a 75 bps increase in September instead of just 50 bps. He's only one of 12 members of the FOMC (Federal Open Market Committee) who make a decision on rate changes.
Recall that CPI rates for July month showed a deceleration in inflation rates in the U.S., from 9.1% in June to 8.5% in July, getting investors' hopes up that we've seen the peak in inflation and that the FED will not have to be as aggressive in pumping the breaks on the economy (i.e. quantitative tightening via rate increases).
Another 3 weeks before we get another CPI reading for the month of August, that will be released on Sep 13.

And another 4 weeks before the next Fed meeting to decide on the next interest rate increase — that'll be on Sept 21.

Until then, likely sideways.
Sideways market is perfect for Swing traders market. There are two rules: Buy near Support, Sell near Resistance.
Find examples of these trading opportunities on altFINS:
in Curated Charts: Sideways channel – emerging: example of coins FTX, LEO, KSM.
on Dashboard: Pullbacks in Uptrend: example of coins UNI, ETC. 
Or swing traders could also eliminate Long Term and / or add H2 Up to find coins that are in an uptrend on Medium term basis and their momentum is inflecting bullish again: BNB, QNT.
Do you like our videos? 🌙 Subscribe, Like & Turn on Notification Bell: https://www.youtube.com/c/altFINS