How to buy coins that pulled back in a strong uptrend?
Markets move fast and with thousands of crypto assets out there, it's impossible to always catch the trend early.
Besides, conservative traders prefer to hop on a trend in midstream, once it's well established.
But when is a good time to get in?  How do I know that the pullback is just a normal correction in an uptrend and not a reversal?
In this blog, we'll use our tools to identify just such trade setups.  You can also follow along a 6 min trading session video recording at the end.
First, we create a custom Screen on a Pairs tab with the following criteria (using daily time interval):
Short Term Trend is Strong Up
Medium Term Trend is Strong Up
Long Term Trend is Strong Up
Oscillator Rating is Neutral (don't want overbought situations)
Bullish MACD crossover (MACD is above 100% of MACD Signal Line) – this further confirms our Uptrend signal
Volume ($) is above 200,000 (need decent liquidity)
Price Change (%) is below 0% (i.e. price has pulled back in the last 24 hours)
We save the filter for future use and apply it.
We're left with 9 pairs that satisfy the criteria: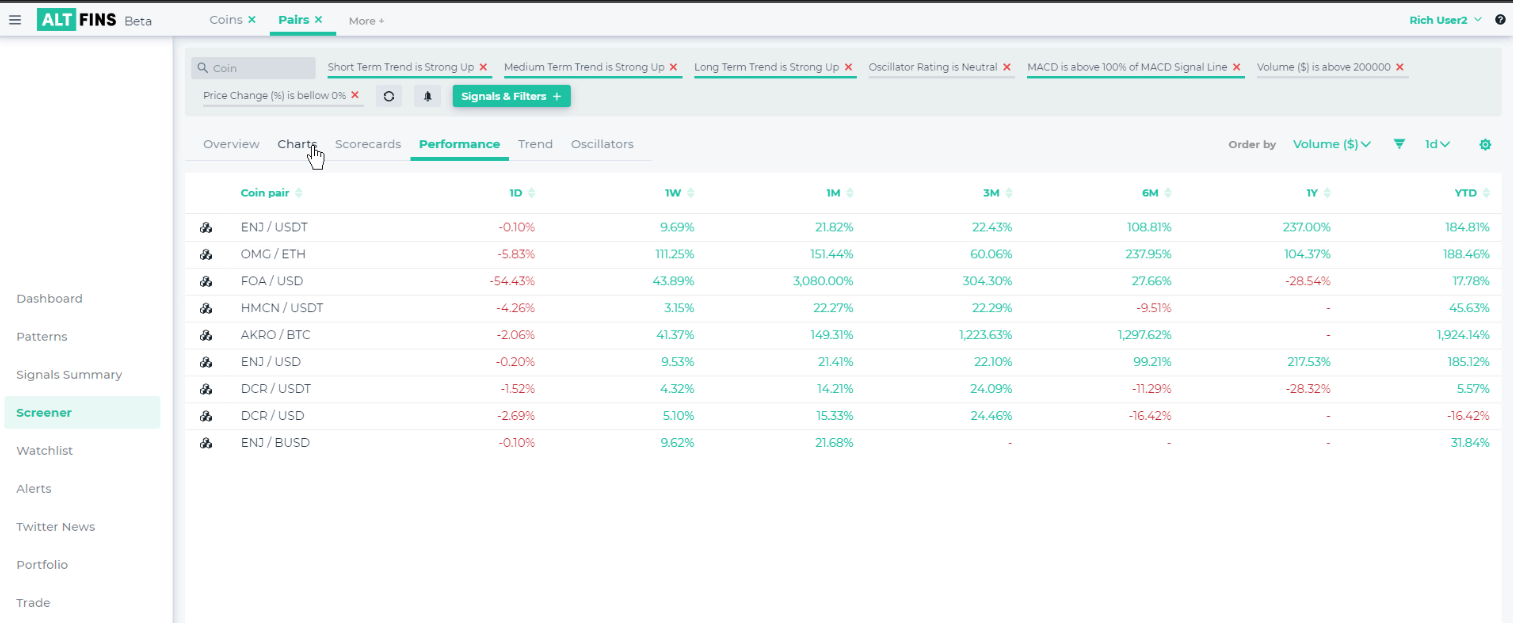 Trendline and volume confirmations:
We look through the charts and pick DCR / USDT because it exhibits the following characteristics:
Price broke out last week with increasing volumes on 3 consecutive days (good confirmation of a breakout and an uptrend)
Recent correction came with declining volumes (indicating a normal correction, not a reversal)
Upward trendline has not been broken
This has all the signs of a healthy retracement in an otherwise intact uptrend.
Trade: Aggressive traders would buy it here, while conservative traders could wait for 1 or 2 candle closings above the trendline to confirm that the trend is intact.  Either way, for good risk management, traders should place a Stop Loss order at the level of previous low, around 16.50.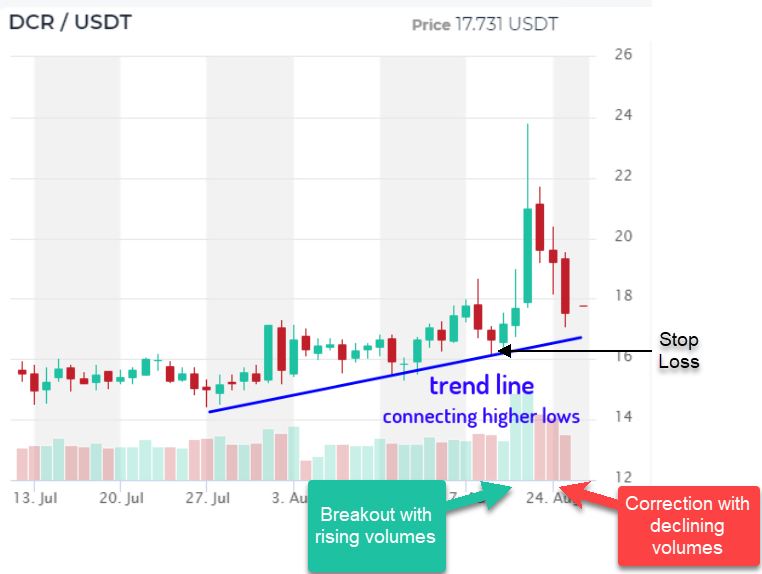 Disclaimer: This content is for informational purposes only, you should not construe any such information or other material as investment, financial, or other advice.  There are risks associated with investing in cryptocurrencies. Loss of principal is possible.