altcoins rebounded last week
Bitcoin and the broader crypto market rebounded last week. Bitcoin (BTC) increased 11.5% (vs. -7.3% prior week) and Ethereum (ETH) increased 9.6% (vs. -6.5% prior week).
Bitcoin traded from a low of just above $40K to a high of just over $49K, and crossed above its 200-day Moving Average (~$45K), which is critical to maintain a bullish outlook.
Recent comments from U.S. regulators remain in focus as it becomes clearer the direction that further oversight will take.
what was seen in China, however as stablecoins operate similarly to money-market funds, they need to be regulated.
Trends across the altcoins land improved modestly but still far more coins are technically in a Strong Downtrend (276) than Strong Uptrend (71) across the three time horizons (Short- Medium- and Long-term), based on our trend rating system (see table below).
You can quickly search for coins that are still in a solid uptrend on our Signals Summary page, under Trend and Momentum section.
Notice that last week (see charts below), the best performing altcoins have been those that have remained in an Uptrend even during the recent correction: SOL, AXS, LUNA, ALGO and XTZ, among them.  The winners will be winners?  For now it seems.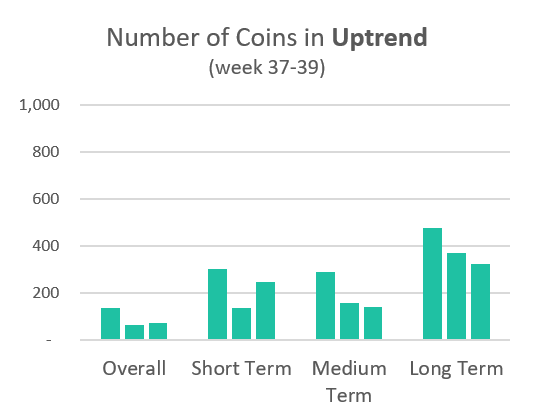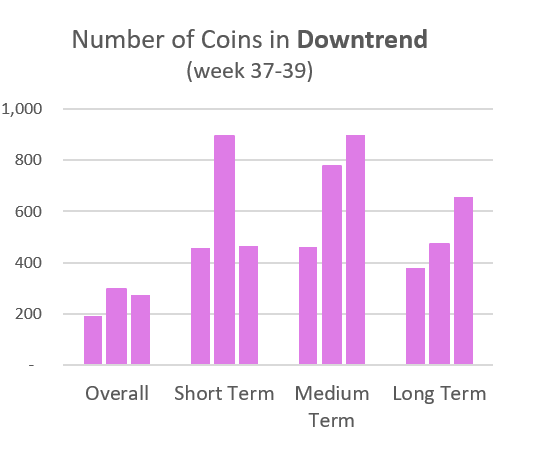 See top 50 coins by market cap "Performance" tab on our platform (see charts below):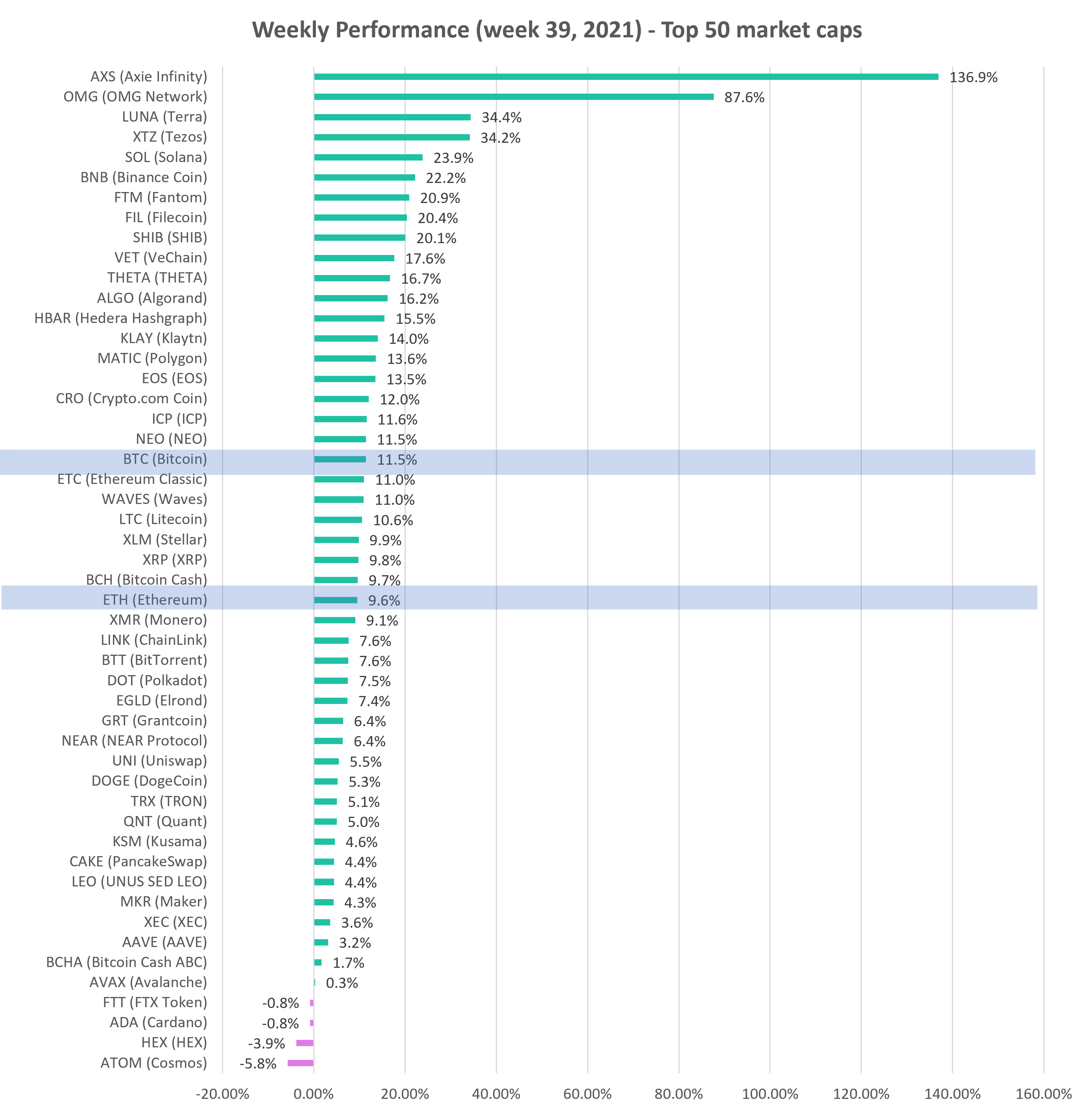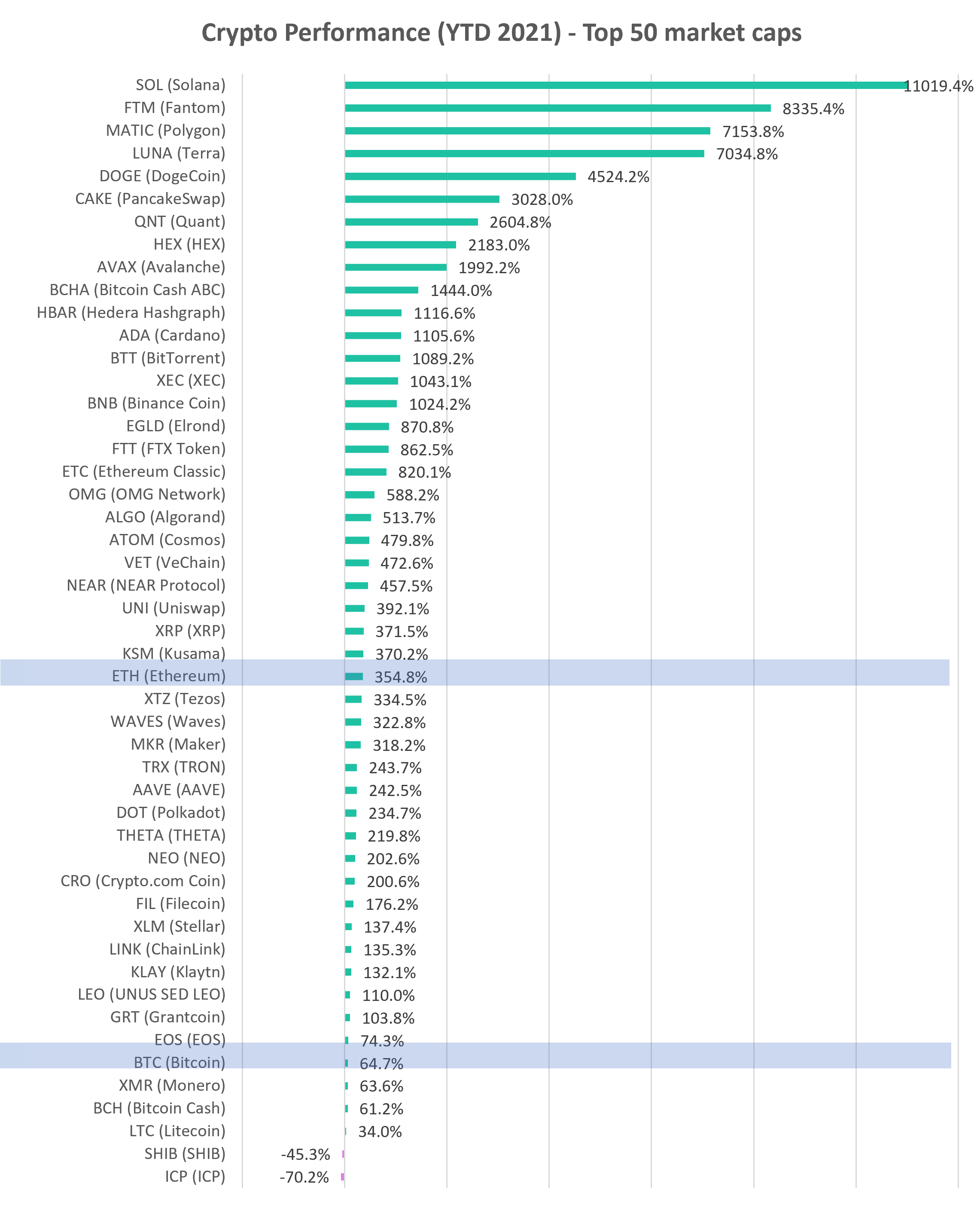 Decentralized Finance (DeFi) – Total Value Locked (TVL) stayed relatively unchanged last week at $79B, +3% w/w (vs -1% prior week), and is up +380% YTD.  TVL is now about 12% below its ATH level.
DeFi cryptocurrency prices also increased (see below). Total DeFi category market cap increased last week by +6% (vs. +8% prior week) and is up +501% YTD (i.e. ~ 6.0x)​. DeFI market cap is now 15% below its ATH level reached in May.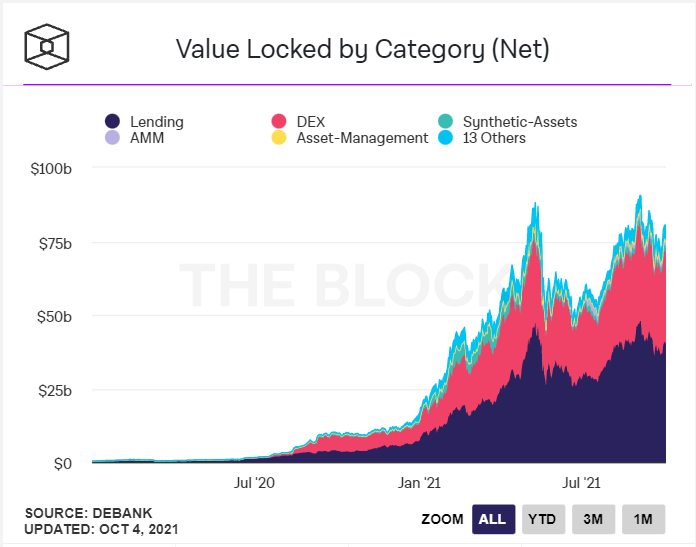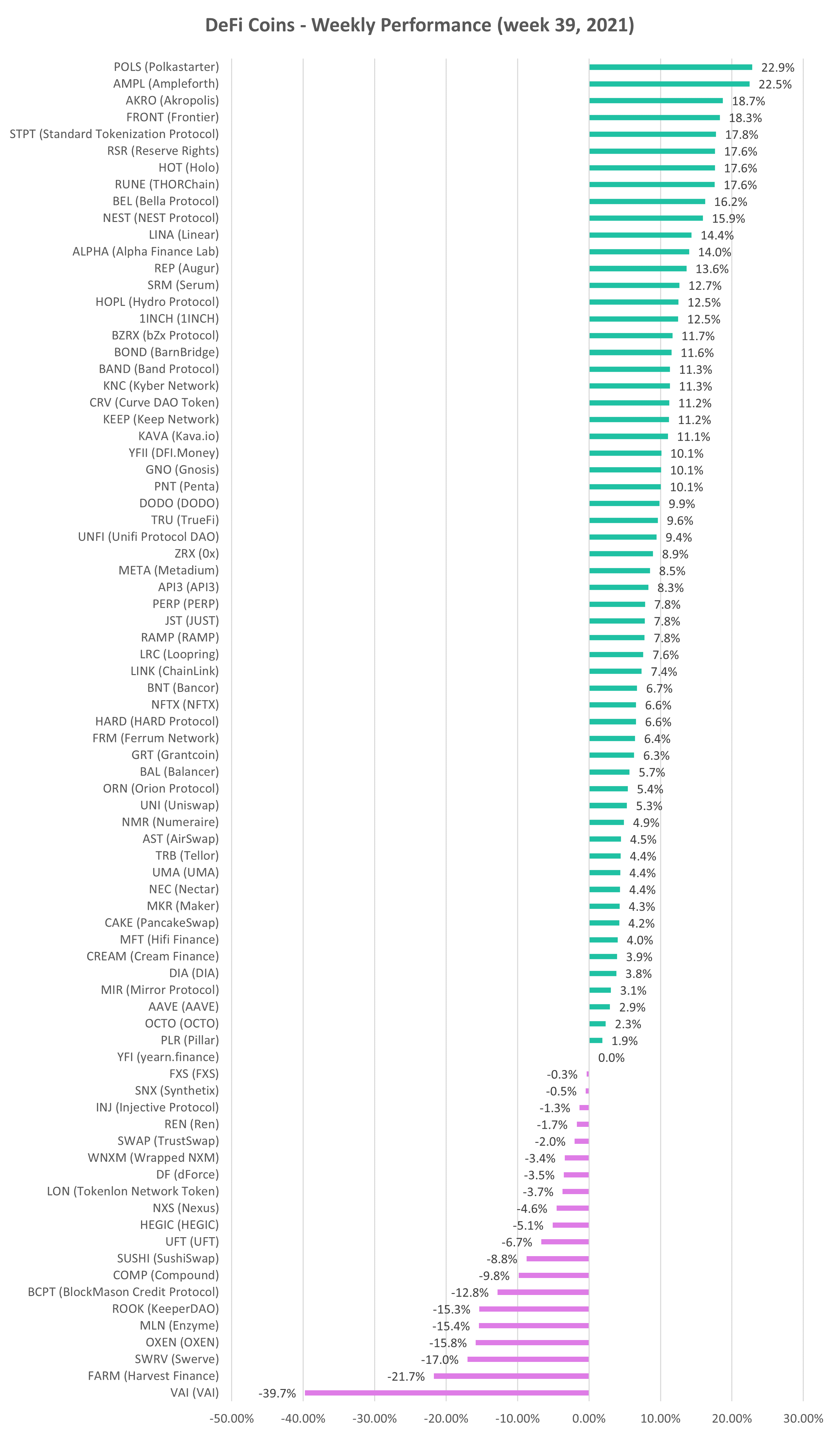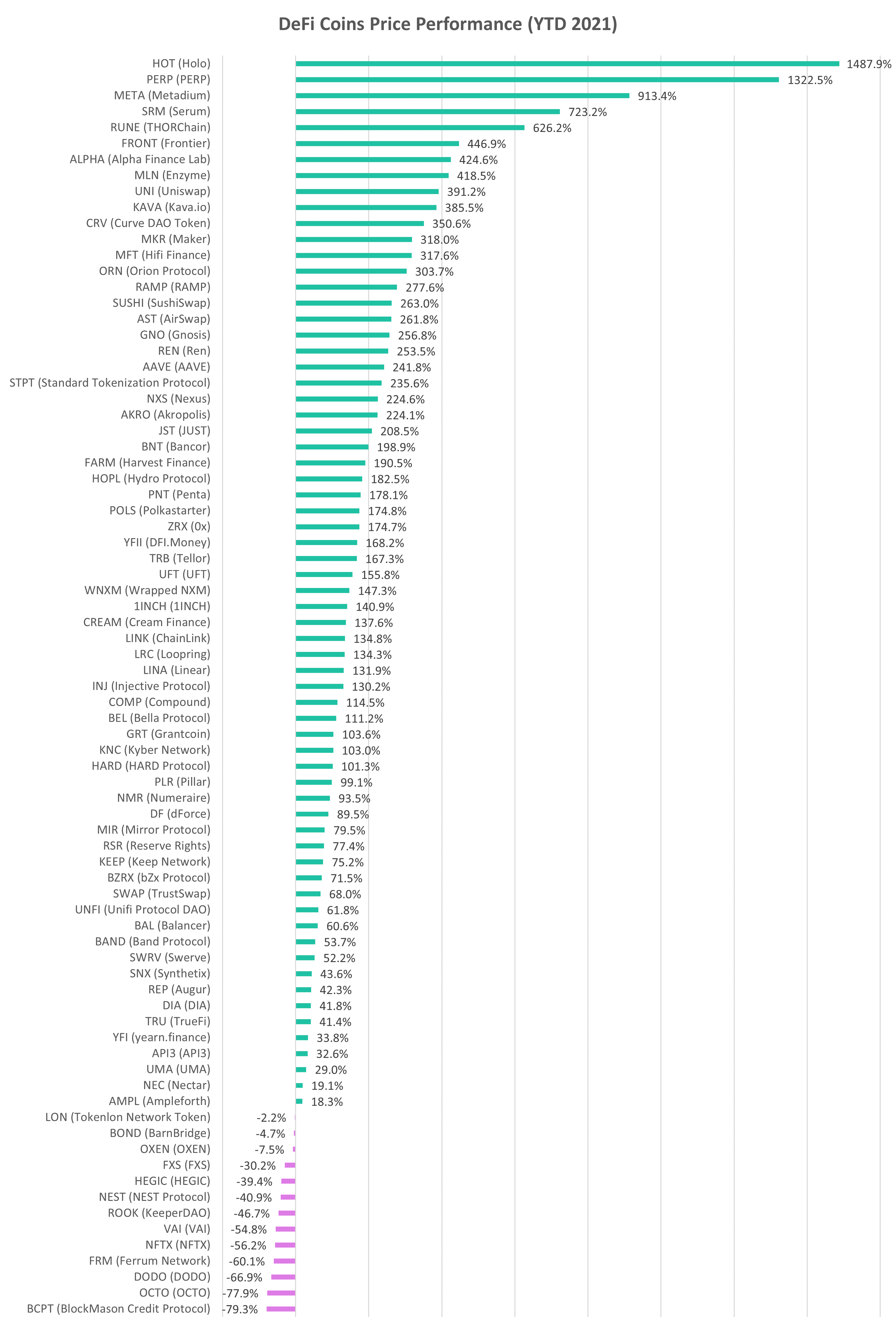 Source: altFINS.com
Subscribe to our YouTube channel to be the first to get notified of new video trading tips.
Check our unique automated chart pattern recognition for fresh trading ideas. Also, during market corrections, it's good to revisit coins in an Uptrend but with a pullback. Our Signals Summary has this and other pre-defined filters ready for action.
Subscribe to our newsletter to receive future blog updates in your inbox and make sure you add altfins.com to your email whitelist.
Disclaimer: This content is for informational purposes only, you should not construe any such information or other material as investment, financial, or other advice. There are risks associated with investing in cryptocurrencies. Loss of principal is possible.