Cryptocurrency Price Analysis - week 28 and YTD (2021)
ALTCOINS RESUME A DOWNTREND  
Crypto markets have resumed their downtrend, in large part due to the overhang on BTC from Grayscale share unlock. 
As we have noted in our prior updates, traders must adjust to changes in market environment. Don't fight the trend. Currently, the trend is down. Hence, traders must learn to take advantage, flip the rule book from buying the dips (in uptrend) to Short Selling the bounces (in downtrend).
Watch our video tutorials where we demonstrated Short Selling of LINK, THETA, BCH (from July 2nd). Those positions are now well in a plus (+21%, +44%, +18%).
After two months of sideways trading in a range ($30K – $40K), Bitcoin broke below (bearish) $30K support. BTC has now erased all of its YTD gains. The rest of the crypto market followed suit, declining 20-30% on average.  Altcoins still need BTC leadership.
BTC ended the week down -10.0% and Ethereum (ETH) was down -14.5%, versus last week's -2.8% and -7.7%, respectively.  This does not include today's action (down another ~ 4%).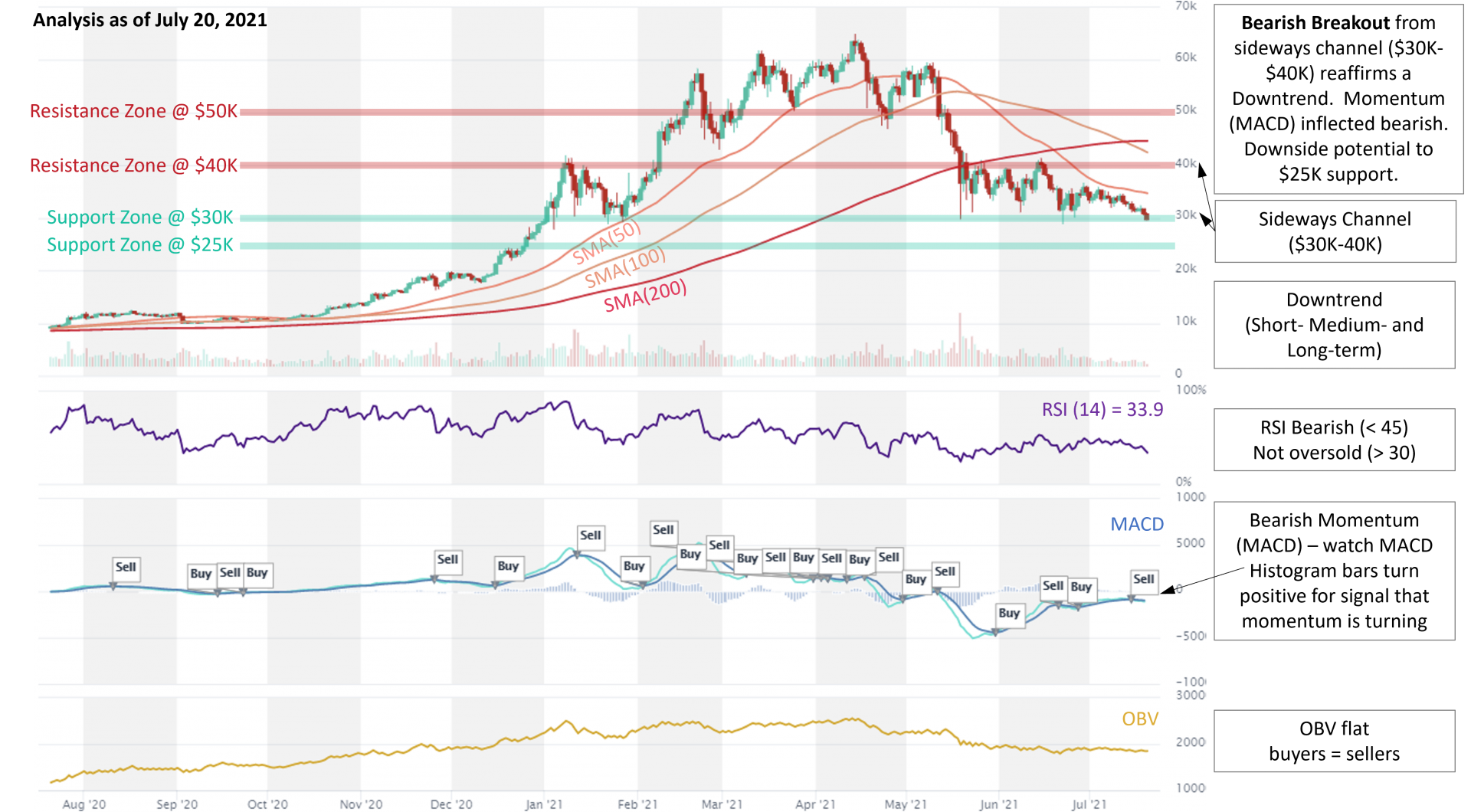 Check our curated charts for more technical analyses of top 30 altcoins.

Trends among altcoins deteriorated. Our Signals Summary page indicates that very few coins remain in an Uptrend on Short- or Medium-Term basis:

And the situation has deteriorated from last week:

See top 50 coins by market cap "Performance" tab on our platform (see charts below). Check our curated charts for technical analysis of top 30 altcoins.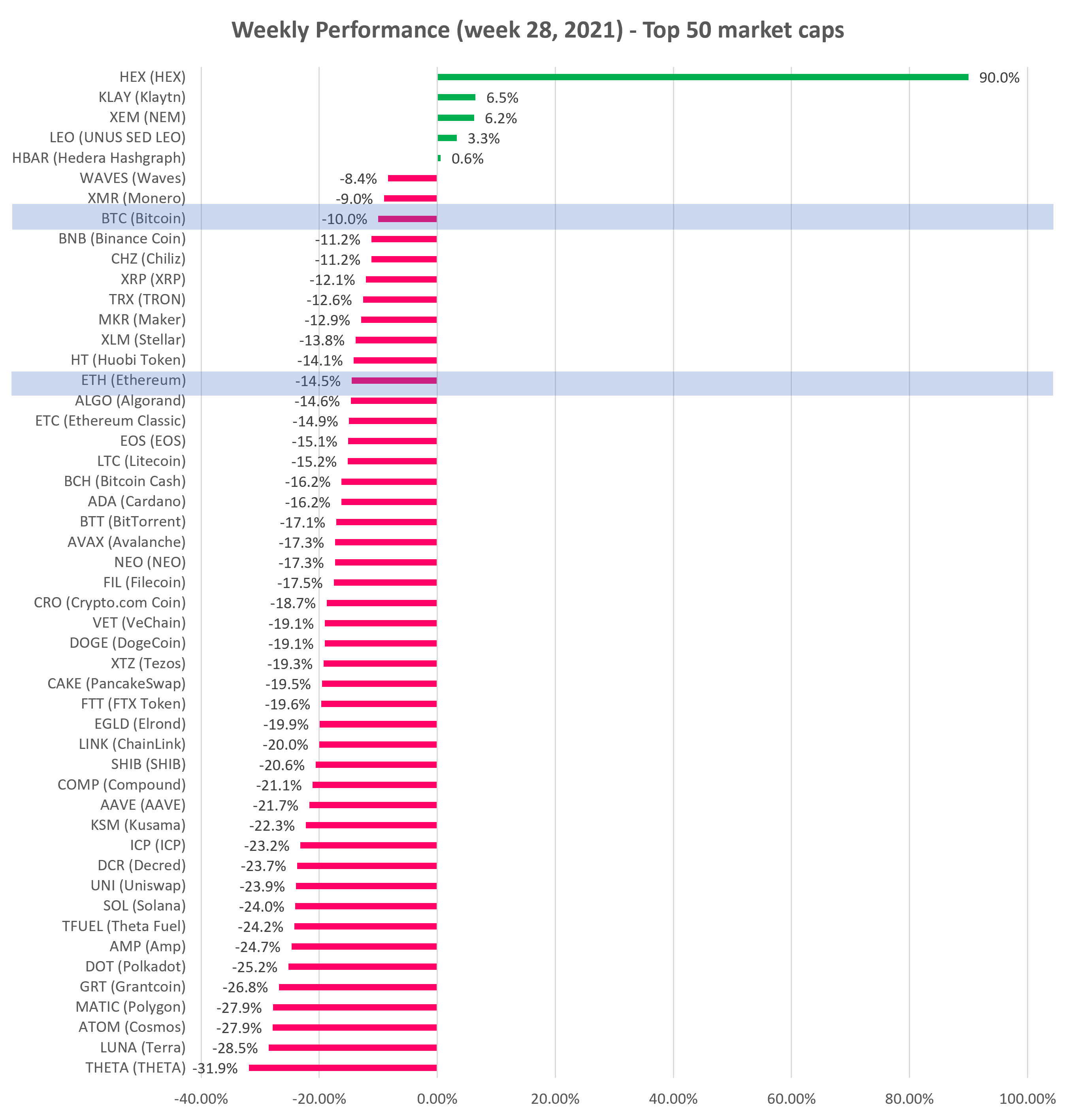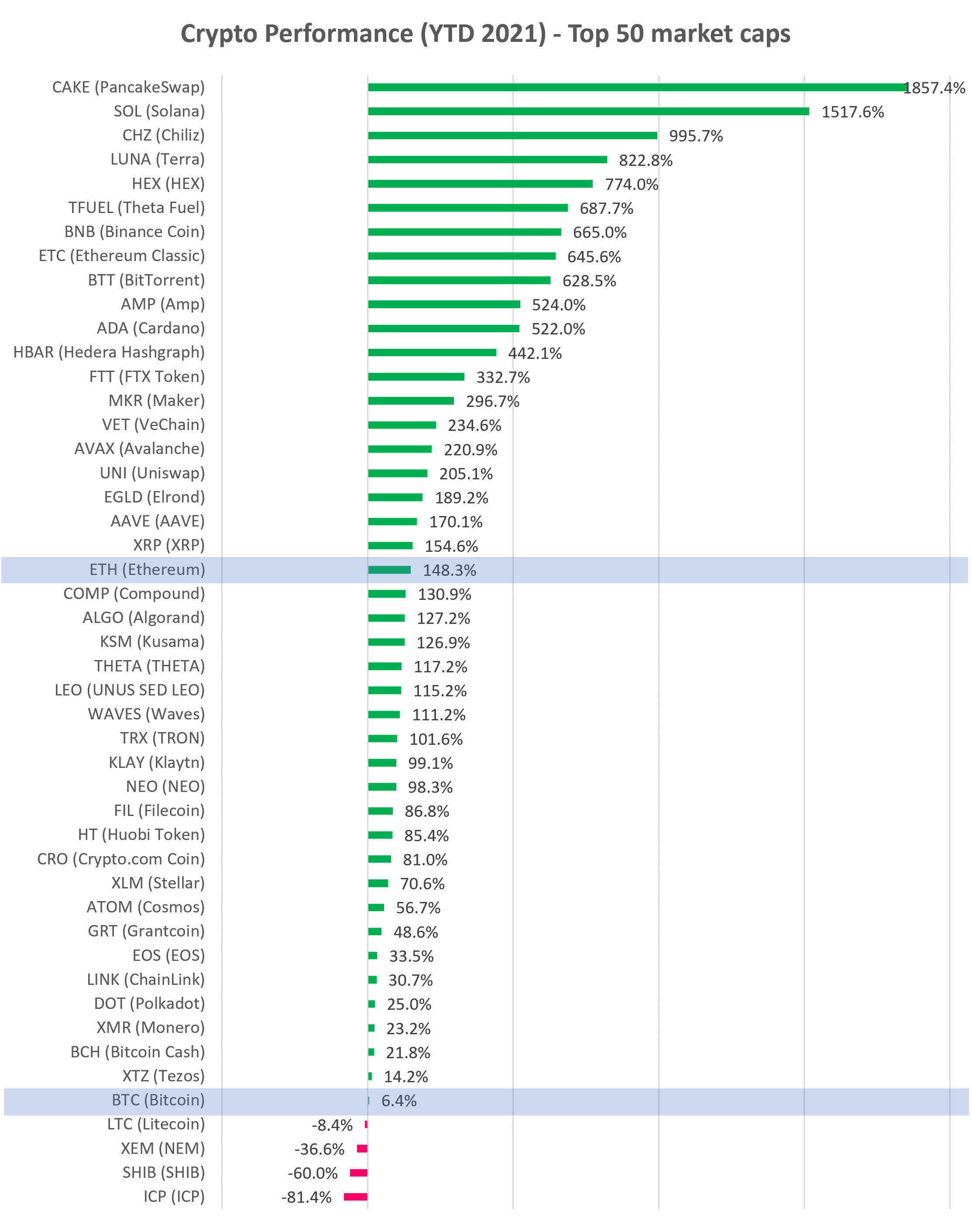 Decentralized Finance (DeFi) – Total Value Locked (TVL) declined last week to $48B, -15% w/w (vs. +5% last week), though is still up +189% YTD.
DeFi cryptocurrency prices declined along with the rest of the market (see below). Total DeFi category market cap decreased last week by -13% (versus +15% last week), though is still up +205% YTD (i.e. ~ 3.0x).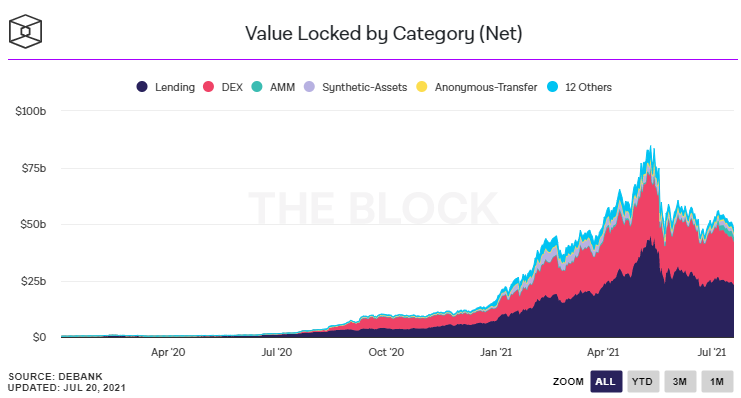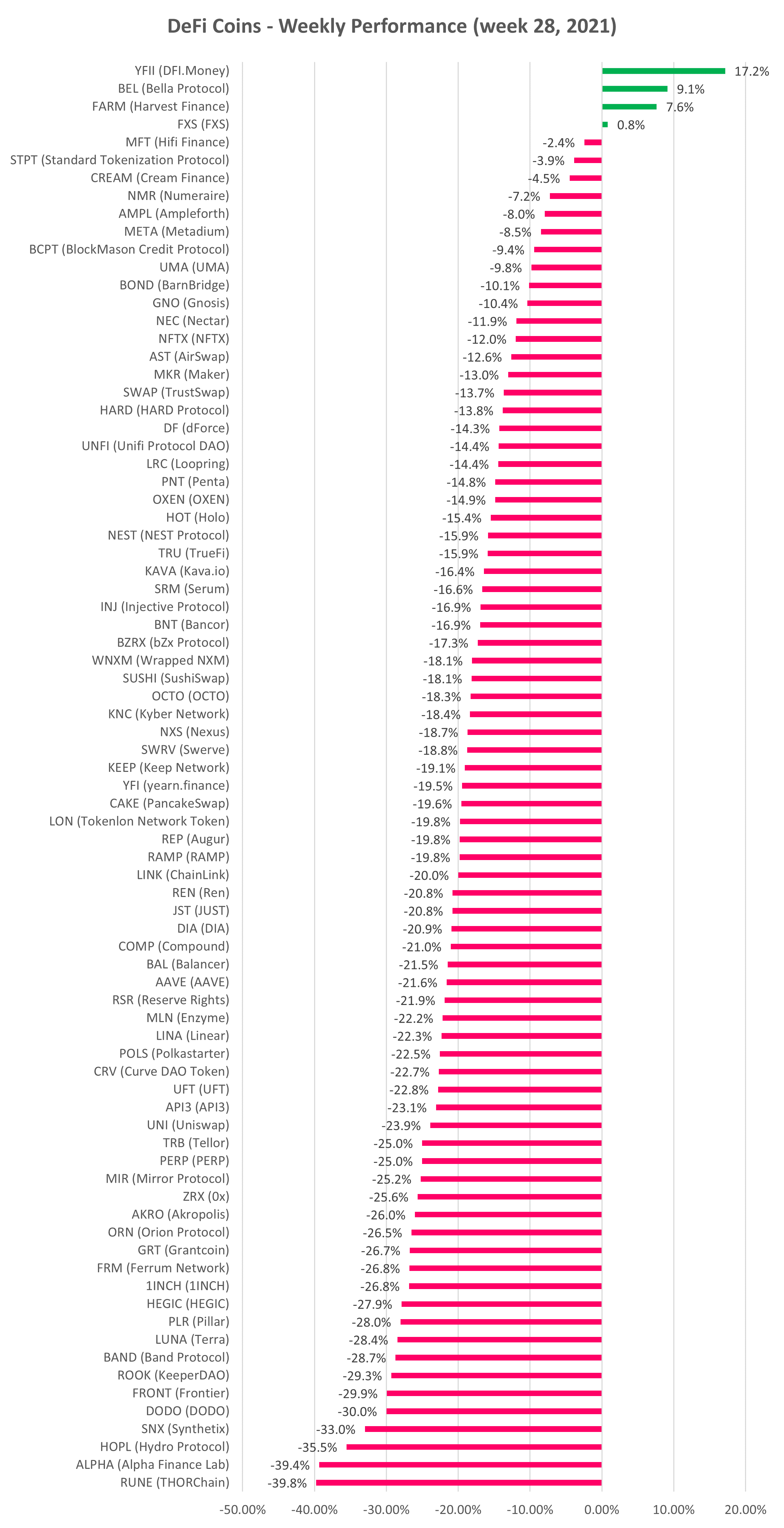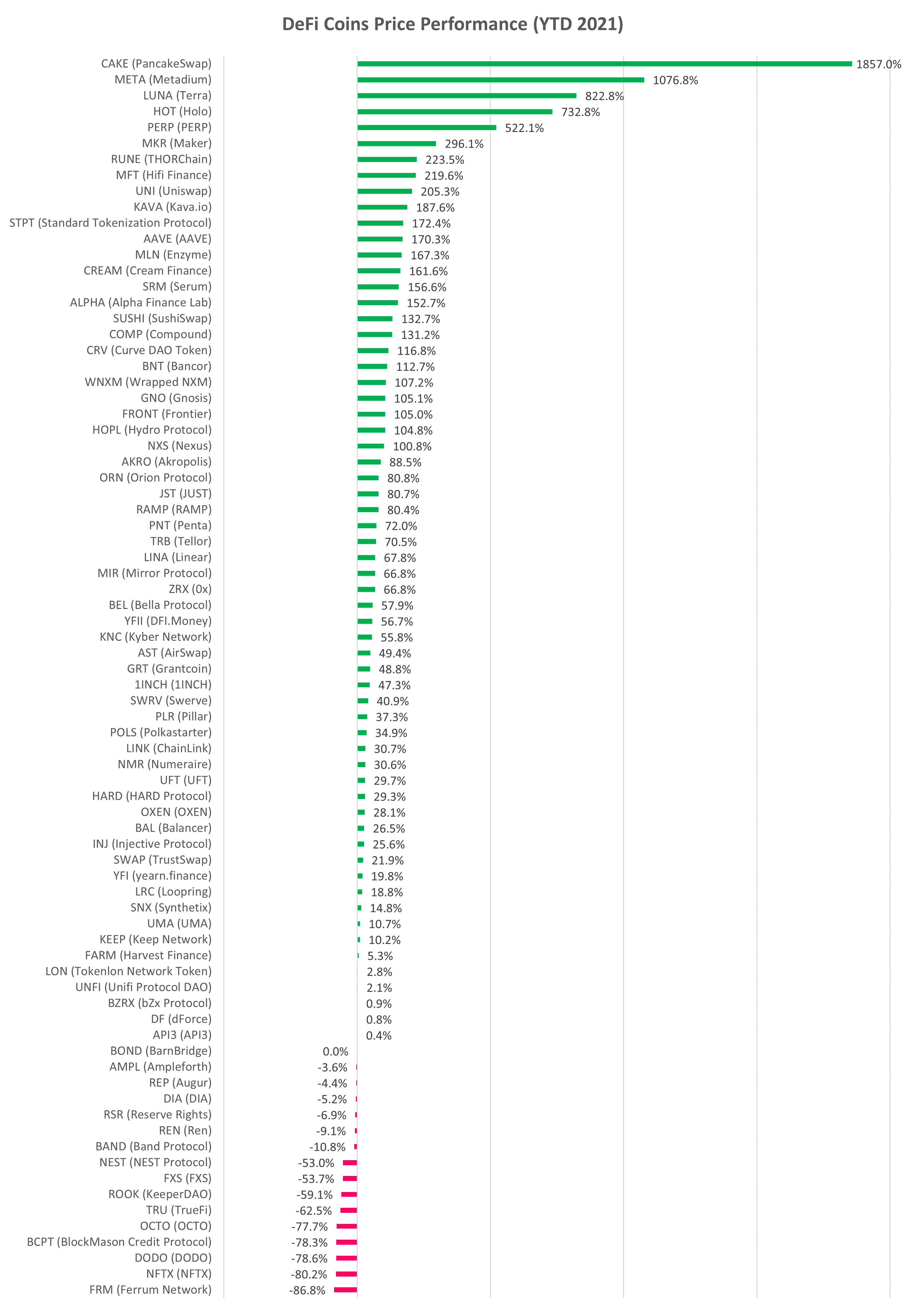 Source: altFINS.com
Check our unique automated chart pattern recognition for fresh trading ideas. Also, during market corrections, it's always good to revisit coins in an Uptrend but with a pullback. Our Signals Summary has this and other pre-defined filters ready for action.
Subscribe to our newsletter to receive future blog updates in your inbox and make sure you add altfins.com to your email whitelist.
Disclaimer: This content is for informational purposes only, you should not construe any such information or other material as investment, financial, or other advice. There are risks associated with investing in cryptocurrencies. Loss of principal is possible.