What is happening on Crypto Market now?
Update: 14.6.2022
The benchmark US equity gauge ended Monday down more than 20 % from its all-time peak in January 2022, a scenario typically referred to as a bear market.

We saw RUSSEL 2000 and NASDAQ sliding by almost 5% from Friday's close to Monday's close. In the crypto market.
BTC dropped by more than 20% during the same time, as the market was flooded by negative news that Celsius, one of the top crypto lenders, may be insolvent as it announced that it suspends all withdrawals and transactions to prevent a run-on deposits. Celsius was also suspected to have a hand in last week's Lido-staked ETH depeg as it rushed to repay its customers' ETH deposits, and it's since become clear that Celsius currently holds the largest debt position on MakerDAO.
Moreover, we also saw TRON's USDD de-pegged to as low as 91 cents early Monday but came back to 99 cents later in the day, as its founder Justin Sun tweeted Monday that TronDAO will deploy $2 billion to fight the move.
The crypto markets are clearly in a panic mode as the rout started on Friday and was triggered by a higher-than-expected reading of US inflation readings, which stoked expectations that the US Federal Reserve could implement an extra-large rate rise of 75 basis points at its next monetary policy meeting.
We believe the markets were overly bearish on Monday and the repricing went too far. The FED may also surprise dovishly relative to what is now priced into the yield curve.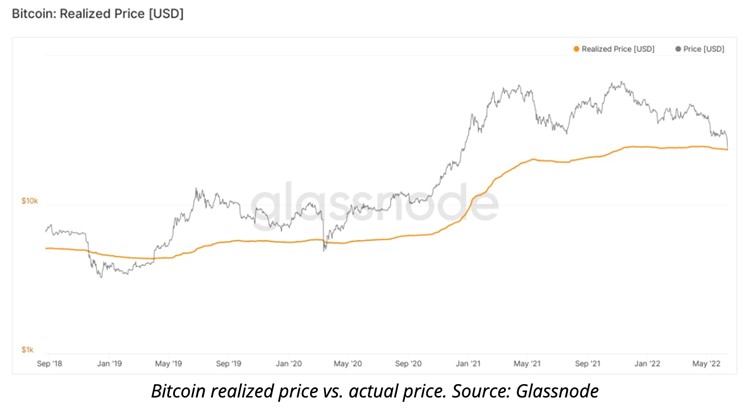 According to BTC historical data from Glassnode, the market has now reached key valuation metrics that show the price is severely oversold and perhaps near a bottom. It fell below its realized price which represents the average price of every coin in supply based on time it was last spent on-chain. It is true that the pain should not be understated, and the price can stay here for some time, it eventually gives a glimmer of hope that the worst of the decline could have occurred.

Read recent altFINS articles:
Bitcoin and Global Market Review Update: 13.06.2022
The Big Merge from ETH to ETH2
Visit altFINS for more information. Do you have some questions? Ask us in the chat !