Scan, Analyze & Trade Altcoins — all in a single platform
altFINS is a cloud-based crypto analysis platform that allows retail and institutional traders to scan, analyze and trade thousands of digital assets.

Discover Profitable Trading Ideas
altFINS helps crypto traders discover profitable trading ideas and strategies across exchanges. The platform enables active investors in crypto markets to aggregate data and news, analyze altcoins, monitor portfolios, and make informed trading decisions.

We Make Big Data Actionable
altFINS platform calculates over 60 different analytics (e.g.RSI, MACD, SMA, 120 EMA), across 5 time intervals, thousands of coins and trading pairs. In order to do that, the system ingests about 300 million data records and makes over 1 billion calculations per day. This process is managed by a proprietary data management system developed specifically for the altFINS platform. It offers altFINS users the same advantage those more sophisticated players have at a fraction of the cost to find better and informed crypto trading ideas.
altFINS was built by a seasoned finance and technology team with decades of experience in investment banks, trading platforms, and software companies. In the first nine months of 2021, the platform saw a 300% increase in its user base.
Successful communities are based on trust, loyalty, and engagement. Rewarding our community of users and contributors is AFINS' prime purpose.
AFINS aims to reward platform adoption and enhancements made by the user community itself. It is a multi-faceted token that incentivizes holders through exclusive features, discounts and unique trading opportunities from the altFINS platform.
AFINS Token Rewards Program
The intention of the AFINS token rewards program is to stimulate the adoption of the
altFINS platform among the crypto community.
Internal payment currency
Payment for altFINS platform subscriptions and for 3rd party content on the platform.
Discounts

Entitles users to discounts on subscriptions if they pay in AFINS and hold AFINS.
Priority access to new platform features
Automated trading algos, education webinars, on-chain analytics.
Referral mining
Customers or professional affiliates will earn AFINS for their referred users.
Trade mining
Earn AFINS token when trading through partner exchanges.
Enhance and Earn
Users can earn AFINS token for enhancing the platform when they create and share a custom filter or watchlist; post coin analyses or other insightful content.
Learn and Earn
Users can earn AFINS tokens by learning how to use the platform and complete activities such as create first Alert, create a custom filter, create an exchange API connection, or conduct their 1st trade.
Token buyback
We'll use up to 20% of revenues to buy back and burn AFINS (up to 50% of outstanding tokens). This will result in neutral to deflationary trends in token circulating supply, which should in turn exert upward pressure on AFINS token price.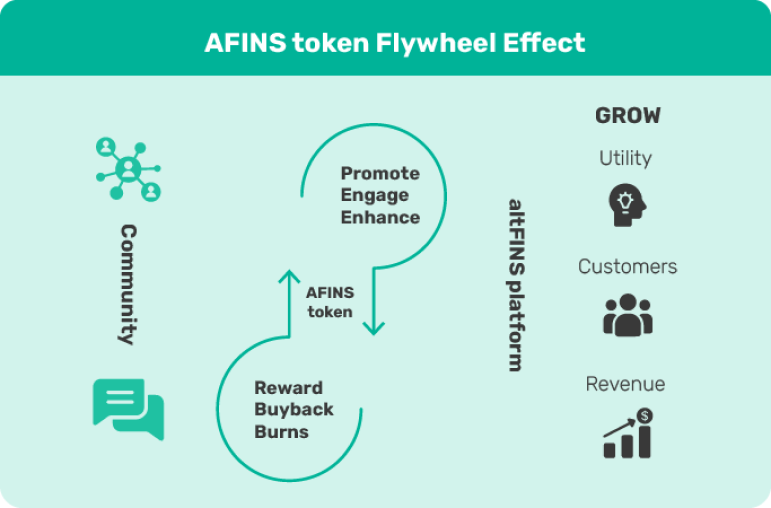 AFINS
Flywheel Effect
In the altFINS ecosystem, AFINS will spark a flywheel effect.
Users are encouraged to make tangible contributions to altFINS growth through the AFINS Reward Program. And they are rewarded with AFINS tokens in exchange.
The utility value of the altFINS platform will improve as users promote it and contribute content. That will attract even more customers and generate greater returns, resulting in increased AFINS buybacks and burns.
With a limited quantity of tokens and increased demand, token prices may rise, benefiting AFINS holders and the altFINS ecosystem as a whole.
AFINS Total Supply: 100,000,000
| | |
| --- | --- |
| Initial listing price | $0,20 |
| Market cap at listing | $1 340 000 |
| Fully diluted valuation | $20 000 000 |
* Day 1 market cap does not include tokens used for exchange liquidity.
| | % | Amount | Initial unlock | Vesting |
| --- | --- | --- | --- | --- |
| Ecosystem growth | 10,0% | 10 000 000 | 10 % | 6 months lock + 18 months linear vesting (monthly) |
| Community rewards | 24,0% | 24 000 000 | 10 % | 6 months lock + 18 months linear vesting (monthly) |
| Platform development | 13,0% | 13 000 000 | 10 % | 6 months lock + 18 months linear vesting (monthly) |
| Exchange liquidity | 2,0% | 2 000 000 | 50 % | 6 months linear vesting (monthly) |
| Marketing | 20,0% | 20 000 000 | 10 % | 6 months lock + 18 months linear vesting (monthly) |
| Reserve | 5,0% | 5 000 000 | 0 % | 6 months lock + 18 months linear vesting (monthly) |
| Advisors | 2,0% | 2 000 000 | 0 % | 6 months lock + 18 months linear vesting (monthly) |
| Team | 24,0% | 24 000 000 | 0 % | 6 months lock + 18 months linear vesting (monthly) |
| Total supply | 100,0% | 100 000 000 | | |
Product and AFINS Token Roadmap