Scan, Analyze & Trade Altcoins — all in a single platform
altFINS is a cloud-based crypto analysis platform that allows retail and institutional traders to scan, analyze and trade thousands of digital assets.

Discover Profitable Trading Ideas
altFINS helps crypto traders discover profitable trading ideas and strategies across exchanges. The platform enables active investors in crypto markets to aggregate data and news, analyze altcoins, monitor portfolios, and make informed trading decisions.

We Make Big Data Actionable
altFINS platform calculates over 120 different analytics (e.g.RSI, MACD, SMA, 120 EMA), across 5 time intervals, thousands of coins and trading pairs. In order to do that, the system ingests about 500 million data records and makes over 2 billion calculations per day. This process is managed by a proprietary data management system developed specifically for the altFINS platform. It offers altFINS users the same advantage those more sophisticated players have at a fraction of the cost to find better and informed crypto trading ideas.
No payments. No fees. Just HODL your AFINS!
Save hundreds of dollars in subscription fees each year and also realize financial gains on your AFINS ownership!
AFINS Token Rewards Program
AFINS ownership will give you free access to advanced
analyses and trading education available on the platform
Free access to altFINS platform
HODL AFINS to get access to all features
Priority access to new platform features
Education, webinars, on-chain data, fundamental research.
Referral mining
Customers or professional affiliates will earn AFINS for their referred users.
Trade mining
Earn AFINS token when trading through partner exchanges.
Enhance and Earn
Users can earn AFINS token for enhancing the platform when they create and share a custom filter or watchlist; post coin analyses or other insightful content.
Learn and Earn
Users can earn AFINS tokens by learning how to use the platform and complete activities such as create first Alert, create a custom filter, create an exchange API connection, or conduct their 1st trade.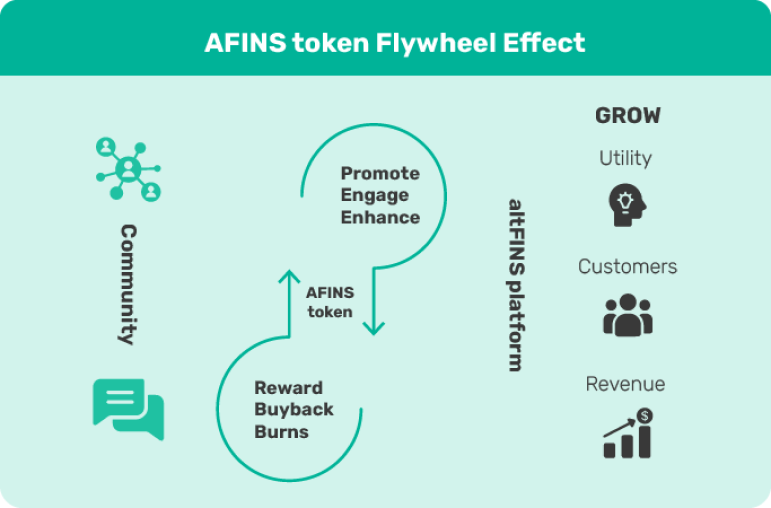 AFINS
Flywheel Effect
In the altFINS ecosystem, AFINS will spark a flywheel effect.
Users are encouraged to make tangible contributions to altFINS growth through the AFINS Reward Program. And they are rewarded with AFINS tokens in exchange.
The utility value of the altFINS platform will improve as users promote it and contribute content. That will attract even more customers and generate greater returns, resulting in increased AFINS buybacks and burns.
With a limited quantity of tokens and increased demand, token prices may rise, benefiting AFINS holders and the altFINS ecosystem as a whole.
AFINS Total Supply: 100,000,000
| | |
| --- | --- |
| Initial listing price | $0,20 |
| Market cap at listing | $1 340 000 |
| Fully diluted valuation | $20 000 000 |
* Day 1 market cap does not include tokens used for exchange liquidity.
| | % | Amount | Initial unlock | Vesting |
| --- | --- | --- | --- | --- |
| Ecosystem growth | 10,0% | 10 000 000 | 10 % | 6 months lock + 18 months linear vesting (monthly) |
| Community rewards | 24,0% | 24 000 000 | 10 % | 6 months lock + 18 months linear vesting (monthly) |
| Platform development | 13,0% | 13 000 000 | 10 % | 6 months lock + 18 months linear vesting (monthly) |
| Exchange liquidity | 2,0% | 2 000 000 | 50 % | 6 months linear vesting (monthly) |
| Marketing | 20,0% | 20 000 000 | 10 % | 6 months lock + 18 months linear vesting (monthly) |
| Reserve | 5,0% | 5 000 000 | 0 % | 6 months lock + 18 months linear vesting (monthly) |
| Advisors | 2,0% | 2 000 000 | 0 % | 6 months lock + 18 months linear vesting (monthly) |
| Team | 24,0% | 24 000 000 | 0 % | 6 months lock + 18 months linear vesting (monthly) |
| Total supply | 100,0% | 100 000 000 | | |
Product and AFINS Token Roadmap