In addition to automated chart patterns, altFINS' analysts conduct technical chart analyses of top 30 cryptocurrencies. We call these Curated Charts and they evaluate 5 core principals of technical analysis: Trend, Momentum, Patterns, Volume, Support and Resistance.
Theta (THETA) technical analysis:
Trade setup: Traders can 1) wait for a break through $12.50 resistance as indication of resumption in Uptrend, or 2) wait for pullbacks to $10 – $11 support zone as a potentially an attractive entry. That support lines up with SMA 50. (set a price alert). Swing traders could Buy Support @ $10-11 and Sell Resistance @ $12.00-12.50.
Trend: Neutral on Medium-Term basis and Uptrend on Short- and Long-Term basis.
Momentum is Mixed as MACD Line is above MACD Signal Line (Bullish) but RSI ~ 50 (Neutral).
OBV (On Balance Volume): is rising, indicating that volume on Up days is greater than volume on Down days. Hence, demand (buyers) exceeds supply (sellers).
Support and Resistance: Nearest Support Zone is around $10.00 and then $8.00. The nearest Resistance is at $12.50, which it just broke, and then $15.00.
See live Theta (THETA) chart here.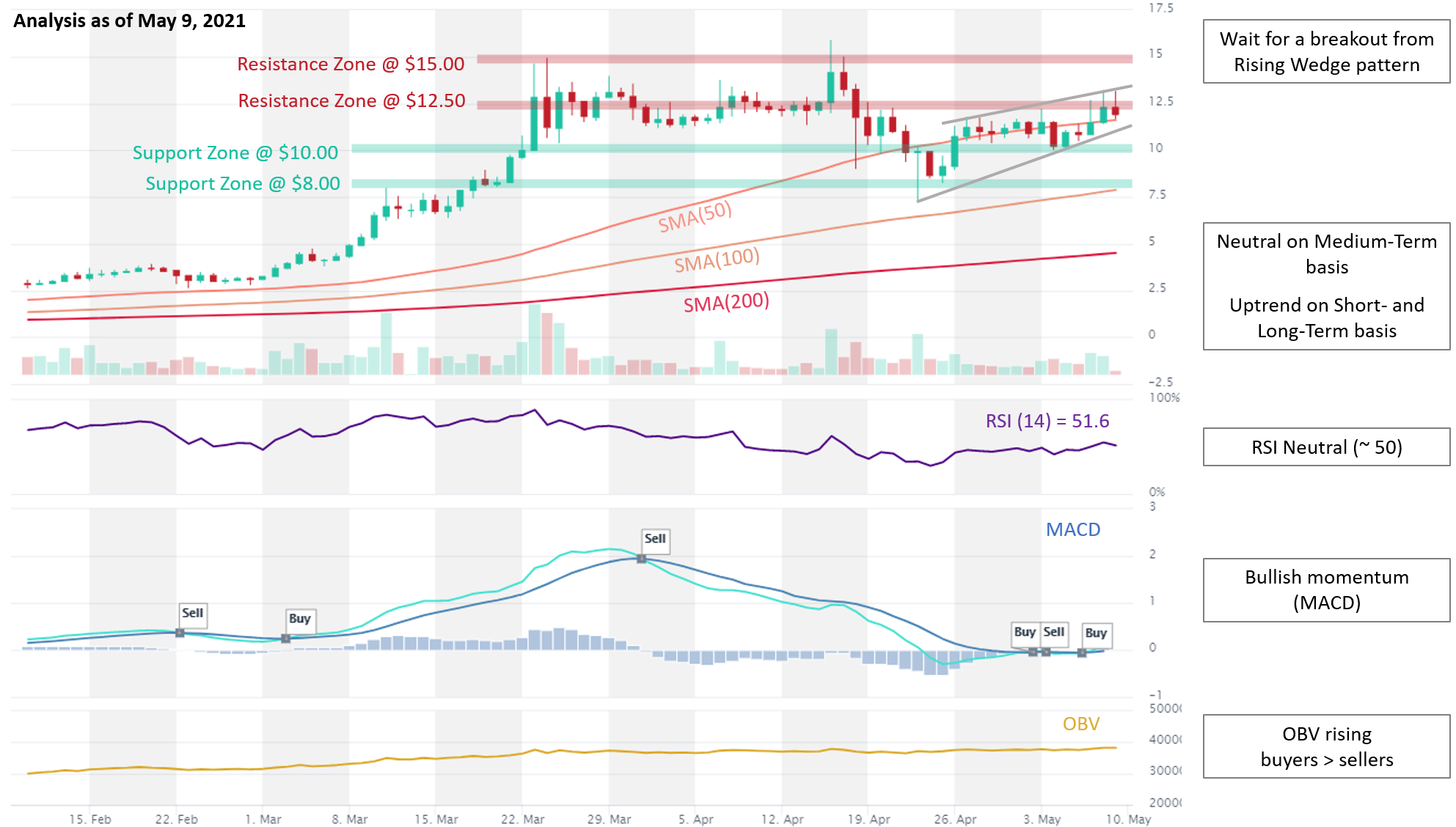 Recent news and research:
Here's why THETA, ENJ, CHZ, etc. are competing with top altcoins
Coinbase Could Add These 4 Crypto Assets Soon, Says Tyler Swope
Theta Network to launch an NFT marketplace for new World Poker Tour season
ETC, SOL and THETA: Some of these alts are making a comeback
What is Theta (THETA)?
Find full description and news on altFINS platform.
Overview
Theta Token is the native asset of the Theta Network, a blockchain protocol for improving the quality and deliverability of streaming video content.
History
The Theta Network is a blockchain protocol for improving the process of creating, streaming, and consuming video content online. Tokens are used in the network to incentivize users to act as peers who share redundant or excess computing and bandwidth resources with other peers. The network blockchain also designs for peers to pull streaming from from other peers instead of from the initial distributor itself, which can optimize for efficient content distribution and lower content delivery costs.
Technology
The network is a Proof-of-Stake blockchain, which the team decided will best meet the ultra high transaction throughput, storage consumption issues, and fast consensus requirements of a video streaming platform. The blockchain also introduces a multi-level Byzantine Fault Tolerance (BFT) mechanism which aims to provide the same network security as Bitcoin or Ethereum with much higher transactions per second validated. It's multi-level BFT designs for a small set of nodes called a validator committee to produce a chain of blocks as fast as possible while the thousands of other network participants, called guardians, can check this chain's validity. Guardians are a superset of the validator committee. Valid blocks require two-thirds of guardians to validate. Tokens were initially distributed as ERC-20 compliant tokens on Ethereum, but later were exchanged one-to-one for native Theta Network tokens. The Network mainnet launched on March 15, 2019.
Supply Curve Details
Token supply is fixed at 1 billion, initially issued as ERC-20 compliant tokens. When the mainnet launched, all tokens were swapped for native THETA tokens on the network blockchain. The Network also circulates a native operational governance token called Gamma. When the mainnet launched, every Theta Token holder also received 5 Gamma tokens.
Asset profile is provided by messari. Original version can be found at Messari