In addition to automated chart patterns, altFINS' analysts conduct technical chart analyses of top 30 cryptocurrencies. We call these Curated Charts and they evaluate 5 core principals of technical analysis: Trend, Momentum, Patterns, Volume, Support and Resistance.
OMG Network (OMG) technical analysis:
Trade setup: Previously, price broke above $2.00-$2.10 resistance zone with massive volumes and reached $2.50 resistance, the highest level since Sep 2022. Since then, price has pulled back and broken below several support areas including $1.20 support, which held in March, and below $1.00 support, which held up in Dec 2022. Price is getting very oversold (RSI ~ 25) and could see a brief bounce up. (set a price alert).
Trend: Downtrend across all time horizons (Short- Medium- and Long-Term).
Momentum is Bearish ( MACD Line is below MACD Signal Line, and RSI is below 45).
Support and Resistance: Nearest Support Zone is $1.00, which it broke. The nearest Resistance Zone is $1.20 (previous support), then $1.50, and $2.00 – $2.10
See live OMG Network (OMG) chart here
See more curated charts of coins with technical analyses.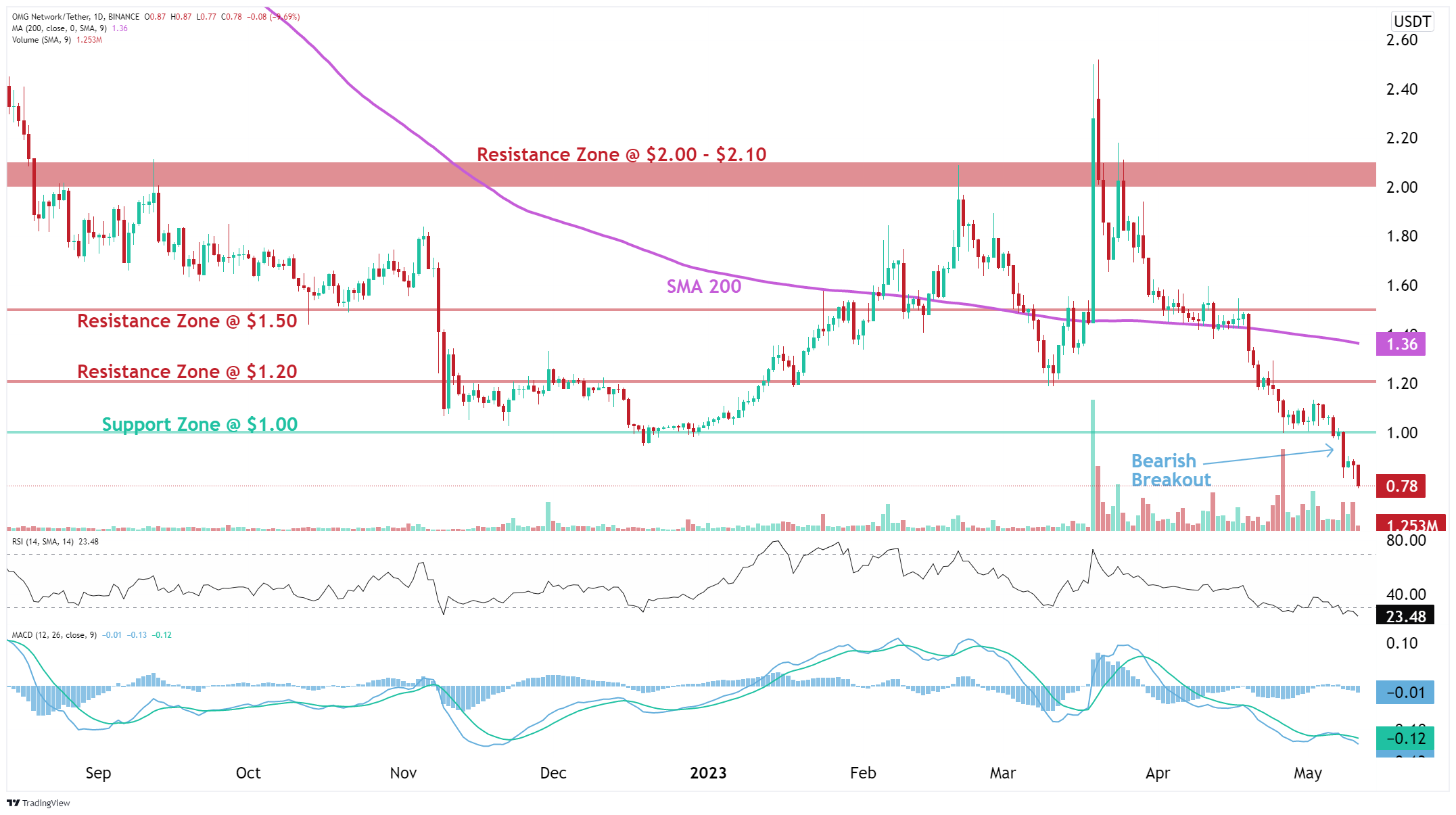 Recent news and research:
OMG eyes a new all-time high after unveiling its 'Boba Network' layer-2 solution
Where to buy OMG Network: OMG gears up for another rally after 29% gains
Find more real-time news here.
What is OMG Network (OMG)?
Find full description and news on altFINS platform.
Overview
OMG Network is a Layer-2 scaling protocol for Ethereum. What this protocol aims to achieve is a higher transaction throughput at a lower cost while leveraging the security guarantees of its underlying layer. OMG Network is predicated on the creation of a child chain that batches transactions before committing them to the root chain, which, in this case, is Ethereum. The child chain relies on the root chain as the trust and arbitration layer. With this type of relationship, if something goes wrong with the child chain, users' funds should remain safe. The protocol's token, OMG, is the primary method by which users can pay for transaction fees and interact with the network.
History
OMG Network (first developed as OmiseGo) is a non-custodial, Layer 2 scaling solution for transferring value on Ethereum. How the protocol processes transactions is centralized, but its Plasma-based design aims to decentralize network security. It also relies on Ethereum at its final arbitration layer. Most blockchain ecosystems are limited by low throughput, high and unpredictable transaction fees, and poor user experience. The project's team believes these are barriers that need to be overcome before businesses and developers will adopt blockchain for real-world applications, leading them to develop the OMG Network. The core security proposition of Plasma revolves around honest users being able to exit the child chain (in other words, withdraw funds to the root chain) at any time. To exit the child chain, a user submits an exit transaction – along with an exit bond – to the root chain. The exit is subject to a "challenge period," during which any user can prove, if applicable, that the exit is invalid. If successfully shown to be invalid, the exit is not processed, and the challenger is awarded the exit bond. This exit game is solely dependent on the root chain. As the child chain relies on the root chain to be its ultimate arbiter, it must periodically commit a hashed version of its state changes to the root chain by way of a smart contract. As opposed to submitting individual transaction data onto the root chain, the child chain bundles transactions into a Merkle tree and submits the root hash. Beyond these core elements, there is no prescribed configuration for a Plasma chain. They can take on different consensus protocols, block validation mechanisms, or fraud proofs. The design is adaptable to the use case. OMG Network is based on the Plasma MoreVP design, an extension of Minimum Viable Plasma optimized for the settlement of payments and value exchange between users and exchanges. The original OMG Network team (under the OmiseGo name) co-authored the original Plasma white paper with Joseph Poon and was also the first project to perform an airdrop, a way to more widely share ownership of our token with the existing Ethereum community.
Technology
OMG Network is a Layer 2 scaling solution for Ethereum built using the plasma protocol. Plasma is a technology that hopes to allow developers to create a series of smart contracts that run on top of the main Ethereum blockchain. OMG Network is currently operating as a PoA (Proof of Authority) network. It aims to offer a higher transaction throughput and lower execution fees than its underlying network (i.e., Ethereum). It is backed by a decentralized security model provided by Ethereum and a network of watcher nodes. OMG Network is made up of three components interacting together to ensure funds in the network are secure: The OMG Network Smart Contracts, deployed to Ethereum, provide the interface through which users can move funds into and out of the network. The Child Chain Application, run by the OMG Network team, receives users' transactions, encapsulates them in blocks, and publishes those blocks to the OMG Network Smart Contracts. The Watcher application continuously observes the Child Chain application, validates its behavior, and reports any misdoing to the users who are subscribed. Watchers can be run by anyone, and the more are running, the safer the network is.
Usage
Details
The OMG token is classified as a Utility Token and the primary method by which a holder can interact with the OMG Network. As the network transitions to Proof-of-Stake (PoS) validation, only holders of OMG token will be able to gain the right to take an active role on the network by running validator nodes using their tokens as a security deposit. Accordingly, token holders participating in PoS validation may receive compensation for their active participation as a validator – which may be paid out in any currency, including but not limited to OMG. More generally, OMG is intended to be a conduit for bringing value to Ethereum mainnet as the token will be backed by the assets moving across the OMG Network. These assets include both real-world currencies and cryptocurrencies that users push through the network via a variety of means including Defi applications and businesses, as well as all who outsource DEX requirements to OMG Network. However, this will not remain static. As the OMG Network and its underlying network develop and evolve over time, so might the nature and role of the OMG token. Learn more: Token mechanics, use-cases and interactions.
Launch
Details
Up to a total of USD $25million (Maximal Launch Quantity) equivalent of OMG was created by token sale smart contract (each OMG all equal value and functionality). Based on the foregoing, a total of 140,245,398 were created and remain in circulation to-date. Out of the total pool of OMG tokens created, they were segregated into these respective pools for both public and private distribution: Public Pool Public ICO – 65.1% Airdrop to ETH holders – 5% Private Pool The OMG Network reserve – 20% Team reserve – 9.9% OMG Tokens were made available generally to the public with the exception of: Persons of US nationality and/or residence; and Persons who are resident in and/or holds a passport issued by a High-Risk jurisdiction nation as defined by FATF, OFAC and European Commission; including Afghanistan; Balkans-related; Belarus; Bosnia and Herzegovina; Burundi; Central African Republic; Cuba; Democratic Republic of the Congo-related; Ethiopia; Iran; Iraq; Lao People's Democratic Republic; Lebanon; Libya; North Korea; Somalia; Sudan and Darfur; South Sudan; Syria; Uganda; Ukraine; Russia-related; Vanuatu; Venezuela-related; Yemen; and Zimbabwe. Learn more: OMG Token Sale ICO Whitepaper.
Asset profile is provided by messari. Original version can be found at Messari