In addition to automated chart patterns, altFINS' analysts conduct technical chart analyses of top 30 cryptocurrencies. We call these Curated Charts and they evaluate 5 core principals of technical analysis: Trend, Momentum, Patterns, Volume, Support and Resistance.
FTX Token  (FTT) technical analysis:
Trade setup: Price continues to trade in a Channel Down pattern. Price has reached the support trendline and is very oversold (RSI < 30), which could be a swing entry opportunity. Price has come under pressure following decision from Binance to sell its FTT holdings ). (Set a price alert).
Trend: Neutral on Medium-Term basis and Downtrend on Short- and Long-Term basis.
Momentum is Bearish ( MACD Line is below MACD Signal Line, and RSI is below 45).
OBV (On Balance Volume): is declining, indicating that volume on Up days is lower than volume on Down days. Hence, demand (buyers) is below supply (sellers).
Support and Resistance: Nearest Support Zone is $20, which it broke, then $15. The nearest Resistance Zone is $25, then $30.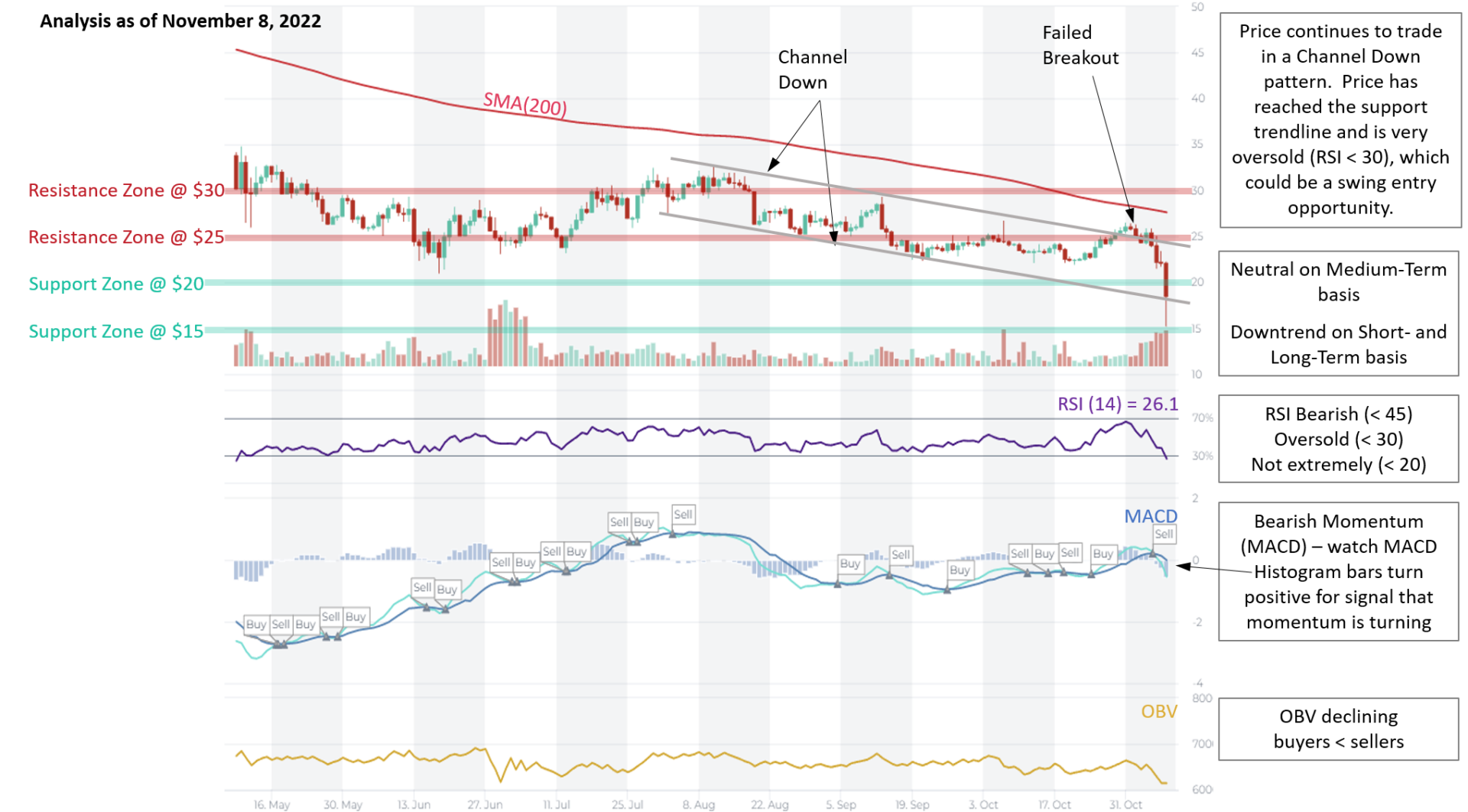 See live FTX Token (FTT) chart here
See more curated charts of coins with technical analyses.
Recent news and research:
FTX Hit By $1.2B in Withdrawals as Confidence Wavers in Exchange Giant
Binance to Sell Rest of FTX Token Holdings as Alameda CEO Defends Firm's Financial Condition
What made Sam Bankman-Fried launch FTX — and what he now thinks about the world (Part 1)
FTX US signs NFT deal with the Golden State Warriors basketball team
Crypto exchange FTX now supports NFT mining
FTX Token hits new record up 50% so far in September — What's driving FTT price higher?
Expanding ecosystem and LedgerX acquisition send FTX Token (FTT) to a new ATH
What is FTX Token (FTT)?
Find full description and news on altFINS platform.
Overview
FTT is the native token designed for the cryptocurrency derivatives exchange FTX. It has numerous uses designed to benefit its users and increase network effects around the platform.
History
FTX is a cryptocurrency derivatives exchange launched in April, 2019 that offers futures and leveraged tokens on both individual and baskets of cryptoassets, over-the-counter (OTC) trading, and binary options on the outcome of the 2020 American Presidential election. It is backed by Alameda Research, a trading firm accounting for between $600 million and $1 billion of volume a day or roughly 5% of global volume. FTX was designed to prevent clawbacks using a three-tiered liquidation model that closes positions with rate-limited orders and leverages an insurance fund to prevent customer losses. Rather than fracturing liquidity across various tokens, collateral is shared in one universal stablecoin wallet to mimic the traditional futures market. FTX also allows traders to take leveraged or short positions without trading on margin or futures with their Leveraged Tokens that mimic the experience of trading on spot markets but allow 3x, -1x or -3x on various tokens. The FTX OTC desk is powered by Alameda and trades around $30 million per day with no fees.
Supply Curve Details
31.25 million tokens allocated to the team will be vesting over a 3 year schedule 50 million tokens sold in Round 1 vested over their first 3 months 6.5 million tokens sold in Round 2 vested over their first 1.5 months 2.8 million tokens sold in Round 3 vested over their first month
Launch Details
A total of 3.175 billion FTM was initially issued. The entirety of the supply, including staking rewards, was minted at launch. 40% was allocated to Public and Private Sale investors, including private sale bonuses. Those FTM have no vesting schedule. 15% was allocated to advisors, with a 3-months lockup 10% was allocated to the founding team. This allocation features a 24-months vesting period with monthly-cliffs 3.6% was allocated to a strategic reserve. Those FTM have no vesting schedule. 31.4% was reserved for staking rewards, to be distributed daily until 2024.
Asset profile is provided by messari. Original version can be found at Messari