In addition to automated chart patterns, altFINS' analysts conduct technical chart analyses of top 40 cryptocurrencies. We call these Curated Charts and they evaluate 5 core principals of technical analysis: Trend, Momentum, Patterns, Volume, Support and Resistance.
LEO (BitFinex) technical analysis:
Trade setup: Following a bearish breakout of Sideways Channel ($4.70-$6.00), price stabilized near $4.00 support zone, which could be a swing entry area. (set a price alert). Momentum turned bullish again (MACD crossover.
Trend: Downtrend across all time horizons (Short- Medium- and Long-Term).
Momentum is Mixed as MACD Line is above MACD Signal Line (Bullish) but RSI < 45 (Bearish).
OBV (On Balance Volume): is declining, indicating that volume on Up days is lower than volume on Down days. Hence, demand (buyers) is below supply (sellers).
Support and Resistance: Nearest Support Zone is $4.00. The nearest Resistance Zone is $4.70 (previous support), then $5.00, and $6.00 – $6.25.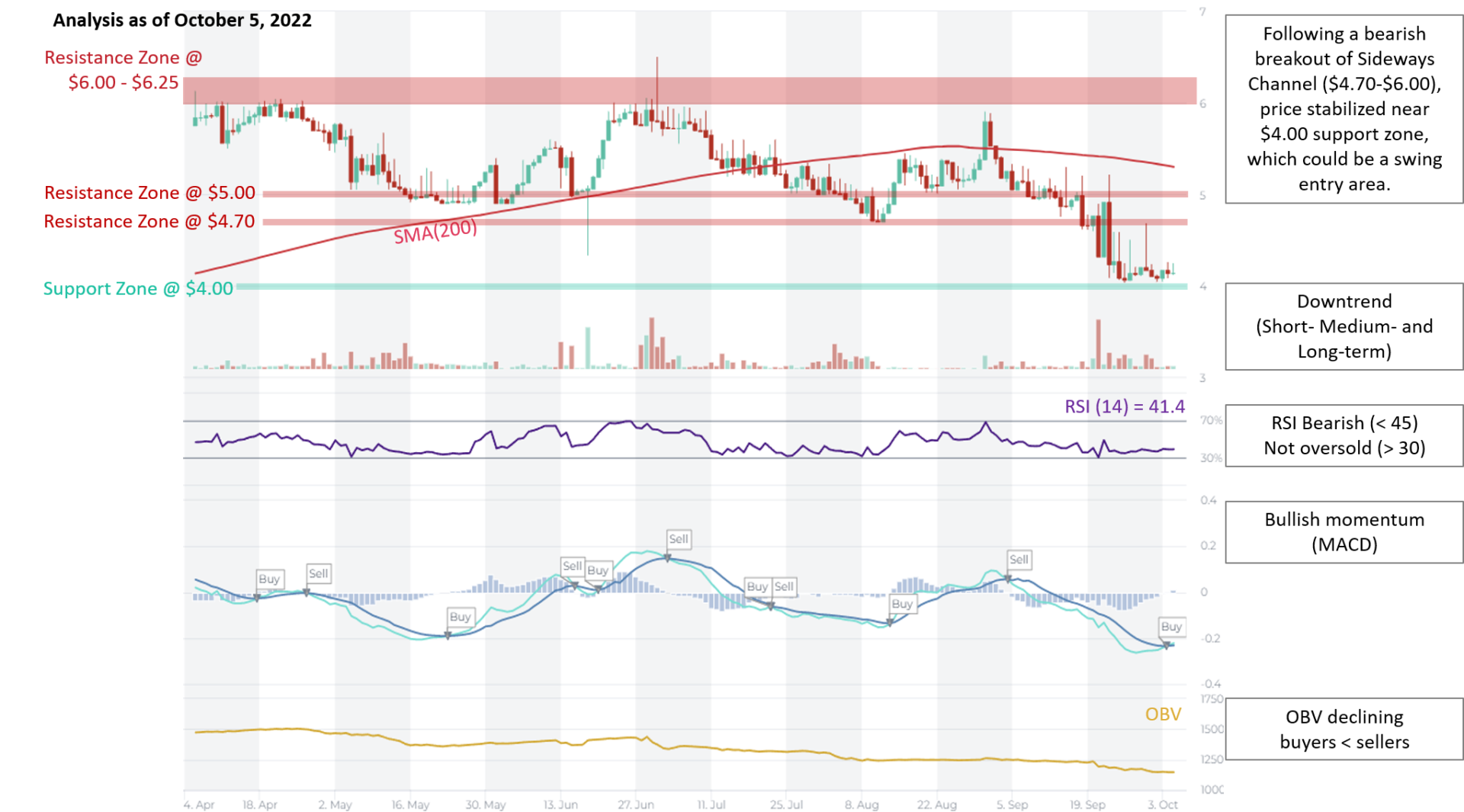 See live LEO (BitFinex) chart here.
See more curated charts for top 40 coins.
Recent news and research:
What Is UNUS SED LEO and How Does It Work?
Find more real-time news here.
What is LEO (BitFinex)?
Find full description and news on altFINS platform.
Overview
LEO is a utility token for the BitFinex ecosystem.
History
In 2018 iFinex, the parent company of Bitfinex, was made aware it's payment processor, Crypto Capital, was subject to a partial government seizure of its funds. While efforts are being made, there is no certainty that Bitfinex will be able to recover the funds. To alleviate the cash shortfall, BitFinex announced it would conduct a private offering for $1 billion for it's token Unus Sed Leo. The token will be used to receive discounts on trading on current and future iFinex trading platforms and services. iFinex will buy back tokens from the market with a minimum of 27% of consolidated revenues from the previous month until all tokens are removed from circulation. In addition, an amount equal to 95% of the recovered net funds from Crypto Capital and 80% of recovered funds from a 2016 hack will be used to repurchase outstanding tokens.
Technology
The network is a Proof-of-Stake blockchain, which the team decided will best meet the ultra high transaction throughput, storage consumption issues, and fast consensus requirements of a video streaming platform. The blockchain also introduces a multi-level Byzantine Fault Tolerance (BFT) mechanism which aims to provide the same network security as Bitcoin or Ethereum with much higher transactions per second validated. It's multi-level BFT designs for a small set of nodes called a validator committee to produce a chain of blocks as fast as possible while the thousands of other network participants, called guardians, can check this chain's validity. Guardians are a superset of the validator committee. Valid blocks require two-thirds of guardians to validate. Tokens were initially distributed as ERC-20 compliant tokens on Ethereum, but later were exchanged one-to-one for native Theta Network tokens. The Network mainnet launched on March 15, 2019.
Supply Curve Details
Tokens are bought back from the market and burnt every 3 hours. Buy-backs are determined as follows: The buy and back and burn quantity is equal to a minimum of 27% of the consolidated gross revenues of iFinex. Moreover, an amount equal to at least 95% of recovered net funds from Crypto Capital will be used to repurchase and burn outstanding LEO tokens within 18 months from the date of recovery. Further, an amount equal to at least 80% of recovered net funds from the BitFinex hack will be used to repurchase and burn outstanding LEO tokens within 18 months from the date of recovery.
Asset profile is provided by messari. Original version can be found at Messari