Cryptocurrency Prices Review (week 53 and December 2020)
Last week, cryptocurrency prices were up along with Bitcoin price (up 17.2%), which reached new all-time-highs (ATH) of $34,600!  We are also including performance statistics for the month of December 2020, during which Bitcoin price rallied by 61%.
Volatility is high, however, and today (Monday, Jan 4th), Bitcoin price dropped by 15% to under $30K after an anonymous user transferred over 9,000 BTC.  These types of short-term shocks give long-term investors an opportunity to add to their positions.
While Bitcoin (BTC) price was making nice gains in the last few weeks, altcoins were struggling, on the whole, in part due to the SEC lawsuit into Ripple (XRP), which created an overhang.
But last week, altcoins stepped out of Bitcoin's shadow again and roared.  Ethereum (ETH), the bellwether for altcoins, rallied by 49% during a single week, and some of the oldest altcoins like Polkadot (DOT) and DogeCoin (DOGE) did even better, with 77.1% and 84.8%, respectively.  Polkadot price was boosted by an endorsement from Binance, which announced a $10M fund to support projects built on Polkadot.  Meanwhile, DogeCoin price was lifted by tweets from Elon Musk and Angela White, an adult star.
If and when the market does pull back, check our Signals Summary for pullback in Uptrend opportunities.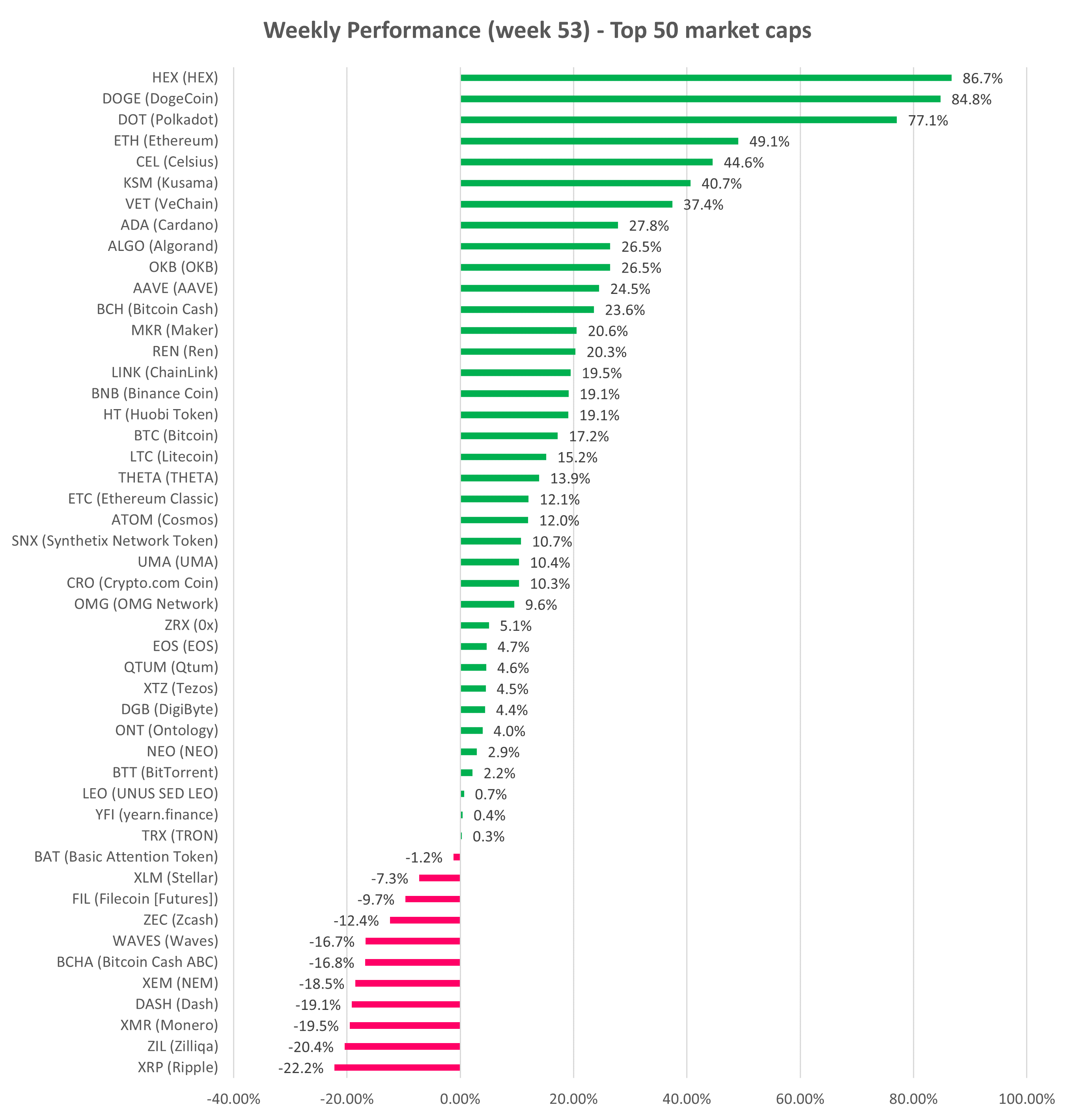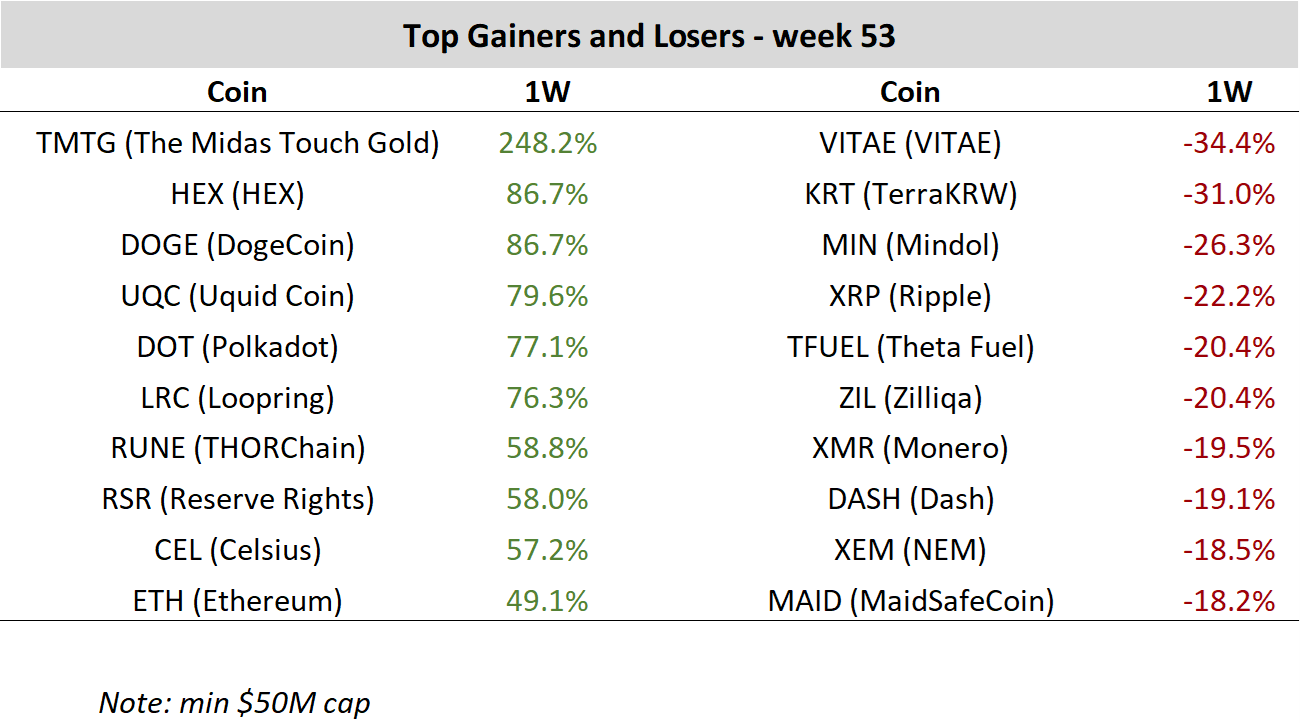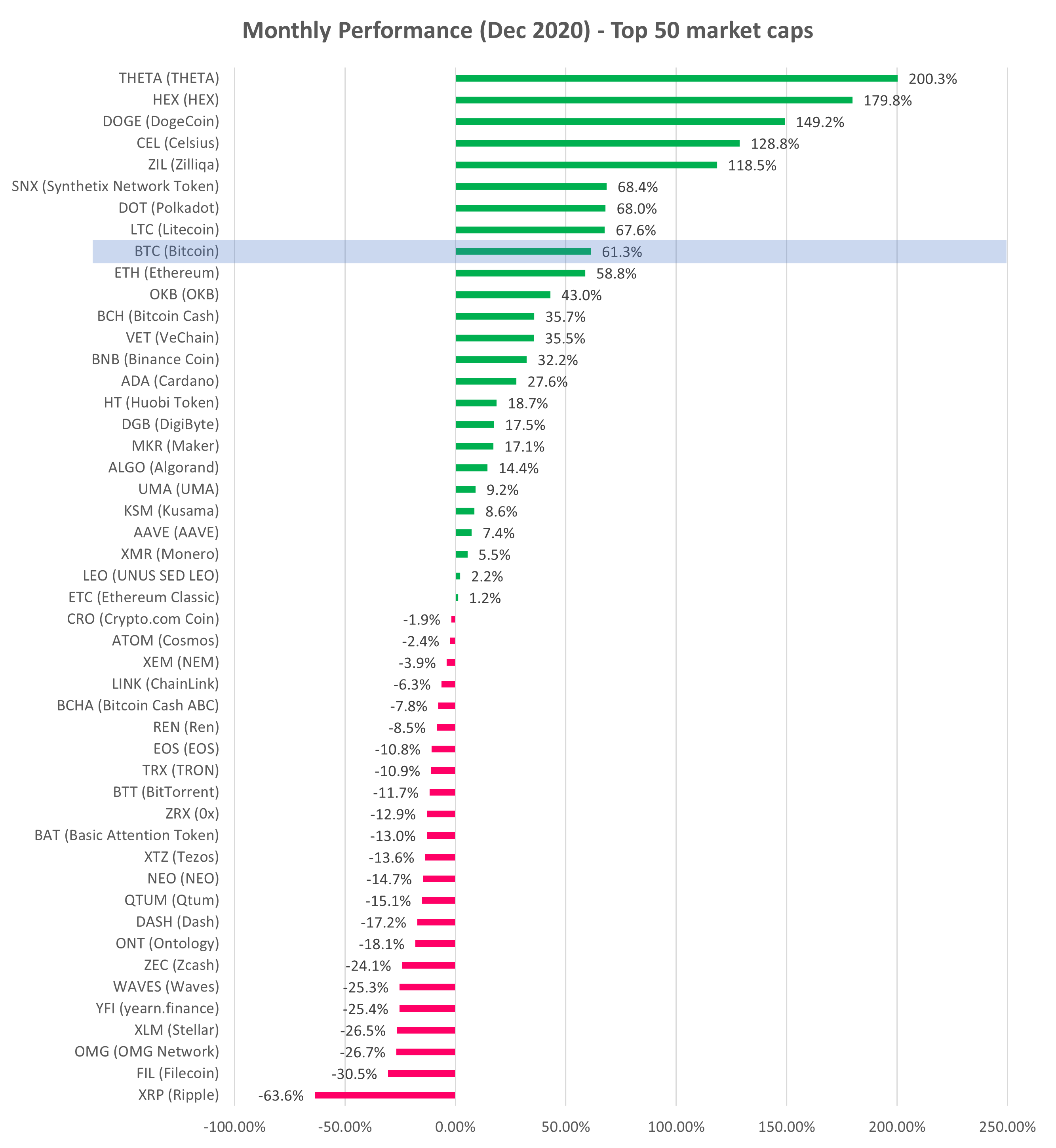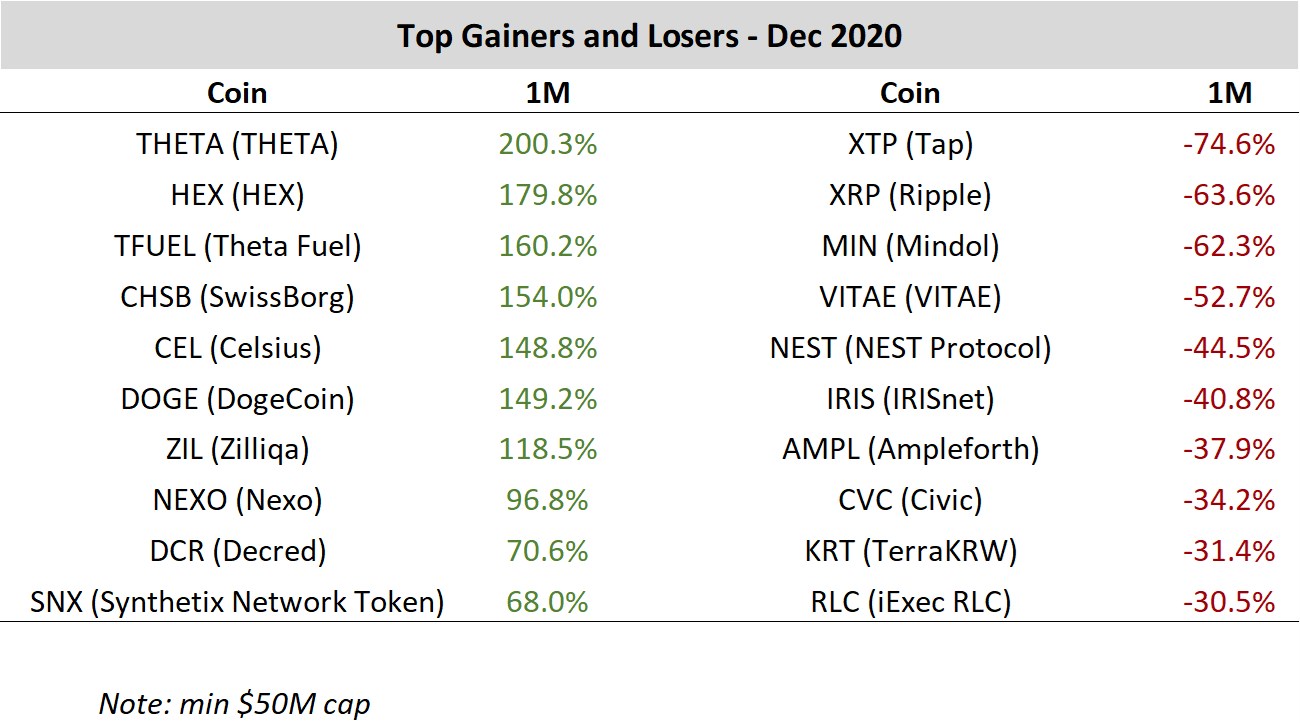 DeFi TVL Jumps 20% in One Week!
Decentralized Finance (DeFi) category continues to make headway in terms of adoption as Total Value Locked (TVL) reached new highs at around $17.2B (up 20% from prior week)!
DeFi cryptocurrency prices performance also reflected the trends in TLV, as most DeFi coins were up for the week.  For the month of December, however, the performance was more mixed.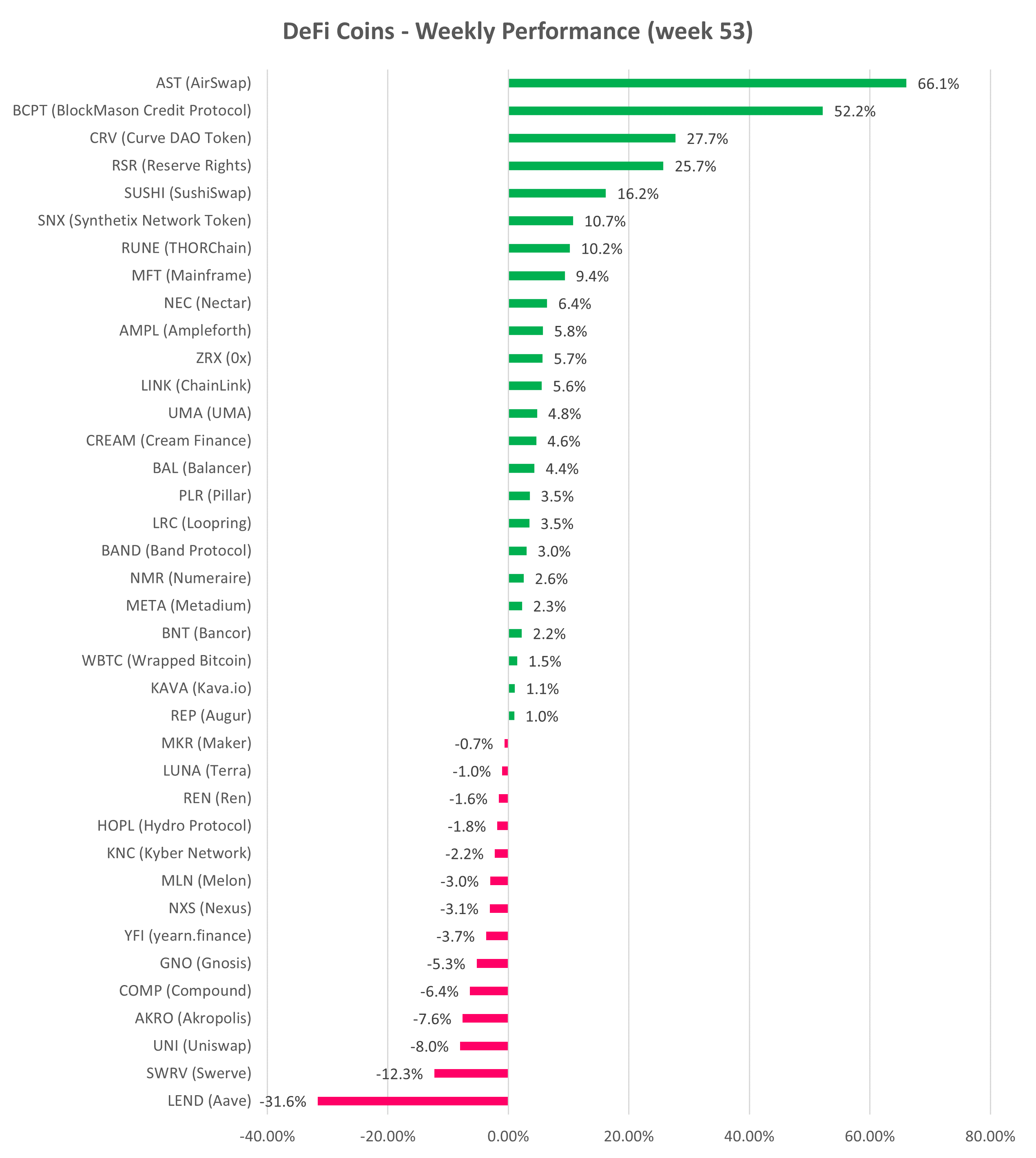 "altcoins season"?  
Number of altcoins in a Downtrend outnumbers altcoins in an Uptrend by about 60%.  This ratio remained relatively unchanged from prior week and has not recovered from the week 51 levels when altcoins were on a tear.  Again, the SEC lawsuit announcement has certainly done some lasting damage.
You can monitor these trends on the Signals Summary page, which also contains shortcuts to strategy screeners and signals.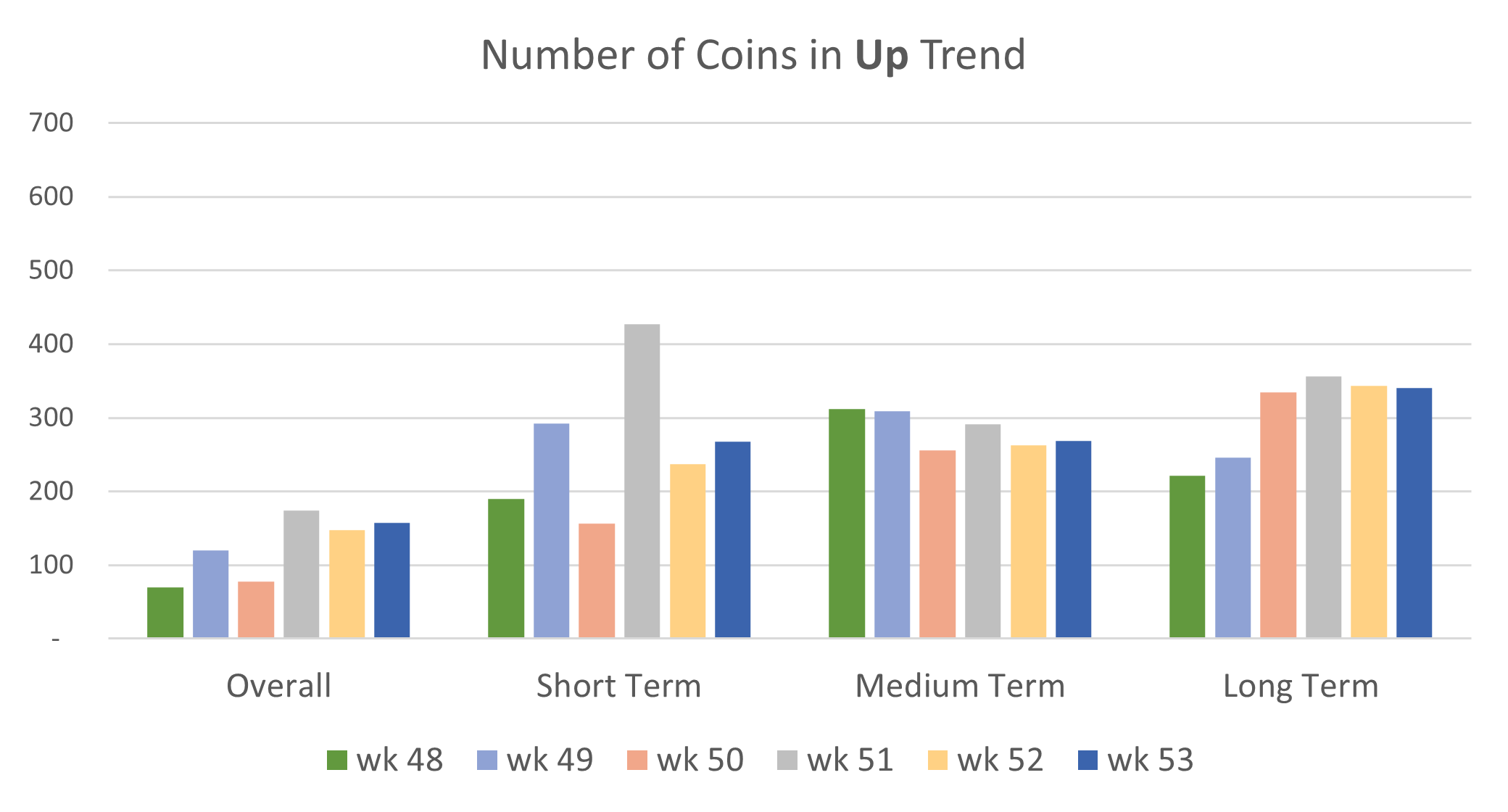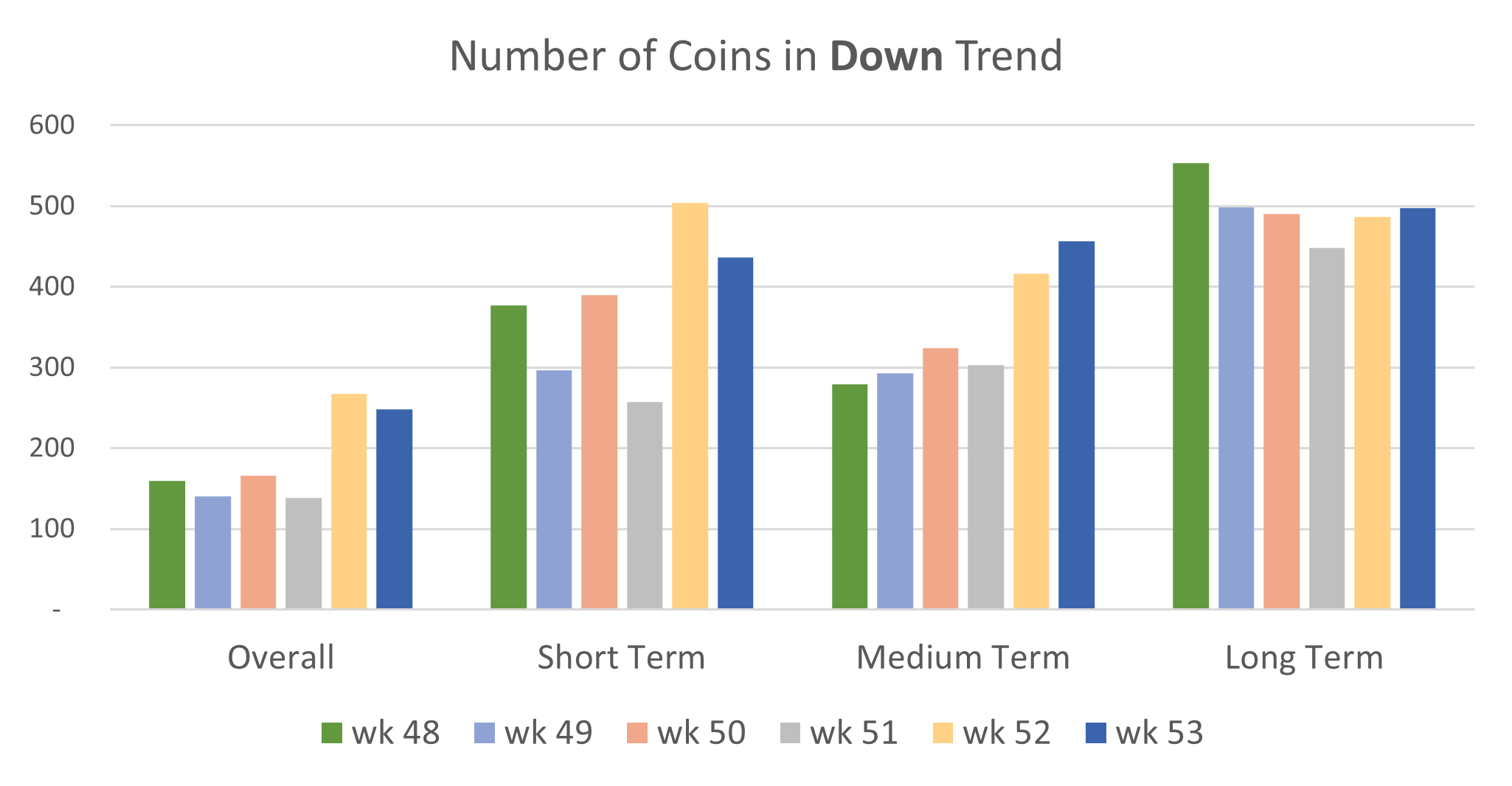 Source: altFINS.com
Subscribe to our newsletter to receive future blog updates in your inbox.
Also, help us improve our platform by filling out this quick 5 question survey (1 min). Thank you!
Disclaimer: This content is for informational purposes only, you should not construe any such information or other material as investment, financial, or other advice. There are risks associated with investing in cryptocurrencies. Loss of principal is possible.