Cryptocurrency Price Analysis – week 7 and YTD, 2021
Altcoins continued to march higher, along with yet another ATH reached by Bitcoin.
Last week, cryptocurrency prices were up for about 2/3 of top 50 coins by market cap.  That's less robust than the prior two weeks when almost 100% of top 50 coins recorded gains.  Perhaps that indicates some diminishing momentum and a period of consolidation in the near term. Consolidation areas in an Uptrend often show up as Triangles (symmetrical, descending or ascending) or sideways channels.
If and when the market does pull back, check our Signals Summary for pullback in Uptrend opportunities.
Bitcoin (BTC) was up 15.3% last week, extending YTD gains to 93.6%, lifted by launch of the first North American Bitcoin ETF. Bitcoin price barreled through the $50K level like hot knife through butter, without even pausing, and reached an ATH of $58,400!
The launch of North America's first Bitcoin ETF, which saw $80M trade in the first hour and $200M on day one. Bloomberg Senior ETF analyst tweeted that its trading volumes would not only be a Canadian record, but likely rank in the top 5 of all-time among US ETFs. Currently its AUM sits at $421.8M and the analyst speculated that it is likely to become the largest Canadian listed ETF with $1B in assets by the end of next week. A second Canadian Bitcoin ETF from Evolve was approved and also began trading while New York Digital Investment Group filed a S-1 for a Bitcoin ETF to list on the NYSE.
Source: altFINS.com
altcoins performance was more mixed than in the prior two weeks.  Last week, exchange coins were the flavor of du jour, driven by the news that Coinbase valuation reached $100B in recent private pre-IPO transactions.
As a result, several exchange related coins, both centralized (CEX) and decentralized (DEX), were among the biggest gainers last week including Binance (BNB), PancakeSwap (CAKE), Crypto.com (CRO), Huobi (HB), FTX Token (FTX), Uniswap (UNI) and SushiSwap (SUSHI). 
You can find such news and events on altFINS' News & Events tab, where you can also set up news alerts for your watchlist.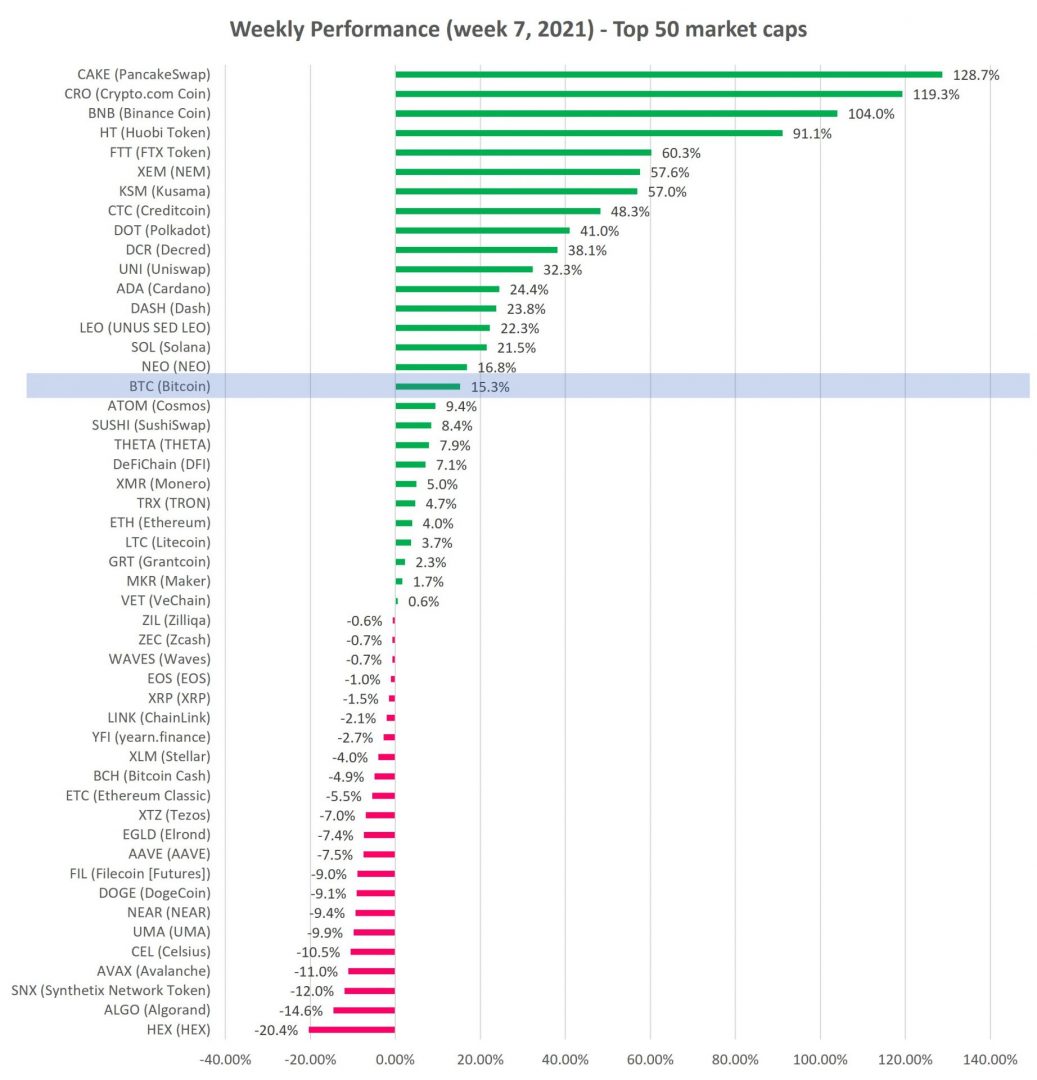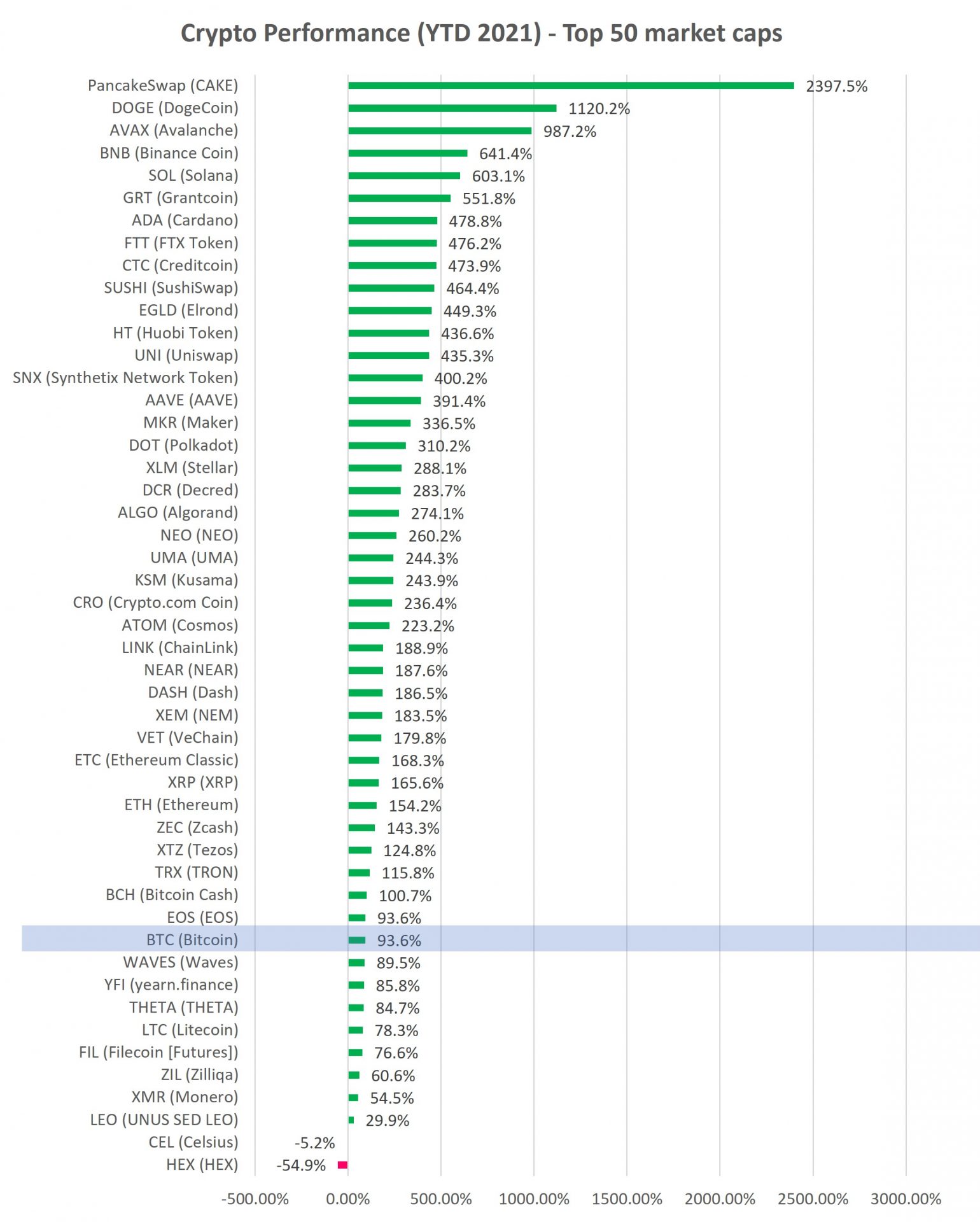 Source: altFINS.com
DeFi TVL increased by 4.5% last week and 169% YTD.
Decentralized Finance (DeFi) category continues to make headway in terms of adoption as Total Value Locked (TVL) reached new highs at around $41.8B (up 4.5% from prior week and up 169% YTD).
DeFi cryptocurrency performance was mixed, with Nexus (NXS – DeFi insurance) and PancakeSwap (CAKE – became the largest DEX) among the biggest gainers.  Total DeFi category market cap increased 12% last week and is up 270% YTD (i.e. ~ 4x).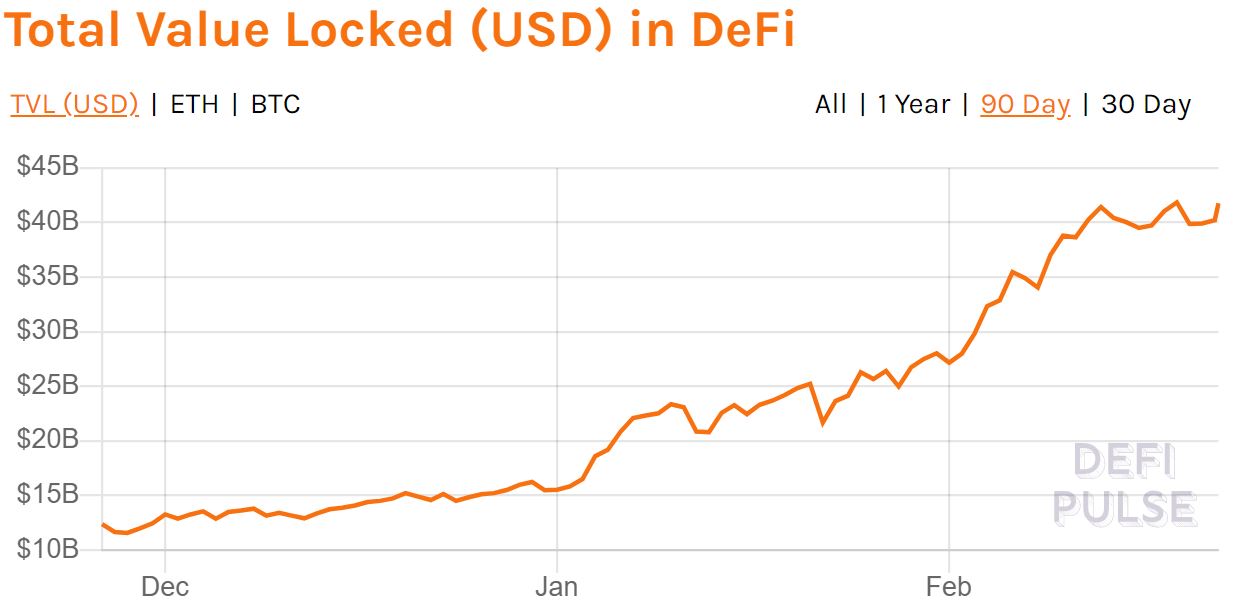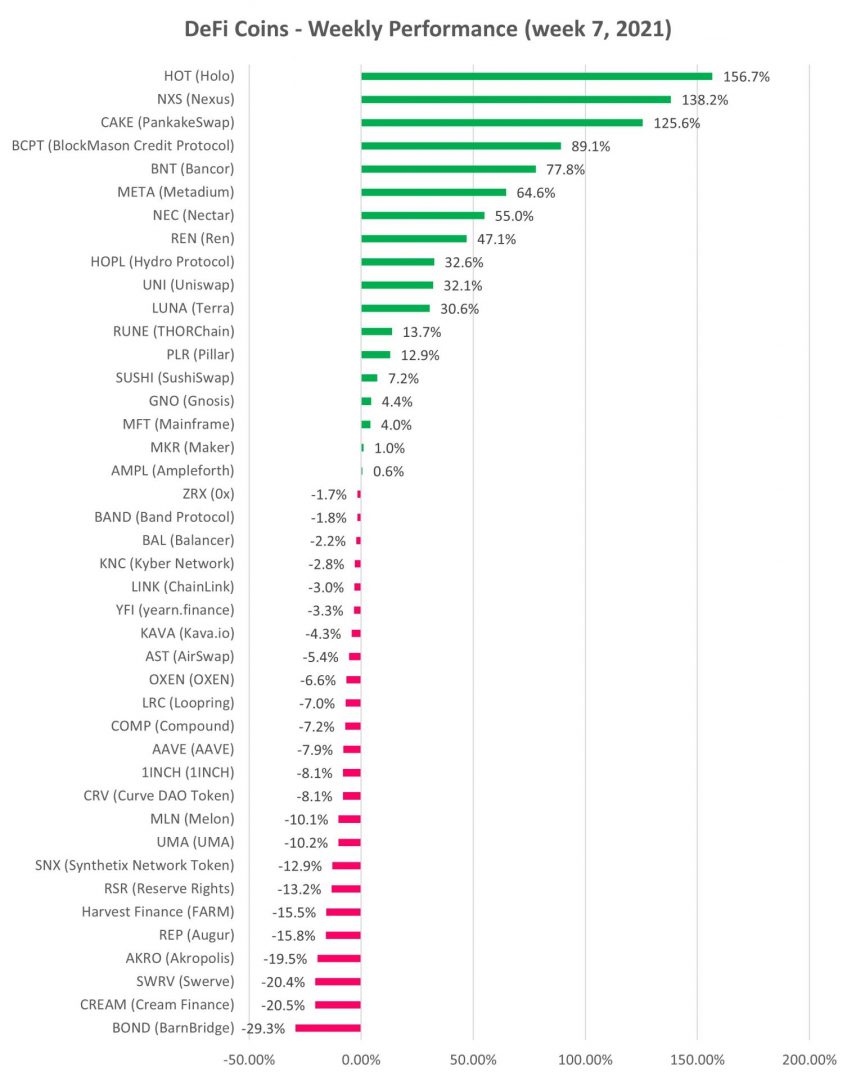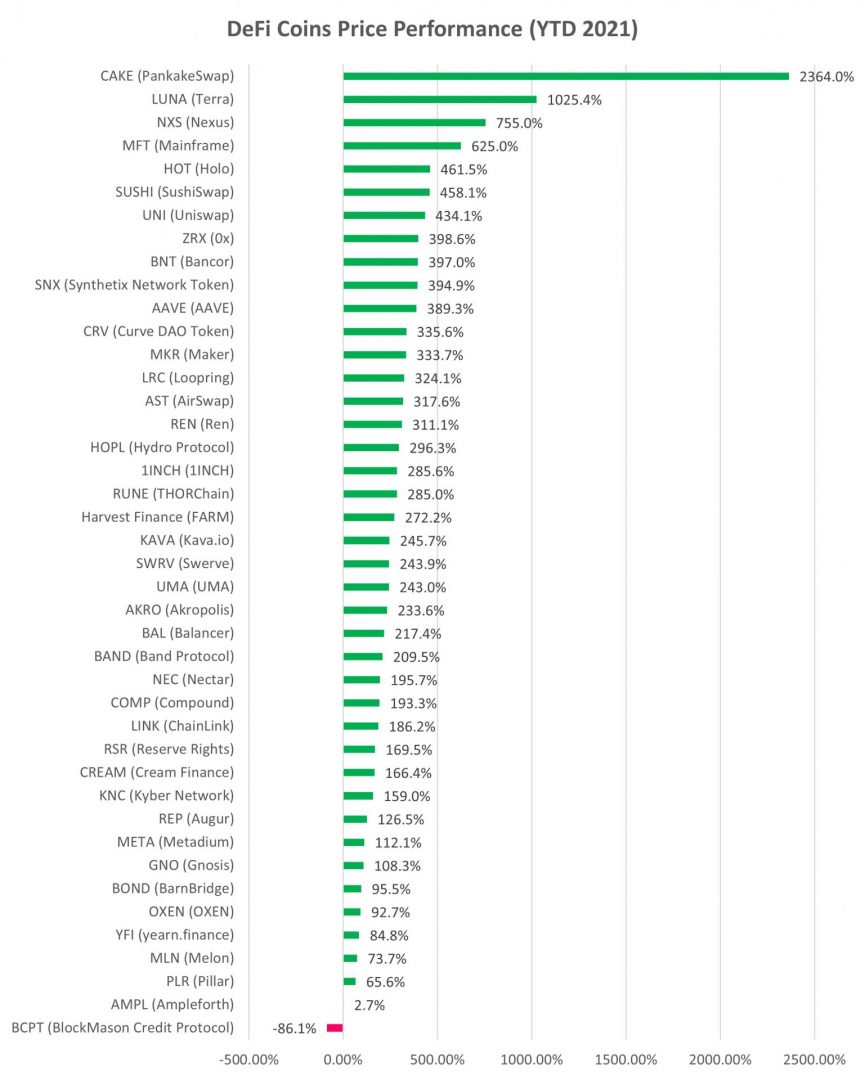 Source: altFINS.com
Check our unique automated chart pattern recognition for fresh trading ideas. Also, during market corrections, it's always good to revisit coins in an Uptrend but with a pullback. Our Signals Summary has this and other pre-defined filters ready for action.
Subscribe to our newsletter to receive future blog updates in your inbox and make sure you add altfins.com to your email whitelist.
Disclaimer: This content is for informational purposes only, you should not construe any such information or other material as investment, financial, or other advice. There are risks associated with investing in cryptocurrencies. Loss of principal is possible.