Cryptocurrency Price Analysis – week 6 and YTD, 2021
Altcoins season continues. 
Last week, cryptocurrency prices were up across the board. Most of the top 50 coins were up and YTD gains are also very impressive (see charts below).
Bitcoin (BTC) was up 22.3% last week, extending YTD gains to 64.1%, boosted in large part by an announcement that Tesla invested $1.5B into Bitcoin and has plans to accept it for payments.  The news catapulted BTC out of the $30K-$40K sideways channel that it had been consolidating in.  
What's next for Bitcoin?  We wrote in a blog last week that Bitcoin is likely to consolidate in a $42K-$48K range. Before decisively breaking through $50K, BTC is likely to bounce between Support ($40K) and Resistance ($50K) a few times, giving traders an opportunity to bag these round trips.  Consolidation areas in an Uptrend often show up as Triangles (symmetrical, descending or ascending) or sideways channels.
If and when the market does pull back, check our Signals Summary for pullback in Uptrend opportunities.
altcoins had another very strong week of gains, and this time, it wasn't just the DeFi names: CTC, GRT, DASH, DTT, BNB, FIL were among the biggest gainers (80%+). Here's news for the top weekly gainers:
Creditcoin (CTC) – aims to address the lack of credit system among the unbanked in the emerging market.  The project has added several new execs to its team and recorded first transactions on its mainnet recently.
The Graph (GRT) – is the "query layer" for blockchains; they allow you to quickly access transformed data about any protocol.  Last week, after mainnet launch, The Graph team unveiled Edge & Node aimed at building up protocol.
Dash (DASH) – a cryptocurrency analog for electronic cash, and it appears to be gaining mainstream adoption.  In its 4Q20 report, DASH Group indicated that the total volume of payments hit $91M, up 80% from the previous year. Commercial payment values rose 37.3% year-over-year, exceeding 22,000 transactions per day, which is reportedly higher than Bitcoin (BTC) and Bitcoin Cash (BCH).
BitTorrent (BTT) – is a popular peer-to-peer (P2P) file sharing and torrent platform.  We haven't found any meaningful news last week, but recently, Tron (TRON – owns BitTorrent) released a brand new website for Tron's ecosystem, BitTorrentX. It unites BitTorrent peer-to-peer data storage, DLive video streaming platform, BitTorrent File System (BTFS) and BTT token.
Binance (BNB) – as a leading centralized crypto exchange, it is likely benefiting from growing trading volumes.  Also, the IPO of Coinbase could be a catalyst for BNB valuation.
You can find such news and events on altFINS' News & Events tab, where you can also set up news alerts for your watchlist.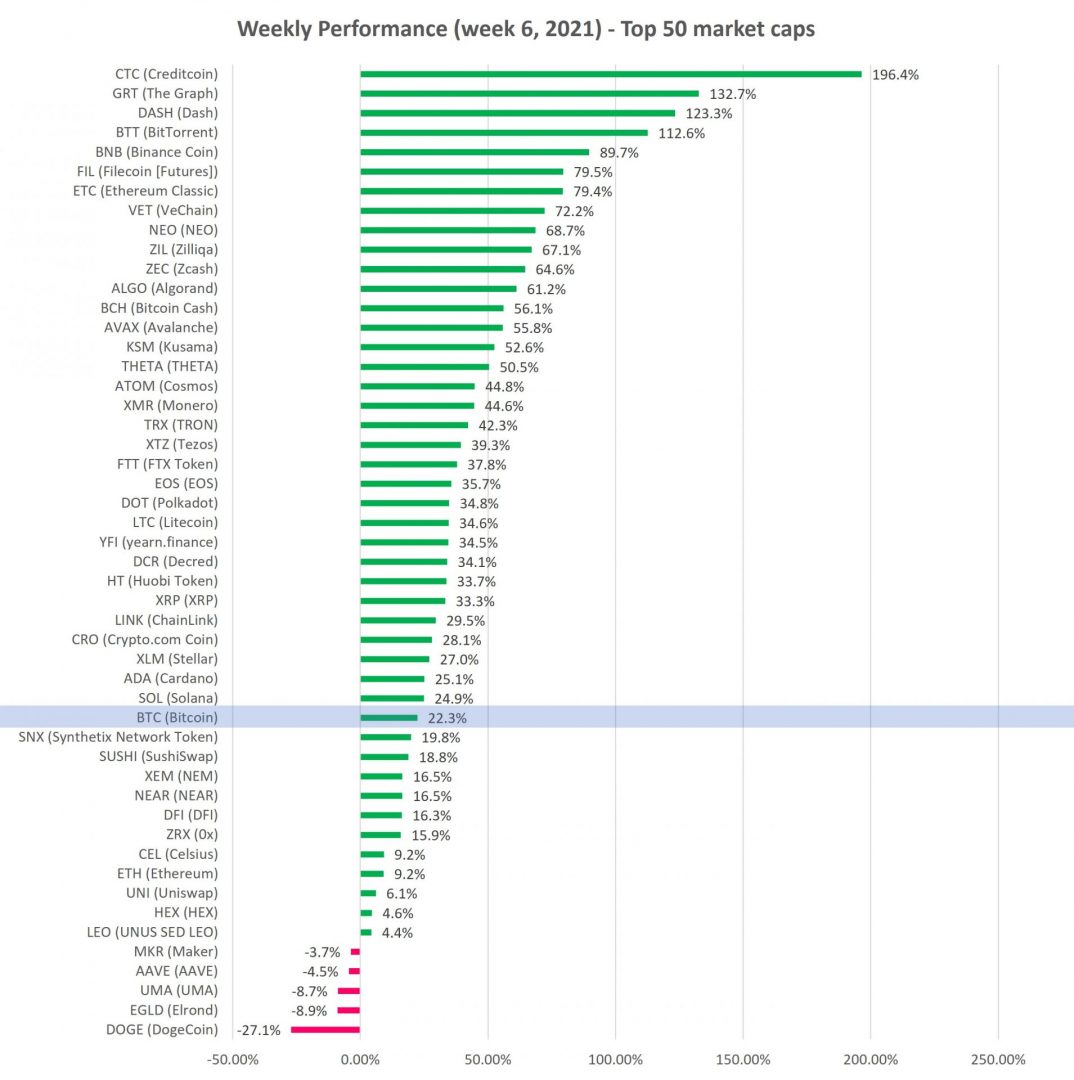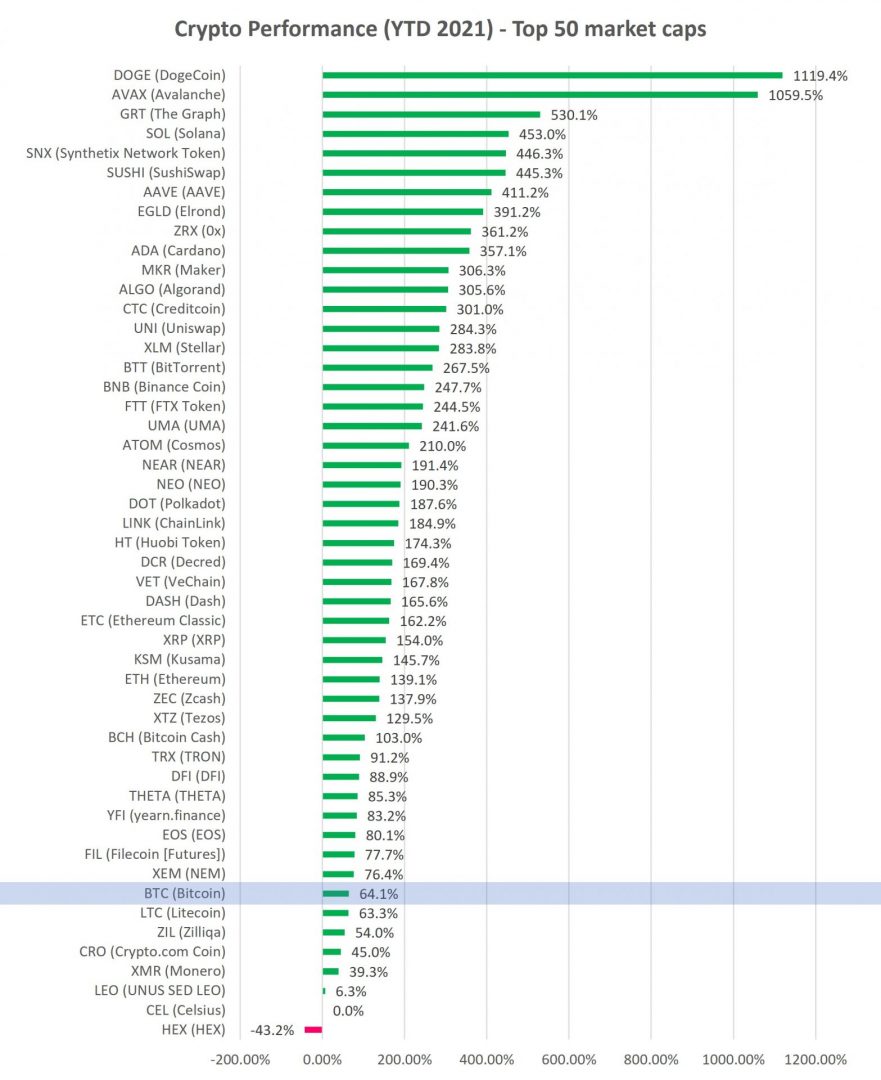 Source: altFINS.com
DeFi TVL increases by 8% in one week and 158% YTD!!  
Decentralized Finance (DeFi) category continues to make headway in terms of adoption as Total Value Locked (TVL) reached new highs at around $40B (up 8% from prior week and up 158% YTD).
DeFi cryptocurrency prices performance also reflected the trends in TLV, as most DeFi coins were up for the week.  Total DeFi category market cap increased 16% last week and is up 220% YTD (i.e. ~ 3x).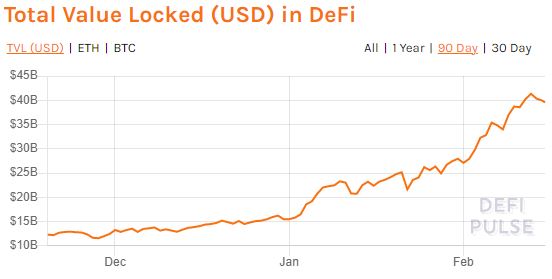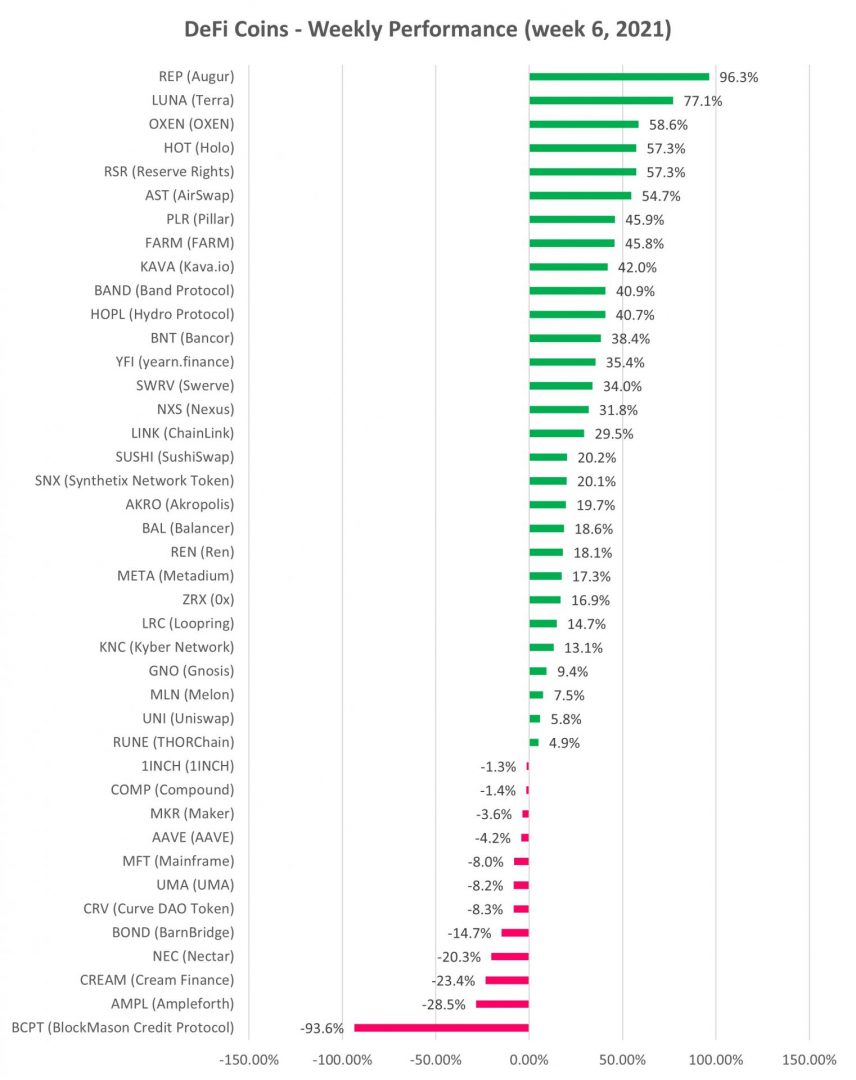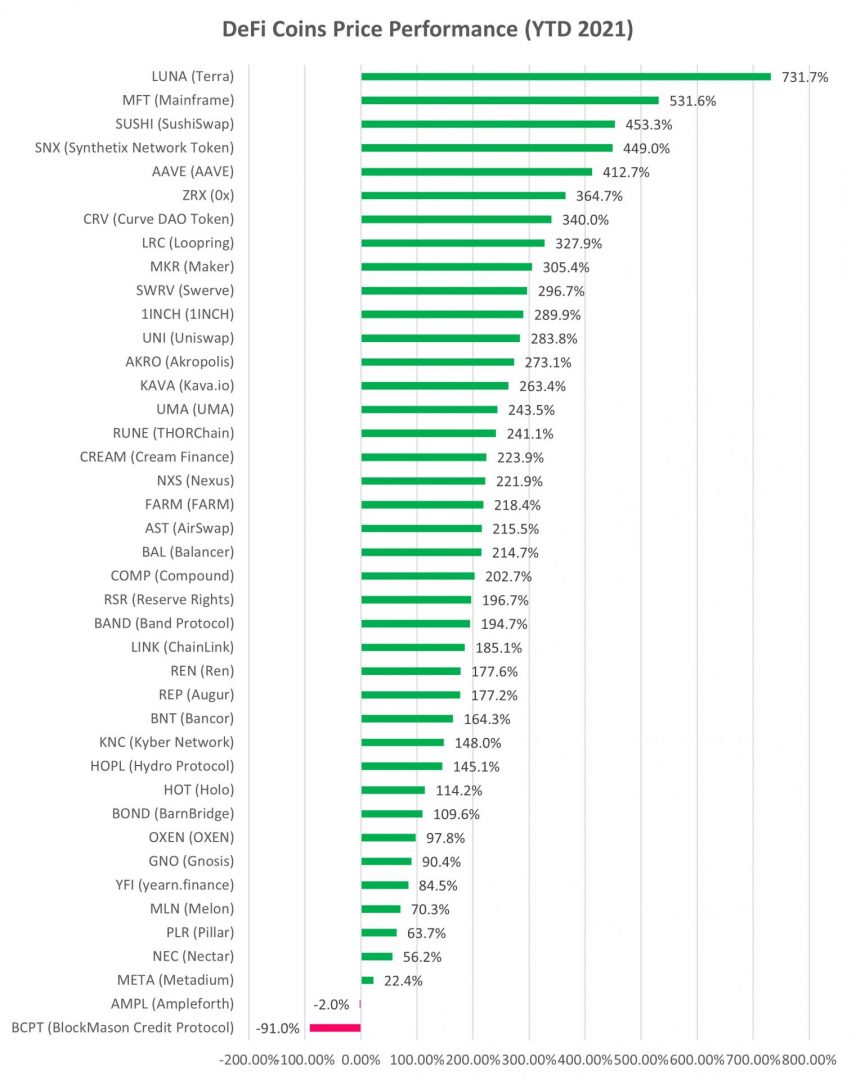 Source: altFINS.com
Check our unique automated chart pattern recognition for fresh trading ideas. Also, during market corrections, it's always good to revisit coins in an Uptrend but with a pullback. Our Signals Summary has this and other pre-defined filters ready for action.
Subscribe to our newsletter to receive future blog updates in your inbox and make sure you add altfins.com to your email whitelist.
Disclaimer: This content is for informational purposes only, you should not construe any such information or other material as investment, financial, or other advice. There are risks associated with investing in cryptocurrencies. Loss of principal is possible.