Cryptocurrency Price Analysis – week 5 and YTD, 2021
Altcoins bull run continues.  Last week, cryptocurrency prices were up across the board. In fact, all top 50 coins were up (except one), and YTD gains are also very impressive (see charts below).
Bitcoin (BTC) was up 17.9% last week, extending YTD gains to 34.8%.  Of course, that was before today's announcement that Tesla invested $1.5B into Bitcoin and has plans to accept it for payments, which has catapulted BTC out of the $30K-$40K sideways channel that it had been consolidating in.  
If and when the market does pull back, check our Signals Summary for pullback in Uptrend opportunities.
altcoins had another very strong week of gains, led by several DeFi names (UMA, MKR, AAVE, SUSHI), which received a boost from Mark Cuban's bullish commentary at a recent AMA with r/WallStreetBets subreddit group.  Yes, that's the same group that recently took GameStop (GME) stock price for a wild ride, squeezing desperate shorts. 
DOGE had another monster week and is the biggest gainer YTD (up 15x!), thanks to tweets from Elon Musk and Snoop Dogg (who became Snoop DOGE).  Also among gainers was NEXO, a lending app which announced a launch of an exchange.  You can find such news and events on altFINS' News & Events tab, where you can also set up news alerts for your watchlist.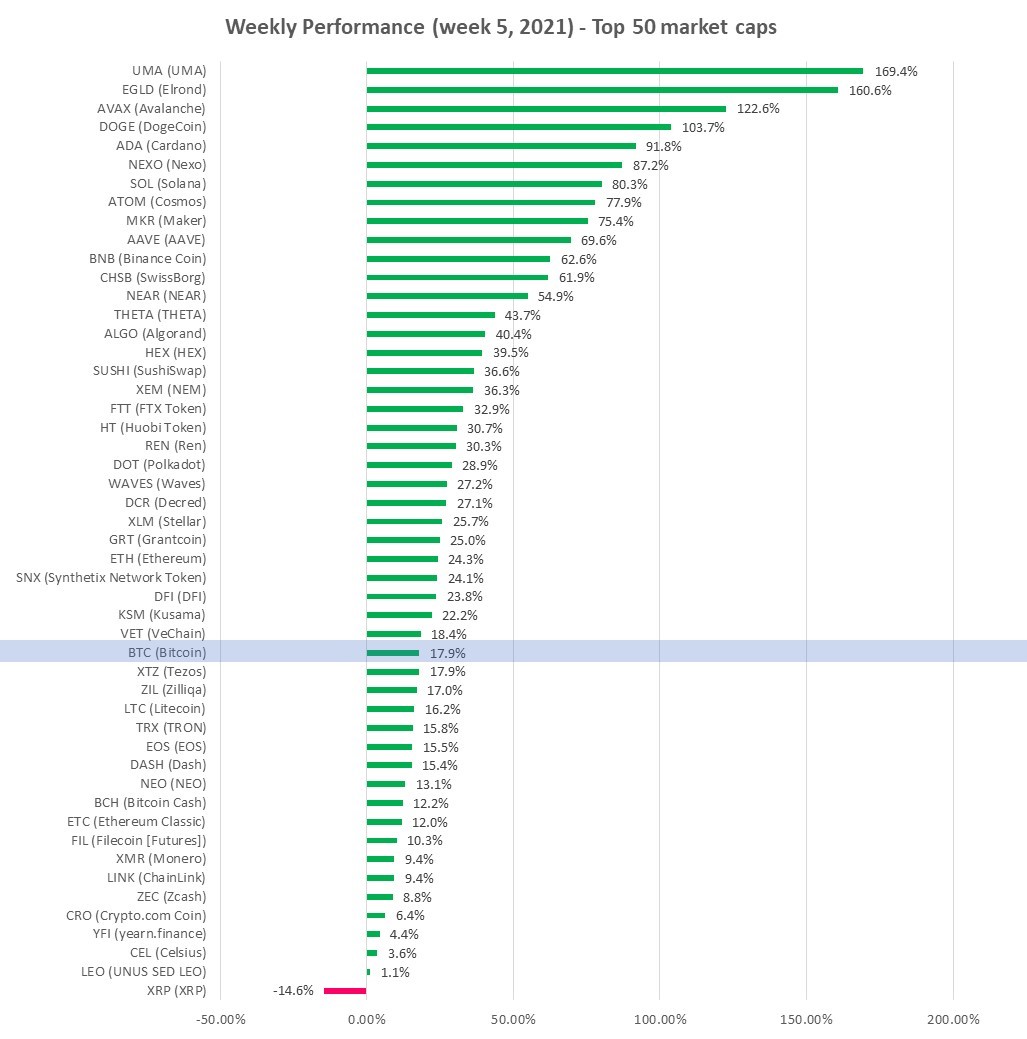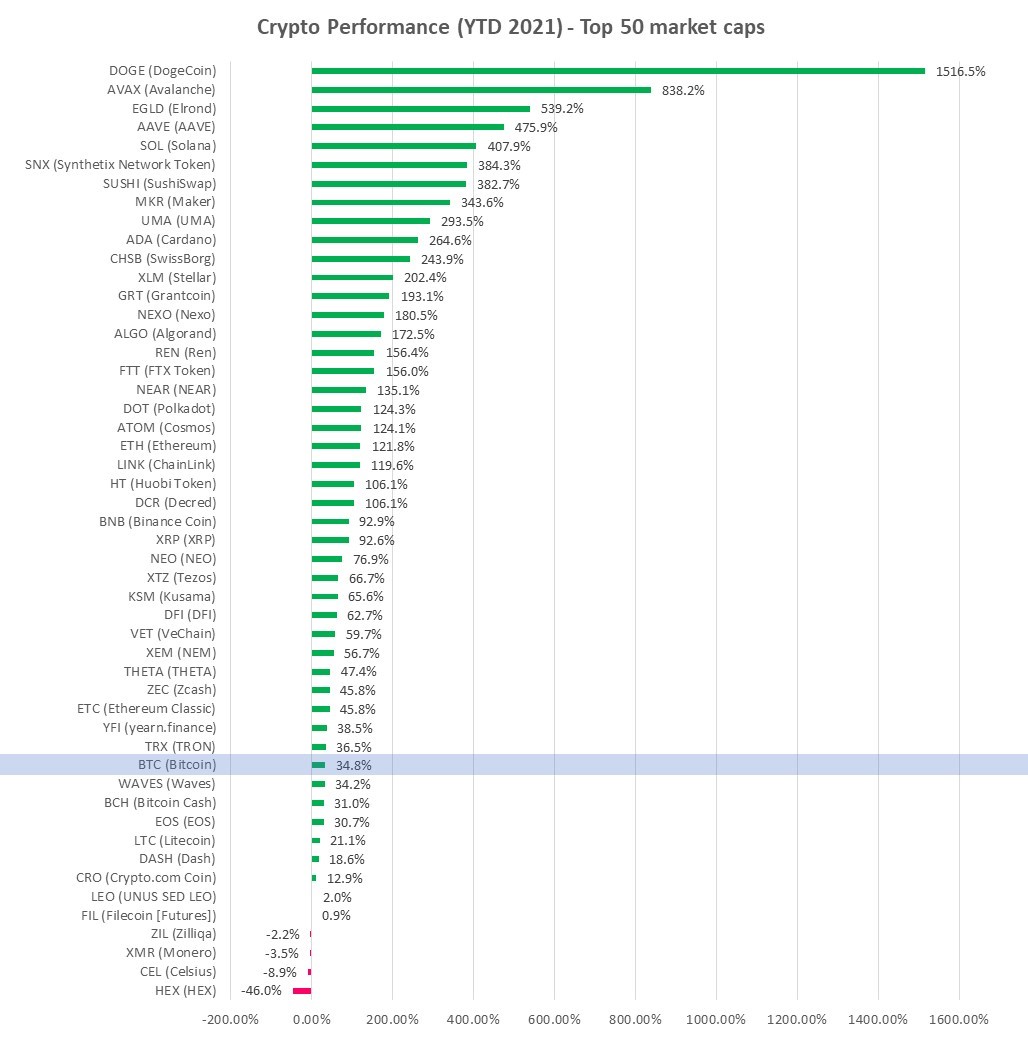 Source: altFINS.com
DeFi TVL increases by 29% in one week and 126% YTD!!  
Decentralized Finance (DeFi) category continues to make headway in terms of adoption as Total Value Locked (TVL) reached new highs at around $35B (up 29% from prior week and up 126% YTD).
DeFi cryptocurrency prices performance also reflected the trends in TLV, as most DeFi coins were up for the week.  Total DeFi category market cap increased 19% last week and is up 149% YTD.
Speaking of DeFi, we recommend a good read on Aave (AAVE) vs. Compound (COMP), suggesting that COMP could be undervalued on a relative basis.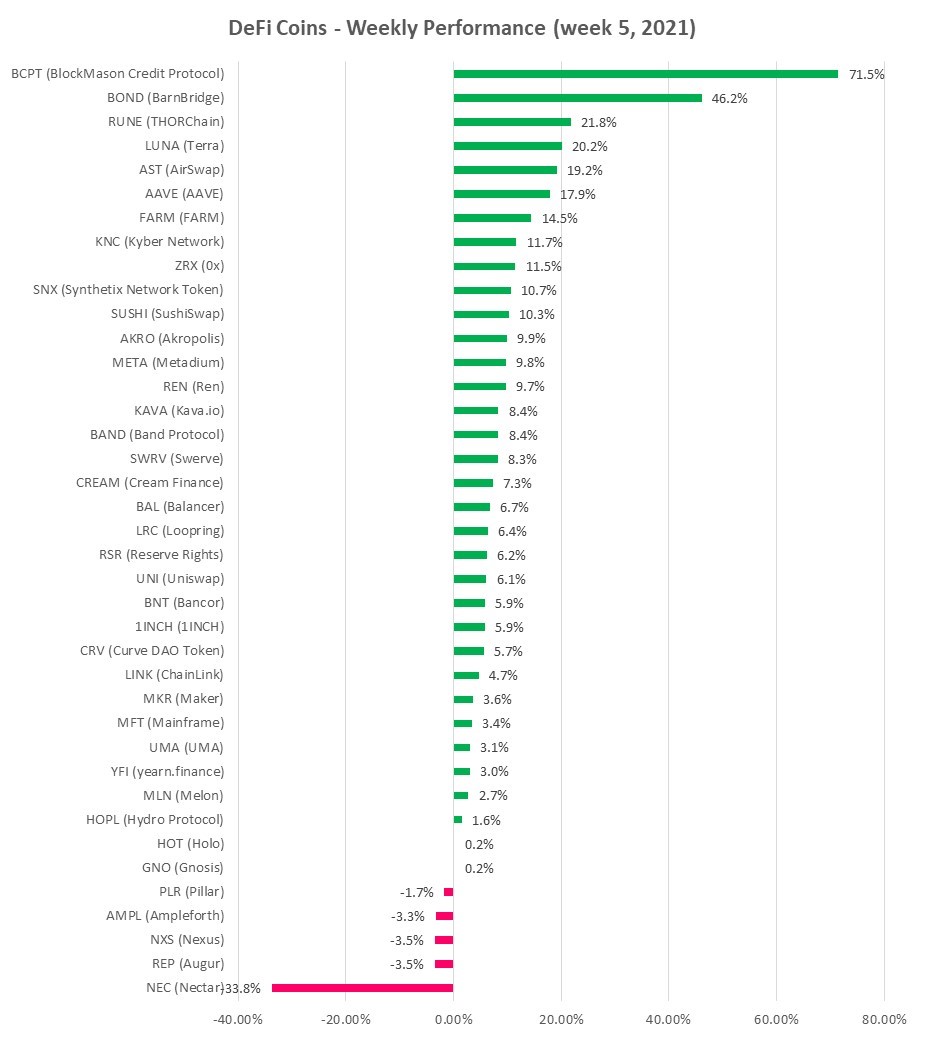 Subscribe to our newsletter to receive future blog updates in your inbox and make sure you add altfins.com to your email whitelist.
Disclaimer: This content is for informational purposes only, you should not construe any such information or other material as investment, financial, or other advice. There are risks associated with investing in cryptocurrencies. Loss of principal is possible.