Market correction continued last week. 
Price action was in sharp focus last week, with heavy selling continuing following crypto markets' hard rally into the recent Coinbase IPO. Total cryptocurrency market cap is now back below $2T and at one point last week was almost (30%) from recent record highs.<
Despite a strong bounce this morning, most crypto prices fell last week; bitcoin (7%), ripple (20%) and dogecoin (18%) following its staggering run in recent weeks. Ethereum bucked the trend, +9% for the week, and traded at its highest point relative to BTC since 2018.
Bitcoin prices plunge on Friday: Over $200B was wiped off total cryptocurrency values on Friday, following President Biden's proposed capital gains tax hike on high-income earners (CNBC).
Bitcoin rebounded in Asian trade Monday, pushing back above $52K after earlier dipping below $48K – its lowest since early March. WSJ highlighted role of leverage in magnifying recent bitcoin volatility, pointing out traders lost $10.1B to forced liquidations by crypto exchanges on the Sunday when the crypto cratered more than 15%, according to data provider Bybt.
More than 90% of the funds liquidated were from bullish crypto bets. Waning demand from institutional investors another factor mentioned, with large bitcoin transactions dropping in Q1 from Q4 and assets under management falling 4.5% to $56B from March to April.
Coinbase's underperformance following its IPO, rumors of a Treasury crackdown on money laundering via cryptos, and reports Biden is considering a capital gains hike have also been discussed lately.
Large investors use bitcoin falls to accumulate holdings: Cryptoslate, citing Bybt data, reported that $4.87B of long positions were liquidated in last week's pullback from record highs. However, 16 new investors holding at least 100 BTC joined the network when the hashrate halved recently.
Bitcoin could fall back to $20-30K: CNBC cited comments from Guggenheim Partner's CIO Scott Minerd, a prominent crypto commentator. Minerd warned a major correction could be approaching given gains in recent weeks, but stood by his long-term prediction of BTC being worth $400-600K.
China softens stance on bitcoin: At last week's Boao Forum for Asia, PBoC deputy governor, Li Bo, labelled bitcoin and stablecoins as alternative investments instead of currencies (Yahoo). The comments, were seen by some as a softening of China's stance, although Li Bo said China will maintain its current regulation approach.
CEO of Turkish crypto exchange disappears: Bloomberg reported that Faruk Fatih Ozer – CEO of Thodex, one of Turkey's largest cryptocurrency exchanges – has gone missing. Despite pledges by Ozer that investors would be repaid, the company's office have been raided and company accounts frozen, possibly leaving as many as 390K users with collective losses topping $2B.
See top 50 coins by market cap performance tab on our platform (see charts below).
Bitcoin (BTC) declined -6.2% and Ethereum (ETH) gained +8.9% (vs prior week's -4.6% and +5.7%, respectively).​ After finally breaking through $60K and hitting new ATH ($65K), Bitcoin fell on the weekend to as low as $48K but bounced to $53K.
Check our curated charts (cryptocurrency analysis) for examples updated daily (click on curated charts tab).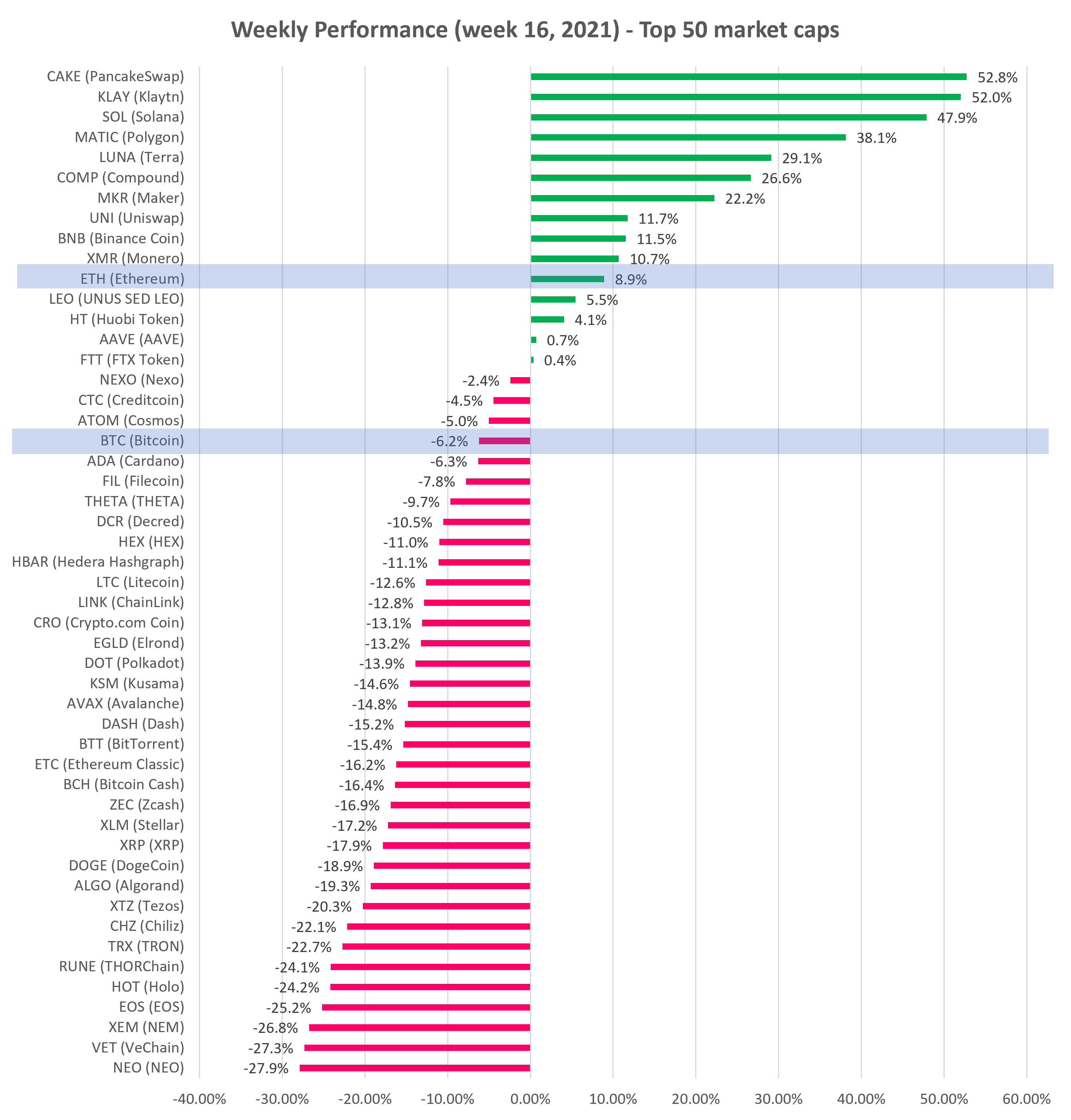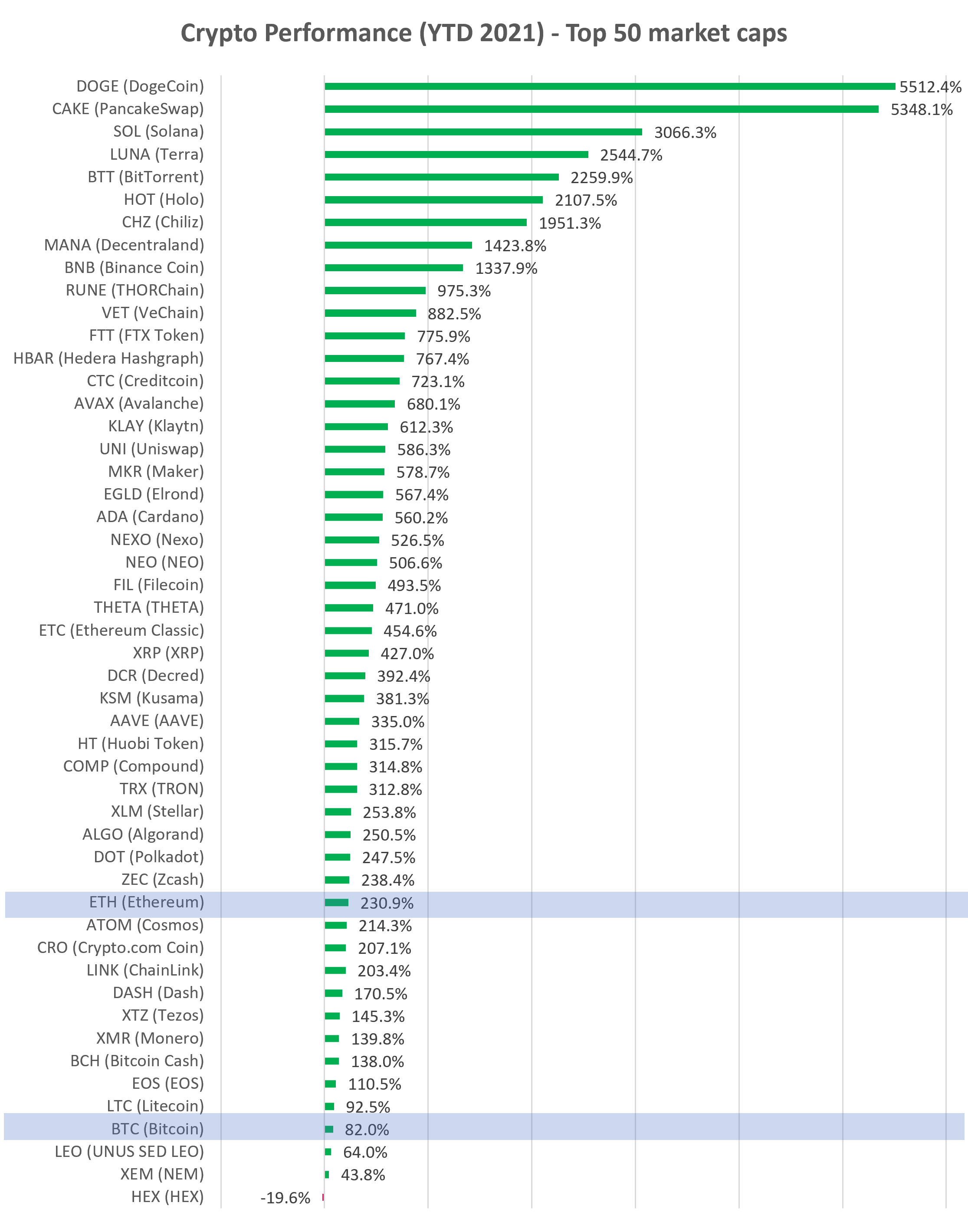 Source: altFINS.com
Decentralized Finance (DeFi) – Total Value Locked (TVL) decreased last week to $56.7B, -5% w/w and +243% YTD.
DeFi cryptocurrency prices were mixed (see below).  Total DeFi category market cap was unchanged last week and is up +434% YTD (i.e. ~ 5.3x).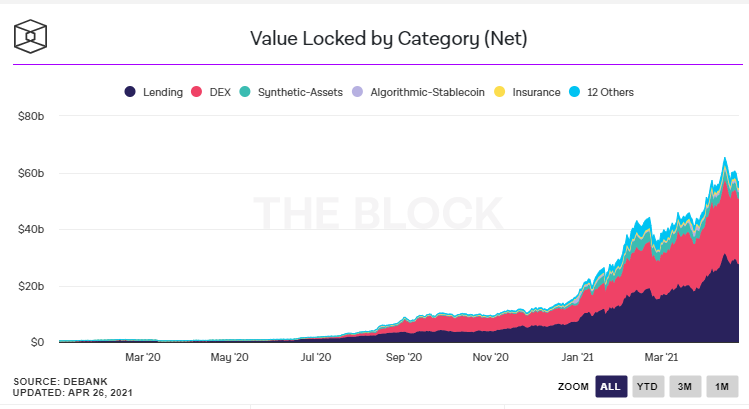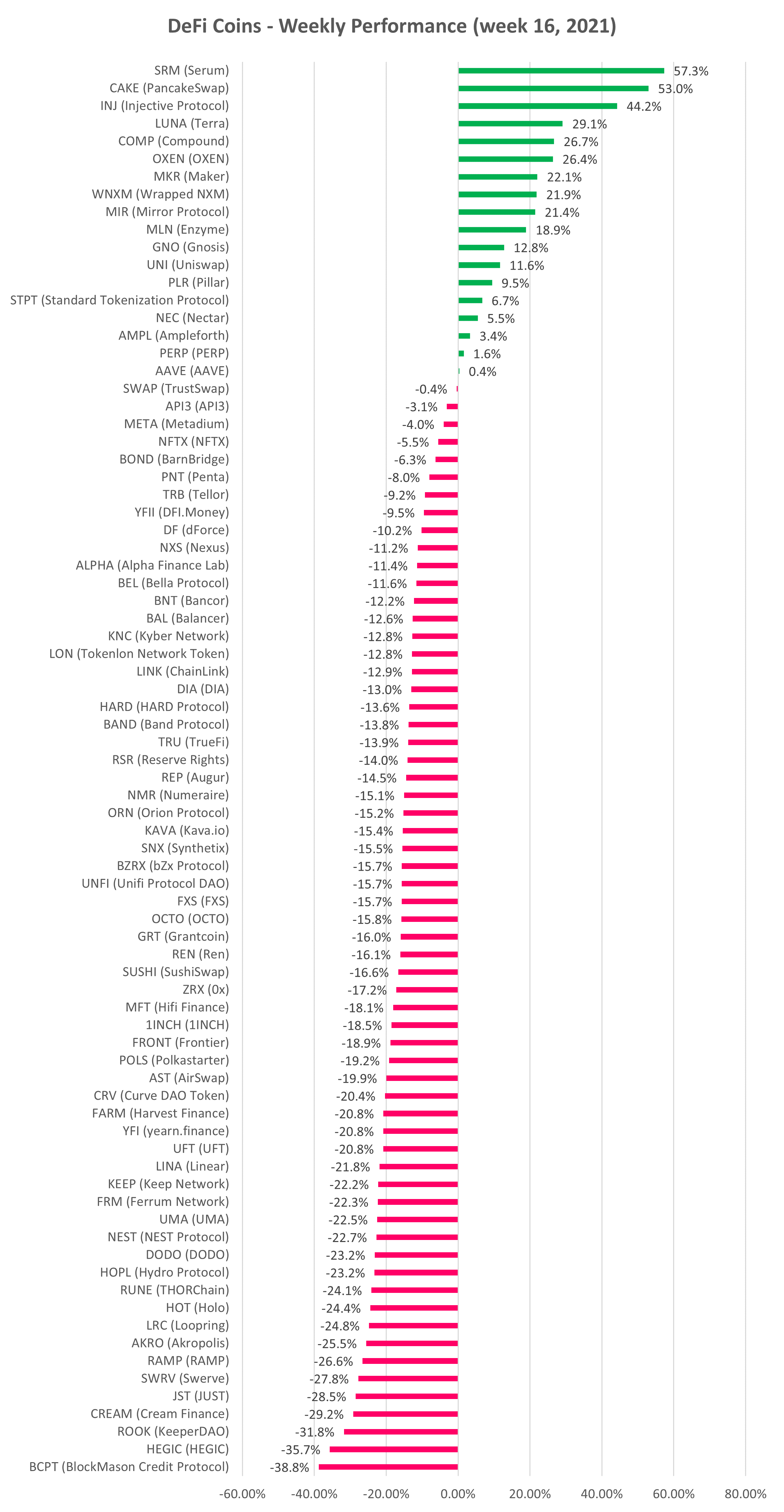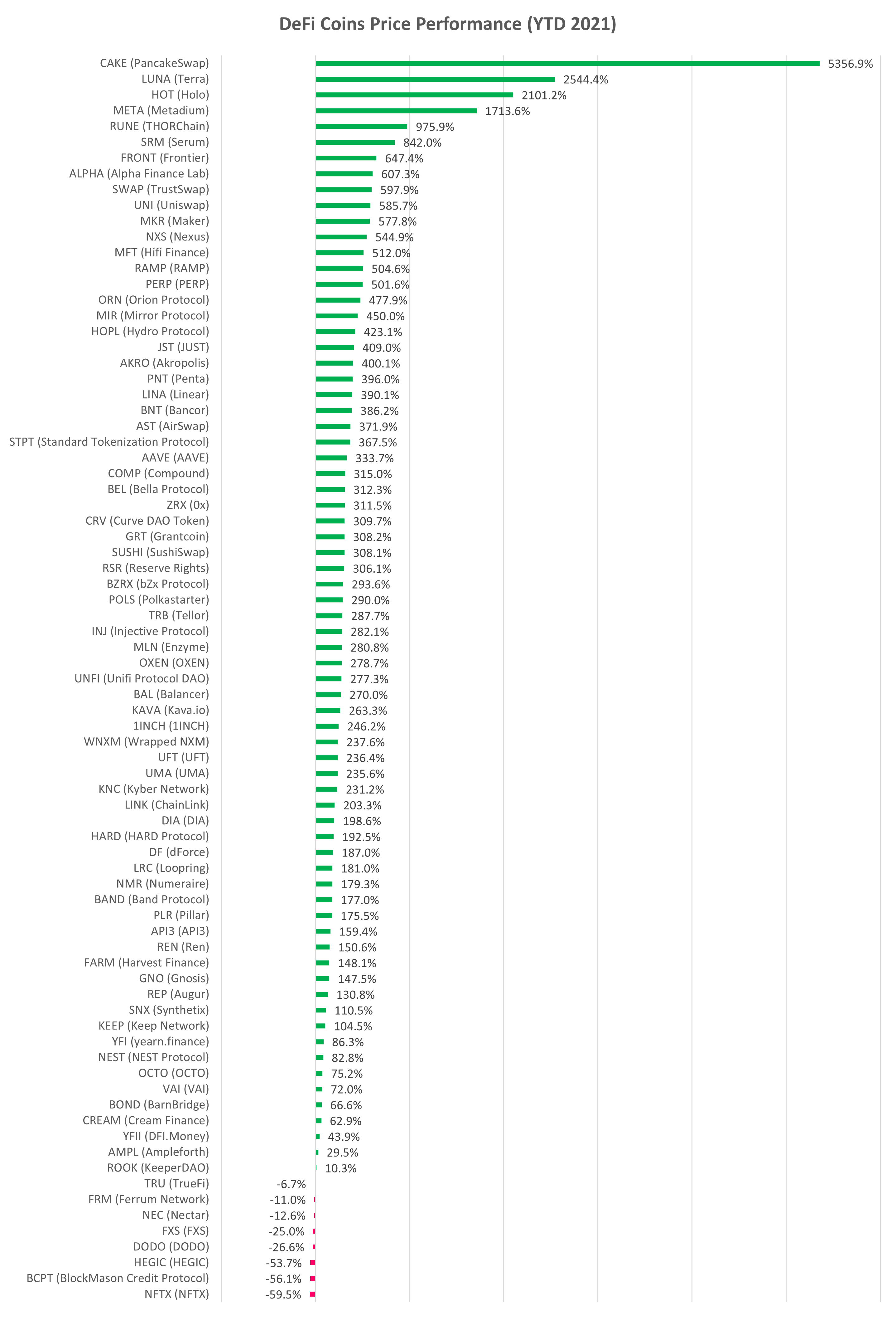 Source: altFINS.com
Check our unique automated chart pattern recognition for fresh trading ideas. Also, during market corrections, it's always good to revisit coins in an Uptrend but with a pullback. Our Signals Summary has this and other pre-defined filters ready for action.
Subscribe to our newsletter to receive future blog updates in your inbox and make sure you add altfins.com to your email whitelist.
Disclaimer: This content is for informational purposes only, you should not construe any such information or other material as investment, financial, or other advice. There are risks associated with investing in cryptocurrencies. Loss of principal is possible.