Crypto Trading Course is NOW also available to monthly Subscribers (previously available to annual plans only).
Starting at only $20 a month (Basic plan). Subscribe here or Hodl AFINS to stay on the top of trading ideas. 
Here's an outline of Crypto Trading Course- TA Education webinar series (10):
You can watch archived webinars and excerpts of altFINS Crypto Trading Course: See full schedule here.
Why did we decide to launch Crypto Trading Course?
Because we've listened to our users and what's clear is that there's a strong desire to learn technical analysis (TA) and trading strategies for cryptocurrencies.
altFINS platform offers many tools, indicators, signal types, but it can be overwhelming, especially to novice traders and investors.
So we have put together a series of 10 lessons that teach our users how to take full advantage of the platform's capabilities.
The Crypto Trading course is led by none other than altFINS' CEO and Founder, Richard Fetyko (LinkedIn). You may have seen him in our YouTube trading videos.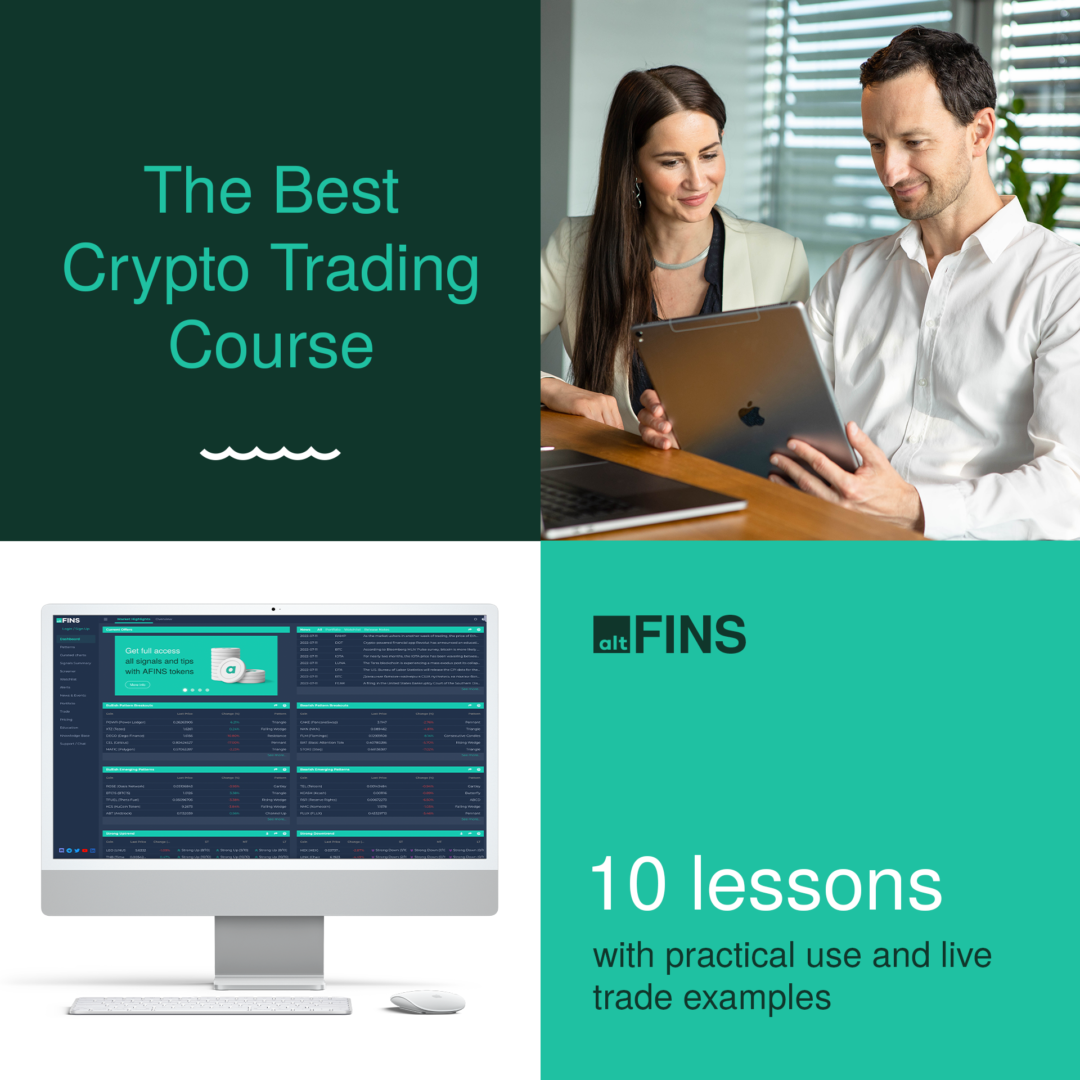 Instead of boring theory, we focus on practical use with live trade examples. Download syllabus here.

Sure, we cover some theory on what's an RSI, MACD, SMA/EMA and such. But most of our time we are applying these concepts and altFINS' platform to best use.
We create custom screens to find altcoins in uptrend, EMA crossovers, momentum swings, oversold or overbought, pullbacks to support levels, breakouts through resistance, chart patterns and more.
After each webinar, you would be able to replicate the steps and find attractive risk/reward trades on your own.
If you want to learn and are willing to find time and invest into yourself, then we cordially invite you to come along!
This Crypto Trading Course is perfect for you if:
You are a novice or beginner trader, eager to get started with crypto trading

You are looking to learn and apply basic concepts of technical analysis

You are interested in leveraging altFINS' platform to find attractive risk/reward trades

Time is critical – you have an extremely busy schedule
This offer IS NOT FOR YOU if:
You are looking for day trading, arbitrage, or scalping techniques

You are looking for a "get rich quick" scheme

You are not willing to invest time and money into education